Alfa Romeo 4C – The Incredible Speed of Lightness (Detailed Review)
It is not just the Alfa Romeo 4C that makes this brand so iconic. Alfa Romeo have a long and distinguished past which began, in 1910, with their first racing car rolling out of their Milan factory. Their racing career spans over a century, as they first entered a competitive race in 1911 and are still competing in various formats today, including Formula One.
Their road car production has been in constant supply since 1910 and covers a full range of vehicles. Alfa Romeo has offered everything from family compact cars to fun two seater roadsters and high performance sports cars. They have been at the forefront of automotive engineering through the years as they introduced the double overhead cam in 1914 and brought in fuel injection in 1940.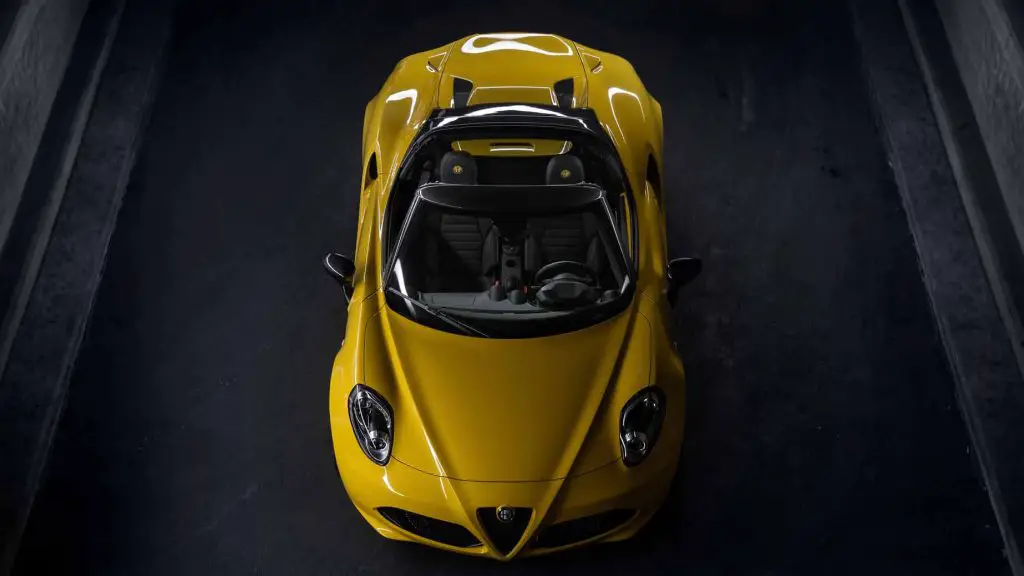 Over the decades, Alfa Romeo have seen highs and lows in their quality and output which left them with a bit of a poor reputation in later years. But they've come up with some absolutely stunning cars throughout the years and the Alfa Romeo 4C is definitely one of them. Some people may say that things started to turn around for the Milanaise carmaker after their buyout, in 1990, by FIAT.
This was further augmented when FIAT "bought back" Maserati from Ferrari and decided to use both brands as their luxury arm for the company as a whole. Cars produced during this exalted period for Alfa Romeo, were the, Pininfarina designed, 2+2 Brera and the four-door executive sedan, Alfa 159.
Their notable expertise in beautifully designed automobiles coupled with driving performance had returned. But if you're a true Alfa Romeo enthusiasts you know they had that Italian flare every single year of their existence, but maybe not the best reputation for reliability.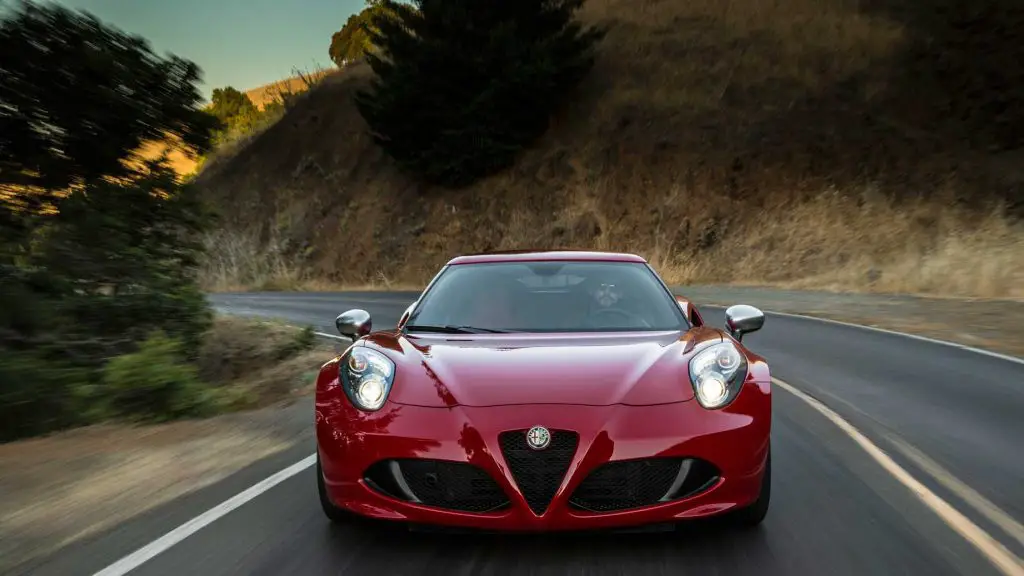 In 2007, they would have a limited release of a 4.7 liter sports cars, 8C Competizione, though only 1,000 were made in hard and soft tops. But Alfa Romeo would return to producing sports cars by the following decade and one which proved to turn heads and win many awards along the way.
This Alfa Romeo 4C review will take a look at what makes this car so enjoyable to drive while taking the driver back to what 'old-school' roadster driving is all about.
From Concept to Production
The Alfa Romeo 4C first appeared as a concept car at the Geneva Motor Show, in 2011, and it immediately caused a stir. Auto Bild awarded it the 'Most Beautiful Concept Car of the Year' in a reader's poll. The production model would return to the Geneva show two years later and remained practically unchanged.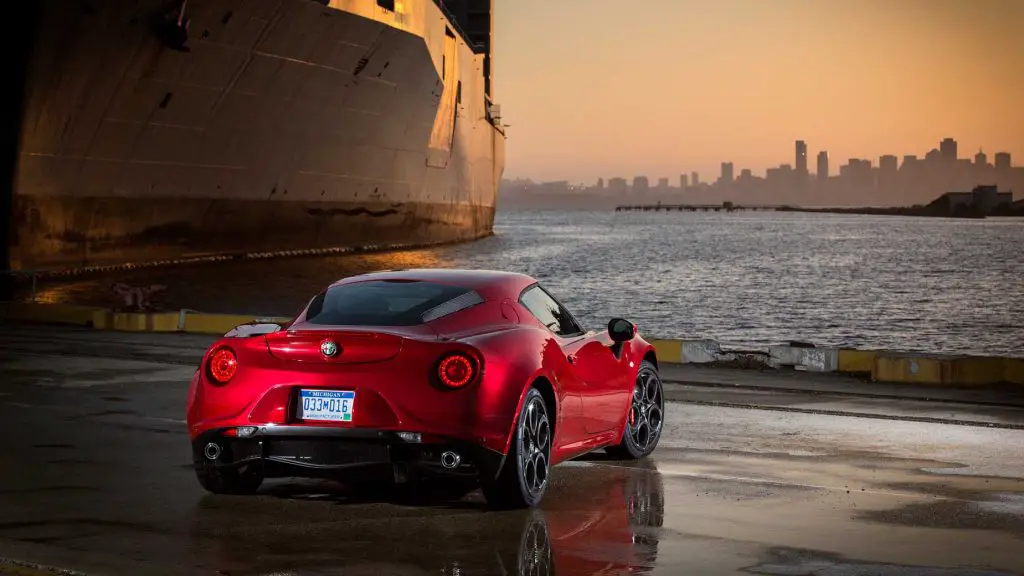 Two designers, from the inhouse Alfa Romeo design center, oversaw the concept of the car – Marco Tencone (known for his Lancia concept models) and Lorenzo Ramaciotti (who had retired from a long career at Pininfarina and had become Chief of Design at the FIAT Group and worked on many of their vehicles, including Maserati).
Apart from the exhilarating body shape, their key focus was in body weight and they would take construction aspects from Ferrari and Mclaren to make this possible. A body shell that is curved and flowing throughout. The iconic shaped front grille sets off the modern and aggressively slanted nose. Lines curl along the side and over the wheel arches that flow into the beautifully renditioned (Ferrari 458 inspired?) rear. The look is completed by large round tail lights, twin tailpipes and a rear spoiler.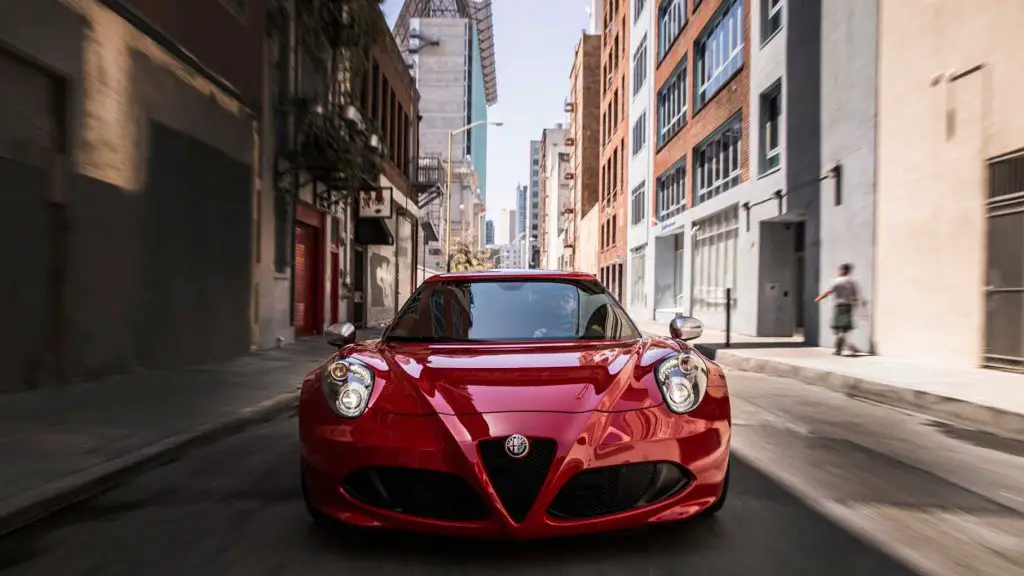 The chassis was a monocoque tub of carbon fiber and weighed just 143 pounds while the rest of the aluminum frame brings the total chassis weight to just 236 lbs. Making weight reducing refinements to the engine and every other aspect of the vehicle ensured the total curb weight was under 2,000 lbs. They also focused on the overall size which made the length of the car much smaller at only 157 inches (13 ft).
Of course, such a small and lightweight car meant more powerful performance and handling with it's superior power to weight ratio.
Big Things From Small Packages
The Alfa Romeo 4C specs for the engine might seem surprising at first. With only 1.75 liters, the Alfa Romeo 4C engine was turbocharged to provide 237 bhp at 6,000 rpm and 258 lb-ft of torque between 2,100 – 3,750 rpm. Considering the, relatively, small engine the Alfa Romeo 4C horsepower was above average. With only a light weight to propel forward, speed and acceleration was impressive. The Alfa Romeo 4C 0 to 60 mph dash was completed in just 4.5 seconds while hitting a top speed of 160 mph.
The engine note has a distinctive tone, unlike the roar of a larger V6 or V8, the spritely roadster emits pops and growls befitting a toned down rally car. Something you might also hear come out of a VW Golf R or GTI. Not surprisingly, for an engine under two liters, the whine of the Alfa Romeo 4c is higher but with a turbo boost scream.
As a mid-engine sports car, the 4 cylinder inline block sits just behind the driver's seat and in front of the rear axle. One major benefit for such a small engine and light weight car, was its fuel consumption. The Alfa Romeo 4C has a combined fuel economy of 28 mpg which breaks down to 24 mpg in the city and 34 mpg on the highway. This was a big plus for this Italian roadster as most high performance vehicles in this market were much thirstier for gas.
Shifting Paddles
The Alfa Romeo 4C gearbox only comes in one format which is their own six-speed dual dry clutch which can be manually operated via shift paddles behind the steering or left in an automatic mode.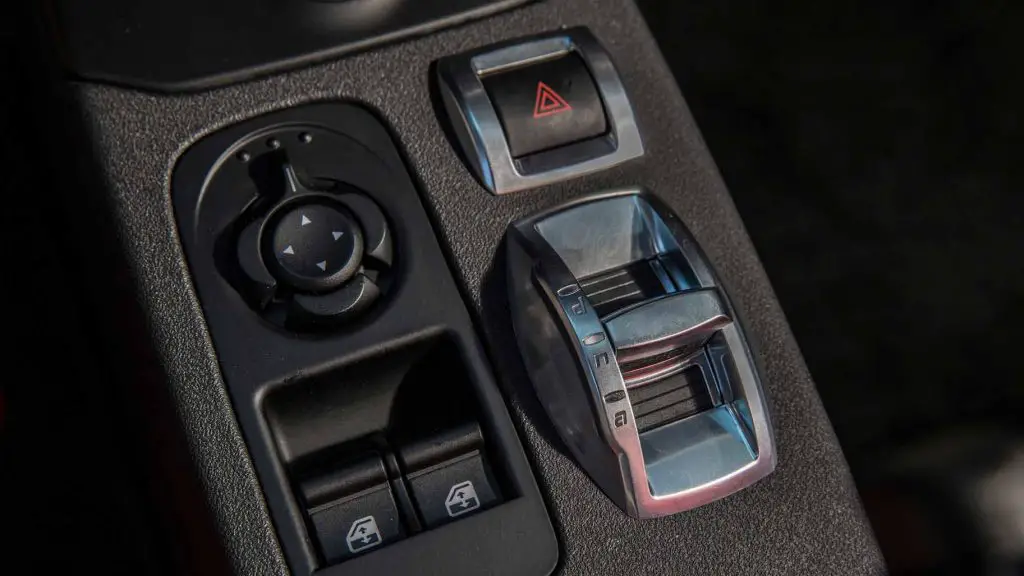 There is no gear stick but, in its place, there is the controls for the Alfa "DNA" dynamic controls. This switches the driving mode through several options, including a Race and Dynamic mode, which affects the engine, brakes, throttle response, suspension and gearbox.
Electrifying Performance
Behind the wheel, an exhilarating experience is guaranteed. With the Alfa Romeo 4C ground clearance set at just 4.4 inches (and a center of gravity at only 16 inches, 2.8 inches lower than the Lotus Elise), the car is perfectly set up for racing. Seating position is set low in the cabin while the steering wheel is adjustable to all settings. There's a fancy yet simple launch control, just a key to turn on the ignition. Turbo assisted acceleration ensure blistering bursts of speed along straightaways, while taking corners at full tilt is made possible.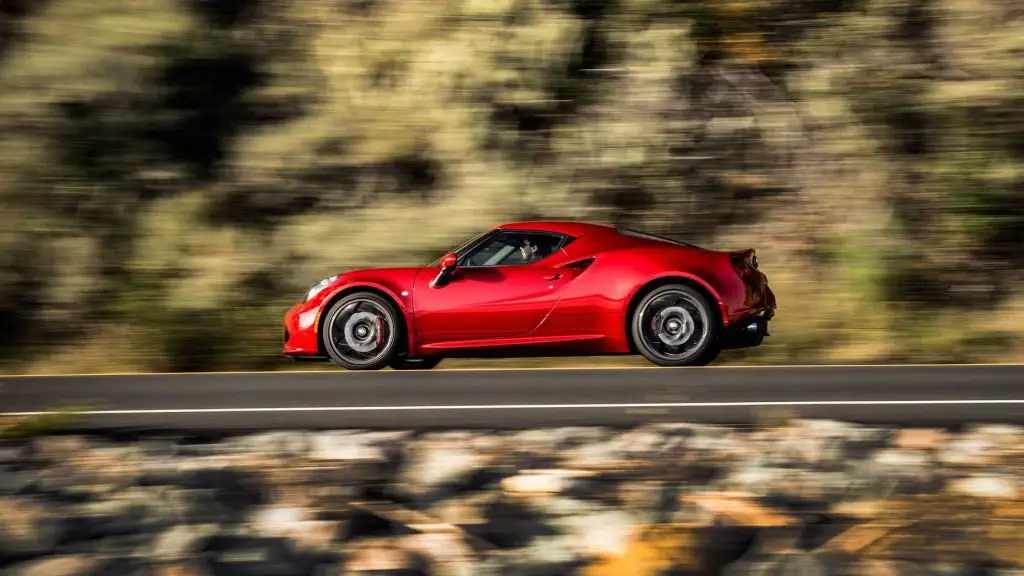 With your basic driver assistance aids and no power steering, the handling is reminiscent of "old school" driving. The "feel" from the front tires to the steering wheel is more active though any fluctuations in the road surface have an effect on steering which does create twitches in the handling. But, with a short wheelbase and the weight ratio set firmly in the rear (38%/62%), handling is excellent with little chance of drift or under or over steer.
Although the one thing the Alfa 4C does suffer from is tramlining and poor handling underload, if there's some unique curvatures to the road, the car pulls in that direction, sometimes leaving you fighting to keep it where you want it to go. There's also a feel of disconnection between the driver and the rear of the car at times. There's a few modifications that can be made to the suspension that can combat this which are available, the experts over at Gale Motorsports have an improved rear arm uniball kit as well as performance rear control arms. They go into great detail about how these work to improve the Alfa 4C's handling issues.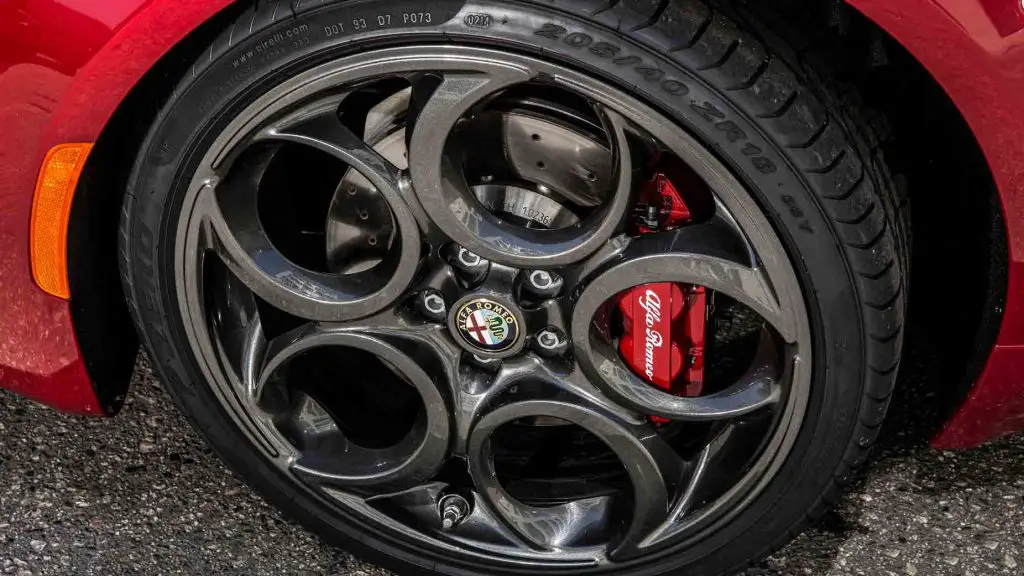 The standard alloy wheels come with a staggered setup meaning they have different diameters and widths on the front and rear. On the front are the 17 inch wheels at 205/45/17 and the rear 18 inch wheels at 235/40/18. Alfa Romeo 4C 18/19 inch staggered alloys are also an option, for the rear the 19 inches are sized with a 235/35/19 tire and on the front 18 inch wheels are fitted at a tire size of 205/40/18. Large Brembo brakes are fitted to bring the car to a controlled stop. Bringing the vehicle down from 62 mph to 0 is achieved in only 35 meters.
Less is More
The Alfa Romeo 4C interior takes a similar 'old school' stance. You will find no infotainment system inside, barely a respectable radio even, and very limited dials and gauges. The layout is focused to what the driver needs and that's about it. Though it does have both Bluetooth and USB connections for cell phones and media players. The tight clustered digital instrument panel is a 7 inch screen which can adjust, depending on which driving mode is selected.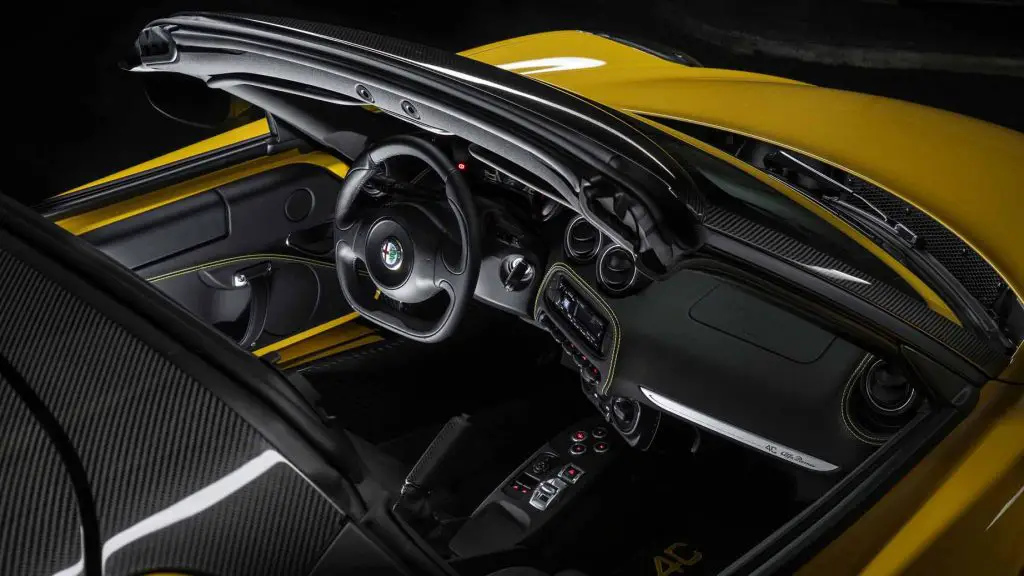 Once you open the door and clamber deep inside (and over the wide door sill) your field of view is awash with sporty carbon fiber, some plastic and leather (leather is an optional extra). The slim leather and Alcantara bucket seats come in a variety of colors including a two-tone contrast. Leather and various accents encase the whole dash as well as the door panels. If the leather was not chosen on the option list, then this was left in a bare black plastic, the route you'd go if you wanted the lightest Alfa 4C possible.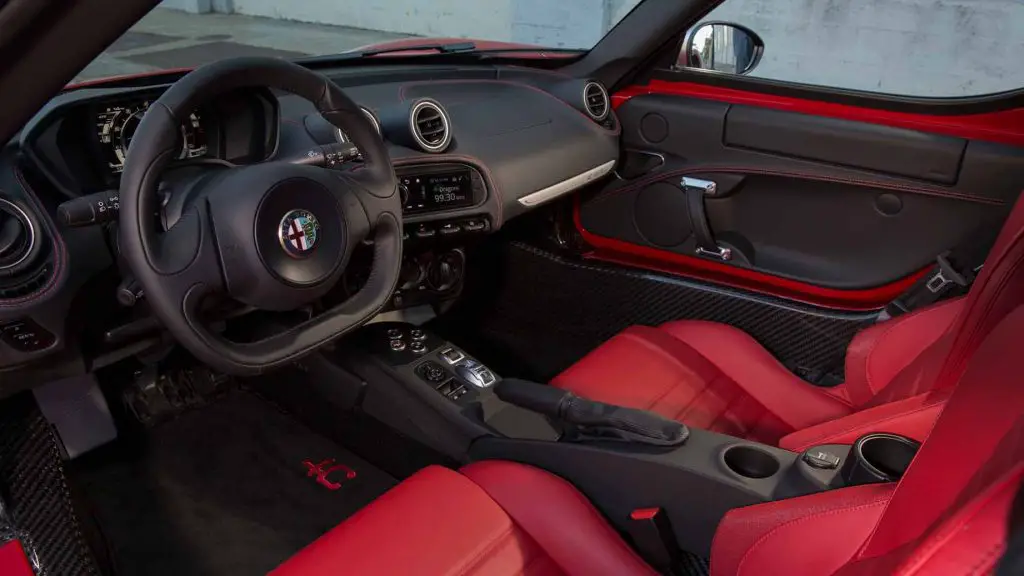 The steering wheel, is bespoke, but classic Alfa Romeo styling. A small sports wheel, with a flat bottom, is only fitted with the Alfa logo.
Obligatory Open Top
No Alfa Romeo model would not be complete without having a convertible option. The Alfa Romeo 4C Spider was unveiled at Geneva, once again, in 2014. Though the engine specs were the same, the curb weight had increased by 99 lbs. to compensate for the removal of the roof.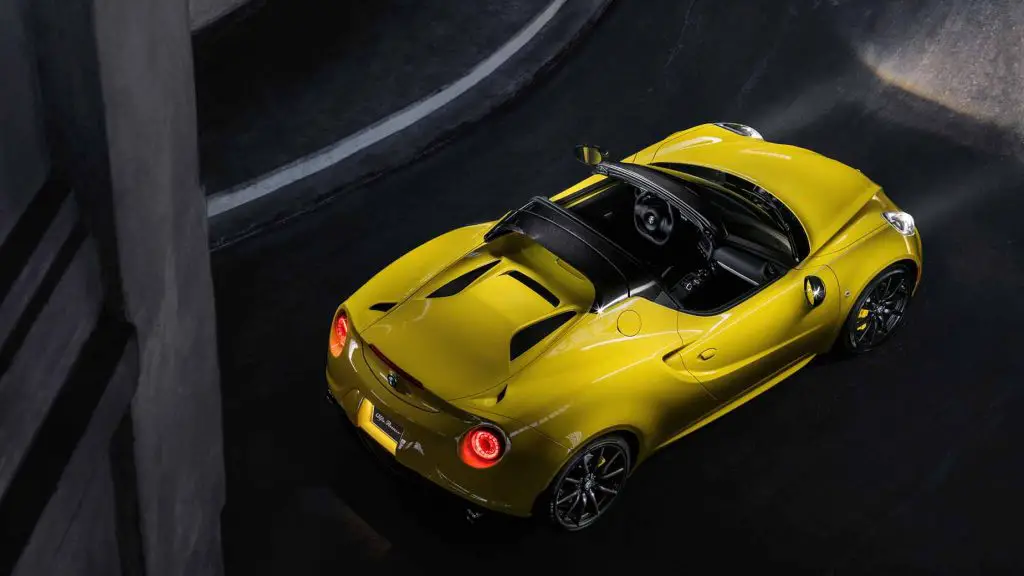 There would be some differences between the two, as the soft top, not only having the removable roof panel, also had different headlights, exhaust and engine hood.
Special Editions
During its run, there would be several limited editions of the Alfa Romeo 4C. First of all, there was the 4C Launch Edition which benefited from customized body paintwork (four choices), leather/fabric seats, extra carbon fiber trim, dark-painted 18 & 19 inch wheels and LED headlights. 1,000 models were built and most shipped to North America and Europe.
In 2018, the 4C Competizione was unveiled at the Geneva Motor Show. Strictly limited to just 108 models worldwide, it again used a plethora of carbon fiber around the car, including the roof, and complemented with a bespoke matte grey paint.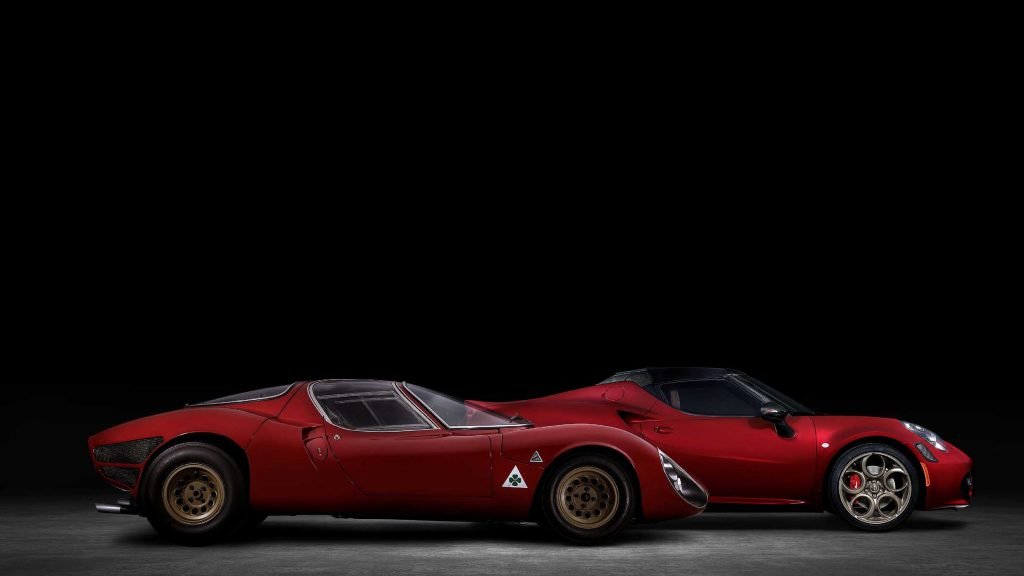 The Alfa Romeo 4C Spider Italia also came out in 2018 and again only 108 models were made. With a metallic blue bodywork while the front air intake and rear spoiler adorned in piano-black; the exterior was fitted with "Italia" and Italian flag badges. On the inside, the central panel was fitted with an aluminum plaque that is engraved with the Alfa Romeo 4C Spider Italia name.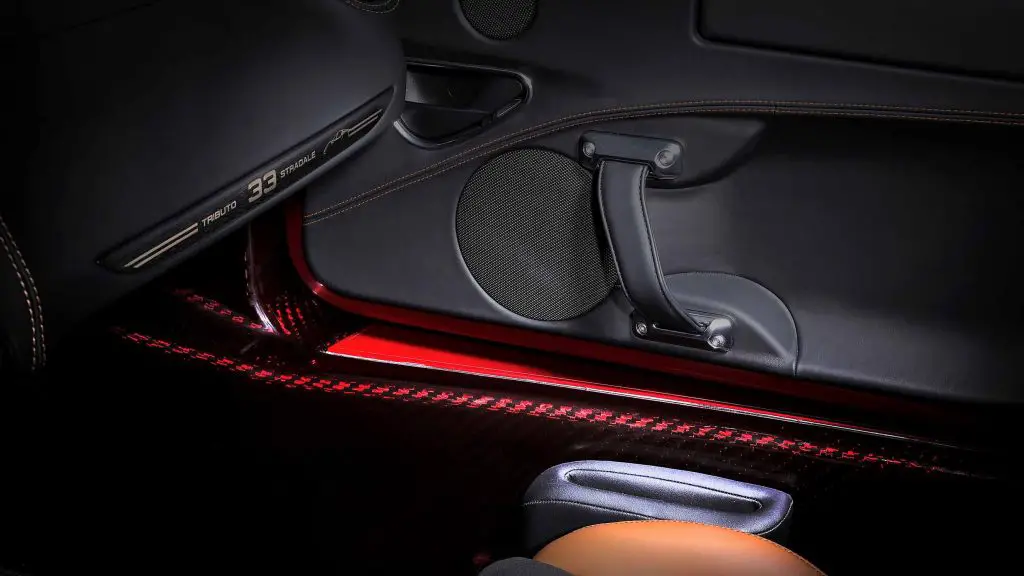 The final iteration was in late 2020, with the Alfa Romeo 4C Spider 33 Stradale Tributo. To commemorate the 1967 Alfa Romeo 33 Stradale, they prepared 33 models of this unique vehicle. Still the same car but, cosmetically, it boasted Rosso Villa d'Este tri-coat paint, with gray-gold wheels and a "tobacco" (brown) leather interior and a numbered plaque. One major feature you'll notice in the above photo, that is not present on the standard Alfa 4C, is the red carbon fiber tub. It has been coated in red on the clear coat to give it that red carbon look that captures your eye immediately.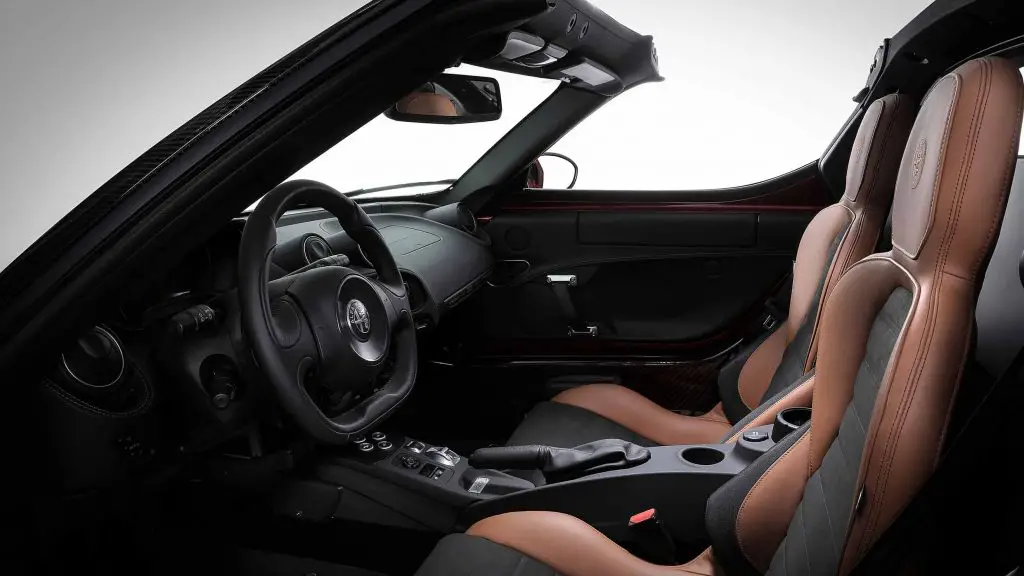 It is possible to make your 4C a little bit more special with some basic bolt ons, as there are Alfa Romeo 4C Novitec Sportiva parts out there which a little extra upgrade over stock, among other tuning companies. The key differences here are the bespoke fattened wheel rims and sports exhaust.
Unlucky Clover
A "lost" edition was the Alfa Romeo 4C Quadrifoglio. This name is very special to the legacy of Alfa Romeo and dates back almost 100 years to 1923, when a four-leaf clover (quadrifoglio) was painted on their racing cars to give them luck. From then on, all racing cars and their high performance models were given the quadrifoglio to wear.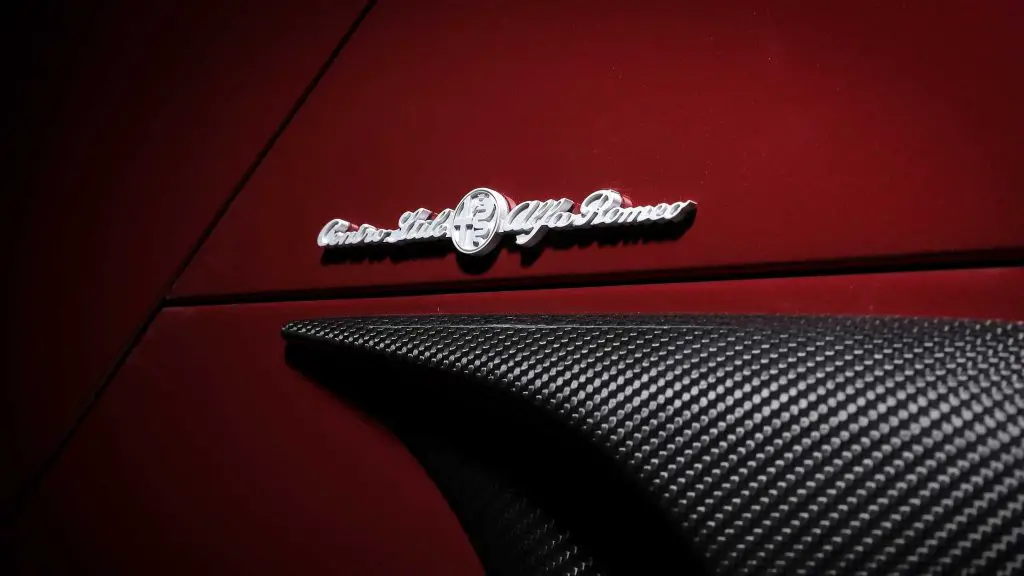 There were plans to make an Alfa Romeo 4C Quadrifoglio model and concept/pre-production models were made. While it was assumed that the Alfa Romeo 4C hp would be increased for this edition, no details were ever released. From what has been seen of the two surviving models, is that the bodywork was augmented by a new carbon fiber front splitter and a rear diffuser as well as a large adjustable rear wing.
Though these models were finished, the company decided not to pursue this project into production.
Off to the Races
Not surprisingly, Alfa Romeo would see their 4C going to the racetrack in a variety of ways. One 4C, fitted with Pirelli P Zero Trofeo tires, went round the Nürburgring circuit at a time of 8 min 4 secs. It was also used as the safety car at the Superbike World Championships in 2013.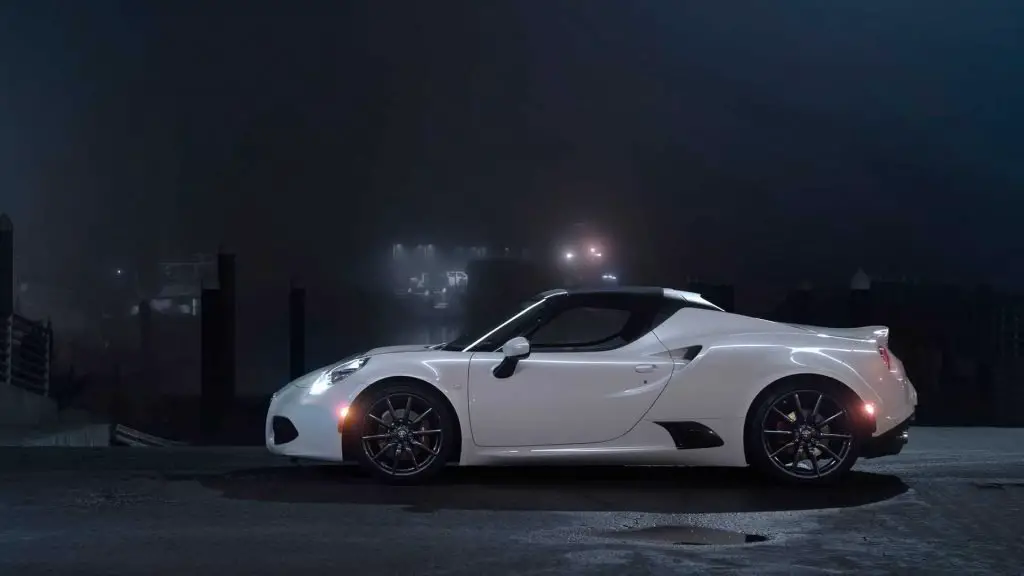 The racing firm, Picchio, produced a souped up racing edition of the Alfa Romeo 4C. Though fitted with a similar sized 2 liter engine, the horsepower has been advanced to 600 bhp. It was also fitted with a new semi-automatic transmission, from Hewland, as well as suspension redesigned for use with Pirelli PZero 13 inch tires. The company were happy to make customized versions of this race car at a cost of around US$350,000.
Sports Car at an Affordable Price
Considering the amount of power and performance you are getting, the comparison to other sports cars is quite favorable. Though a fraction of the cost of a Ferrari, its real rivals are the smaller Porsches (Cayman & Boxster) and the Lotus Exige. The Alfa Romeo 4C price begins at $67,000 though the elusive Alfa 4C 33 Stradale was price tagged at $81,500.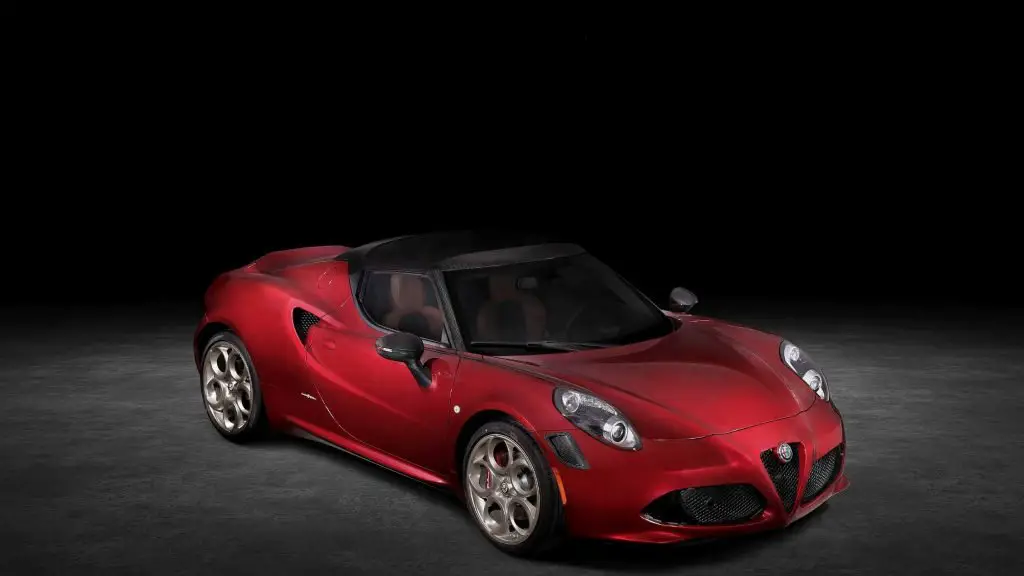 Not Up to Expectations
Though Alfa Romeo had high hopes for the 4C, sales did not pan out. They had been hoping to shift a minimum of 1,000 models annually and, if their carbon fiber chassis could be built faster, they were hoping to push that to 3,500. In reality, the numbers were far less. Alfa Romeo 4C in North America only sold 2176 models over eight years while in Canada just 381 cars were sold in the same period.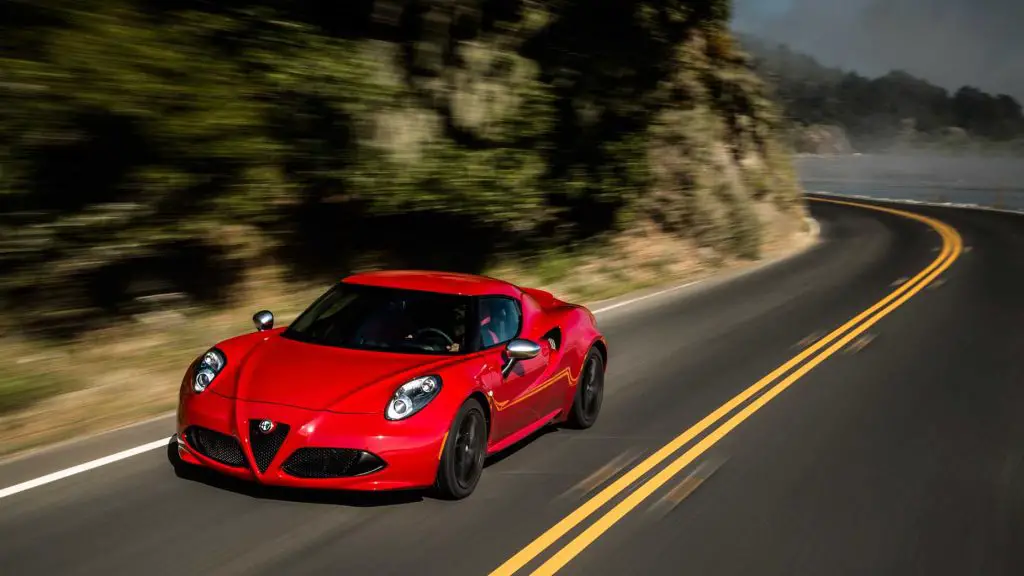 Though it was evident that North America (and the rest of the world) did not appreciate this style of 'old school' roadster driving but it was probably overly optimistic for the Milan carmaker to expect such large sales.
Despite the lukewarm response, the Alfa Romeo 4C forum was a testament to how well loved the car was. There are many posts from owners who express their joy at driving such a fun a nippy sports car.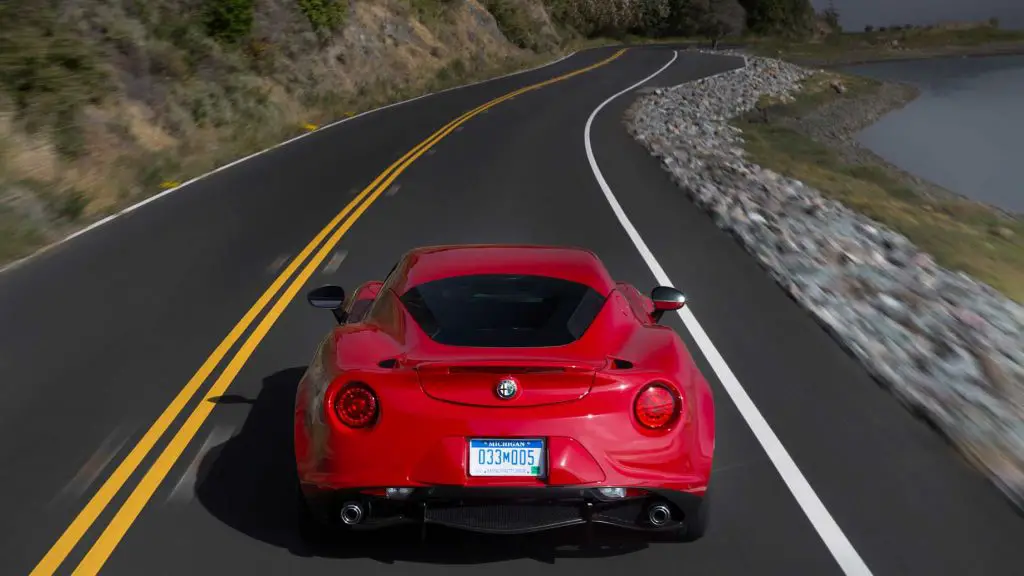 Though it might not have been a success as Alfa had hoped for, this was definitely one of the best cars they had produced for many a year. It harked back to their glory days of manufacturing high performance road cars that were envied by others. They had shown with a pure carbon fiber body (at a moderate price) they had discovered the lightness of speed.
Alfa Romeo 4C Tuning and Modifying
If you end up becoming an owner of this lightweight Italian pocket rocket, it's very tempting to modify your Alfa 4C, especially with all of the great options out there today. There's fantastic companies offering great solutions to adding more performance. Take the Alfa Romeo 4C Novitec Sportiva parts for example, which provide some great basic upgrades to any Alfa 4C.
If you want to take it above and beyond with another reputable company, the maestros over at AlfaWorks UK have packages that take the car all the way up to 500hp with a 2L engine conversion. A true Alfa 4C monster! This is the place you go if you're not going to hesitate in having the absolute best.
But we must warn you, there are other tuning companies out there that promise the world but turn into tuning horror stories, for more on this check out our article on the Pogea Racing Alfa 4C Nemesis to make sure it doesn't happen to you!
Foreseen Future for Alfa
All in all, Alfa Romeo has done such a marvelous job creating the 4C. The car brings back nostalgia for long time Alfa fanatics. It also sets a new standard for affordable lightweight performance and fun. What they've done is create a great foundation for themselves to build on with future iterations and models they create within the Alfa brand.
But not only this, they're awoken the automotive industry and prodded other manufacturers to start thinking of how they can continue to compete with Alfa. I suspect this is why we're starting to see cars like the Alpine A110 come into fruition. We look forward to seeing what further developments from from Alfa and the rest of the world. So far, we like what we're seeing!