Maserati prices 2010 cars are selling for are no different to the Maserati's in the past that have suffered serious depreciation. It is a well-known fact that luxury cars are very expensive to buy when they are brand new. It is also a well-known fact that they all depreciate very quickly after they roll out of the dealership. Whether these high performance automobiles are made in Italy, Germany or the UK, all quickly drop in value year after year.
All Brands Suffer
It's not just the exotics like Ferrari, Lamborghini, Aston Martin or Bentley but also the "mass production" luxury lines of BMW, Jaguar, Mercedes-Benz and Audi are all affected, as well. The level of depreciation ranges from a quarter to half the value of the car, depending on how many years have evolved. Though it should be noted, that the lucky owners of Ferrari's and Lamborghini's will see the least amount of depreciation.
Reduced Tridents
Maserati is no different, the Trident suffers depreciation like the rest of their illustrious companions. But theirs is some of the deepest drops in value seen across the board. In one list of worst depreciating luxury vehicles, the Quattroporte came top due to it losing a whopping 72.2% of its value (2014 model and sold in 2019), which converts into US$97,000! But just behind the Quattroporte is the BMW 7 Series which loses $75,550 or 71.3% of its value.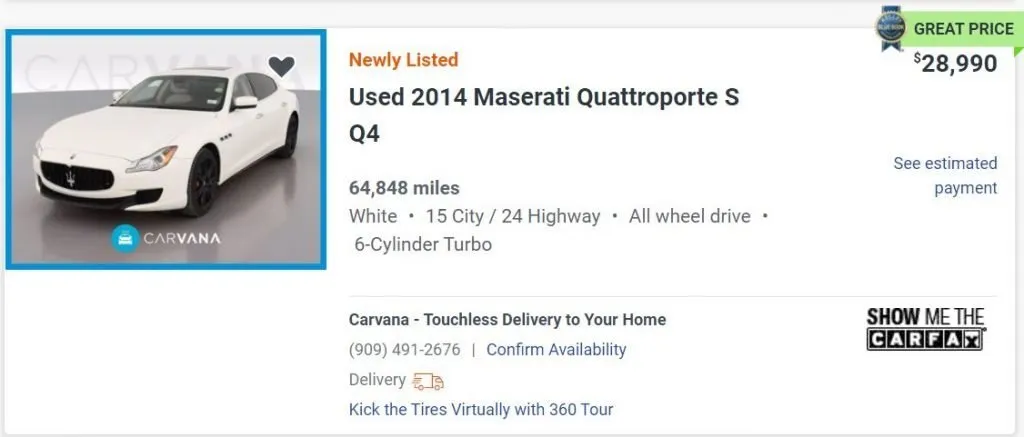 So, there is nothing unusual in the tumultuous drop in value of highly desirable performance cars. No one would buy any of these vehicles if they were considering them as an investment or an asset. But this niche market has no interest in such things, they can frivolously splash out large amounts of cash, in six-figure sums, and discard the purchase within a short space of time with no consideration for the hit they will take in their pocket.
Why Does This Happen?
For the most part, the underlying factors for this drop off occurs due to a lack of demand in the used car market and the high maintenance costs involved in each car. If a potential buyer is looking to spend money on one of these luxury automobiles, then they will, most probably, buy a new one.
A luxury car that has a relatively low value, but has expensive maintenance is not attractive to most buyers, either. And if the brand has a reliability issue, whether justified or not, will also decimate the price tag. This is also exacerbated by the quantity of Maserati service centers available nationwide. Trying to find a suitable Trident repair shop near you and having the required spare parts can be a challenge and an expensive one too.
Maserati's Reputation Good & Bad
Maserati is tarnished with this perceived problem. During the 1980s, the quality and reliability of Maserati got so bad in North America that they pulled out of the market altogether. So, even when the car maker returned to America, potential buyers had long memories.
It still took a few years before quality assurance was raised to a half decent standard which only occurred after Ferrari invested in the Modena factory to renovate its operations and reputation.
Diamonds in the Rough
But if all of the above does not concern you, then there are plenty of opportunities to acquire a used Maserati at a deeply reduced price. If you are willing to take a risk and explore the used car market for Maserati, there are some "diamonds in the rough" to be found.
Maserati Prices 2010
As an example, let's look at the models for Maserati prices 2010. During that year, the car maker only had two models to choose from, the GranTurismo and the Quattroporte, though available in several iterations and engine displacements.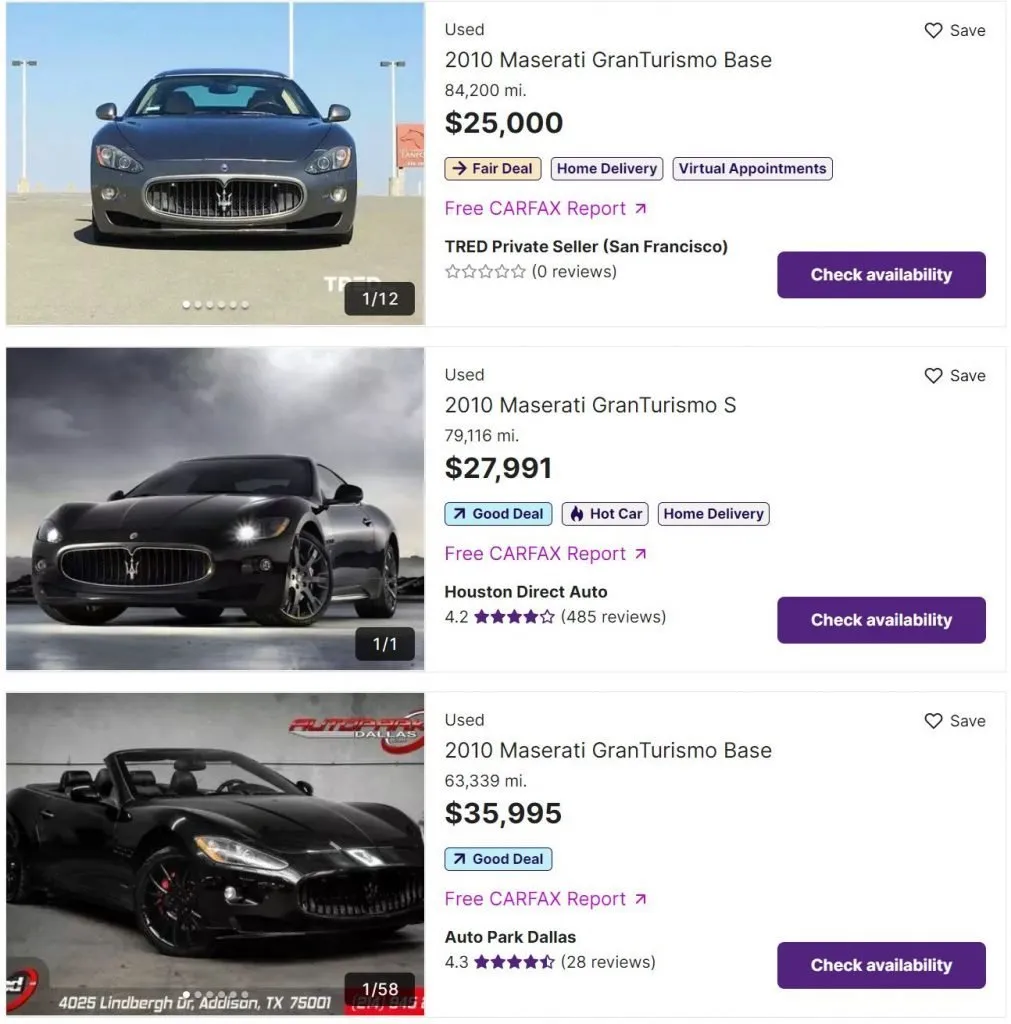 At the time, these cars had powerful naturally-aspirated V8 engines, from Ferrari, in 4.2L and 4.7L formats. The GranTurismo produced 405 or 433 bhp and top speeds of 177 or 183 mph. The Maserati Quattroporte V made 400, 425 & 434 bhp and reaching top speeds of 168, 174 & 177 mph. With highly desirable external styling and interior finishing (though below average infotainment systems) these were excellent vehicles to own.

Though Maserati prices 2010 in the showroom were steep. The GranTurismo retailed between $119,000 to $135,000 while the Quattroporte was sold for $120,000 to $134,000.
Rare Finds
But when you search on the internet for any available models from that 2010, there are slim pickings. Only a couple of examples are readily available. I could only find a few of the above mentioned models when doing a state specific search and both were the Base vehicles for GranTurismo and Quattroporte. But if you're willing to expand beyond your state and look across country for the right example there's plenty to choose from.
The asking price for the Granturismo at its lowest was $25,000 while the Quattroporte was going for just $28,735. Compared with some other used car examples, the Quattroporte price was very good. Compared with other more normal cars like the Subaru Impreza, Chevy Malibu and a VW CC they were all of a similar price. The GranTurismo was on a good comparison to BMW M3, Dodge Challenger and an Audi S5.
Of course, one needs to examine the vehicle's history and current service requirements to understand what "hidden" costs still await. But still, to be able to purchase an iconic Italian performance car, with a wonderfully sounding Ferrari V8 engine, at such a knock down Maserati prices 2010 cars now have must be alluring for many out there.
There's plenty of opportunities to purchase a used Maserati and the USA is probably one of the best places in the world to grab a bargain. Other markets can see the starting price of a Granturismo way up around the $320,000 range and honestly for the reduced prices if you don't mind driving around a slightly older version of the Quattroporte or Granturismo from 2010, you're essentially getting the same car as the 2020 versions. The newer versions just have a few upgrades but the essence of a Maserati is still there. The gorgeous styling, leather interior and of course the sonorous Italian V8 engine, the heart of the glorious car.
I'll leave you with this, don't be shy to purchase a 2010 Maserati as regardless of a newer or older car you should always get the car professionally inspected as this can save you thousands of dollars in the future. Once it passes you level of satisfaction, then you have a world of aftermarket parts you can upgrade the car with to improve it from the original 2010 car and depending on how extreme you go, even beyond the latest models.
There's also the option for you to find the latest body kit parts from a salvage Maserati from the more recent years. This is a great cost effective way to upgrade the styling of your Maserati as these parts are usually just bolt on without any modification. With the savings you make on the Maserati prices 2010 year models go for, you will still get you into a modern looking Maserati with the updated exterior for cheaper than what a new one would cost.
Wreckers that buy these salvage Maserati's will usually let these updated parts go for cheap and you can usually search around online or even find the parts on Ebay. Goodluck with your future purchase and if you take away some key points from this article, you'll never be disappointed!