2004 Maserati Quattroporte Review
Quattroporte is a name that carries a lot of prestige to the educated ear. The Quattroporte I had landed the title of fastest four-door in the 1960s, and the name has continued to be synonymous with power and elegance ever since.
The 2004 Maserati Quattroporte continued that tradition, mixing sports car performance with the luxury of a limousine. Inside, you will find all the trappings of a high-end vehicle of the time, from liberal use of wood and leather to sculpted seats that are both the height of comfort, but a little restrictive at the same time as you'd expect from a sports car.
The surprisingly agile 2004 Maserati Quattroporte enjoyed a lengthy run, being retired after nine years of service.
04 Maserati Quattroporte Specifications
This iteration of the Quattroporte is a front-mid-engine car with rear-wheel drive. Under the hood you will find a 4.2-liter Ferrari designed F136 V8 engine, coupled with a DuoSelect Automated Manual transmission. The car has a curb weight of 4,255lbs.
The Quattroporte Performance
The powerful V8 engine brings plenty of torque to the table, along with up to 395bhp. Such is the dedication to delivering on this potential that there is even a button on the dash to bypass some of the exhaust's sound muffling, allowing the engine to exhaust more quickly (and loudly) for that extra edge.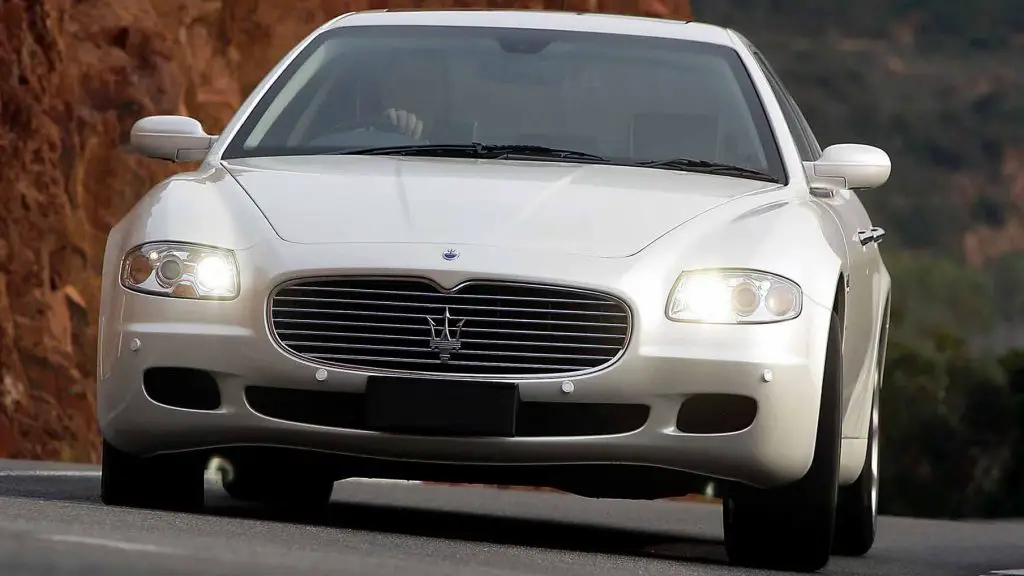 The automated manual transmission is a little hit and miss, however, it is geared for short changes, which works well for hard-driving, but it doesn't deliver the smoothest of changes when driving normally, which can feel a little at odds with the luxury surroundings you find yourself in when you climb into the 2004 Maserati Quattroporte. However, you can get a very smooth experience by changing gears manually.
Maserati Handling
The handling is one area where the 04 Maserati Quattroporte really shines. Perhaps a little surprisingly so for such a big, powerful car. The steering is responsive and accurate, and the big body of the car never feels like it is overbalancing on turns.
The car is fitted with adaptive Skyhook dampers, which are employed to provide additional stability when going from regular driving to Sport Mode, which also changes the gear shift speeds for more responsive acceleration.
The car is rear-wheel drive, of course, and with all that power on tap, it can be easy to lose control if you're not careful, but this isn't a problem unique to the 2004 Maserati Quattroporte, all rear-wheel-drive cars are like that.
Italian Maserati Styling
We've touched on the luxurious nature of the car, and it's one that is prevalent in both the exterior and interior styles.
Exterior Elegance
The exterior is certainly a product of its time and may look a little dated to some, but the smooth curves have a timeless nature to them, while the large grille and vents on the front quarter panels add to the sports car pedigree of the Maserati Quattroporte 2004.
Part of the timeless nature of the 2004 Maserati Quattroporte design is the fact that there are no bold risks taken. Instead, the car relies on an understated appeal. For good or bad, it won't stand out in a crowd, well at least not for the wrong reasons.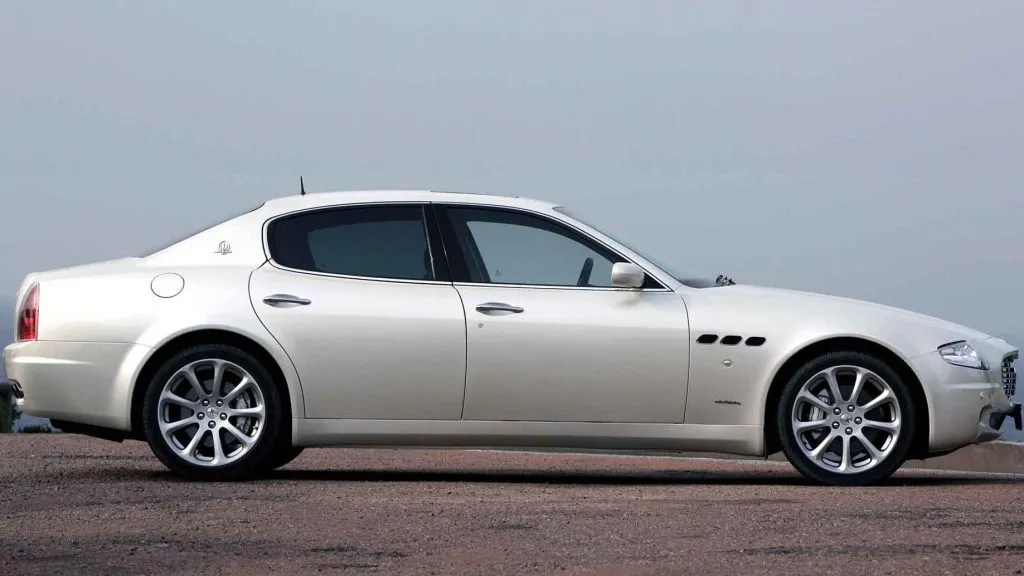 Interior Luxury
Like many sports cars, there isn't a huge amount of room for the driver. That is, there is plenty of room in the car itself, but a large-footed or legged driver may still find things a little snug. That being said, it is by no means a cramped experience, and the backseat passengers have ample room to themselves.
Like the exterior, the Maserati Quattroporte 2004 interior doesn't do anything outlandish to grab your attention. This could be seen as a failing, but the upside is that the subtle blacks and greys have stood the test of time, and don't look nearly as dated as other more extravagant designs do years later.
The seats are sculpted for added comfort, though it should be noted that this makes the five-seater a four-seater in practice. You can certainly seat three people in the back, the middle occupant will not have nearly as comfortable an experience as the other two.
On Road Feeling
The 2004 Maserati Quattroporte is very much a tale of two cars when it comes to real-world driving experiences. On smooth roads, the car feels agile, responsive, and, of course, powerful. The finely tuned mechanisms that are used to achieve that smoothness can be relatively easily thrown off by things like broken asphalt, however. Gear changes are perhaps not as smooth as one would hope from a car of this caliber, but they are by no means "rough".
One thing to note is that the hefty Maserati Quattroporte 2004 V8 block is a thirsty beast. While that thirst is put to good use on open roads with your foot down, it will get quite expensive if you're just taking your car to the grocers and back a few times a week.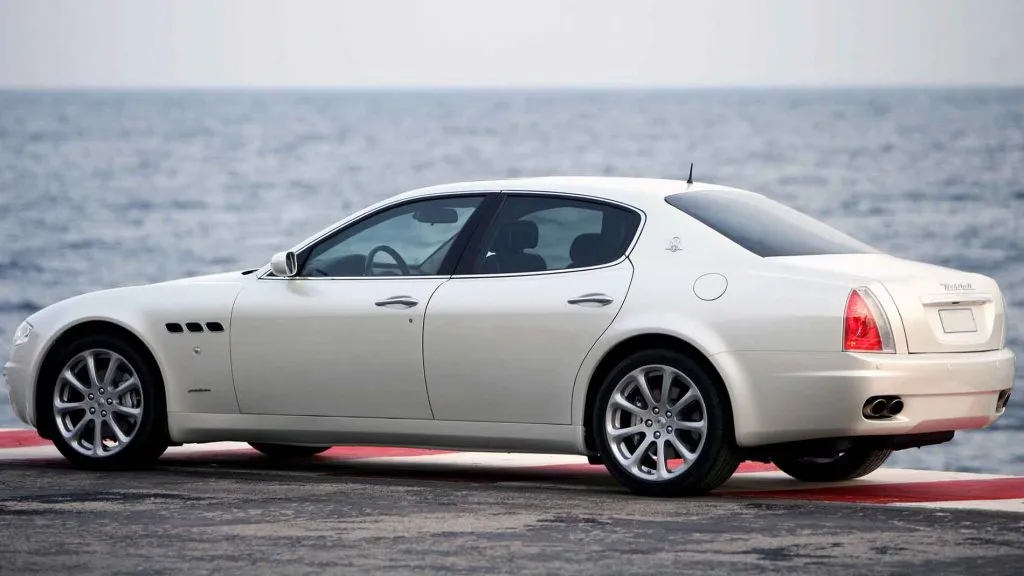 Taking the Good with the Bad
There isn't a great deal of negatives to point about the Quattroporte. It's a little greedy-but what 4.2-liter V8 isn't? The gear changes are not as smooth as we'd like, and there is a noticeable delay between putting your foot down when stationary to getting going, but none of these things are deal-breakers for what is, on the whole, a very slick ride.
2004 Quattroporte Pricing
With limited run editions retailing at well over $120,000 back in 2004, you might be surprised to learn you can own one of these for as little as $20,000 these days, with particularly well-looked after examples reaching as high as $50,000. As far as running costs go, you can expect around 18-19mpg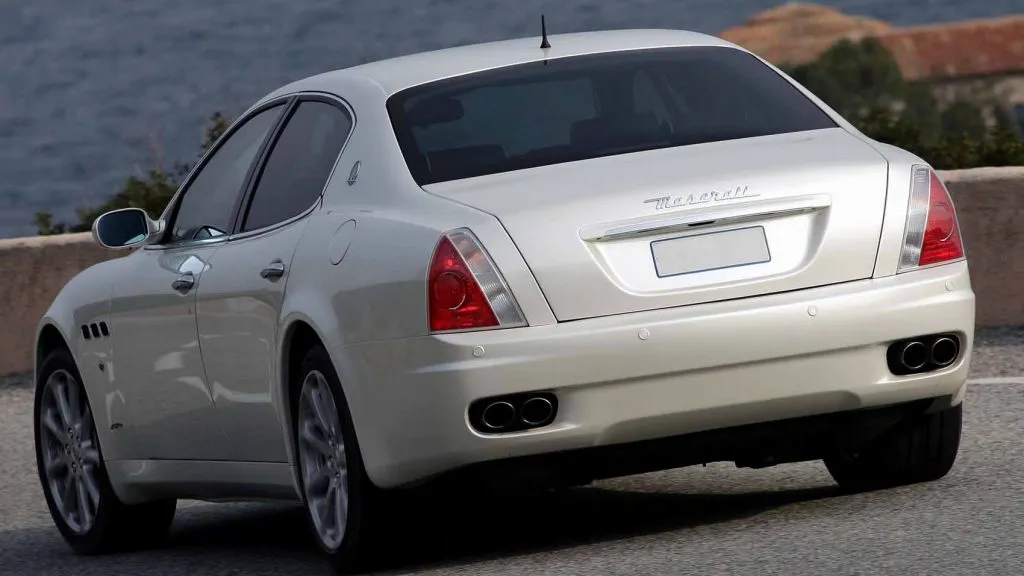 Final Thoughts
This iteration of the Maserati Quattroporte is one that has, thus far, stood the test of time, and offers a lot of what you would expect from a more modern car. It is, perhaps, a little focused on the sports car aspect of driving, but not so much so that it is an impractical daily driver, but we're willing to bet anyone who is looking at one of these isn't looking for something to run errands in.
While the 2004 Quattroporte was only available in one base trim model, its success would see it followed by several iterations, such as Executive GT, Sport GT, and Sport GT S. There would also be a facelift version of this model that hit the market in 2008.
If you're looking for something with a bit of history, a lot of luxury, and plenty of power, you can do a lot worse than the Maserati Quattroporte.