Are you in the market for your next car and not sure which is best suited to what you're looking for? If so, you may be wondering if the 2008 Hyundai Elantra is the right choice for you. In this review, we'll take a look at some of the pros and cons of this popular vehicle. So, read on to find out whether or not the Elantra is the right car for you!
When it comes to finding a car, there are many different factors to consider. One of the most important decisions you'll make is what type of car to buy. If you're looking for something affordable and reliable, the 2008 Hyundai Elantra may be just what you're looking for. This popular car has many features that drivers love, but it also has its drawbacks
The 2008 Hyundai Elantra isn't particularly striking, but its price tag is. The base model is relatively sparsely equipped, but the top trim offers safety features like electronic stability control, traction control, and brake assist. Despite seven recalls, the 2008 Elantra still has lots to offer.
Family sedans have simple requirements – keeping your passengers safe and happy on the daily drive. The Hyundai Elantra was developed to ferry five occupants in comfort, with a capable powertrain that is also fuel-efficient. But is the extended warranty and high safety ratings enough to set your mind at ease about purchasing one? Let's look at what the 2008 Hyundai Elantra has to offer.
 2008 Hyundai Elantra Review – Is It Affordable And Reliable?
If a family sedan that doesn't cost an arm and a leg is what you're looking for, the 2008 Hyundai Elantra may have made its way onto your shortlist. Priced under $15k for an entry-level model at the time of debut, the Elantra came with all the basics needed to fulfill the daily commuter's role.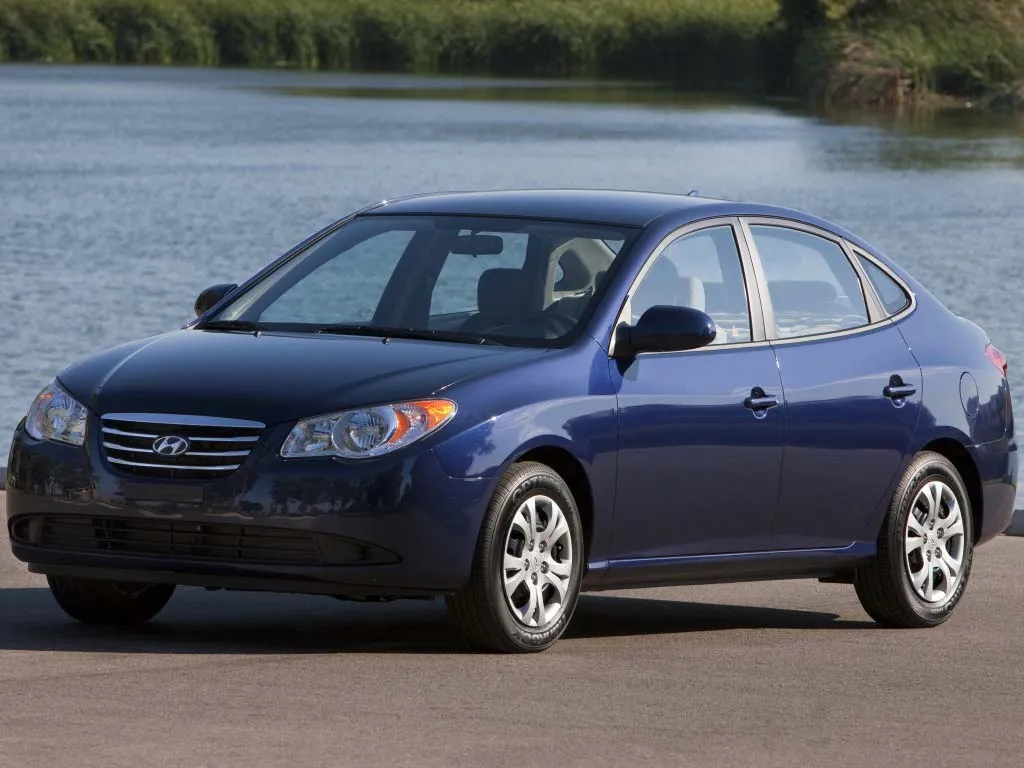 With two trims to choose from, the upper naturally offering more for the price, there's an Elantra for those who want only the bare essentials, and there's an Elantra for buyers who want heated heats and a bit more audio quality. But has it held its value over the years, and is it reliable? Let's take a look at the lineup.   
Hyundai Elantra Size Cargo Space
As the name implies, a compact sedan may seem cramped for passengers and cargo alike. But the 2008 Hyundai Elantra manages to do quite well in its dimensions and size. Fresh off a redesign from last year, the Elantra is longer and broader than its previous iteration, allowing for moor interior space.
Exterior dimensions include a length of 177.4 inches over a 104.3-inch wheelbase and a width of just under 70 inches, excluding the mirrors. This is conducive to loads of space inside. Trunk space in the 2008 Hyundai Elantra is excellent and beats many of the rivals in the segment. There is 14.2 cubic feet of space for groceries, luggage, or school bags. If you want to load something longer, the rear seats fold down in a 60/40 split.
2008 Hyundai Elantra Interior
The 2008 Hyundai Elantra interior reflects the conservative styling cues from the exterior. While some consider it bland, the interior space has a pleasant, user-friendly feel and is generously equipped with comforts and conveniences, considering its price tag. Seating capacity is limited to five, but it's worth noting that the back seat is entirely usable by adults, with sufficient space for even slightly taller folk for the daily commute.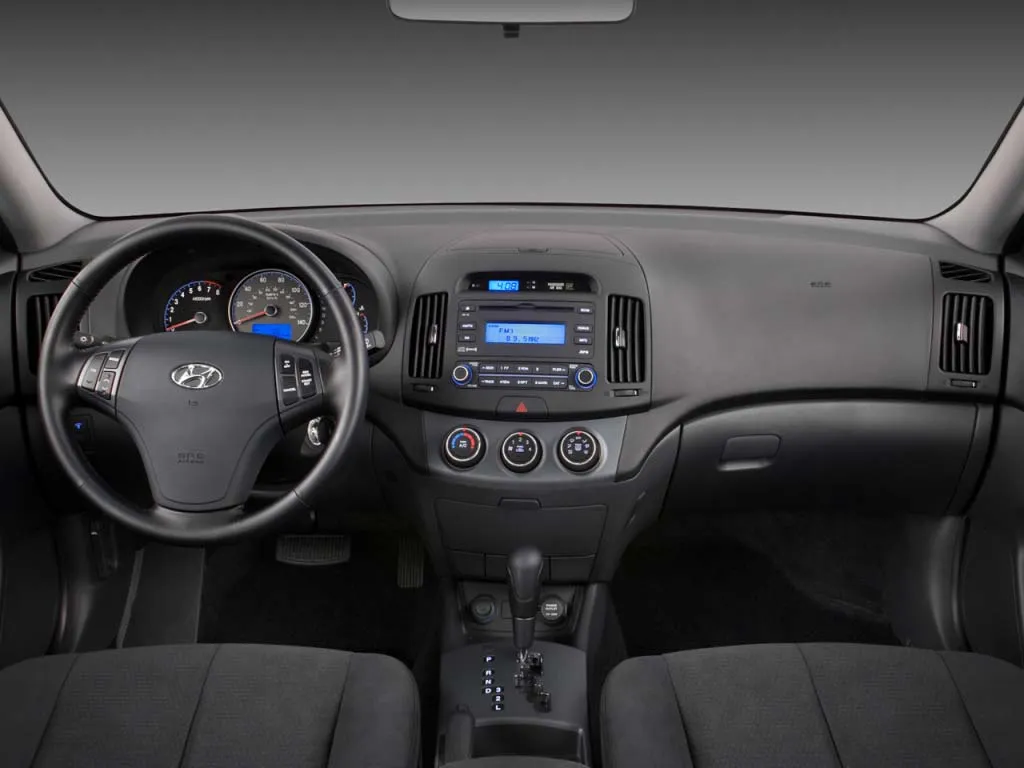 Headroom up front is 40 inches, while rear-seat passengers get 37.6 inches. Legroom front to rear is 43.5 inches and 35 inches, respectively. So, while the seats in the back are roomy enough to seat grownups, longer trips may require frequent stops to stretch out a little.
Cabin Look And Feel
Considering the 2008 Hyundai Elantra sticker price, the cabin looks and feels great. As is expected in this class, there are some plastics and cheap-feeling surfaces, but the fit and finish are solid and ergonomically laid out.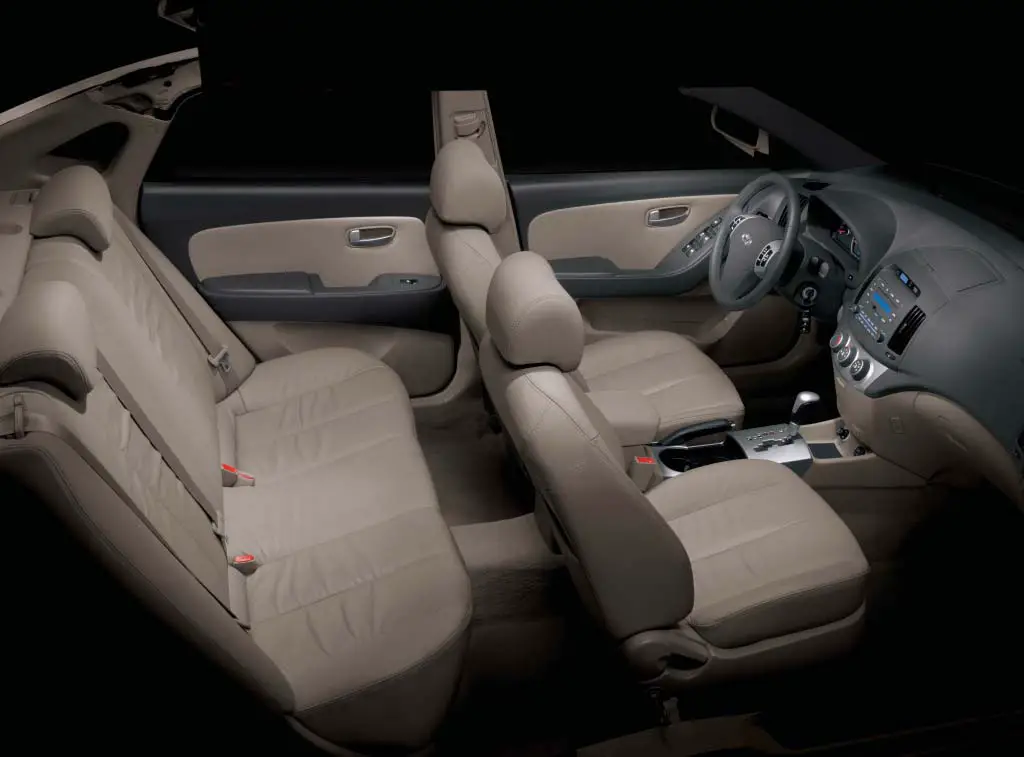 Cloth seats are standard across the range, but you can upgrade to leather upholstery through specific packages. You can even add heated seats and a sunroof if you specify the SE Premium Package on the top trim level or as a standalone option on the base model. Overall, it's not an unpleasant place to spend time, although there's not much fun to be had for the driver if driving is one of their favorite hobbies.
2008 Hyundai Elantra Specs
Gearheads and motoring enthusiasts aren't likely to get any joy from piloting this little sedan, and the 2008 Hyundai Elantra specs are more in line with a comfortable commuter that will keep your family safe and your budget in the black.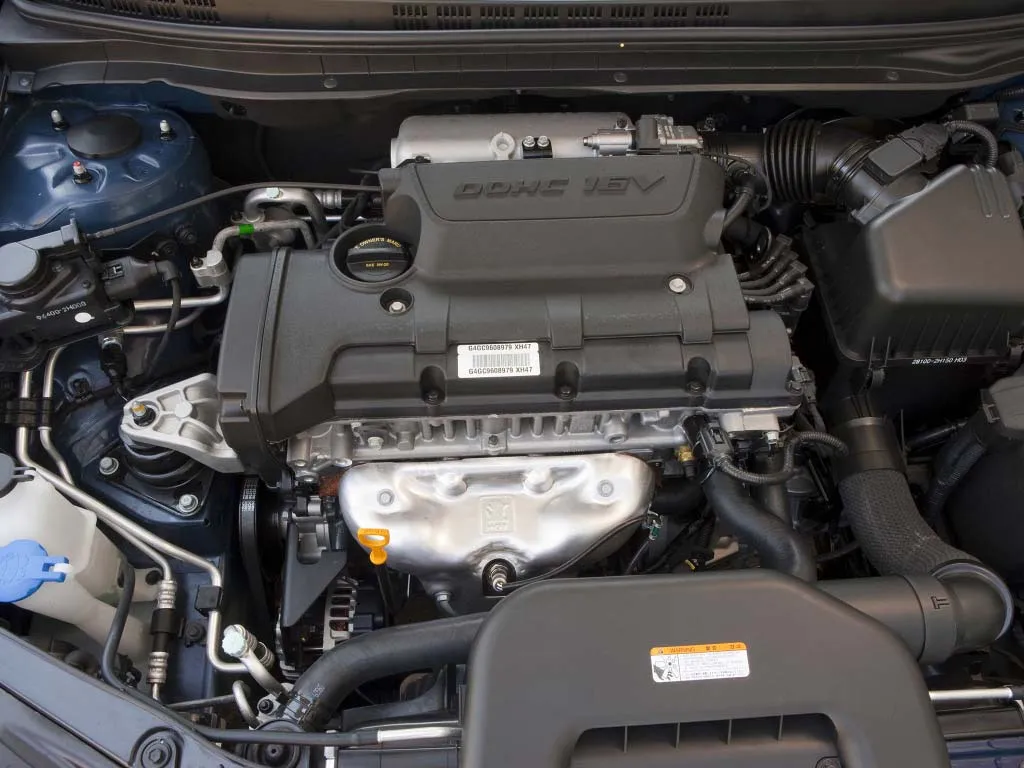 Under the hood, the Elantra has a 2.0-liter four-cylinder engine that makes 138 horsepower, which is lowered to 132 hp if you reside in a PZEV-rated zone. Torque figures are between 133 and 136 lb-ft. The sedan is front-wheel drive, and buyers can choose between a five-speed manual or four-speed auto for rowing the gears. Acceleration and power are adequate for the segment but not particularly thrilling.
Driving Feel
Sedans like this aren't really designed to send adrenalin rushing through your veins, so what it does offer is on par with rivals. Handling around corners is sufficient to make you feel in control, and fortunately, there isn't enough power on tap to make screaming around corners dangerous. Some buyers have noted that the steering feel is a little numb, but we'd expect that from this type of car.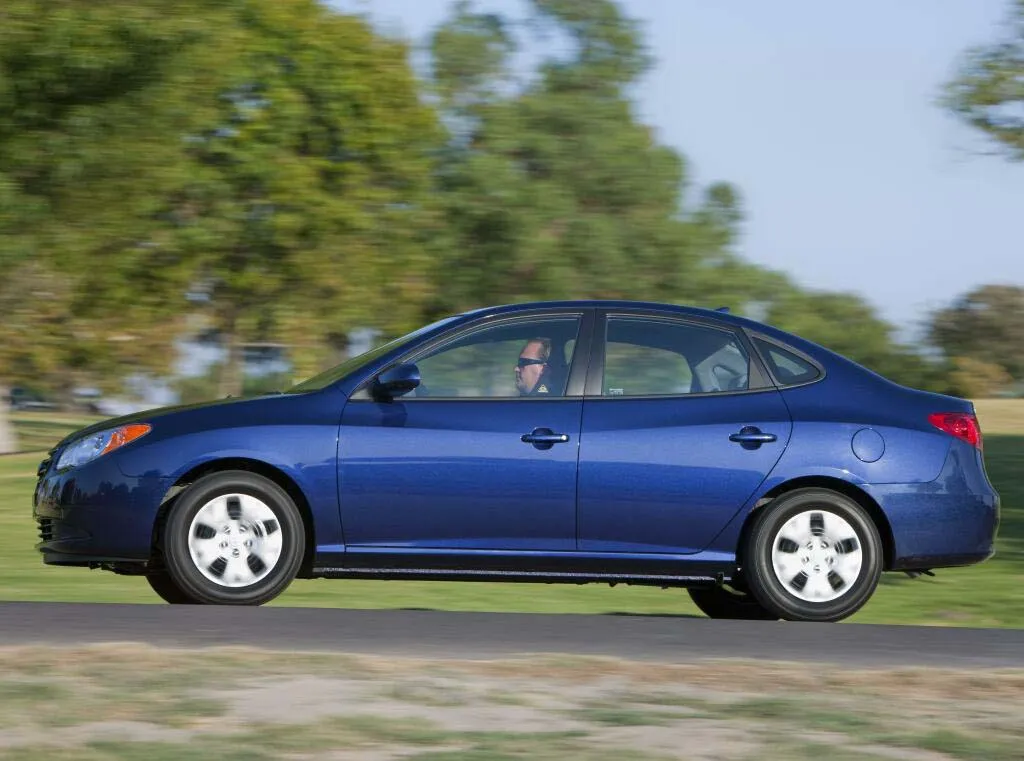 The 2008 Hyundai Elantra can't be held to sports car standards as it is by no means a performance sedan. It will handle the daily school run or work commute without a fuss, and merging and overtaking are managed with a bit of forethought and planning. The engine sounds a little unrefined when pushed hard, but the cabin damping works hard to mitigate this.
Gas Mileage
Fuel economy figures are surprisingly good, and this feeds into the idea that the 2008 Hyundai Elantra is an affordable and budget-friendly vehicle. With the automatic gearbox equipped, EPA gas mileage figures over city/highway/combined cycles are 25/33/28 mpg. With the five-speed manual, these drop a little to 24/33/27 mpg. The Elantra has a 14-gallon gas tank, which allows for a range of 392 miles with the auto, and 378 with the manual.
Features And Tech
There are two trims in the range, and features depend primarily on which model you opt for. The 2008 Hyundai Elantra GLS is the base model, and it comes with standard tech like remote keyless entry, a tilting steering column, power windows and doors, and heated exterior mirrors. A basic four-speaker sound system is standard. A power sunroof, air conditioning, and a six-speaker sound system with Satellite radio can be added if you want more.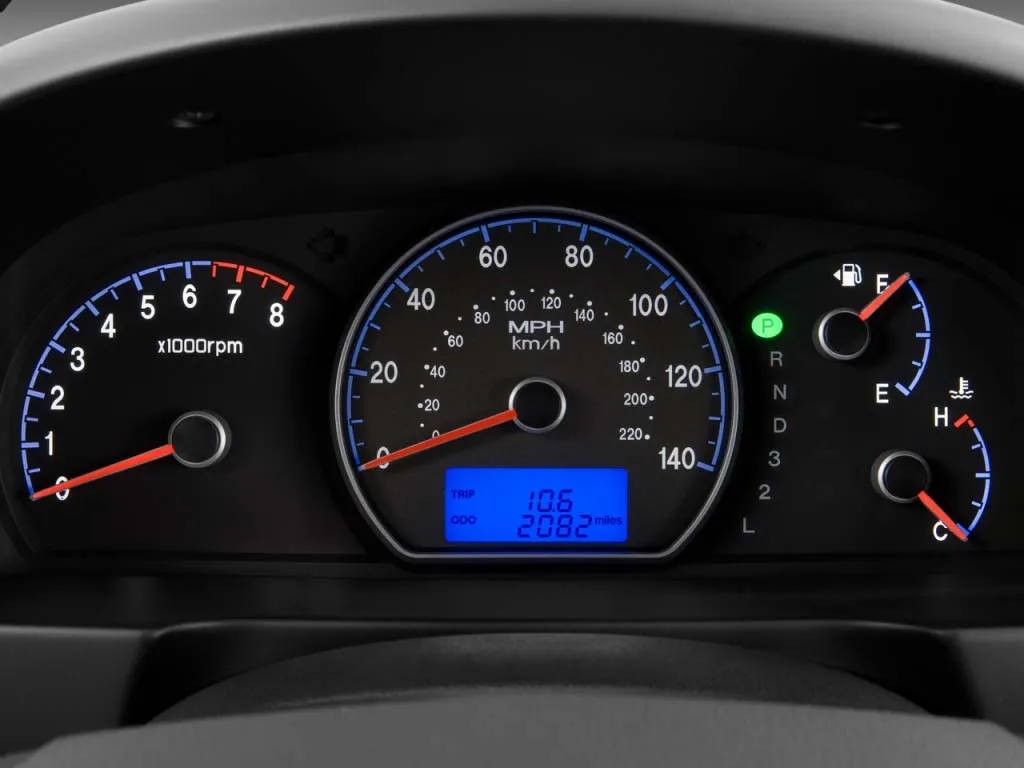 The upper trim is the 2008 Hyundai Elantra SE, which comes standard with stability control, tractions control, and brake assist over the base GLS, as well as front fog lights and a leather steering wheel and gear shifter in the cabin. This model gets the upgraded sound system off the factory floor and audio controls on the steering wheel. Heated front seats are available by a package upgrade.
Safety Scores
Safety ratings from the NHTSA are impressive, with a full five-star rating given to both frontal crash tests, while the two side crash evaluations earned four-out-of-five scores. The rollover test resulted in four stars, too. The IIHS was a little less generous, with ratings ranging from Marginal through Acceptable to Good.  
2008 Hyundai Elantra Problems and Reliability
Reliability has been questioned for the tiny sedan, with seven recalls issued. The 2008 Hyundai Elantra problems that led to these recalls include ABS module short circuits, electric power steering concerns, faulty stop lamp switch, accidental airbag deployment, driver's airbag sensor issues, and fuel pump motor faults.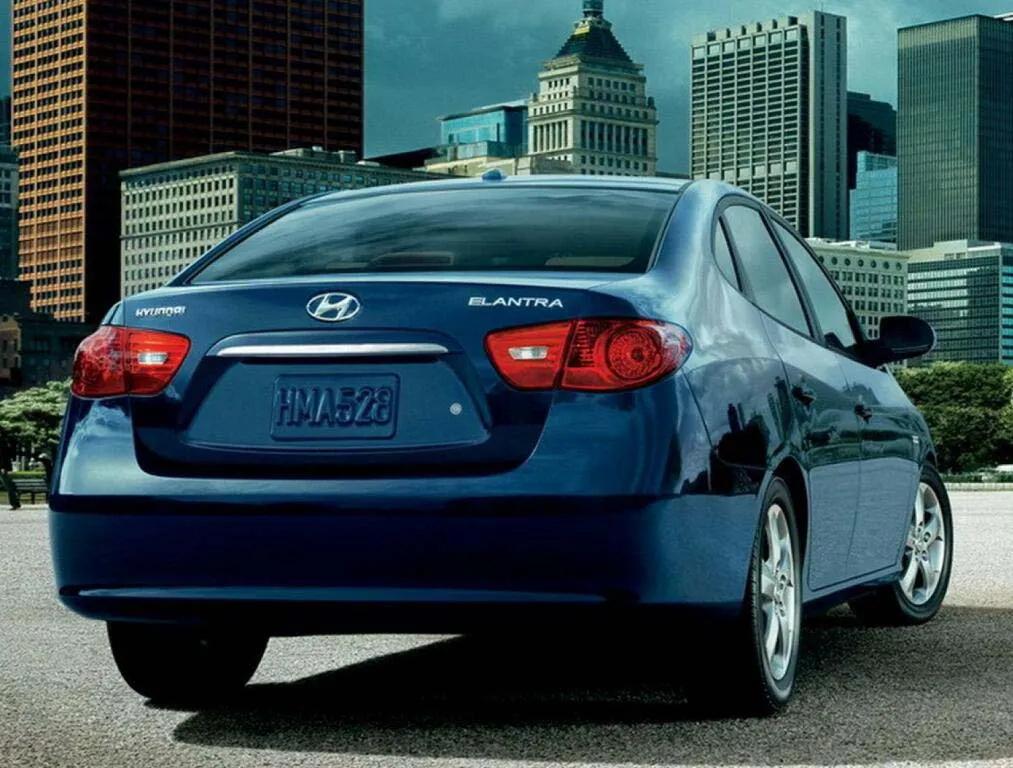 When it was new, the Elantra had a class-leading warranty for added peace of mind: five years/60,000 miles and ten years/100,000 miles of cover for the powertrain.
Over the years since its release, the 2008 Hyundai Elantra has racked up a few consumer reports and complaints that seem to indicate problems. Realistically, however, many of these were addressed under recalls from the manufacturer, and others are simply issues relating to the vehicle aging.
Price And Value
As new, the 2008 Hyundai Elantra was one of the cheaper sedans in the compact segment with a starting MSRP of $13,970 in the base configuration. Moving up to the top trim and equipping some extra options would see this increase to around $17,670, with optional equipment bringing it closer to $20k.
As a used car, a Hyundai Elantra from 2008 should be readily available for around $5k. Buyers in the second-hand market will find a lot of value in meticulously maintained models from 2008.    
Our Verdict on the 2008 Hyundai Elantra
When the manufacturer put together the package that is the 2008 Hyundai Elantra, they made sure to include all the necessary things that make it an ideal commuter. It is spacious and comfortable inside, and although it's far from plush, the materials used are of good quality. There are enough convenience features to keep passengers happy, this is especially evident in the top trim.
Sure, the 2008 Hyundai Elantra isn't the most memorable car to look at or drive, but it does what it is tasked to do. It's also affordable to buy, and with good fuel consumption figures, you won't be spending too much at the pumps either.