As a car enthusiast, you're always looking for the newest and most interesting vehicles on the market. I'm not usually one to delve into the pickup truck world but the Dodge Trex kept popping up left, right and center so I had to check it out. This truly unique beast of a pickup is something to be marvelled at with it's impressive performance specs provided by none other, than the iconic high-horsepower Hellcat engine.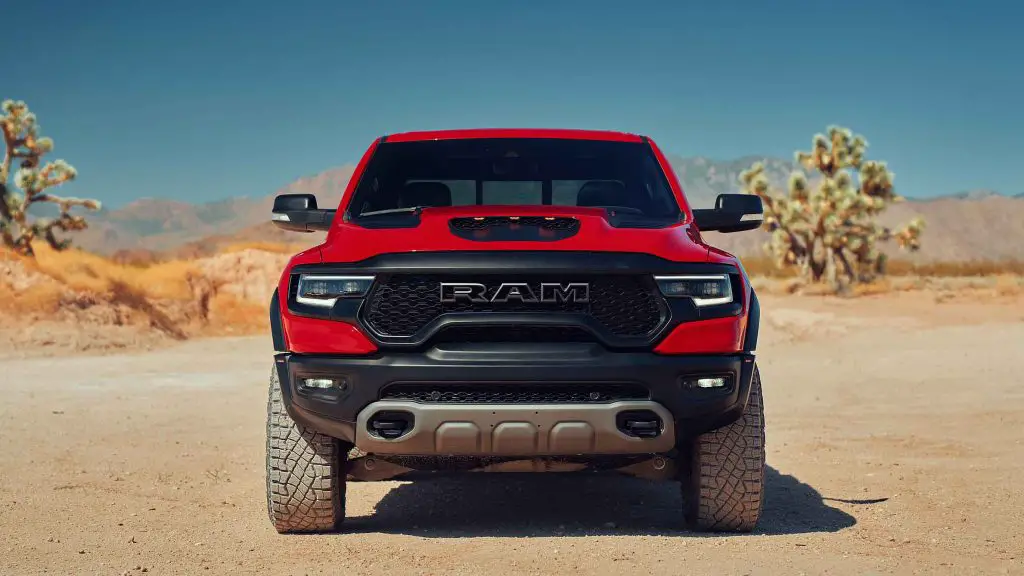 The Dodge Trex can do almost everything that other cars can individually do well. It surrounds its occupants in all-encompassing luxury, offers mild behavior on highways, and yet when it goes off-road, it can jump hills, race over dunes, forge through deep water and climb giant rocks.
If the Dodge Trex were a human still in school, it would be described as an all-rounder, the star quarterback, the champion pitcher on the baseball team, and yet it would also be the star chess player. There is no other vehicle on the planet with the same range of capabilities as the Dodge Trex.
The History Of The Dodge TREX
Since Dodge launched the Hellcat engine in 2014, they have installed it in everything they produce with wheels.
Dodge Challenger SRT Hellcat.
Dodge Charger SRT Hellcat.
Jeep Grand Cherokee Trackhawk.
Ram 1500 Rebel TRX Concept.
Dodge Durango SRT Hellcat.
Ram 1500 TRX.
Thank goodness they don't manufacture golf carts or mobility scooters!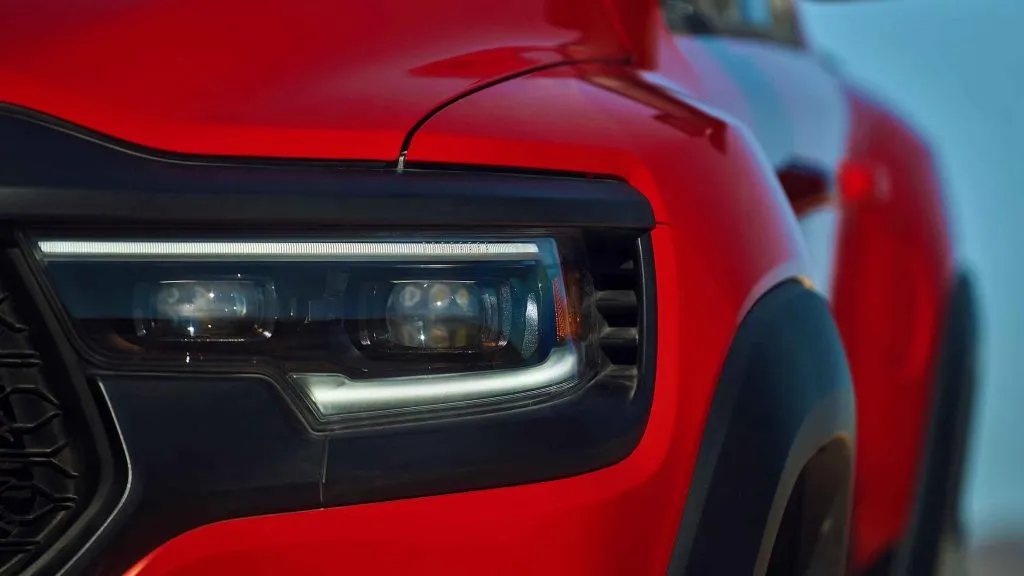 What Is The Dodge TREX?
Do you remember when there were only six categories of a car not too long ago?
Luxurious vehicles such as Roll Royce's.
Small runabouts.
Small sports cars.
Supercars.
Trucks.
In the modern era, there are a confusing number of new segments. Where electric-powered midrange family cars accelerate faster than most supercars, smaller hatchbacks with more features than luxury limousines, and craziest of all, the Dodge Trex competes against all of them.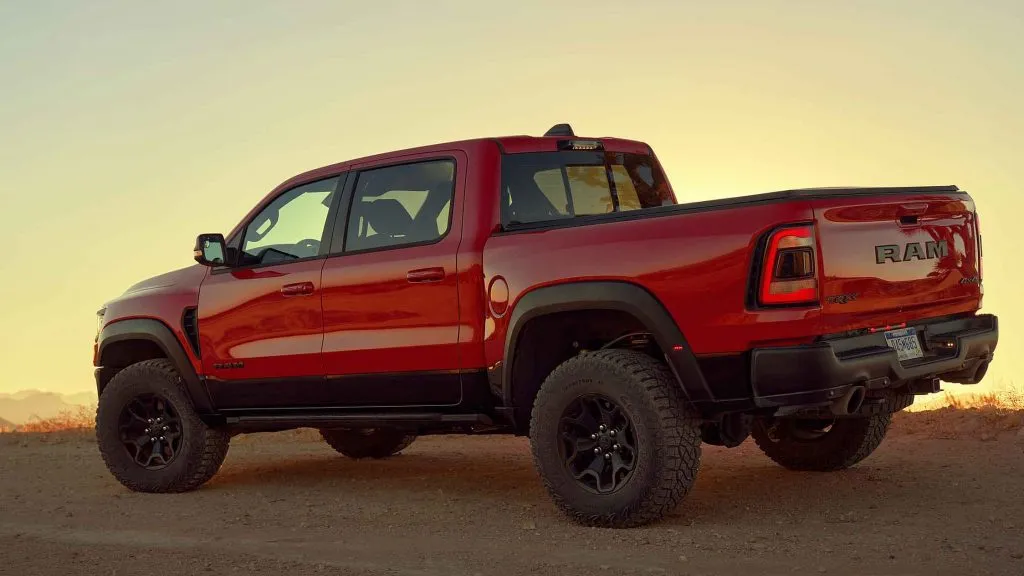 The Dodge Trex is the most complete vehicle available.
It provides more comfort for its passengers than some luxury vehicles.
Carries as many occupants as mid-size family cars.
Enables road handling, which competes with small sports cars
Accelerates faster than most supercars
Has more load-carrying capacity than any of them.
The only segment it cannot compete in is against the small runabouts.
They obviously had the Dodge Trex in mind when Dictionary.com defined a beast as someone who is extremely strong, skilled, or dominant.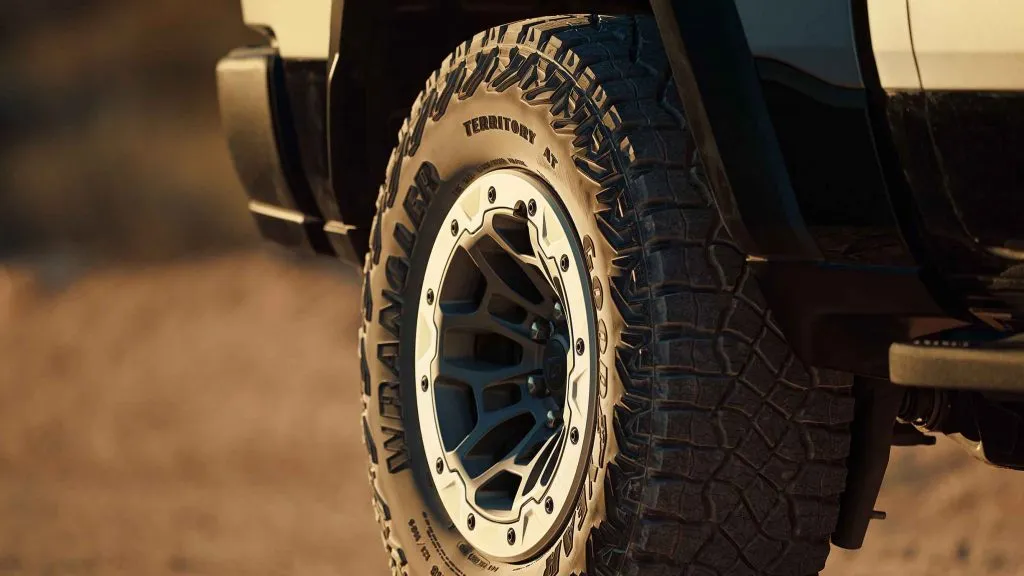 With brake discs the same size as the entire wheel on some smaller sedans, you know that there is something ferocious contained inside which needs to be controlled.
Equipped with the 707HP Hellcat engine, this beast of a vehicle has few equals. With the launch control activated, it accelerates the Dodge TRX 0-60 mph in 3.7 seconds and blasts through the quarter-mile at 110 mph in only 12.3 seconds.
It can climb hills, jump ridges, wade through deep water, conquer thick mud, breathe cleanly through a sandstorm, crawl up rocks, join in Baja racing, and when you have finished doing all of that, you can take the kids to school or drop off a load of rubble at the waste disposal center.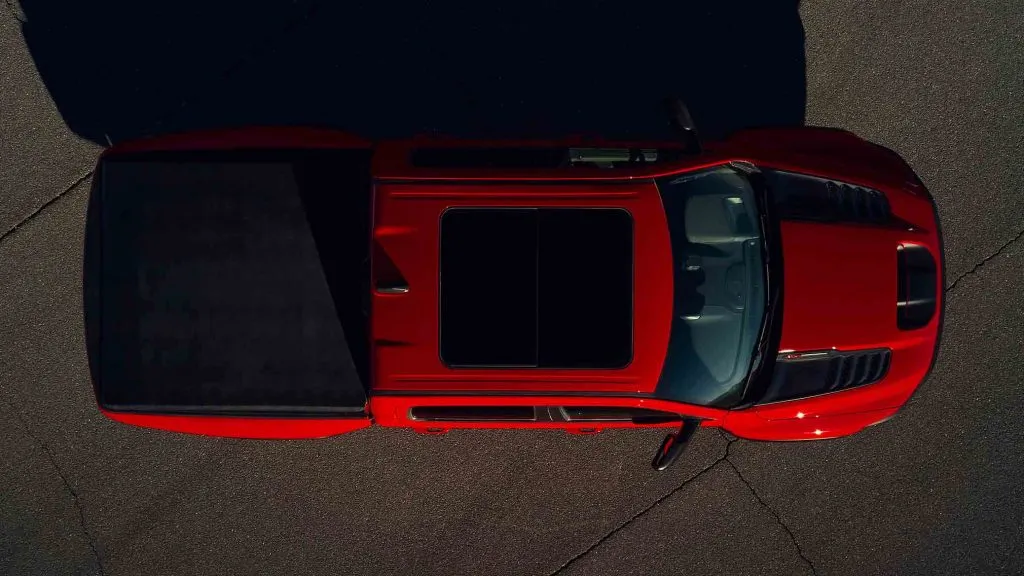 Every metric is bigger, wider, and higher than the Ford F-150 Raptor models. From this point on, considering the it's a very comparable truck we'll give you some insight into the Dodge TRX vs Ford Raptor argument and let you judge for yourself which is better.
Dimension
| Dodge TRX
| Ford F-150 Raptor
Super cab
| Ford F-150 Raptor
Super crew
Length
232.9in
220.0 in
231.9
Width
88.0 in
74.5 in
86.3
Height
80.9in
56.7 in
78.5
What Is The Dodge TREX Like To Drive?
You can't answer this question with a simple one-liner.
Off-road, the additional 12 inches of height over its siblings and riding on 35-inch-tall tires makes it almost unstoppable across various terrains.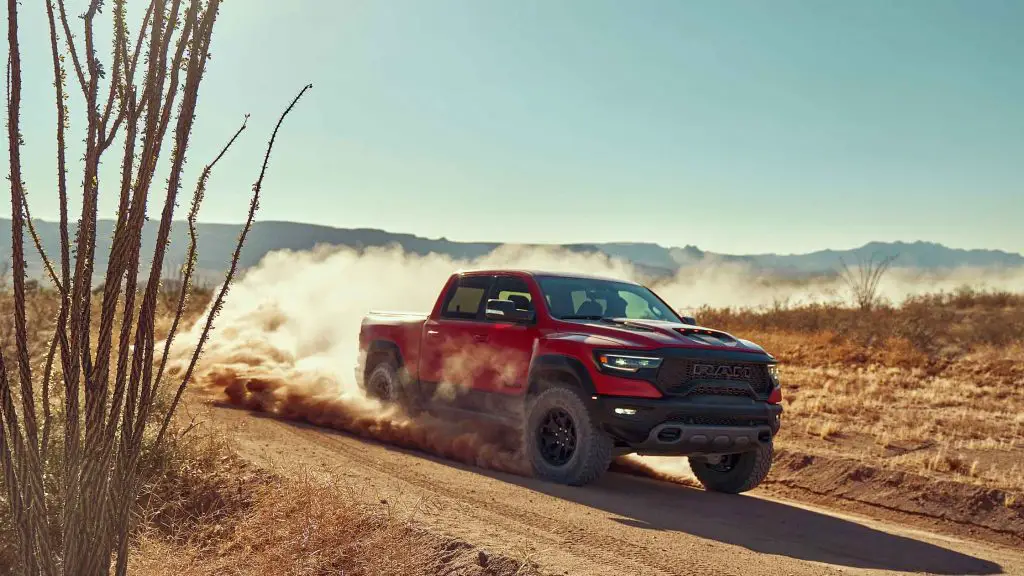 You can use it to jump over ridges without invalidating the warranty. Its novel Jump Detection system calculates the jump height and wheel speed and adjusts the dampers, torque, and engine speed to ensure that it lands in one piece.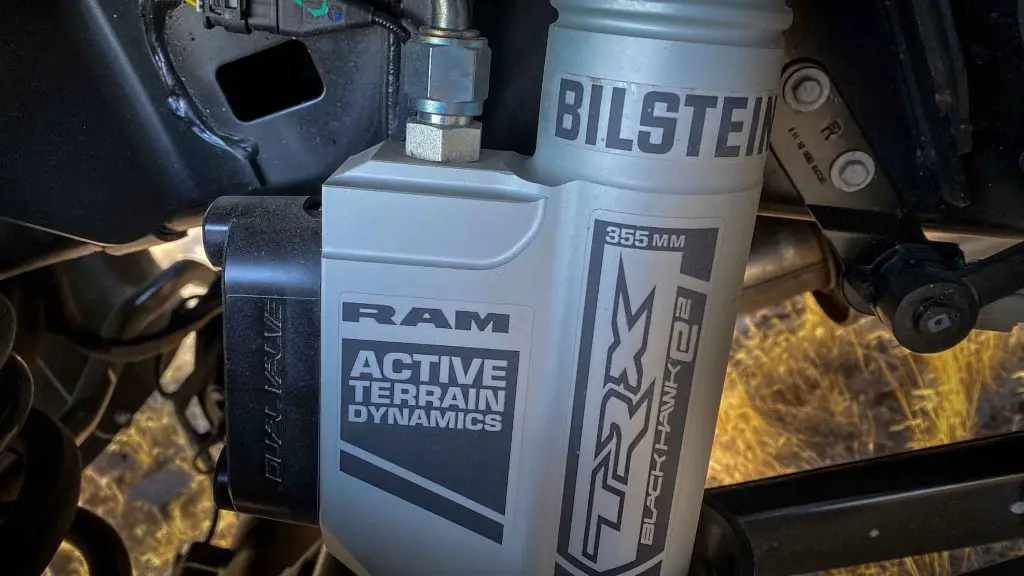 The shock absorbers on the rear wheels can travel up to 13 inches which makes the roughest of surfaces easily and comfortably traveled on.
The versatility of the Dodge Trex is astonishing. On the same day, it could
Rock climb up a steep boulder with an approach of 30 degrees.
Forge through 32 inches of deep water.
Race across dunes.
Catch an impressive amount of air over a jump.
Take rubbish to the trash dump.
Race and beat an Aston Martin Vantage Roadster from 0-60mph.
Haul 1,310 pounds in the bed.
Tow an 8,100-pound trailer.
Carry four people in its large, leather-stitched cabin.
There is no other vehicle like it on the planet.
Despite its heavyweight and colossal footprint, it is remarkably refined and docile on paved highways.
If you need to maneuver in tight spaces, you should bring out the hatchback because with its 48.3 foot turning circle, this is not a Dodge Ram TRX strength.
What Was The Dodge TREX Fuel Consumption Like?
There is always a trade-off with any vehicle design, and although the Dodge TRX manages to tick almost all of the boxes, miserly fuel consumption isn't one of them.
| | |
| --- | --- |
| Truck | Miles Per Gallon (MPG) |
| Dodge TREX | Town 10 MPG, Highway 14 MG |
| Ford F-150 Raptor | Town 15 MPG, Highway 18 MPG |
The Dodge TRX Interior
Returning to the positives, remember that it competes with a limousine on the inside; well, read on.
The Dodge Ram TRX had changed the whole game plan when the Dodge TRX interior was designed. It is, by some margin, the best interior of any half-ton truck in America.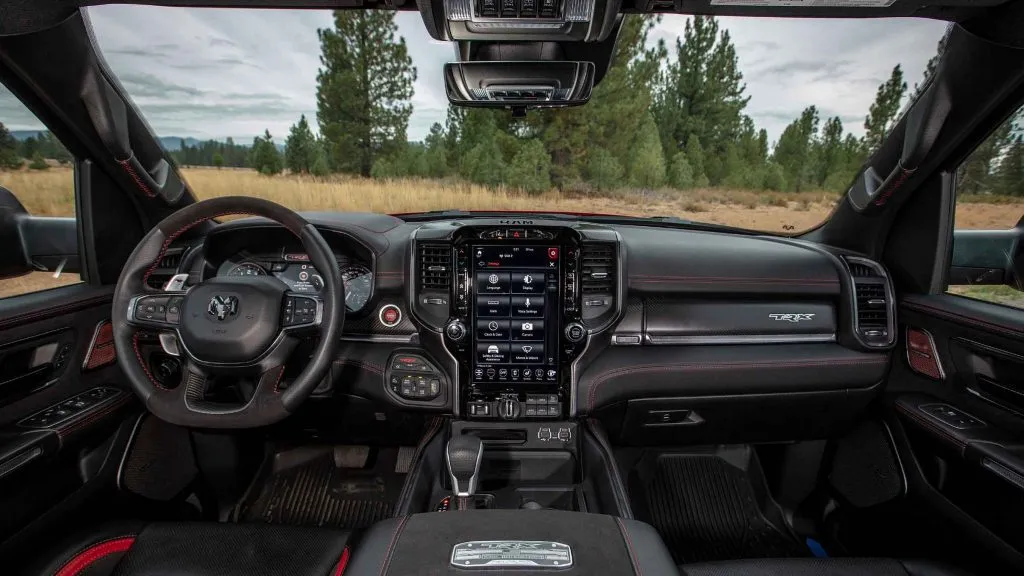 It is only offered as a four-door crew cabin adorned with leather seats and an entire leather dashboard mixed with microsuede and carbon-fiber accents. The quality of the finish and fit rivals some of the best luxury cars.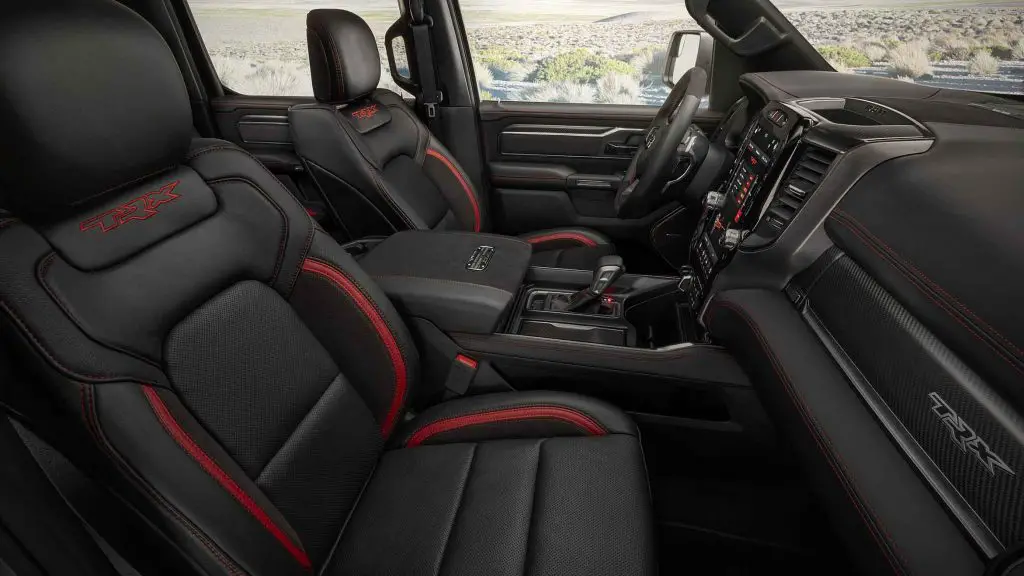 The squared-off steering wheel, endowed with a pair of prominent paddle shifters, provides a sports car-type feel.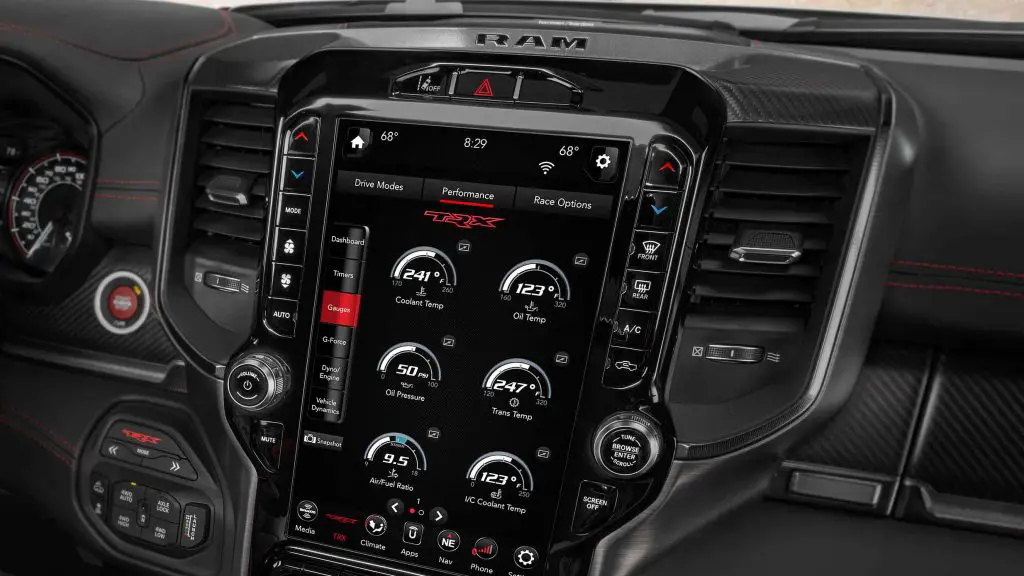 A Tesla esq 12.0-inch touchscreen information screen dominates the center display stack. An exciting feature is that the screen can be divided into segments, displaying separate information in each part.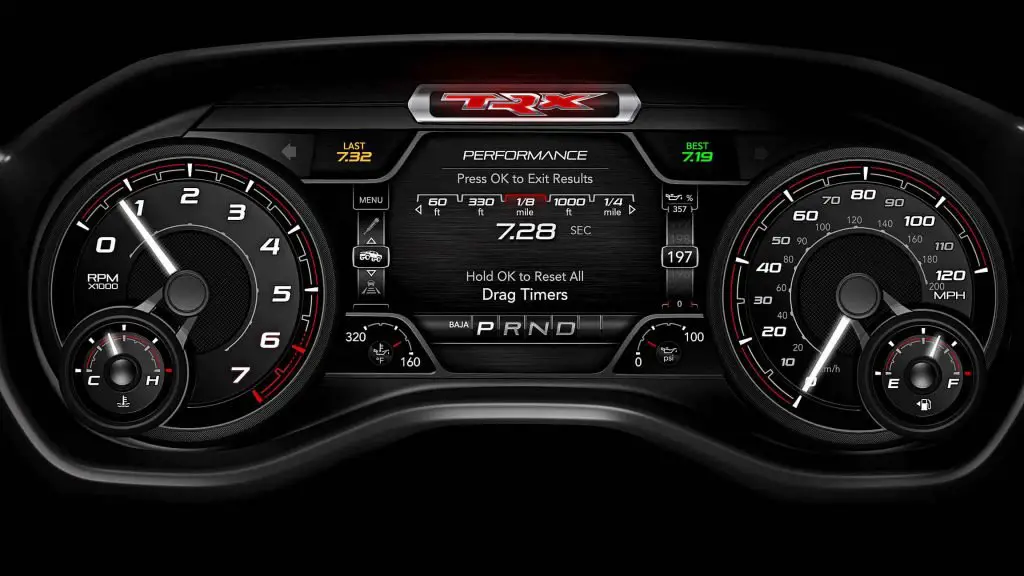 As is required of all modern cars, Apple CarPlay, Android Auto, built-in navigation, and SiriusXM satellite radio are standard. A 7-inch digital instrument panel display compliments the center stack screen to list additional information. All controls ergonomically fall to hand.
The Dodge TRX Engine
Until Ford launches the 700-plus-hp Raptor R, and possibly even after, the Dodge Trex remains the king of the hill. There is no other truck with an engine that provides the same brute power as the Dodge TRX Hellcat.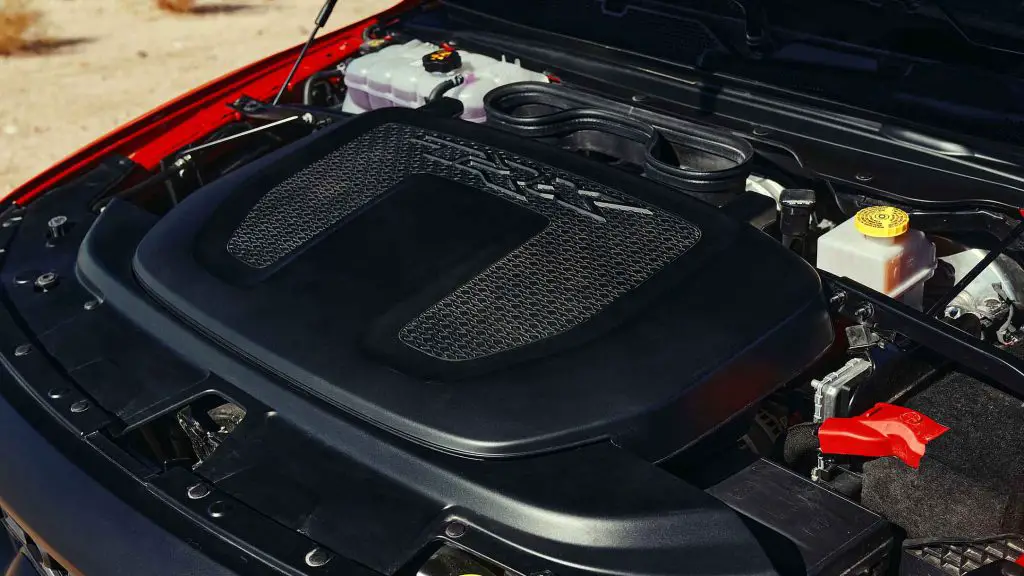 The Dodge TRX specs are not to be laughed at. The Hellcat V-8 implanted at the heart of this beast elevates the Dodge TRX horsepower to a mind-numbing 707 horsepower and 650 pound-feet of torque sent to the rear wheels via an 8-speed automatic transmission.
| | | | | |
| --- | --- | --- | --- | --- |
| Model | Engine | Horsepower | 0–60 mph time | Quarter Mile |
| Dodge TRX | Hellcat | 707 | 3.7 seconds | 12.3 seconds |
| Ford F-150 Raptor | Twin-Turbo V6 | 450 | 5.2 seconds | 13.9 seconds |
Although fuel miserly wouldn't be used to describe the Dodge TRX Hellcat engine, it makes up for it in every other department.
The sound in the cabin is pleasantly subdued, but outside when the vehicle is sped up in anger, the sound is an ear-shattering roar.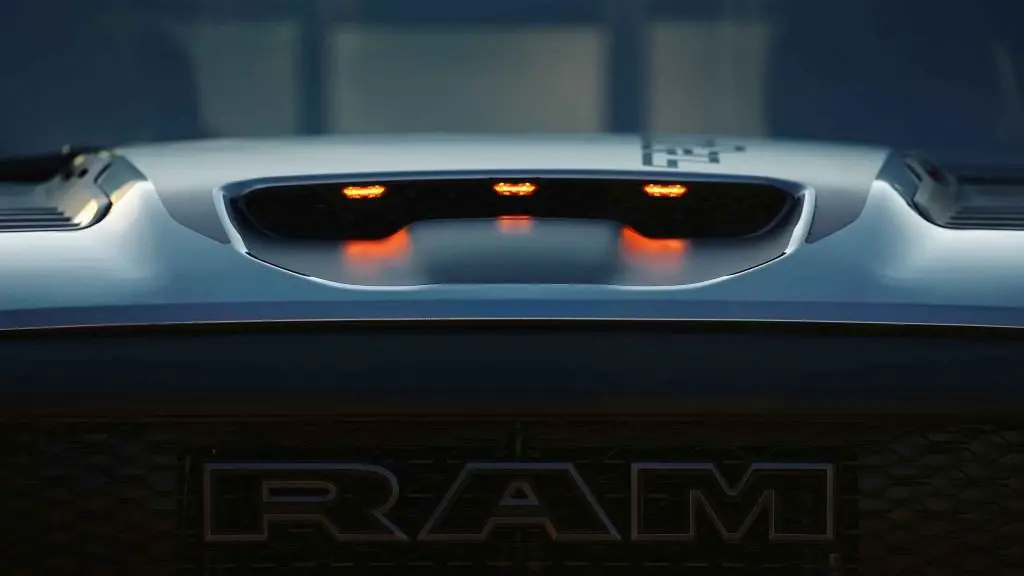 There is no low range available from the transmission – apparently due to the unique character of the Dodge TRX engine. TRX does offer specific drive modes for mud, sand, rock crawling, and Baja racing.
A user-friendly and sophisticated launch control ensures that the gas pedal is pushed down with a tap of a button; it will control the wheelspin to achieve this heavy weight of a vehicle's astonishing Dodge TRX 0-60mph time of just 3.7 seconds.
What Will You Pay For A Dodge TRX?
The Dodge TRX price is shown below for an array of the different 2022 Dodge Trex models and once again with a direct comparison looking at the Dodge TRX vs Ford Raptor as we know price is an important decision point when looking at your next truck.
| | | |
| --- | --- | --- |
| Model | | Year | | New MSRP |
| Base Dodge TREX | 2022 | $78,675 |
| Ignition Edition Dodge TREX | 2022 | $93,280 |
| F150 Ford Raptor | 2022 | $70,270 |
| F150 Ford Raptor R | 2022 | $75,000 |
Conclusion
The Dodge Trex is a confusing vehicle to categorize. It accelerates faster than some supercars, is more luxurious than many high-end vehicles, can race Baja bugs, and still perform all of the tasks a standard half-ton truck can be expected to do.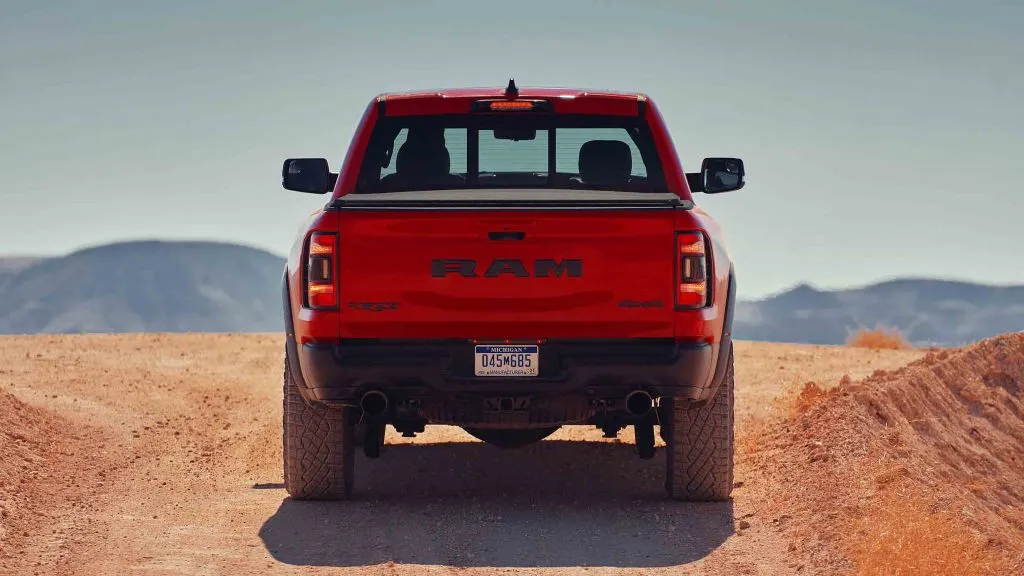 Of course, when you buy such a vehicle, fuel economy and the ability to turn in tight spaces will not be a high priority on your list of things to check out. The Dodge Trex is a unique vehicle, and as there is nothing similar in the market, if you want one, go out and buy it!