When comparing car manufacturers, you will be hard-pressed to find two manufacturers with as many similarities as you do when analyzing Alfa Romeo vs Maserati. Both are Italian car manufacturers who can trace their origins back over a hundred years, have a strong heritage with a respectable racing pedigree and happen to make great cars today.
They're not identical, however.
Maserati is not a mass-market brand, but a very exclusive manufacturer, producing certain cars with production caps. In contrast, Alfa Romeo is very much intended to be a mass-market competitor, with a range more suited for squaring off with the likes of BMW or Ford.
At the same time, both companies are inextricably linked through their parent company, FCA (Fiat Chrysler Automobiles), and some DNA-sharing seems unavoidable.
Which is Better Alfa Romeo or Maserati
With everything we just wrote in mind, it's important to remember that what you want from your vehicle will play a huge role in deciding which of these two brands is "better". If you want an affordable mass-market car, Maserati will not be the brand for you. Similarly, if you want a prestigious luxury sports car, you're not going to have as much luck with Alfa Romeo.
That being said, there are certain areas of cross-over, where a model from one brand comes close enough to a model from the other brand to offer up an interesting comparison, which is why we're going to get into some direct head to heads between various models below.
Alfa Romeo vs Maserati Reliability
Before we get into the head to heads, it's worth touching briefly on the subject of reliability. And, by extension, the cost of maintenance. For the most part, you can expect less reliability and higher maintenance costs from an exclusive high-end car like a Maserati. This is owed to the fact that far fewer of these cars are made, making it harder from an economic standpoint to achieve the same degree of reliability that cheaper mass-produced cars can.
However, while this still holds true for Maserati and Alfa Romeo, the difference is not nearly as dramatic as it could be. This is thanks to that shared owner we mentioned, FCA. While Maserati is still a luxury brand, their vehicles share certain components, meaning that the production scale for certain parts is far larger than the production scale of Maserati cars.
Of course, the cars are still high-end luxury vehicles, not mere reskins of an existing model, so there will be some difference between the two. But if a part required is of a bespoke nature for either of the brands, you can expect it to be more expensive than your standard run of the mill Japanese car/other mass market manufacturer.
Alfa Romeo vs Maserati Head to Head
So, without further ado, here is our selection of Alfa Romeo vs Maserati model head to heads!
Alfa Romeo Giulia Quadrifoglio vs Maserati Quattroporte Trofeo
The Giulia and the Quattroporte make for a curious case. On the face of it, they are both very similar cars. They are both sedans with a sporty exterior and plenty of power under the hood. It is under the hood where the differences start to show.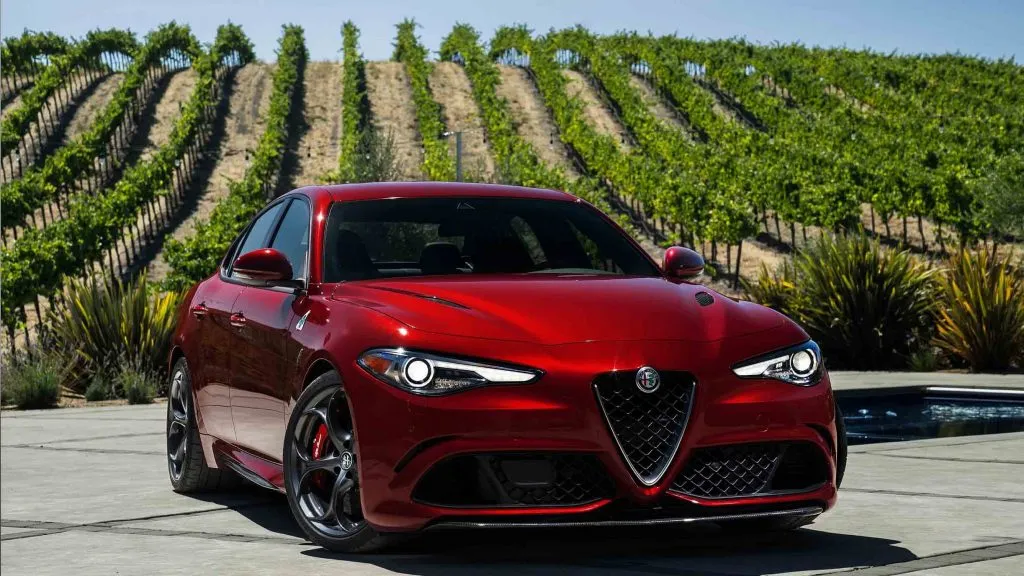 Firstly, the Quattroporte Trofeo is twice the price and then some. For that extra money, you will get a bigger engine and more power, as well as the characteristic Maserati luxury. The Giulia has a better power to weight ratio however, and that translates to a faster 0-62 mph time.
Alfa Romeo Stelvio Quadrifoglio vs Maserati Levante Trofeo
Let's be honest, Maserati probably isn't the first name you think of when looking for an SUV, but the Levante is precisely that for Maserati. Alfa Romeo has the Stelvio. The difference in class with the Alfa Romeo vs Maserati SUV is apparent here, with the larger, heavier Maserati Levante Trofeo looking every bit the marvel of Italian luxury next to the Stelvio.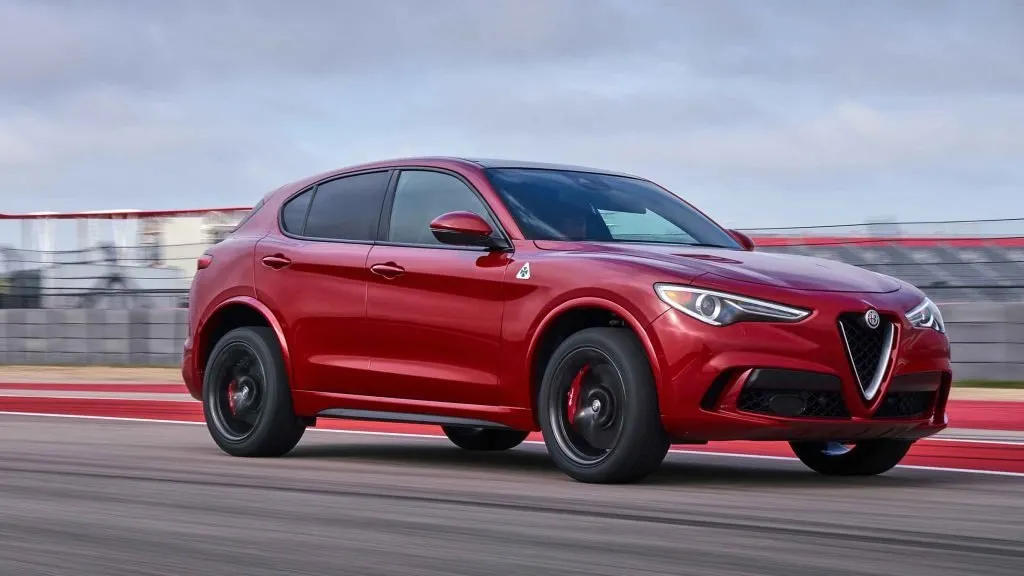 Where things get a little messier is in the performance figures. The Stelvio comes with 505hp and hitting 0 – 60mph in a lightening quick 3.6 seconds whereas the Levante Trofeo has 580hp with a 4.1 second time to 60mph. For this one it really comes down to looks and refinement and for me I think the Levante Trofeo is at least a 1/4 mile ahead of the Stelvio Quadrifoglio in this regard. But if it's performance you're after, for a bargain price just a lick above $80,000 the Stelvio is a no brainer, especially with the Trofeo being roughly double in price!
Alfa Romeo Giulia Quadrifoglio vs Maserati Granturismo
The Maserati Granturismo is, of course, a prestigious name in the Maserati lineup. A sporty affair with a powerful engine and an exterior that's nothing short of mean. With less power, older tech and the dated interior of the Grantuismo it's hard to do a proper comparison between these two. Maserati does take the cake in the sound department but the Alfa Romeo Giulia Quadrifoglio is all round a much better car. The one thing that all Granturismo models will have over the Alfa is that glorious sounding Italian V8 engine. It's just a sound that not many manufacturers can beat.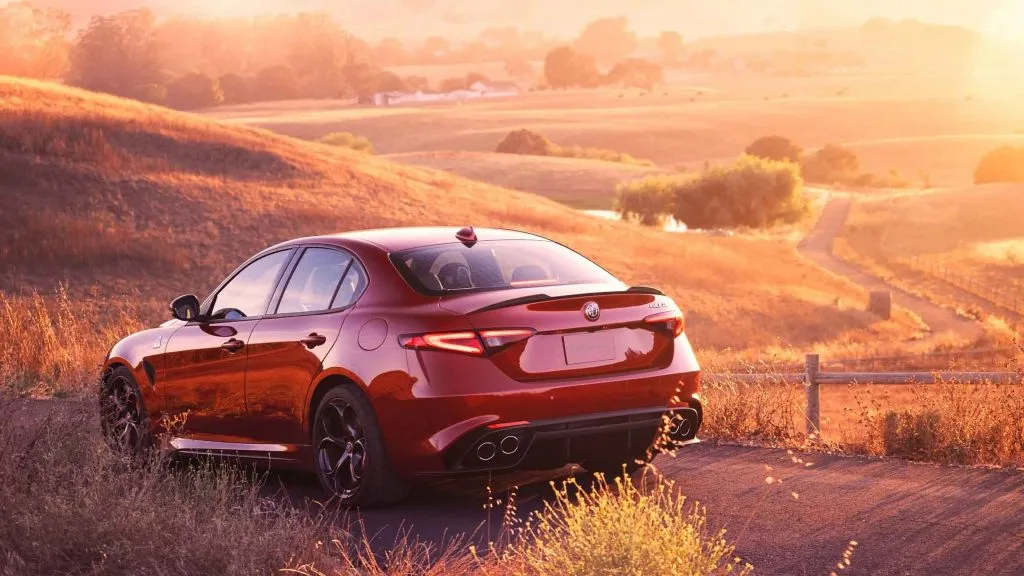 Even though the Giulia's technology inside the cabin isn't the best, it's a decent step above the Maserati Granturismo. This is a split decision, the Granturismo wins hands down on feeling, looks and sound but it just can't beat the performance of the Giulia Quadrifoglio. Also, if optioned, the carbon fibre bucket seats in the Alfa Romeo Giulia Quadrifoglio are pretty cool as well, quite similar to what you'd see in the Granturismo MC Stradale as the earlier models came with carbon bucket seats as well.
Alfa Romeo Quadrifoglio vs Maserati Ghibli Trofeo
Another battle in the realm of sedans sees the Maserati Ghibli vs Alfa Romeo Giulia and their exciting variants, the Trofeo and Quadrifoglio. The Ghibli is what could be termed an "entry-level" Maserati... if such a term can be applied to Italian luxury vehicles like this.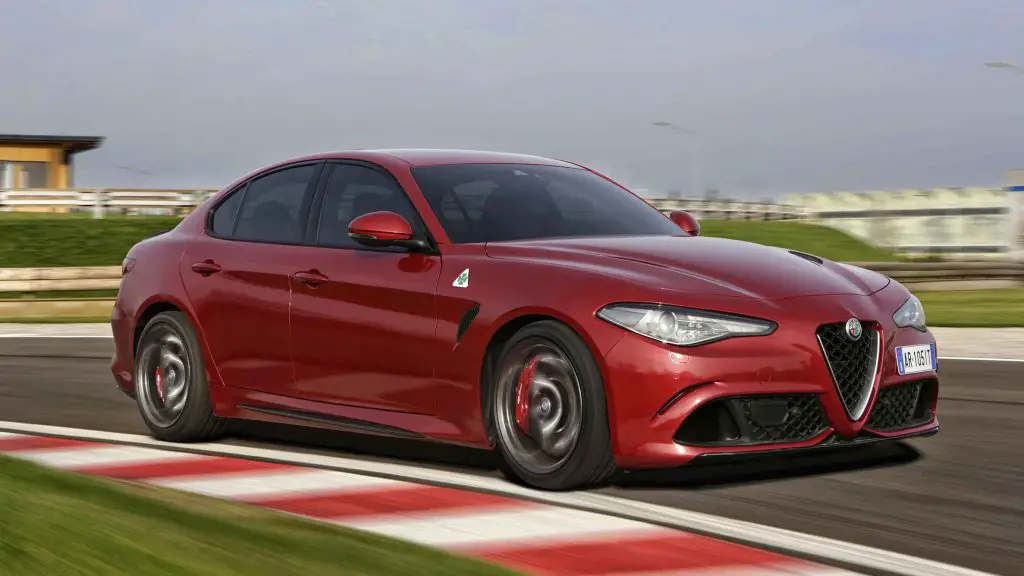 Continuing the theme of this post, the Maserati boasts the bigger guns under the hood. Of course, the Ghibli will also set you back quite a bit more when it comes to cost, so that should be expected. But the Giulia outperforms the Maserati. It seems they've gone to town on the four leaf clover, which resides on elements throughout the Quadrifoglio version of the Giulia.
With a smaller, V6, Twin Turbo engine pumping out 505hp, it propels the Alfa from 0 – 60mph in just 3.9 seconds where as the 580hp Maserati Ghibli Trofeo will reach 60 mph from 0 in a time just 0.4 seconds shy of the Alfa. It's extremely impressive to see the Alfa Giulia Quadrifoglio beat the Trofeo in the 0 – 60mph sprint with 75hp less under the bonnet.
Considering the Ghibli Trofeo concept is fairly new (even though the Ghibli has been around since the 1960s) and the first Trofeo branded Maserati was produced in the early 2000s, this one has to go to Alfa for not only the performance and engineering aspects, but also the heritage that comes with the Quadrifoglio badge.
Alfa Romeo 4C vs Maserati Granturismo
The 4C is Alfa Romeo's take on a consumer sports car, and it's a very good take at that. In fact, from a pure looks standpoint, it looks far more sports car than Maserati's Granturismo. And for less money. Which should be no shock to consumers as the Granturismo was always designed to be a grand tourer.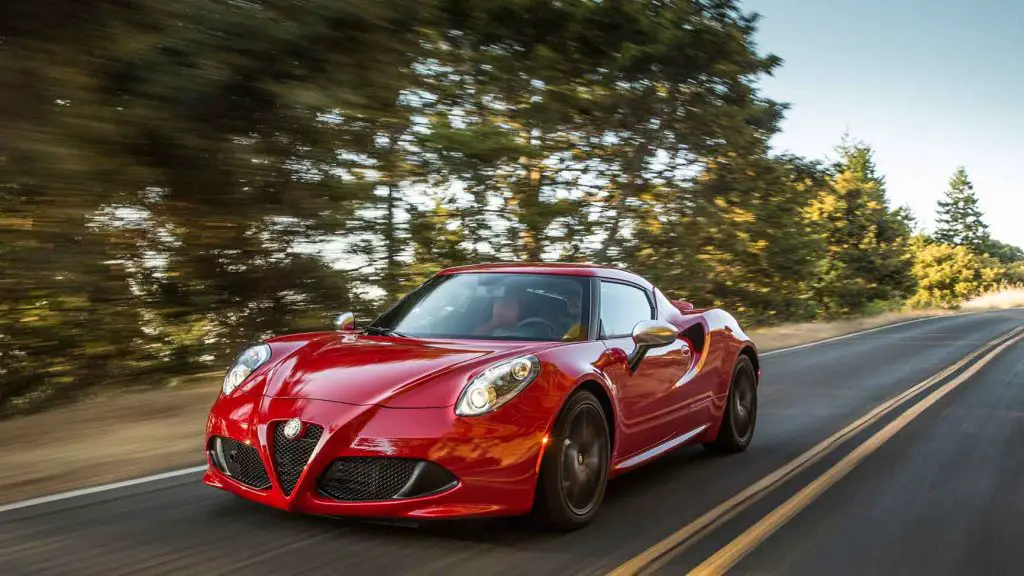 Under the hood, the Granturismo boasts a V8 engine, but the extra liters on offer don't provide quite as much of an advantage as you might expect. Still, it's worth remembering that the 4C is a finely tuned sports car, while the Granturismo has more of a luxury feel to it. The tiny dimensions of the 4C may help it post some impressive performance numbers in regards to power to weight, but it's not ideal for the weekly grocery shop. In which the Maserati Granturismo can do both, it's really a question of how much you're willing to compromise.
Alfa Romeo 4C vs Maserati MC20
To be straight to the point with this one, there's not too much to compare performance wise with this Alfa Romeo vs Maserati combo. The Maserati MC20 blasts the Alfa 4C out of the water. With the MC20's impressive 630hp the Alfa 4C pales in comparison with just a mere 237hp. But what is cool about this comparison is that we can compare the two as they share a similar configuration and design philosophy, with both being mid-engine, lightweight, rear wheel drive 'supercars'.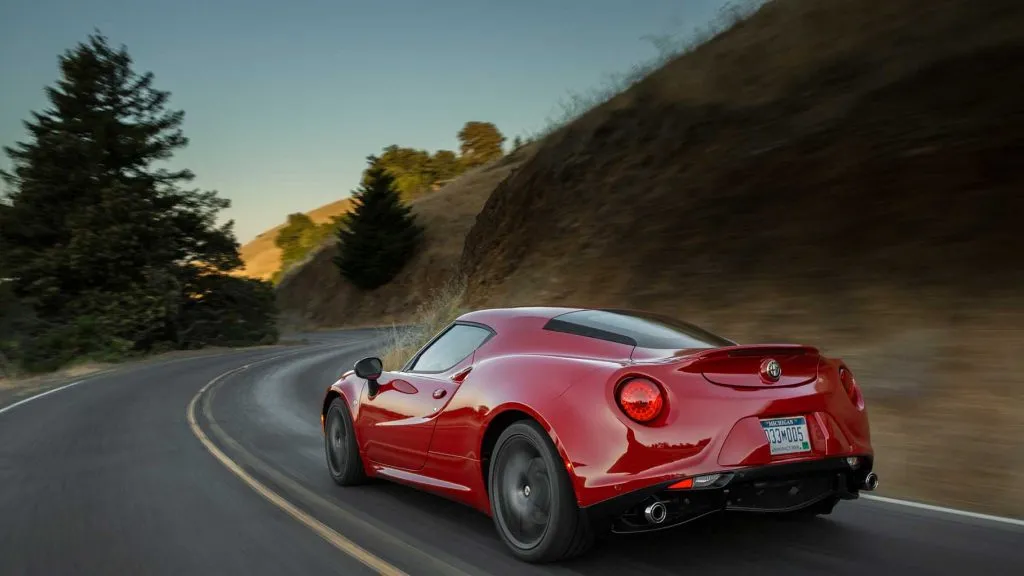 The Alfa, much like the MC20, has a carbon monocoque chassis, which is ultra lightweight, weighing in at just 1,973lb (895kg). The MC20 has a few extra luxuries and a more highly engineered package which bring its weight up around the 3,307lb (1,500kg) mark.
With a bit over 1000lbs in difference, the Alfa Romeo 4C has a significant weight advantage. MC20 power to weight ration is 1:5.1. This means that the car has 5.1lbs of weight to carry per horsepower. In kilos this equates to 2.3kg per horsepower. Whereas the Alfa 4C has a 1:8.3 ratio. This means that for every horsepower in the 4C, it's pulling 8.3lbs (3.78kg) of weight, which is not too dissimilar from the MC20.  
Sure, the on road performance figures show a sizeable gap with the Alfa 4C reaching 0 – 60mph in 4.5 seconds and the MC20 hits that figure in just a mere 2.9 seconds (claimed). But fair is fair, the 4C is a steal costing around $70,000 new where as you'll be paying in excess of $200,000 for the Maserati MC20.
The Alfa is a great package, if you're on a lower budget it's a well designed pocket rocket that you'll get a lot of smiles per mile out of. But if budget is no worry for you, then you can't go past the MC20, it has a stunning Maserati design, extreme performance, engineered to perfection and two things the 4C will never have, a well refined interior and those famous scissor doors that go up. The Maserati MC20 hands down wins with one in all aspects except for price.
Final Thoughts
As is so often the case with Maserati, you are almost always paying for the prestige of the name and the unique look of the brand. In some scenarios, Maserati will outperform a comparable Alfa Romeo on the race track and will feel more comfortable and luxurious while doing it. Still, there is a premium on that luxury performance experience, and unless you plan to hit the race track often enough, there is a strong argument to be made for Alfa Romeo's more affordable performance vehicles.
Ultimately, Alfa Romeo vs Maserati comes down to what you need your vehicle for, budget and how you intend to use it.