Maserati has a rich history of being one of the most luxurious and high-end car brands in the world, but what Maserati owners or car owners in general don't usually know is that cars come with their own set of paint codes. The Maserati paint codes are different from other makes and models and manufacturers, so you can never just grab any old spray paint or touch up kit as there's a 99% chance that the paint won't match your specific Maserati.
In this article we will go over Maserati's color palette so you know exactly what to do if you ever need to find out what color your Maserati was originally painted in when it was manufactured. Even if you're looking for a new color for your Maserati – or are upgrading body parts, then this guide is perfect for you!
Why Maserati Paint Codes are Important
As stated in the opening to this article, paint codes are extremely important. This will ensure that, in the situation where you need to paint your car, you can match the exact paint color that is on the other panels of your Maserati. It would look very odd if a replacement front bumper was a slightly off white color when the hood and rest of the car is a bright white.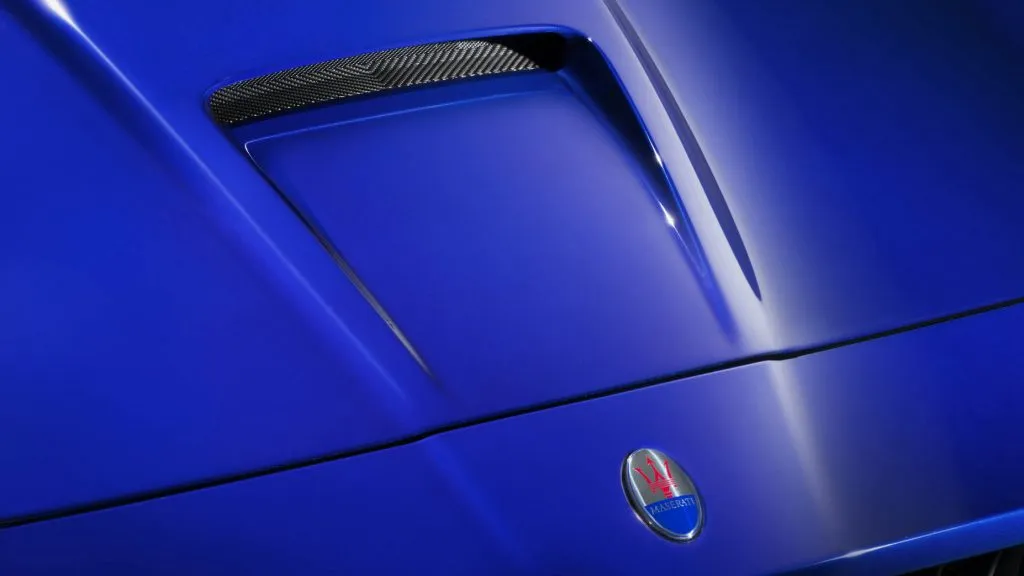 Usually, you won't have to worry about finding Maserati Paint Codes yourself if you're going to a high quality body shop. They should really be conducting this research themselves to ensure they get the color exactly the same. But just to make sure if you're going to a non-Maserati paint specialist, they have the right paint code or if you're getting a tin of touch up paint made then it's important to know the specific Maserati paint code for your model.
Unfortunately, it's not as easy as just saying the color is Maserati black, as Maserati paint codes usually have exotic Italian names and there's multiple different types of black Maserati paint. For example, just as I'm looking at a paint code reference site, the 2018/2019 Maserati refers to black as 'Nero' and there's several versions of black on this one page. There's the standard Nero as well as the more exotic variations such as Nero Carbonio, Nero Ribelle and even two variants of the standard 2019 'Nero' with completely different paint codes to the 2018 'Nero'.
As you can see, it can get a bit tricky to determine the right paint code.
Where is the Maserati Paint Code Location?
The first step is to locate the Maserati paint code on your car, on the car's body or on one of its parts. The Maserati paint code will be located somewhere that is not too difficult to find. 99% of the time the Maserati paint code location will be either directly under the hood at the front of the car as you lift the bonnet, towards the back of the engine bay, when you lift the hood and see a plaque on the firewall behind the engine or sometimes it can be located on either the drivers/passenger's door jam.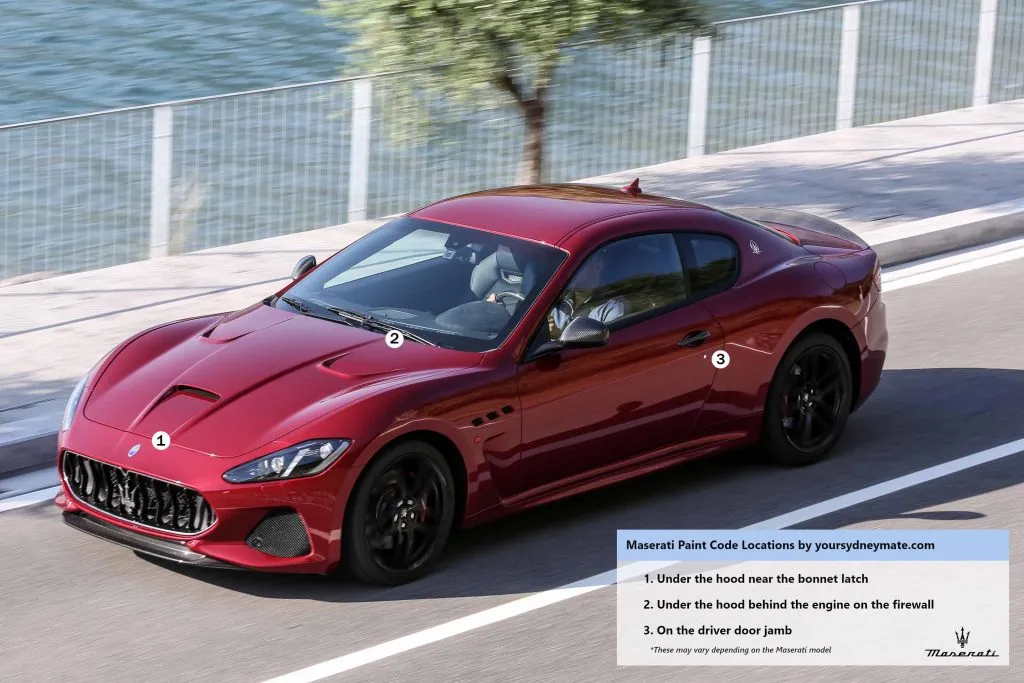 Eventually you will be able to locate the Maserati paint code in one of these positions but sometimes you won't find the actual Maserati paint code on the sticker. Instead, you'll find the name of the color for your car. If you only find the Maserati paint name then you can do further research to match up the year of your car, the model and the paint name on a website like PaintRef. They have a vast array of Maserati paint codes that date back all the way to 1983 up to recent years.
Once you have the Maserati paint code, you can pass it onto your body shop to and they will be able to mix all of the right colors together to ensure they get an exact match to your provided paint code.
Can You Find a Maserati Paint Code by VIN?
As mentioned previously, sometimes you'll find that it's not possible to find the Maserati paint codes just by looking at your car. However, as an alternative to the fairly manual method mentioned above, you do have an option to utilize the VIN (Vehicle Identification Number) of your Maserati.
All you'll simply need to do is locate the VIN which is located in the driver/passenger door jamb of your Maserati (as depicted in the infographic above). Once you have the VIN, call your local Maserati dealer or service center and tell them you'd like to find your Maserati paint code by VIN and they'll be able to search for your VIN on their system, find all of the information about your car and provide you with the paint code.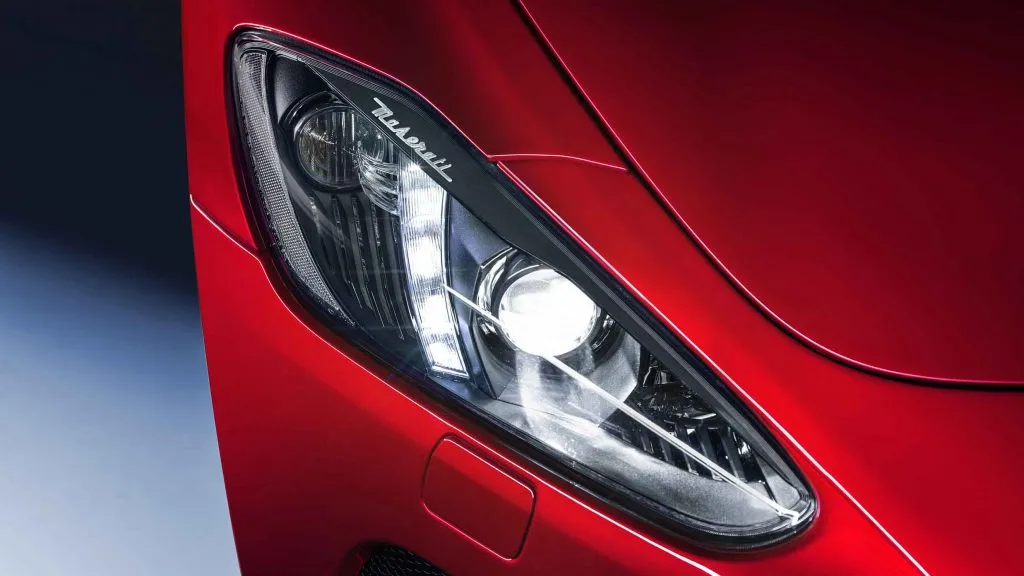 It might also be worthwhile to ask if they can supply some genuine touch up paint if that option is available. Or if they're able to recommend a body shop that specializes in repainting Maserati's or simply see if the dealer is able to just repaint a damaged body panel on your Maserati. Either of these options takes the responsibility to get the Maserati paint code correct and leaves it in their capable hands.
This route might be an expensive option, doing any work on a car through a dealership usually is. The best alternative would be to research a high quality body shop to repaint your car. If you're in the Los Angeles area you might want to check out RDB LA. They're literally dealing with the best of the best cars every single day. They would be able to do an absolutely stellar job at repainting your Maserati.
Check out their YouTube channel and you'll see what I mean. Even if you're not nearby them, I've seen many of their customers ship their pride and joys across the country just for RDB LA to do work on their cars. If this isn't an option for you, maybe asking other owners in your area or the Maserati dealer for body shop recommendations is the way to go for you.
What are Maserati PPG Paint Codes?
PPG paint codes are the Maserati paint codes most people will need. As a bit of a back story, all of the exotic Italian super car manufacturers have been using PPG paint for around 40 years and counting. This includes the likes of Lamborghini, Ferrari and of course Maserati. The unique relationship Maserati has with PPG is that the brand has been painting their cars in the Ferrari paint facility since 2005 and PPG is the sole paint supplier to both companies.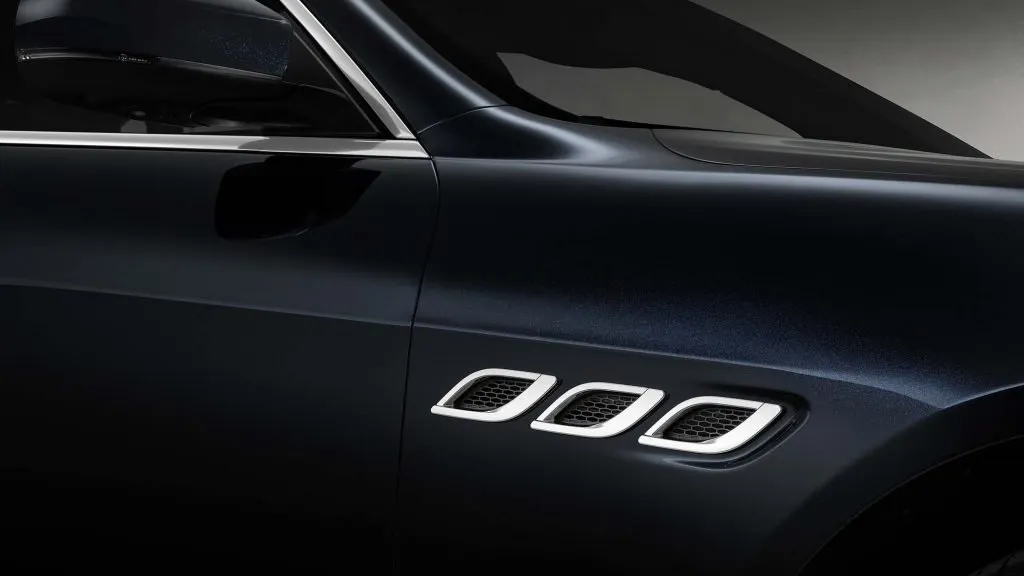 If you're going to paint your Maserati, using PPG paint is the same as using the paint that was sprayed on your car from the factory for all recent models and those produced in the last 40 years. So, if you're looking for Maserati paint codes the authentic route would be to find the PPG paint code to match it exactly to how the factory intended the paint to look.
The Last Maserati Paint Code Alternative
If none of the above options work for you, then you might want to consider finding a body shop that has color matching technology. This essentially means the paint technician will utilize a camera to look at a sample of the paint and use it's built in paint detection formula so the computer can match the paint code back to the original one. A fantastic guide to how technicians match paint codes using this method is explained quite clearly by the Auto Body Pros.
The Final Coating
All in all, using Maserati paint codes is a fantastic way to ensure you get the exact color of your Maserati. Without a doubt, you will definitely find the correct code for your car using one of the methods listed here in this article. So, if you're here because your Maserati paint has been damaged, don't worry, it's not a difficult process and your gorgeous Maserati will be restored back to its original glory in no time.