Maserati Fast and Furious 7 – What Was The Maserati in Fast 7
The seventh instalment in the Fast and Furious franchise was released in 2015 to much fanfare. The film features a plethora of high powered cars that are sure to make any gearhead's mouth water. However, there is one car in particular that caught our eye, for a number of interesting reasons.
This would be the car that the villain in the movie Deckard Shaw played by Jason Statham was driving for a brief period. The answer to the question that probably brought you to this article, what Maserati is Deckard Shaw driving in Fast and Furious 7, the answer is a 2014 Maserati Ghibli. This article will discuss the details of the Fast and Furious Maserati, including how it came to appear in the movie and all the interesting things we noticed.
The Maserati From Furious 7
The Fast and Furious franchise is known for using some of the most expensive and exclusive cars in movies. They have used hundreds of different vehicles to date making it such a diverse series of movies. The thing that makes this so fantastic is that it pulls in audiences with all different tastes in cars.
Not only that, it also creates new car enthusiasts as they learn more about car culture. Well, disregard some of the ridiculous plots from recent movies. I for one, was heavily influences by the first three movies, especially Fast and Furious Tokyo Drift where my love and curiosity for JDM cars grew excessively.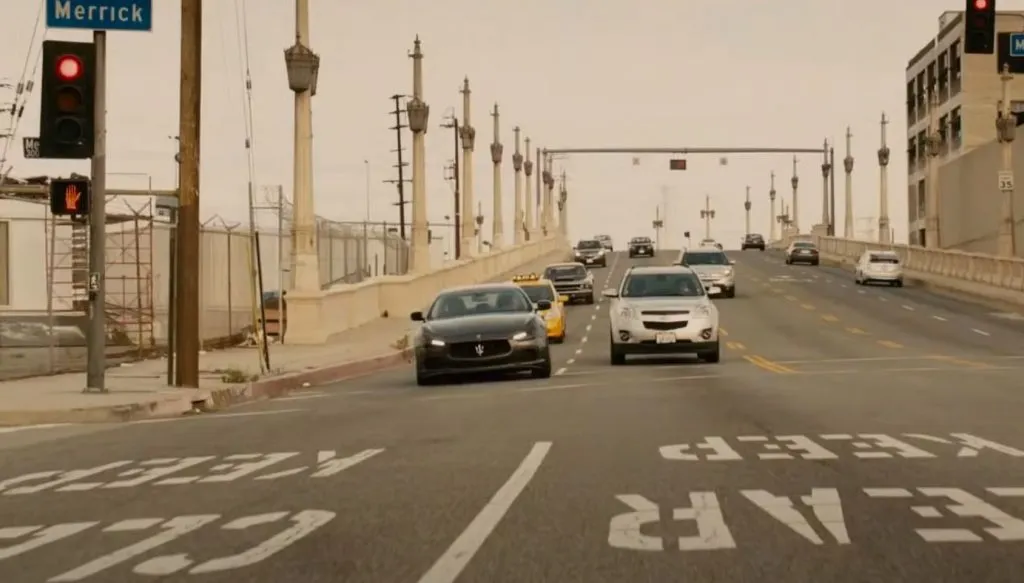 Now, onto what you came here for, the Furious 7 Maserati. As mentioned earlier, the car driven by Deckard Shaw that is crashed into Vin Diesels 1970 Plymouth Road Runner is a 2014 Maserati Ghibli. There's nothing too special about this car, aside from the fact that it's a Maserati. The earlier Ghibli's were not very exciting, it wasn't till later years that they eventually produced the Maserati Ghibli Trofeo with a V8 engine. Don't get confused with the very similar Maserati Quattroporte, this Fast and Furious Maserati is definitely a Ghibli, the Quattroporte is slightly longer and has a few design differences, although it is quite hard to tell.
The 2014 Maserati in Fast 7 was equipped with a slightly boring V6 with twin turbos. I say slightly boring as this early iteration of the car only produced 325hp and 369 lb-ft of torque, hardly something you'd be racing against a V8 muscle car. Regardless, they still made the Fast and Furious 7 Maserati look pretty cool with a few cosmetic touches.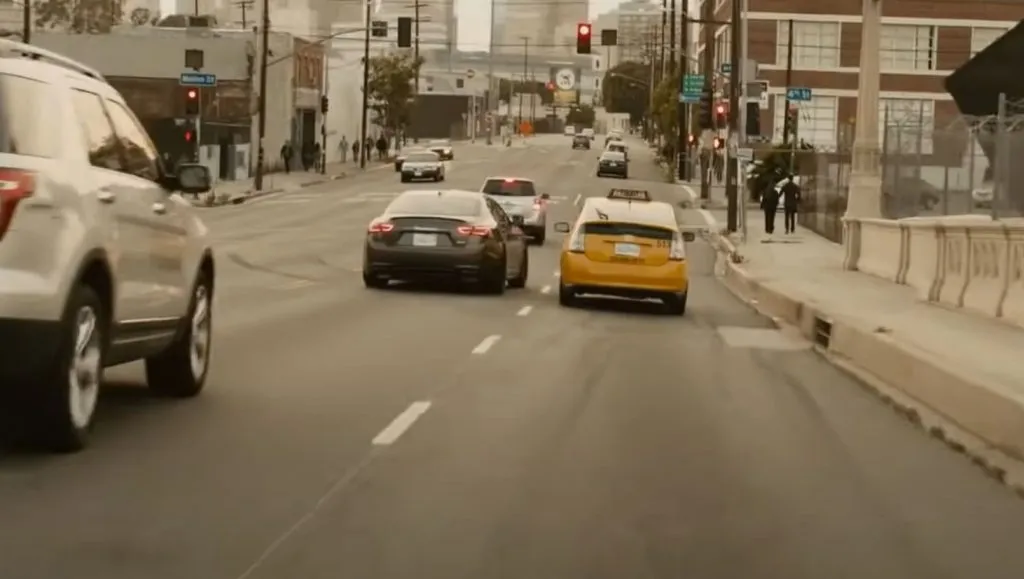 If you look closely, the car visually looks slightly different to a stock Maserati Ghibli. It appears the rear lights have been smoked out. I'd also bet that they've done the same to the front headlights but it's a bit more difficult to tell. There's aftermarket wheels and it seems the car has potentially been lowered just a tiny bit.
The biggest modification they would've made to the car is the fact that they've swapped the V6 Maserati engine with a V10. Well, that is extremely unlikely, this is just the work of the sound effects people that piece the scenes together with something that would sound more inspiring to the audience and honestly, who can argue with the sound of a V10 engine? It does sound pretty amazing, but the truth is that stock Ghibli sounds nothing like that. The V10 sound the sound department used is likely out of something like a Lamborghini Gallardo or a BMW M5 (E60).
Deckard Shaw Cars
Aside from the Maserati fast and furious Jason Statham (the actor that plays Deckard Shaw) drives, his character is also seen in another iconic exotic car. The Aston Martin DB9. This car features a stunning 6 liter V12 engine producing 470 hp with 443 lb-ft of torque.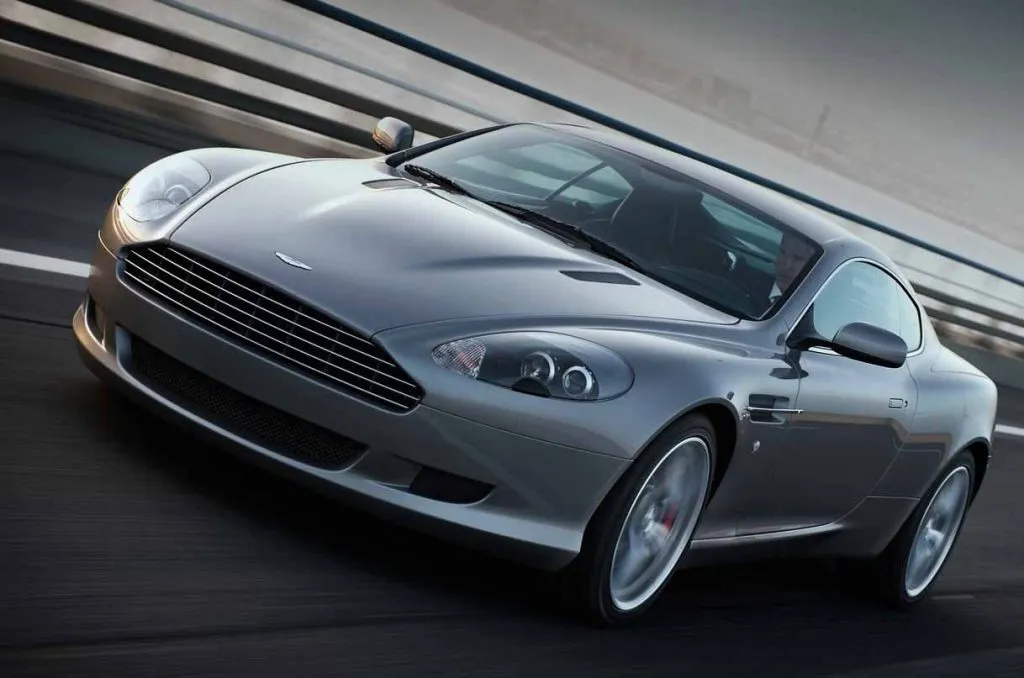 A truly iconic car with a sonorous exhaust note bellowing from its remarkable British V12. Perfectly fitting for a British villain such as Deckard Shaw.
Top 10 Best Fast and Furious 7 Cars
There are quite a few cars featured in this film from the iconic Fast franchise.  If you are a fan of the franchise or just love fast cars, check out our list below, it's filled with a bunch of delicious cars.
Although I'd argue that cars featured in the earlier movies are more iconic. But as the Fast Franchise moves away from its roots in street racing and more into the action genre there's unfortunately less emphasis on the automotive culture that the first few films did so well at creating. Here's a list of the Top 10 Fast and Furious 7 cars that caught my attention:
1970 Plymouth Road Runner
Driven by Domenic Toretto in the movie in a few brief scenes until the point of its eventual demise crashing into the Furious 7 Maserati. This car was produced between the years 1968 to 1980. This specific one driven in the movie was the 1970 model and has 390hp at 4,700rpm coming out of its old school V8.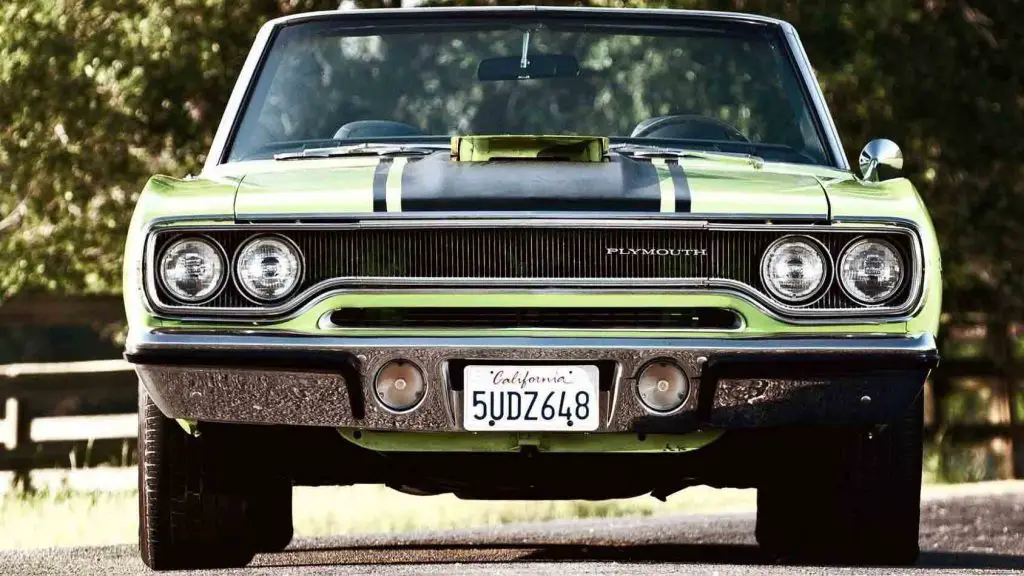 There was also a budget entry level motor that was offered at a lower price producing 275hp. But we assume Dom had the beefier option in the movie in order to perform the way he did in that car chase.
1970 Dodge Charger R/T
We see a bit of a trend here; Dom likes his cars from the 1970s and he also enjoys crashing them into Deckard Shaws cars. This time the 1970 Dodge Charger R/T finds its way into a head to head collision with Shaw's Aston Martin DB9, absolutely demolishing it. This iconic muscle car finds itself with the same power as the Plymouth Road Runner at 390hp.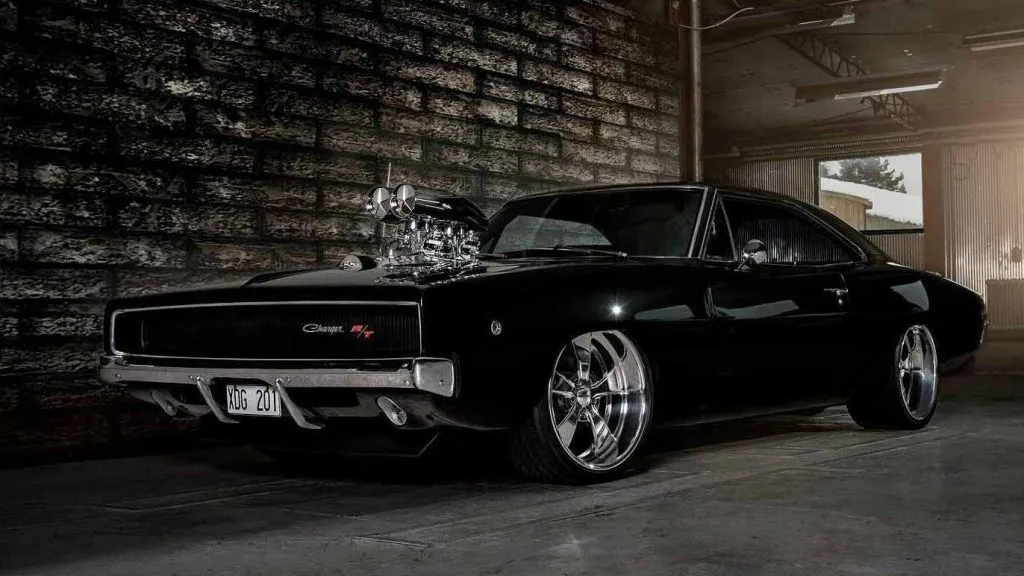 This new to the Dodge Charger engine, is known as a 440 six pack, a V8 with two-barrel carburetors. Coincidentally this motor was produced in the 1969 Dodge Super Bee and the 1970 Plymouth Road Runner that Dom drove earlier in the movie.
1968 Dodge Charger
In what could be considered one of the most iconic and saddest scenes in a movie of all time. This car was in the scene that was a nod to the passing of the late Paul Walker. Dom's Dodge Charger finds itself next to Brian in a Toyota Supra, making a nod to Brian's JDM roots in the first Fast and Furious movie.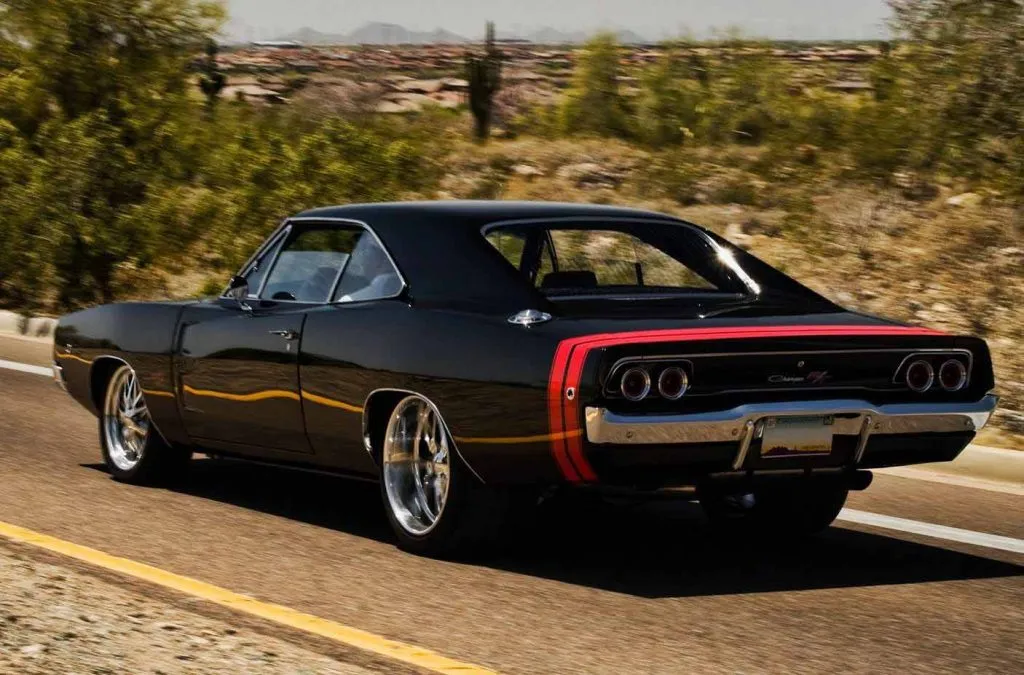 Two iconic cars, representing the personas of two iconic characters parting ways in both the movie world and real life. Rest in peace Paul Walker!
1998 Toyota Supra
As mentioned in the 1968 Dodge Charger section above, in the final scene Brian drives a Supra to part ways from Dom.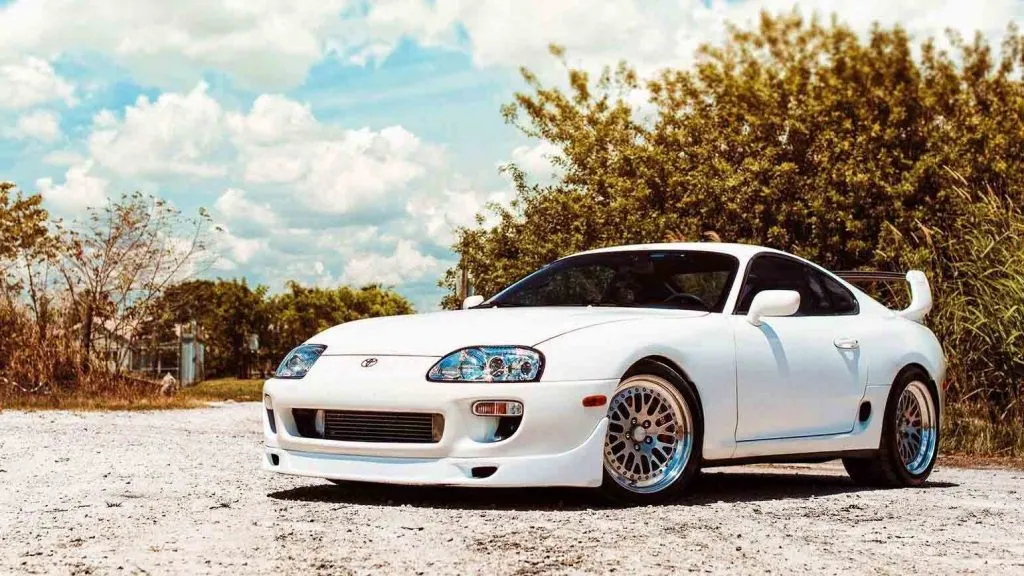 At its core in stock form this car produces 320 hp but we're certain that it would have some performance enhancing goodies under the hood.
2013 Lykan Hypersport
This absolute weapon of a car is featured in the portion of the film that is set in the UAE. Everything about this car is ridiculous, it makes 780hp at 7,100rpm with a maximum torque figure of 960nm at 4,000rpm.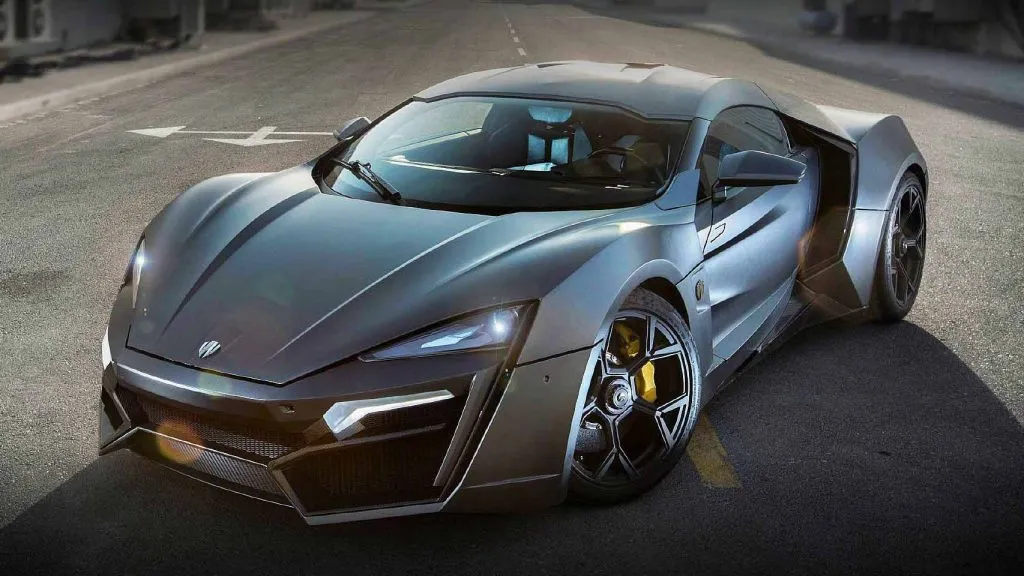 This propels the W Motors creation from 0 – 60mph in just 2.9 seconds. What's even more ridiculous is that it will also rapidly propel $3.4 Million USD out of your wallet even faster than its 0 – 60 mph time.
Nissan GTR R35
Another special icon from the Japanese car world. The Nissan GTR R35, featured in a stunning blue it's a shame to see this face lift R35 GTR go up in flames.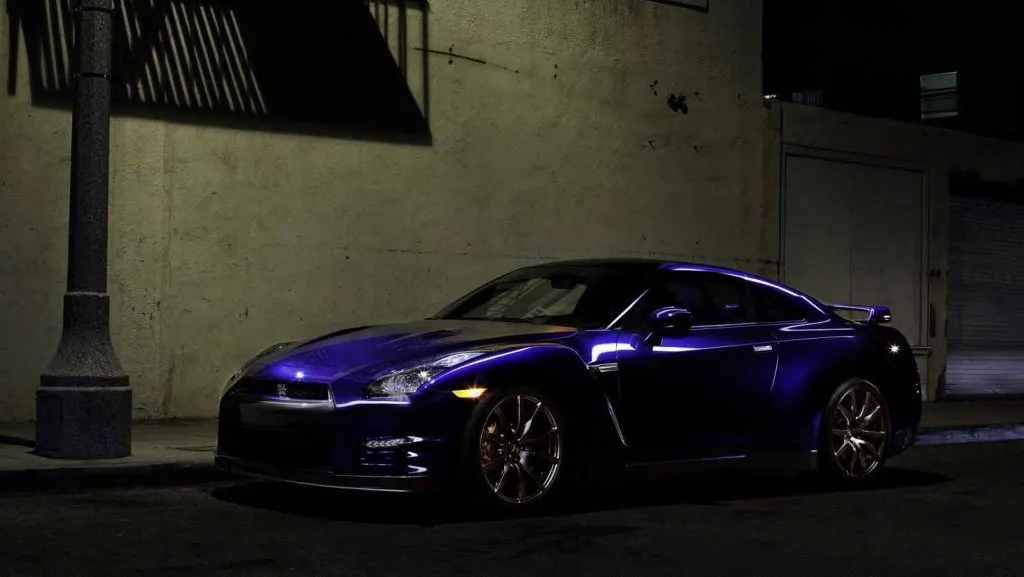 Regardless, it's a powerhouse once again. With 545 hp and 463 lb-ft of torque this Japanese monster uses its AWD drivetrain to go from 0 – 60 mph in just 2.9 seconds.
2011 Bugatti Veyron
Of course, we would see a Veyron in the UAE portion of the movie, how could we not. It's a symbol of wealth and speed and the citizens of Abu Dhabi love both of these things. With a break neck speed of 0 – 60 mph in just 2.4seconds you might be wondering what type of engine is under the rear bonnet of that thing. It's an 8 Liter, W16 engine with four turbos producing 1184hp and 1106 lb-ft of torque.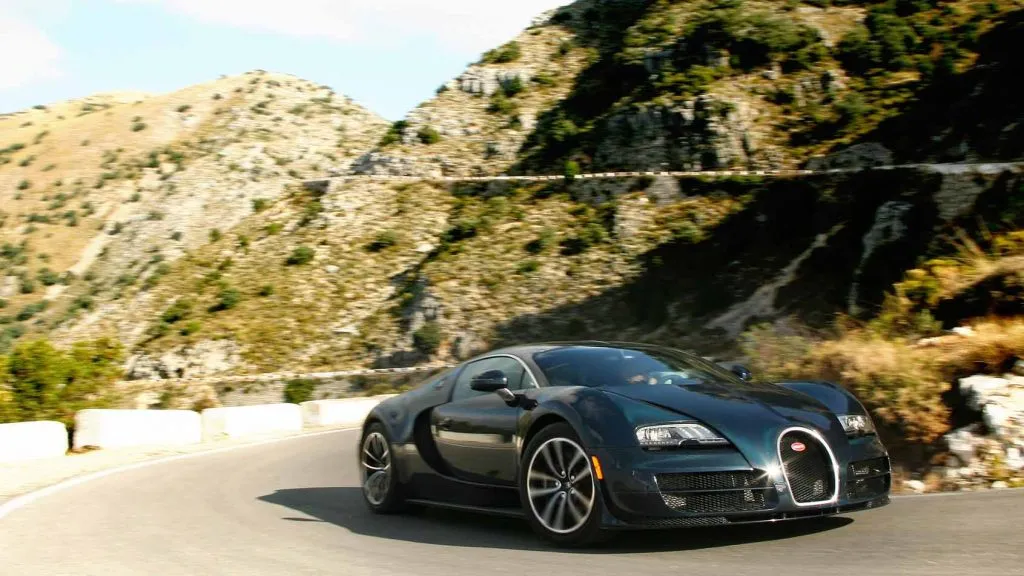 There's no doubt the Veyron is responsible for breaking the world speed record for a road approved super sports car. It reached over 400 km/h and another variant was able to hit 431.072 km/h. Nothing like it and one of a kind! The only thing that comes close would be the new and improved Bugatti, the Chiron.
Ferrari 458 Italia
As an enthusiast for Italian cars, we have to mention the Ferrari 458 Italia. With its sleek lines and low slung chassis, the 458 Italia is a car you can feast your eyes on. Once again, the car appears alongside the Veyron in the Abu Dhabi scene in the movie.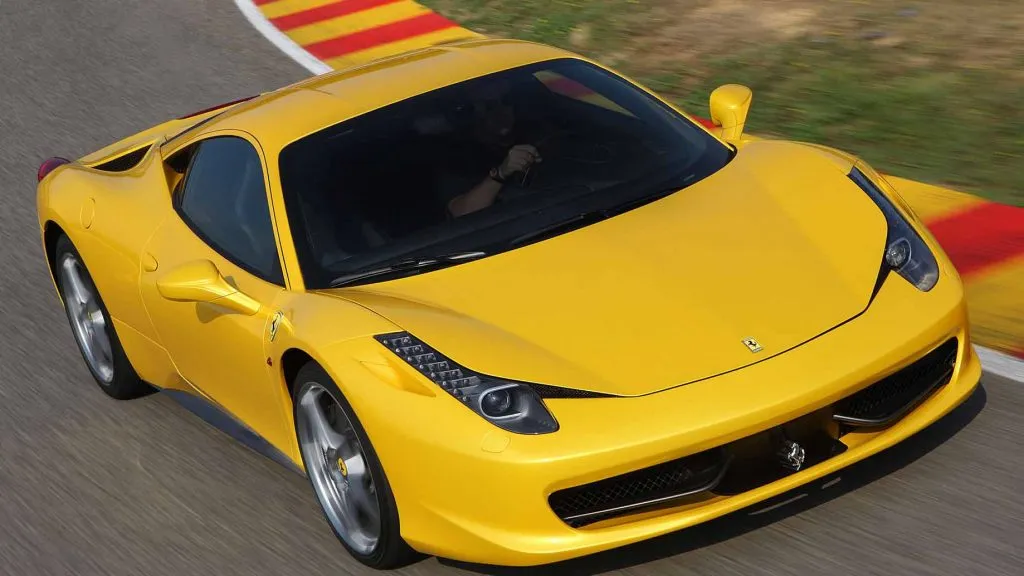 Not quite as powerful as the Bugatti's W16 engine. The Ferrari 458 sports a modest 562hp and 398 lb-ft of torque coming from its 4.5 liter V8 engine. It will send you from 0-60 mph in just 3 seconds flat.
Porsche 356 Speedster
It's always a pleasant experience to see a Porsche in a movie. The particular one that was briefly in Fast and Furious 7 was a very tasteful Porsche 356 Speedster. Although, after some quick research, we discovered that this is a replica. To the purists out there that will quickly strike this car down, don't be so quick to just, it's actually quite a cool Porsche.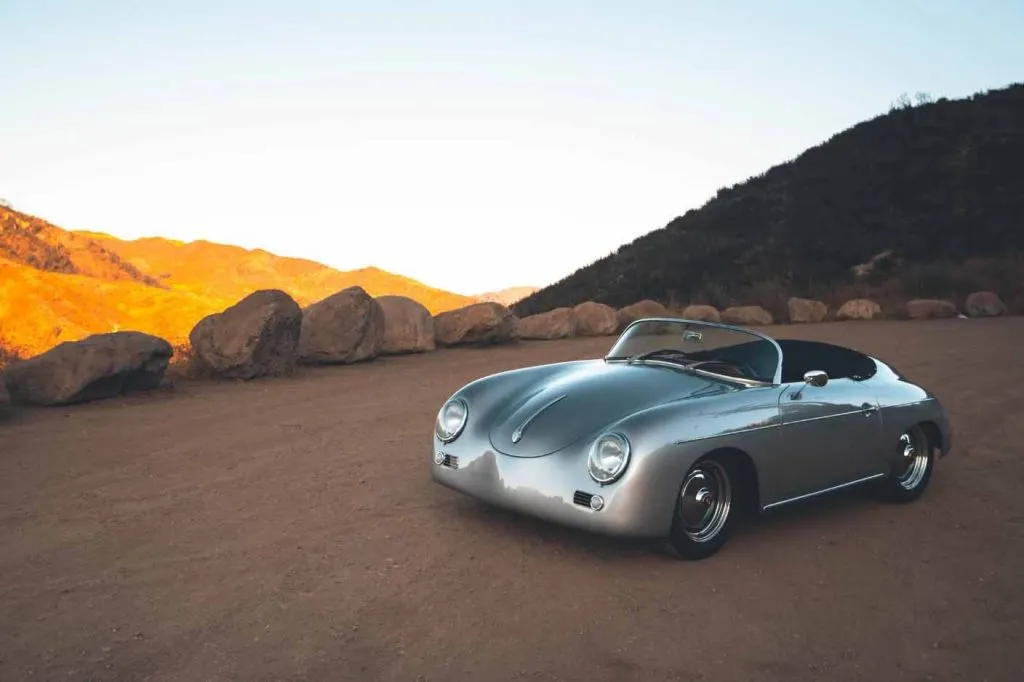 The company that produces it is called Vintage Speedsters and there's a plethora of options a customer can choose to spec out their desired Porsche 356 Speedster. The car is built from a customer frame and utilizes an original, yet restored/modified version of the VW pan which is welded to the custom built steel frame. To this date they've build over 3,300 Speedsters. Very cool.
Mazda RX-7 FD Veilside
Last but not least is Han's highly modified Mazda RX7 FD. Even though it has a very brief on screen appearance in this iteration of the Fast and Furious franchise, it's definitely worth a mention. A little unexpected but the VeilSide RX-7 only produced 306hp and 256 lb-ft of torque. By today's standards it's not impressive at all, but regardless the rotary engine sounds sublime and the body kit and rest of the cars set up is one that inspired many to begin their journeys as car enthusiasts.
A Fast Summary
The Fast franchise has some seriously well chosen cars that star alongside the actors. Whether it's the Fast and Furious Plymouth Roadrunner or the car it destroys, the Fast and Furious 7 Maserati. You're surely in for a ride and an experience through automotive culture in any of the Furious films. As most of you will say, that the plot is moving further away from cars these days, I agree. But you can't deny they still manage to wow the audience with a fantastic selection of delicious cars. I'll end this article with the reason why most of us came here in the first place, the Fast and Furious 7 Maserati Ghibli scene, enjoy!