The Shameless Chevy Corsica – Ultimate Guide For Chevy's Old Baby
It's quite obvious that throughout the life of General Motor's that smaller sized cars have never been their forte. They mostly put their effort into the larger cars that they released and it's evident in cars like the Chevy Corsica. This comprehensive guide of the Chevy Corsica will take you through everything you need to know about the Corsica and what happened to it throughout the years, all the way to its eventual successor, the Chevy Malibu.
The Chevy Corsica was produced between 1987 and 1996 to meet the demand of large corporations' fleet departments and rental companies. While it sold well and met the requirements of these customers, it was outshone by its direct competitors.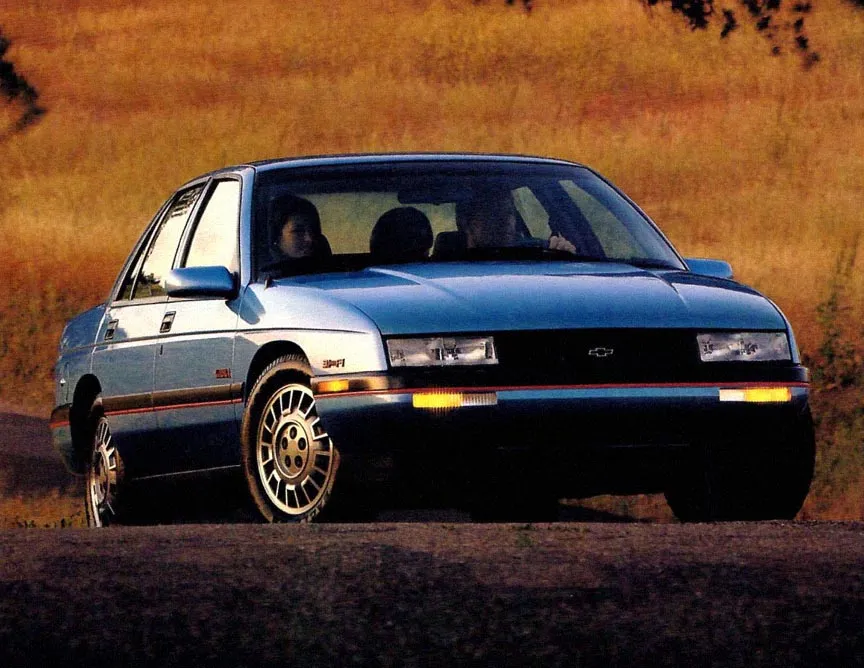 The Chevy Corsica was a compact four-door sedan that offered many standard features. Unfortunately, virtually every other department was disappointing. Chevrolet had historically always concentrated their efforts on more expensive vehicles; the Chevy Corsica opened up a new way of thinking for the company.
The History Of The Chevy Corsica
The Chevy Corsica was a compact four-door saloon that Chevy manufactured between 1987 and 1996.
It was sold as the Pontiac Tempest in Canada.
The Chevy Corsica was designed and produced primarily for the fleet market, and rental agencies and large corporations made up the most significant customer base.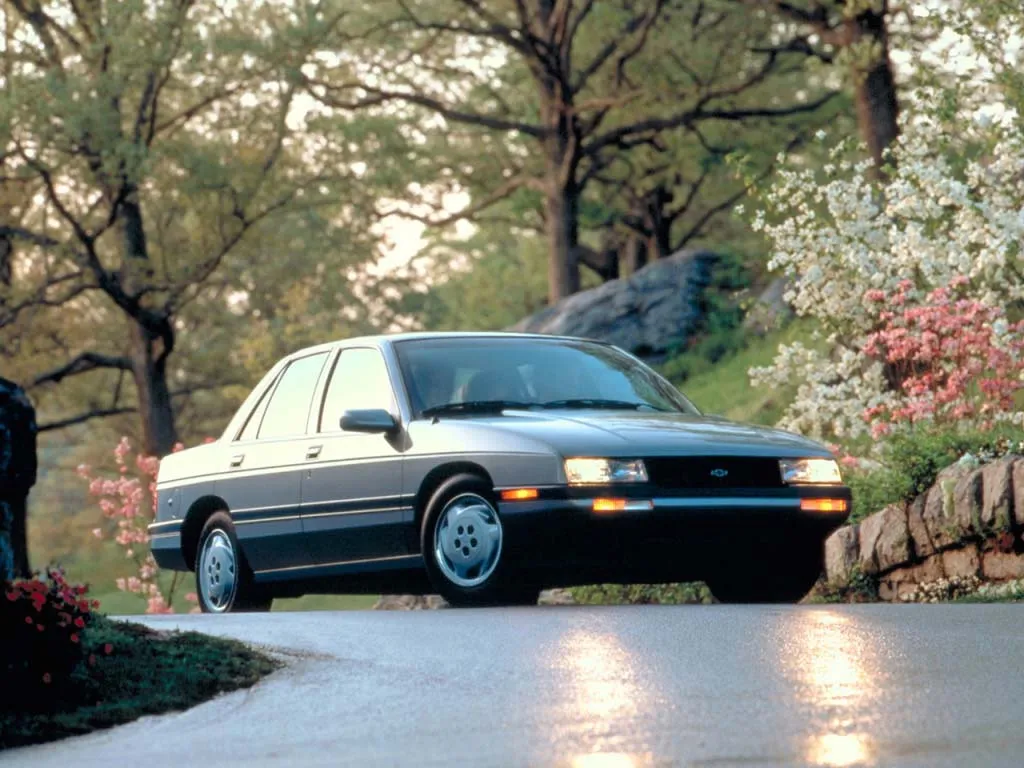 In the nine years, it was offered, 1,643,416 examples were sold, making it an exceptional success for Chevrolet.
In 1988 at 291,163 sales, it was the second-highest volume-selling passenger car, running closely behind the Ford Escort. While it was a sale success, the annual number of vehicles never came sloe to Chevrolet's expectation of 500,000 per annum.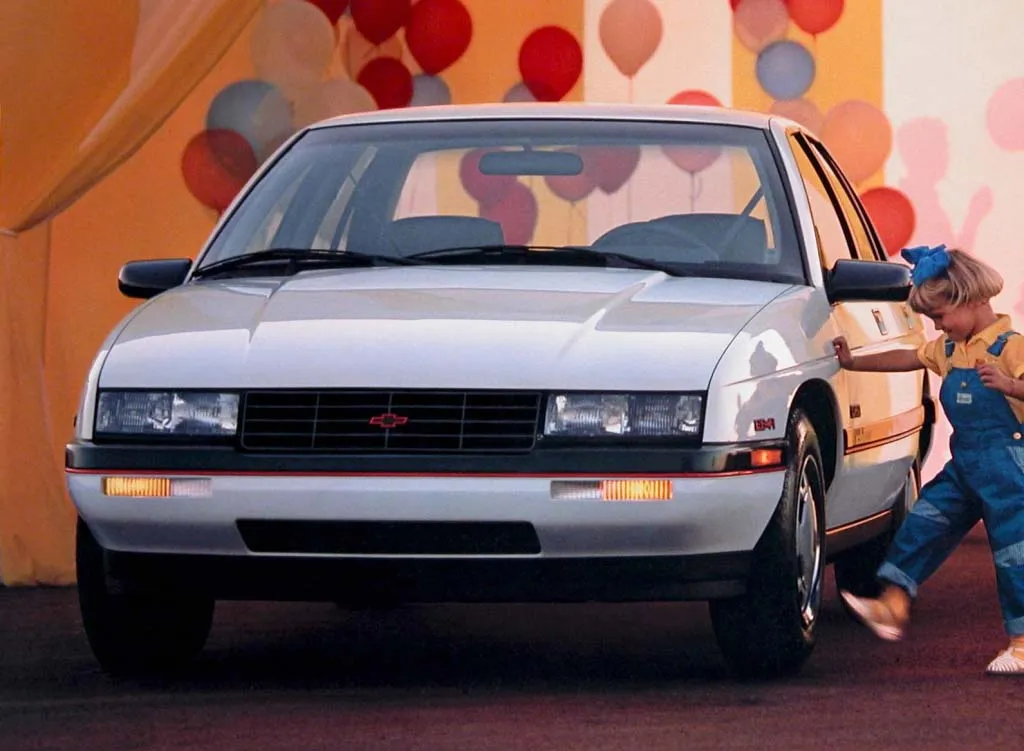 At its launch, it was sold in two styles; each offered four trim levels.
In 1989 Chevy launched the five-door version; however, this only remained in production until 1991.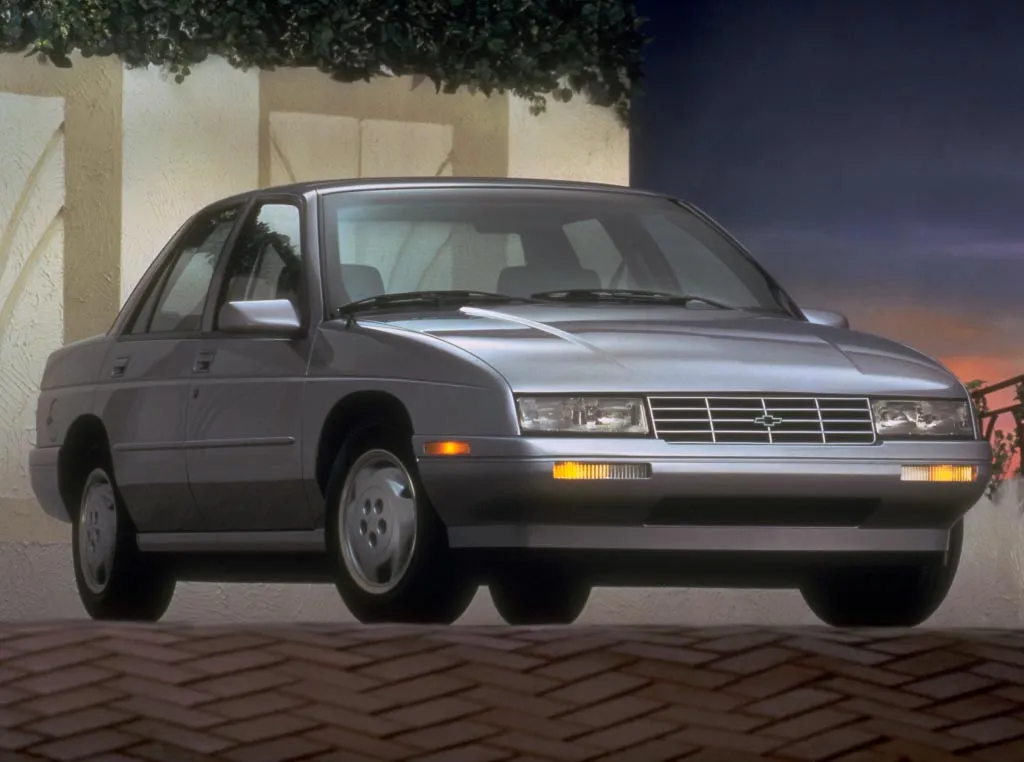 The Chevy Corsica was built at two plants, namely
Wilmington Assembly in Delaware
Linden Assembly in New Jersey.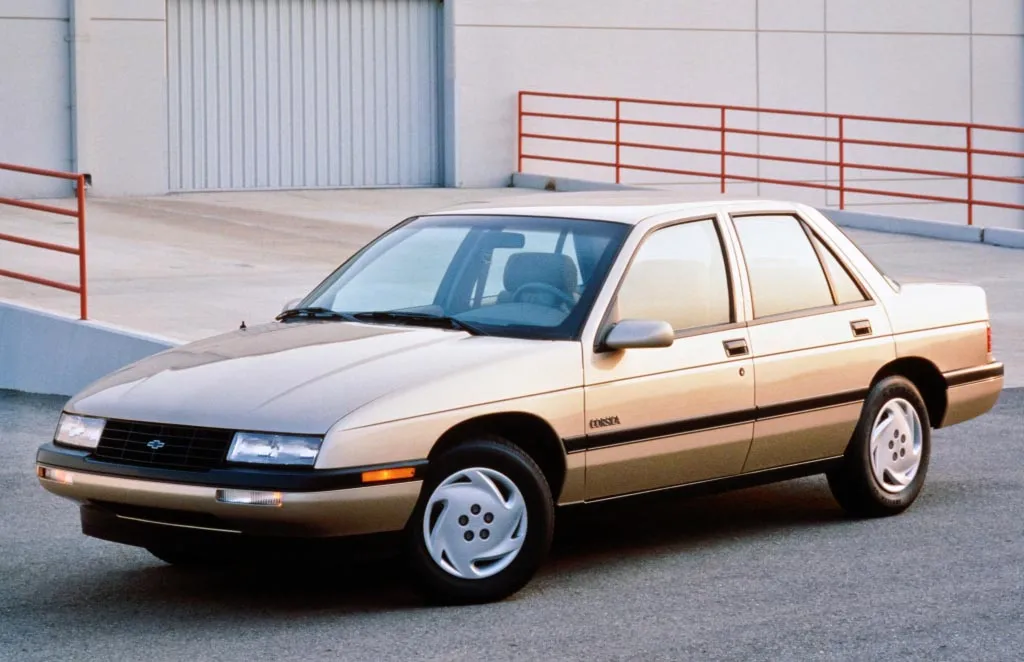 The Chevy Corsica competed for sales with the
Dodge Spirit.
Ford Tempo.
Mazda 626.
Nissan Stanza.
For the time, the Chevy Corsica enjoyed a relatively aerodynamic-shaped body. Chevrolets of the time resisted the move from the traditional box shape to smoother, more curved features, and this tension came through with the final Chevy Corsica body shape.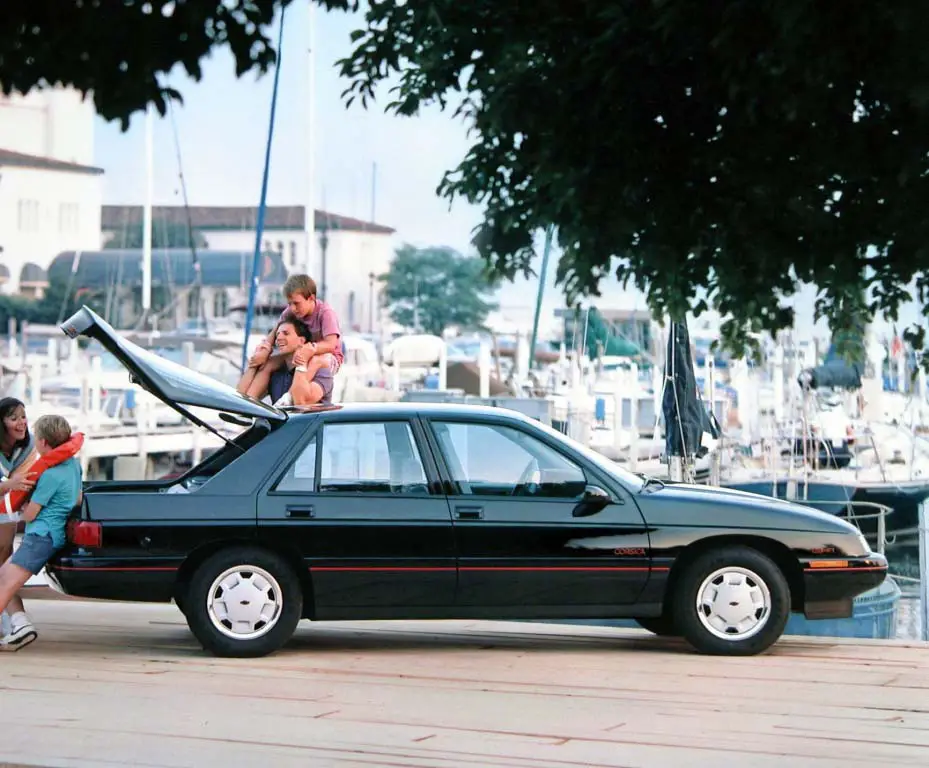 While the vehicle featured a lower, more wedged front end, the rest still consisted of a series of squares installed on the chassis.
The Chevy Corsica is longer, wider, and higher than its competitors, translating to more room for the occupants.
| | | | | | |
| --- | --- | --- | --- | --- | --- |
| Dimension | Chevy Corsica | Ford Tempo | Dodge Spirit | Mazda 626 | Nissan Stanza |
| Length | 183.4 in | 176.7 in | 181.2 in | 180.7 in | 179.9 in |
| Width | 68.2 in | 68.3 in | 68.1 in | 67.3 in | 66.9 in |
| Height | 56.2 in | 52.7 in | 53.5 in | 56.3 in | 54.1 in |
What Is The Chevy Corsica Like To Drive?
When considering the Chevy Corsica, you always need to keep in mind the market for which it was intended.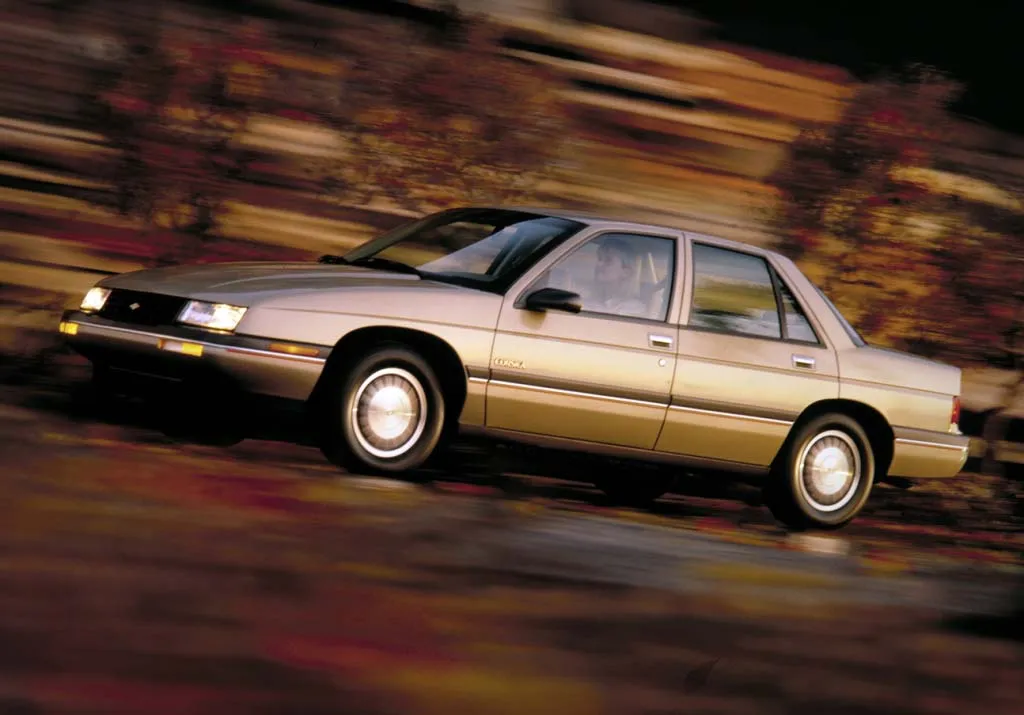 The main customers were not worried about the driving experience, comfort, or performance; instead, they wanted a low-cost platform that they could deploy into their network. The Chevy Corsica fitted this bill perfectly.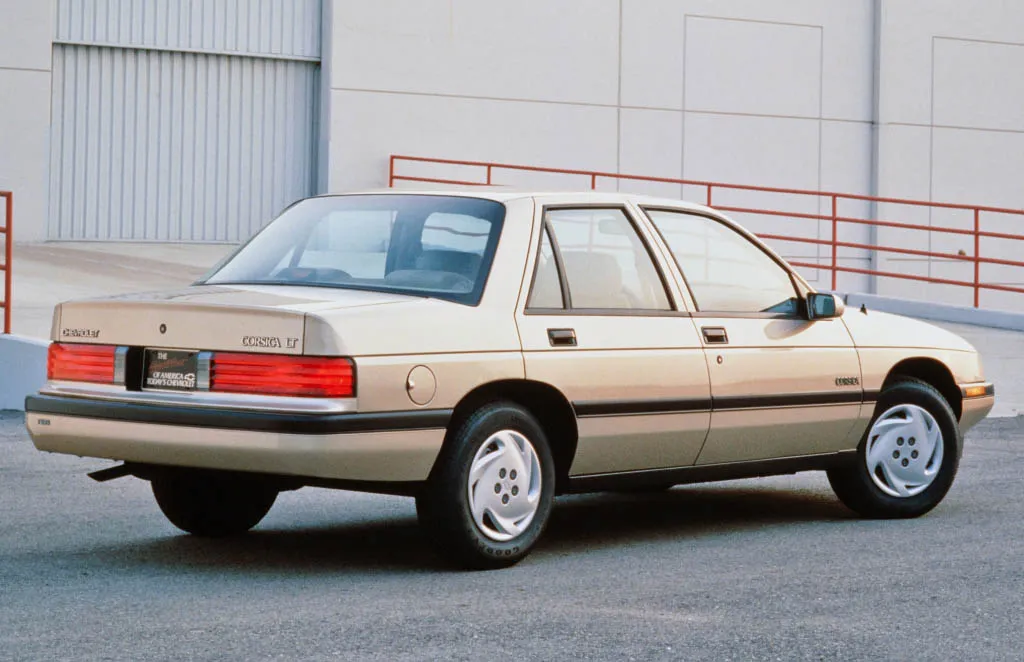 The Chevy Corsica was the first vehicle in the Chevrolet range equipped with Daytime Running lights.
While this is found on all modern cars, in 1987, it was a new safety feature that Chevrolet was trying to promote.
The Chevy Corsica steering wheel can turn from lock to lock in just 2.3 rotations of the steering wheel. Despite this, the Chevy Corsica took a little time to respond to steering inputs, and when it did start to turn, there was a distinct body role.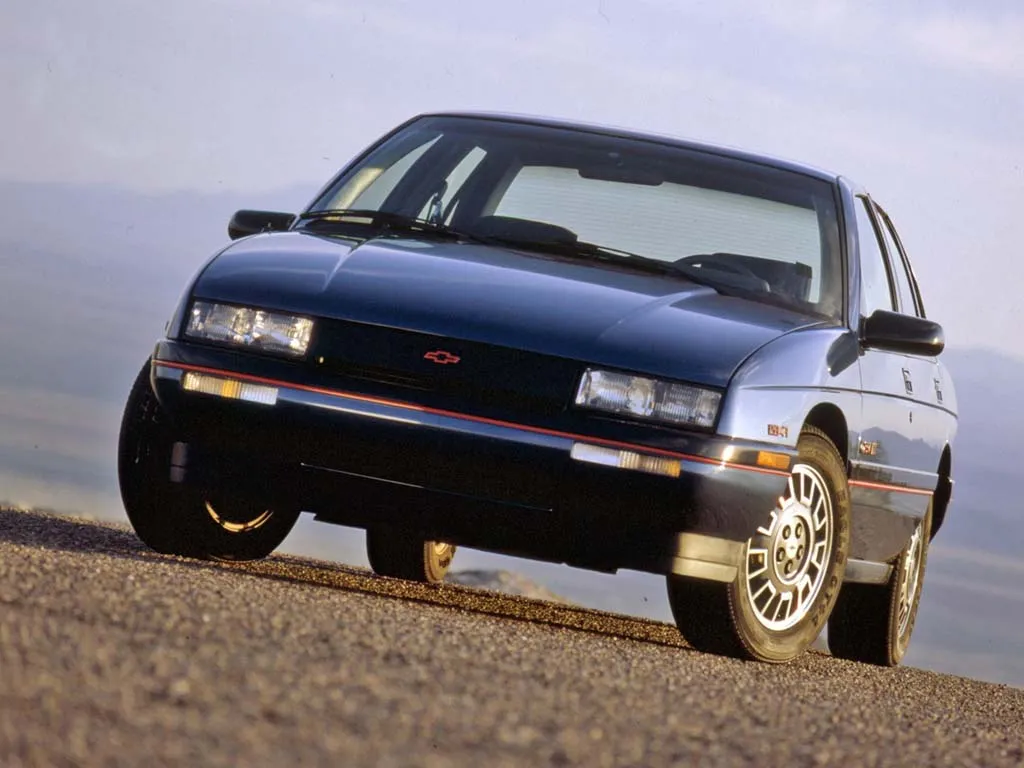 Until the last year of production, the Chevy Corsica was delivered with thinner tires that were not renowned for promoting vigorous cornering ability.
The MPG around town is 18 miles per gallon, and the highway is 27 miles per gallon, meaning the fuel consumption falls in the middle of the Merced and BMW competitors.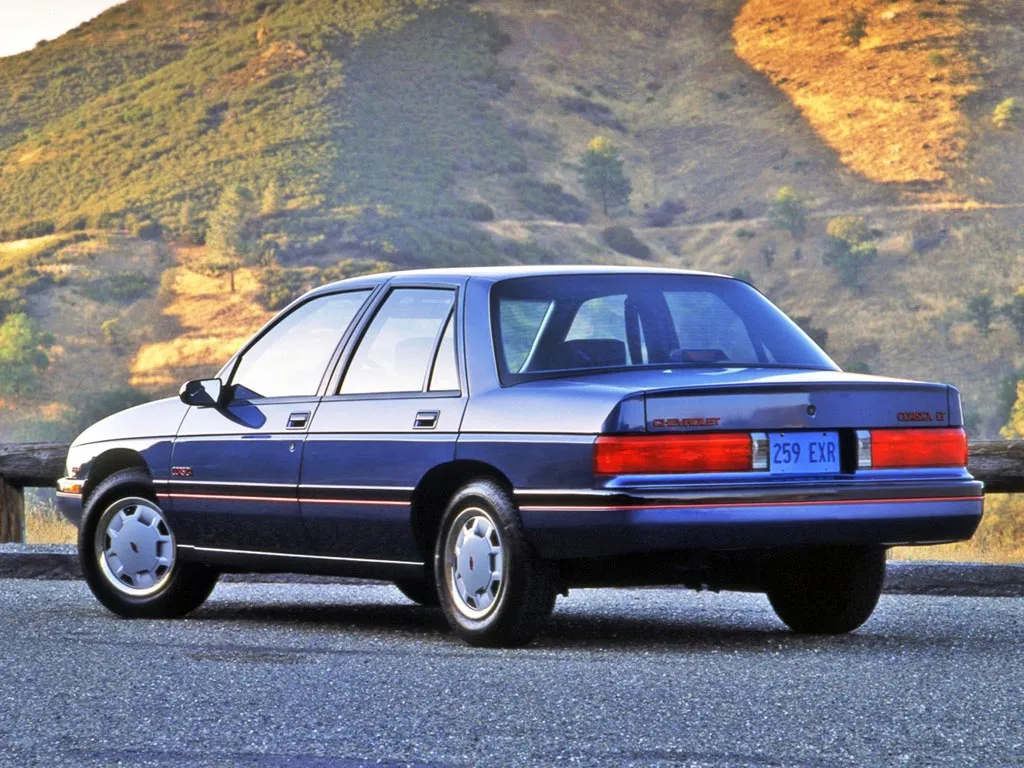 | | |
| --- | --- |
| Model | Miles Per Gallon |
| Nissan Stanza | Town 26 MPG, Highway34 MPG |
| Mazda 626 | Town 25 MPG, Highway 32 MPG |
| Dodge Spirit | Town 19 MPG, Highway 24 MPG |
| Ford Tempo | Town 19 MPG, Highway 23 MPG |
The traction control is standard.
The Chevy Corsica Interior
The Chevy Corsica was positioned very much as an economy class vehicle meant that Chevrolet kept the trim and finishes as austere as possible.
If there are any doubts about this, open the driver's door and peer inside.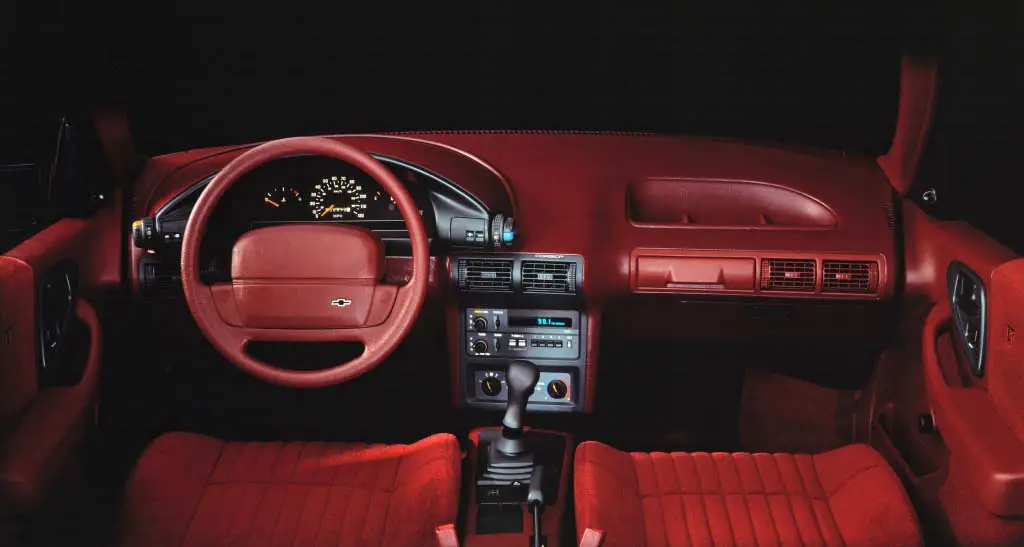 In line with its positioning as a fleet and rental vehicle, the original interior is bestowed with rental grade cloth accented with a strange red trim.
Although a redesigned instrument panel was provided in 1995, given its steady sales, which created a positive return on investment, Chevy didn't feel the need to put any more money into this fleet-queen. So, there were no significant advancements or upgrades during the vehicle's nine years of existence.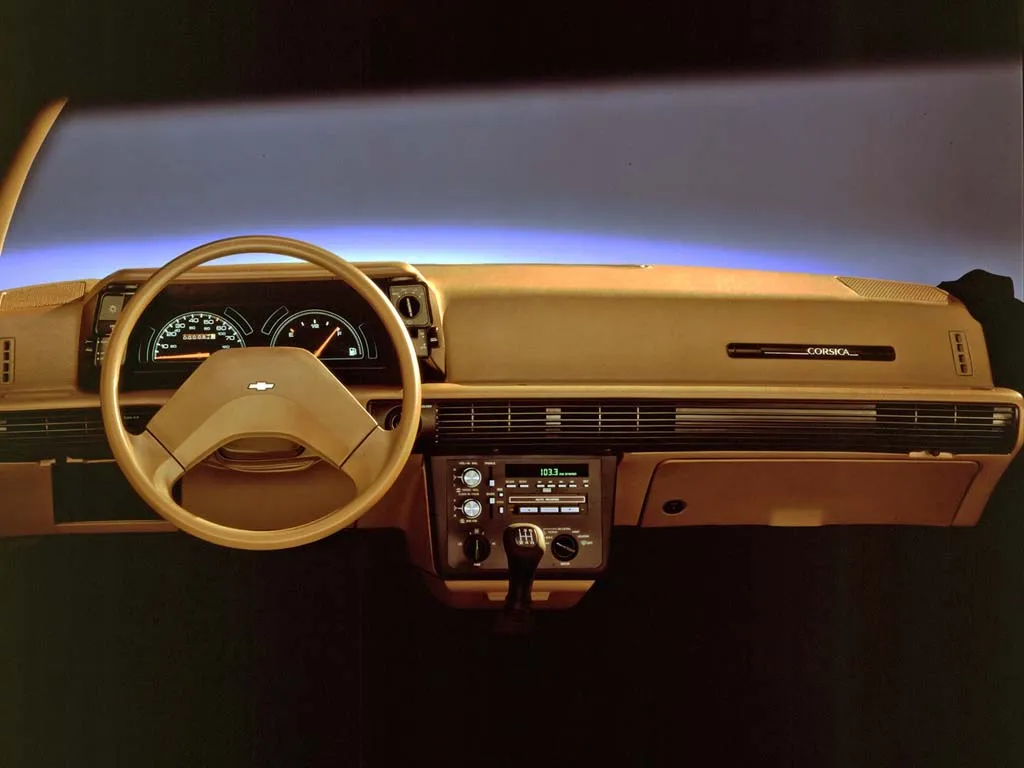 If one was to find a single word to describe the interior, amongst the many that come to mind, "unexciting" is most appropriate.
Despite this, the Chevy Corsica included several features as standard.
Power windows
Air conditioning
Stereo with CD player
Central controlled door locking
ABS braking system
A remote, power trunk opener
Tilt steering
At the time, all of these were considered the preserve of more expensive upmarket vehicles.
The Chevy Corsica Engine
The standard powertrain is a 4-cylinder 2.2-liter connected to a 3-speed automatic good for basic transportation and will get you from A-B with reasonable economy.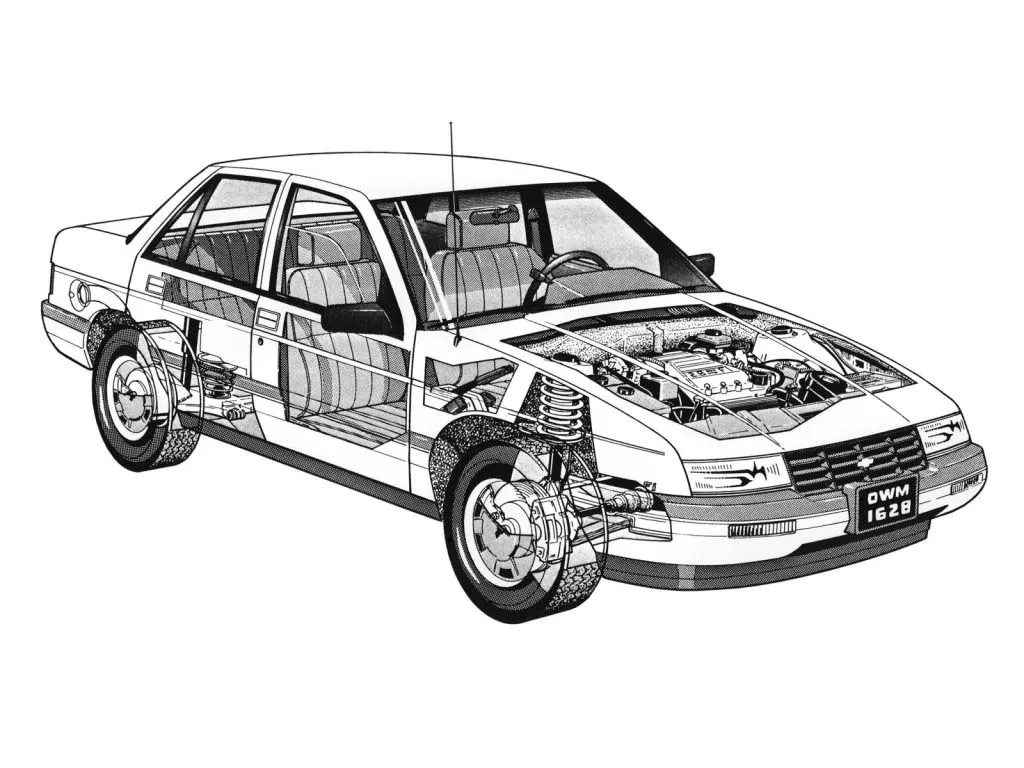 While it achieves this essential requirement, accelerating or overtaking other vehicles has to be planned because there is nothing left in reserve with your accelerator foot flat down.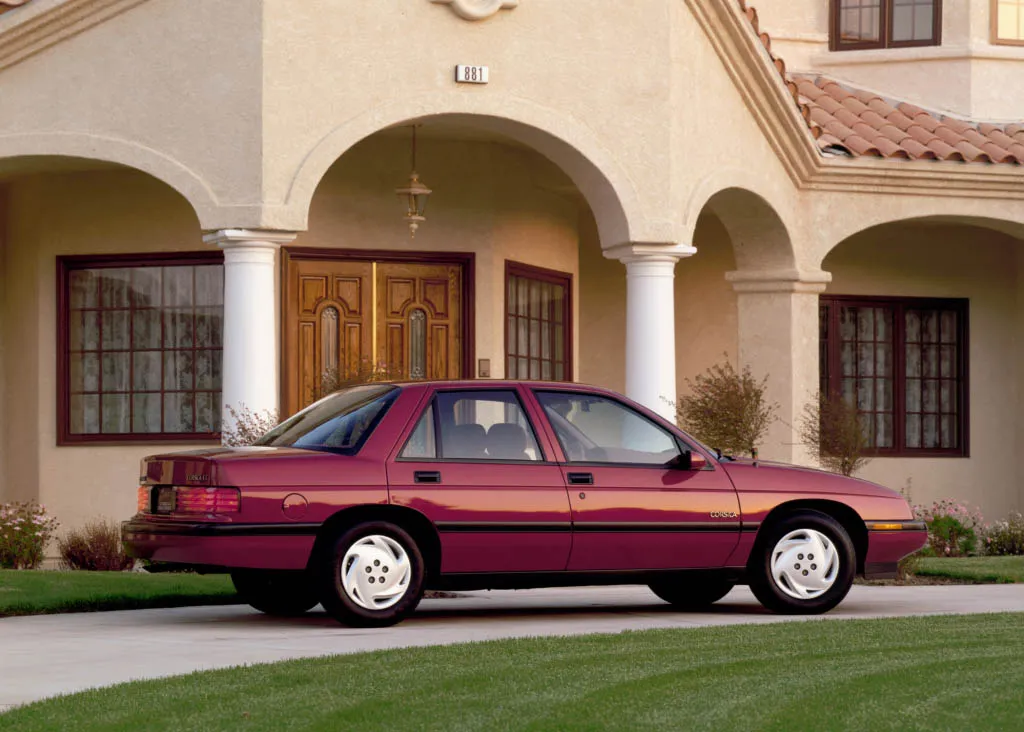 This engine was never meant to create headline news regarding performance, and unfortunately, it did not prove any of its detractors wrong.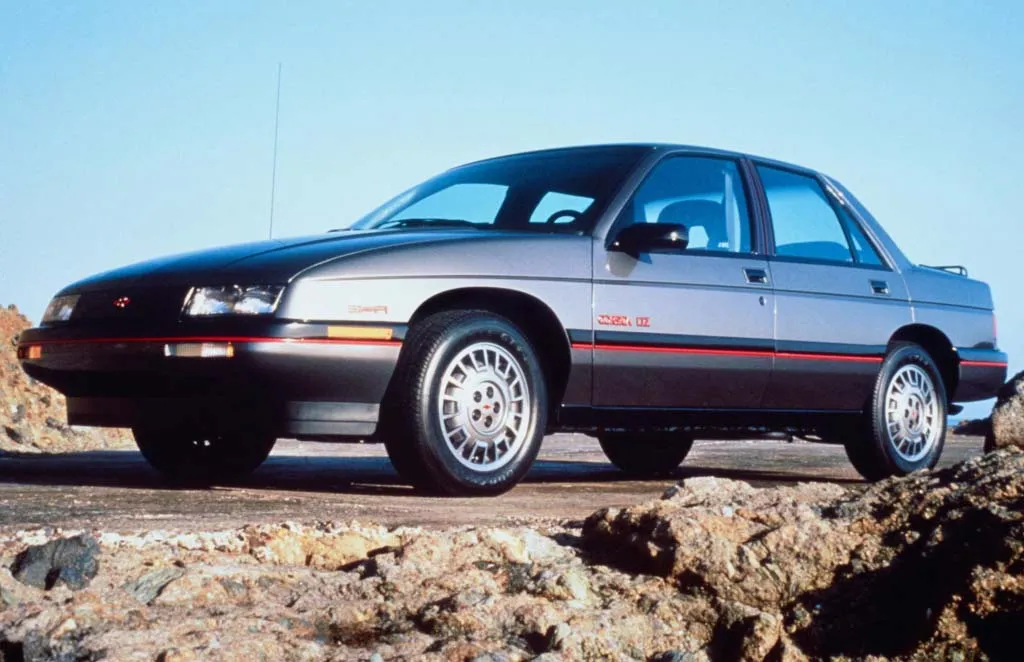 Pushed hard will get it from 0- 60 mph in 12.9 seconds (1/5th of a minute!), and while it is performing this, it makes an uncomfortable thrashing sound.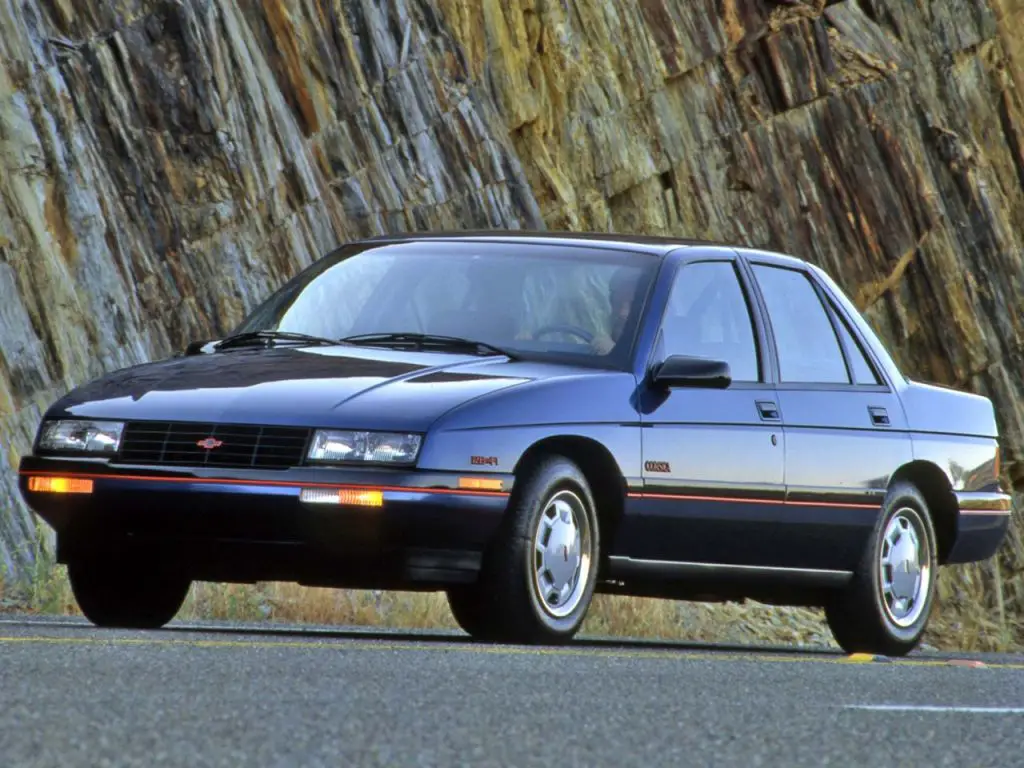 Sadly, this lack of power does not translate into outstanding fuel economy, which around town is 18 miles per gallon, and at "noisy" the highway is 27 miles per gallon.
| | | | | |
| --- | --- | --- | --- | --- |
| Model | Engine | 0-60 mph time | Horsepower | Top Speed |
| Chevy Corsica | 2.2 liter | 12.9 | 88 | 109 mph (175 km/h) |
| Nissan Stanza | 1.9 liter | 13.6 | 97 | 111 mph (178 km/h) |
| Dodge Spirit (Performance) | 2.2 liter | 5.8 | 226 | 141mph (227 km/h) |
| Mazda 626 | 2.2 liter | 10.8 | 110 | 119 mph (191 km/h) |
| Ford Tempo | 2.3 liter | 11.8 | 96 | 109 mph (175 km/h) |
What Will You Pay For A Chevy Corsica?
The table below includes the MSRP for the Chevy Corsica and its competitors.
| | | | |
| --- | --- | --- | --- |
| Model | Year | New MSRP | Current 2nd Hand Value |
| Chevy Corsica | 1991 | $10,525 | $929 |
| Nissan Stanza | 2002 | $15,225 | $1,036 |
| Dodge Spirit | 1991 | $10,905 | $401 |
| Mazda 626 | 1991 | $19,975 | $1,775 |
| Ford Tempo | 1991 | $10,885 | $475 |
Our Verdict on the Chevy Corsica
Unfortunately, Chevrolet put so little emphasis on the Corsica. If the company had advanced it throughout its product life, more attention had been made to the engine, and the interior was outfitted with better materials, they would have been able to capitalize on what became a new market segment.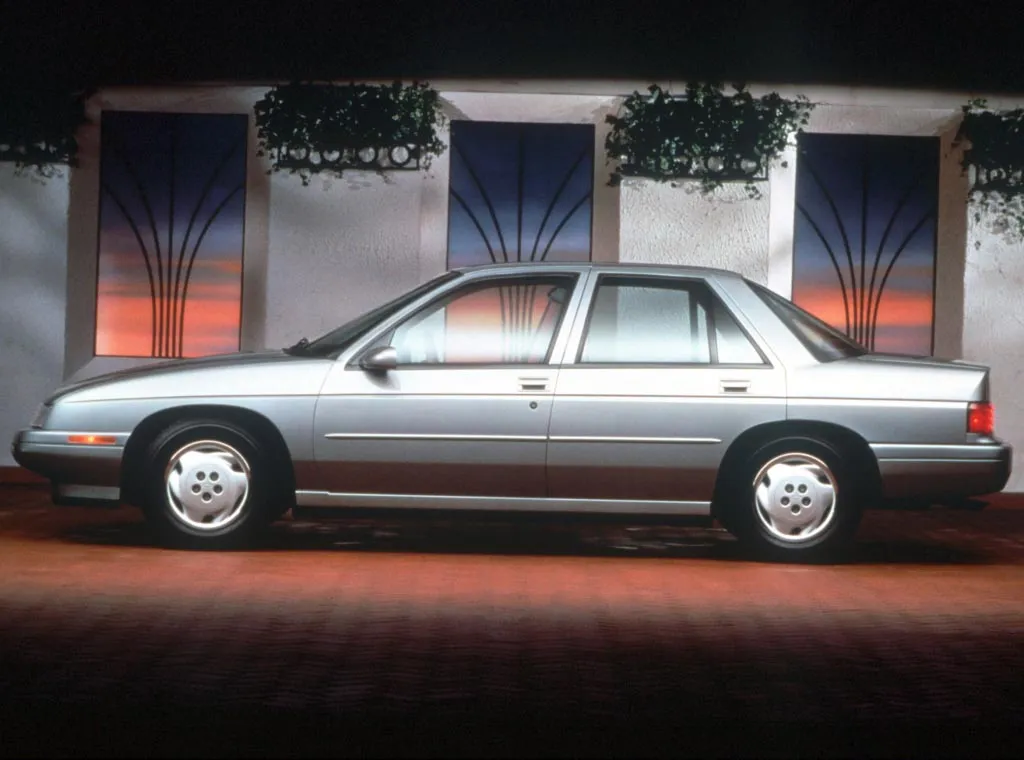 In terms of sales volume, the Chevy Corsica performed well for Chevrolet; it was purely a means to an end for both the company and its fleet-based customers. Unless your budget is severely restricted, better, more appropriately finished cars are for you to consider.