The Jeep Comanche is an absolutely fantastic truck, and for good reason it's getting harder and harder to find them for sale because they're becoming collectibles. If you're looking for a classic pickup truck that will hold its value over time, the Jeep Comanche is a great choice. But with prices going up, and collectors becoming more aware you need to act fast if you want to get your hands on one.
So, what makes the Jeep Comanche so special? Whether you're looking to buy or just gain more knowledge, this article breaks down everything you need to know about the Jeep Comanche.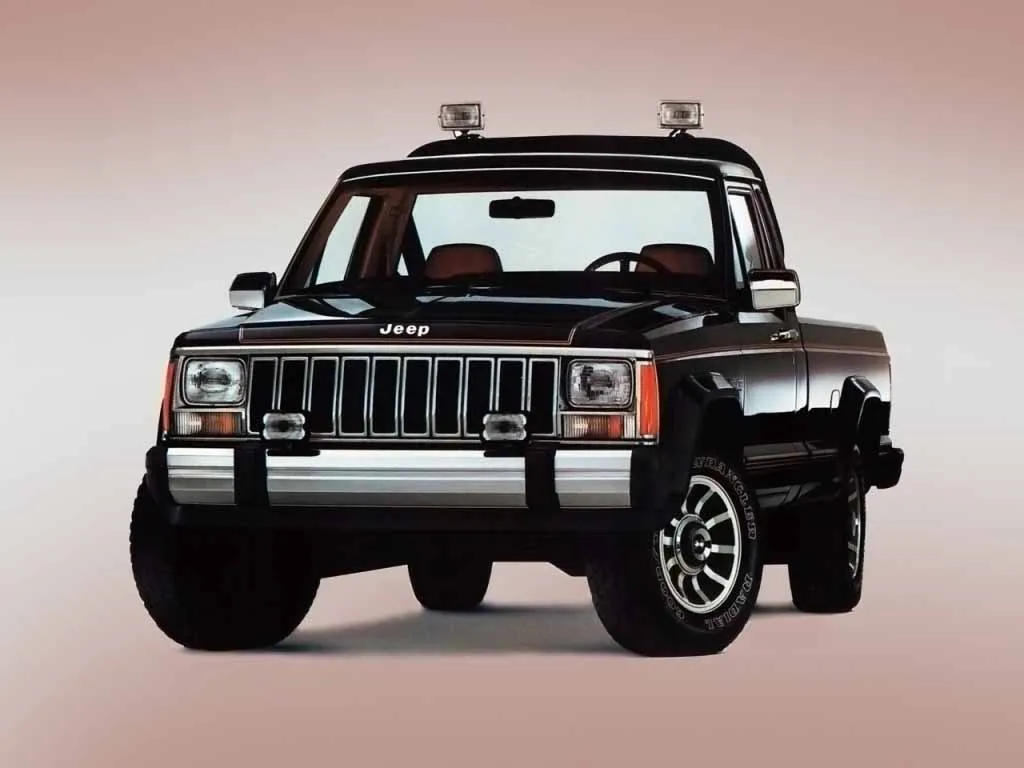 The Jeep Comanche is a light single-cab truck with model years from 1986 to 1992. The Comanche, designed by AMC, is a solid workhorse with a hybrid uni-body/x-frame chassis with RWD and 4WD drivetrains. The Comanche has two load body lengths, four engines, and six transmission options. 
The Jeep Comanche should be on your shopping list if you're a classic car collector with a penchant for trucks. A 4×2 or 4×4 Jeep Comanche in showroom condition today will sell on the private market for over $20,000. That's a solid investment considering the Comanche sold for an average price of $10,000 back in the late 1980s. The Jeep Comanche makes an interesting auto story – underdog compact truck snared in corporate battles, which adds to its intrinsic vintage value. Let's go back in time.
Who Made The Jeep Comanche And Why?
During the 1980s, American and Japanese auto manufacturers were releasing popular compact pickup trucks that served as cargo haulers and thrifty, sporty city runarounds.
AMC-owned Jeep needed a compact truck to compete in this market and released the comfortable and capable Comanche in 1986.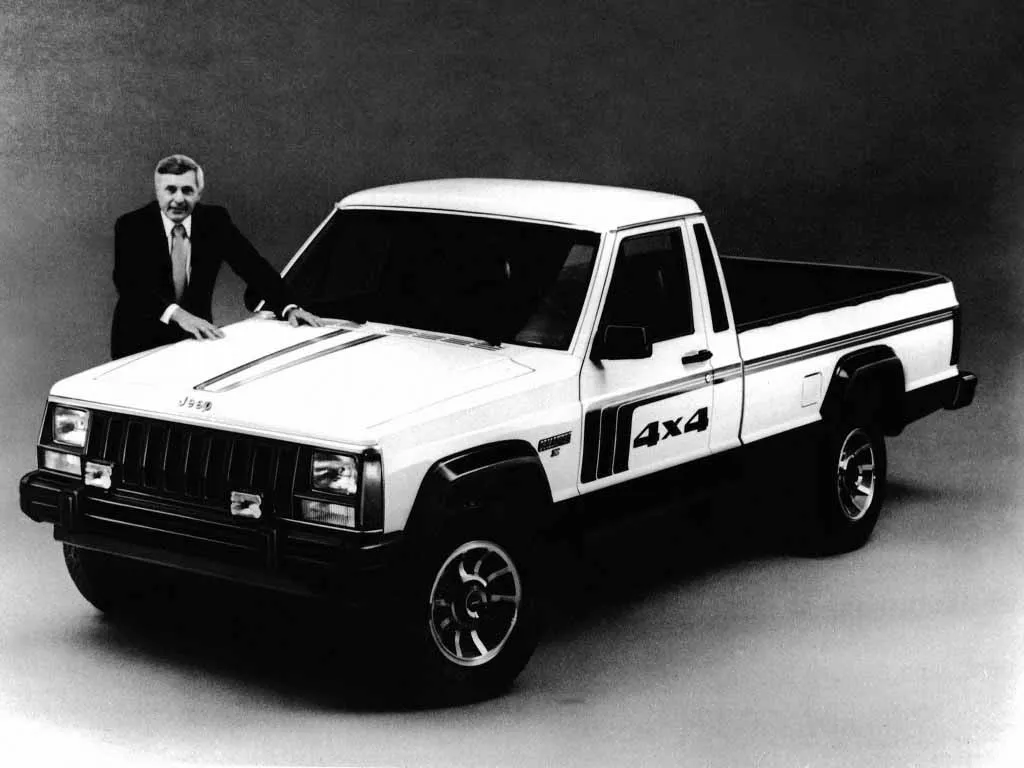 Officially dubbed the Jeep Comanche MJ, AMC (American Motors Corporation), which owned the Jeep brand alongside Dodge truck brands, based the Jeep Comanche on the Jeep Cherokee to optimize its production costs.
Sharing the same unibody chassis/cab, drivetrain, and front suspension as the Jeep XJ Cherokee, the Comanche did receive a bespoke body-on-frame rear end, which included a reinforced box-steel X-frame chassis (the Uniframe) to support the removable load bed.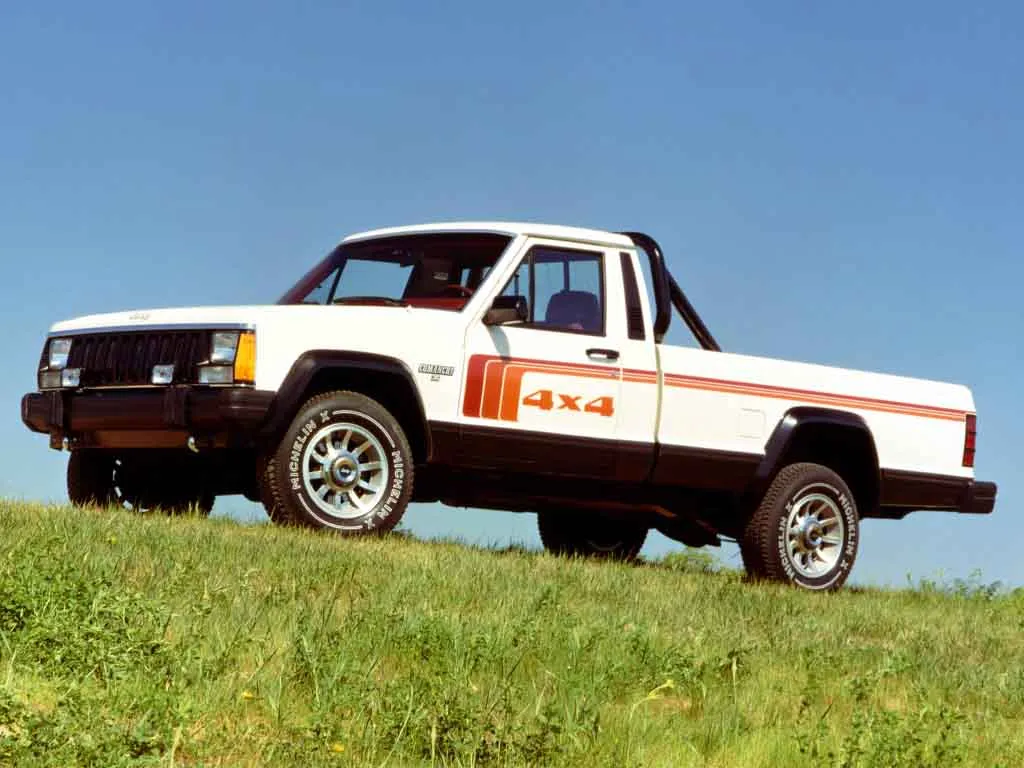 The unique hybrid frame and body construction of the Jeep Comanche gave it class-leading payload capacity and later variants equipped with a straight-six 4.0L fuel-injected gas engine were powerful and economical.
In its seven model years, the Jeep Comanche achieved marginal success competing against market-leader, the Toyota Hilux, and other strong competitors like the Dodge Ram 50, Ford Ranger, and Mazda B Series.
The Jeep Comanche's most successful year was 1988, with 43,718 units sold.
The Ford Ranger sold 298,579 units in 1988.
The Toyota Hilux sold 230,373 units in 1988.
Despite its noteworthy mechanical performance on-road and off, the corporate buyout of AMC by Chrysler in 1987 triggered the demise of the Jeep Comanche, with Chrysler segmenting its market offerings, making Dodge its body-on-frame truck line and Jeep tackling the burgeoning SUV market.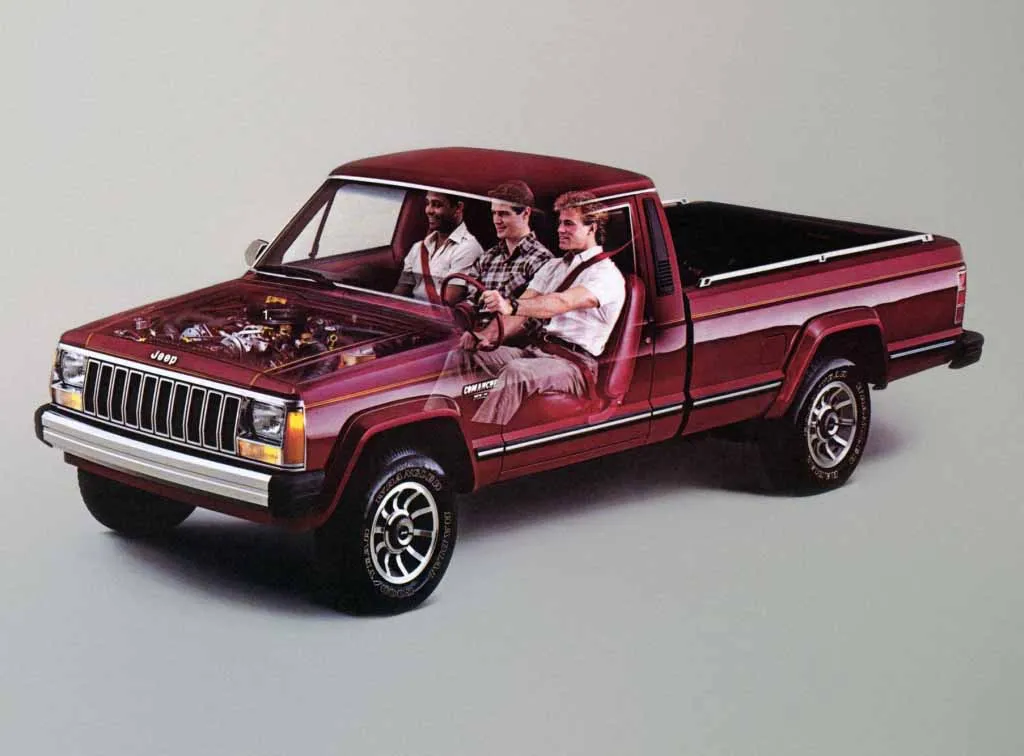 Left out in the cold, the Jeep Comanche bowed out of the compact truck race in 1992 with a mere 952 units rolling off the production line that year.
But, as history proves, rarity has value (more on this to follow).
How Many Trims Does The Jeep Comanche Have?
The Jeep Comanche was released with nine trim variations during its seven-year production run, incorporating US and European drivetrain technologies. The two-door, regular cab Comanche range includes 4×2 and 4×4 models with manual and automatic transmission, with long and short load beds.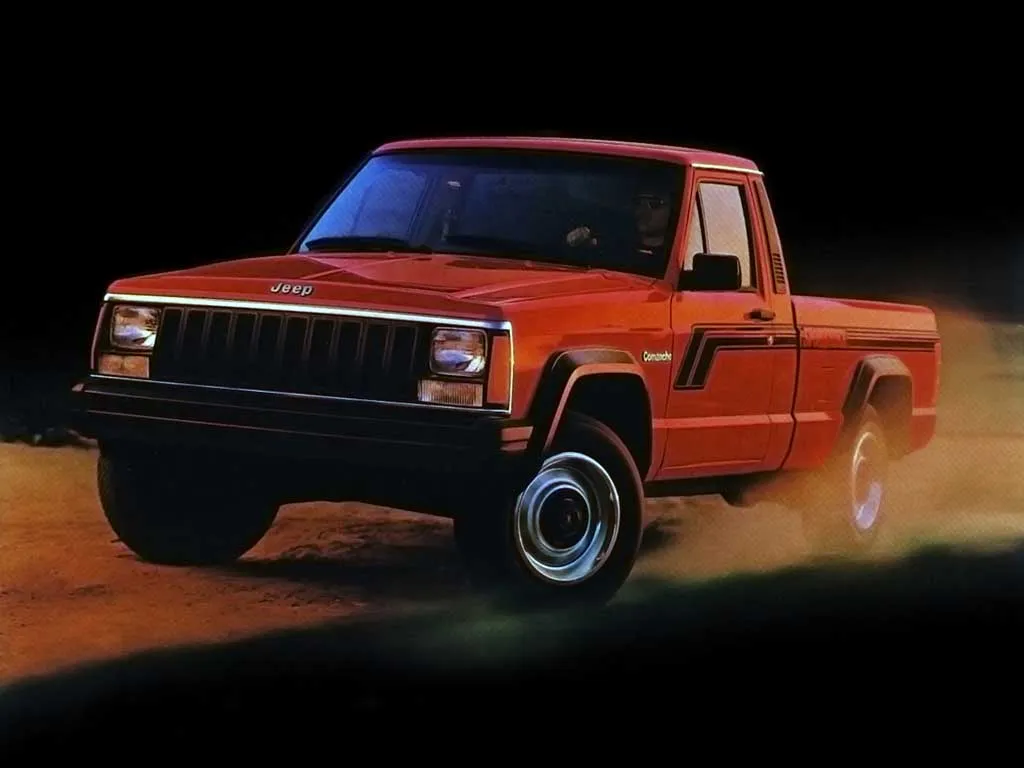 The change of ownership of Jeep's parent company saw the Comanche receiving several changes to transmission and engine specifications, with components sourced from American and European OEMs, including Chevrolet, Chrysler, Peugeot, Renault, Bendix, Aisin, and TorqueFlite.
Here's a breakdown of the somewhat scattershot Jeep Comanche trim levels year by year:
1986 – Custom (the base model), X (the Custom with a few frills), XLS (bucket seats).
1987 – SporTruck, Chief, Laredo (the Premium Comanche), Pioneer.
1988 – Eliminator (the sports trim), Olympic (a commemorative trim).
Only the Jeep Comanche SporTruck, Pioneer, and Eliminator survived to see the shut-down in 1992.
What Are The Jeep Comanche Specs?
Jeep Comanche engines include a gas 4-cylinder 2.5L; a 2.8L V6; and a 4.0L mill, alongside a 2.1L turbodiesel engine. Transmissions from several OEMs include a 4-speed and 5-speed manual, and 3-speed and 4-speed automatic gearboxes. The cargo bodies include a seven-foot and a six-foot load bin.
The power and torque from the Comanche's respective engines were rated at:
2.5L four-cylinder Renix TBI 1986 – 117hp@5,000rpm / 135lb-ft@3,250rpm
2.5L four-cylinder Renix TBI 1987 – 121hp@5,000rpm / 141lb-ft@3,500rpm
2.5L four-cylinder Chrysler 1991 – 130hp@5,250rpm / 149lb-ft@3,250rpm
2.8L V6 Chevrolet 1986 – 115hp@4,800rpm / 150lb-ft@2,100rpm
2.1L turbodiesel Renault 1986 – 85hp@3,750rpm / 132lb-ft@2,750rpm
4.0L Renix MPI 1987 – 173hp@4,500rpm / 220lb-ft@2,500rpm
4.0L Renix MPI 1988 – 177hp@4,500rpm / 224lb-ft@2,500rpm
4.0L Chrysler MPI 'High Output' 1991 – 190hp@4,750rpm / 225lb-ft@3,950rpm
The transmission offerings included:
Aisin AX-4: A manual 4-speed in the 2.5L models from 1986 to 1992.
Aisin AX-5: A manual 5-speed in the V6 and turbodiesel models for 1986 and 1987.
TorqueFlite A904: A 3-speed automatic in the 2.5L and 2.8L V6 models for 1986.
Aisin-Warner: A 4-speed automatic in the 2.5L and 4.0L models from 1987 to 1992.
Peugeot BA10/5: A 5-speed manual in the 4.0L 1987 to 1989 models.
Aisin AX-15: A 5-speed manual in the 4.0L models from 1989 to 1992.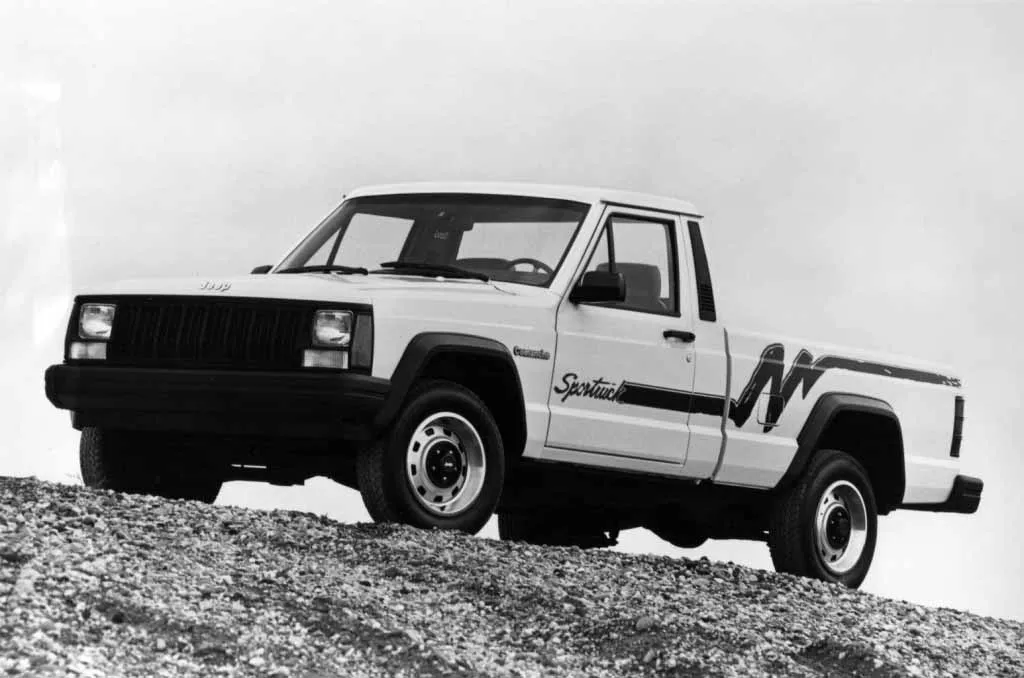 The 4×2 Comanche derivatives have rear-wheel drive. The 4×4 models have part-time 4WD with shift-on-the-fly 4WD and auto-diff lockers on front and rear axles.
The front suspension on all Comanche models is the solid-axle Quadralink coil-spring system.
The Dana-35 solid rear axle has leaf spring suspension.
The long-bed 'Big Ton' Comanche models have heavy-duty leaf spring suspension and Dana-44 axles.
Payload capacity in the Comanche models with Dana-35 axles is 1,475 pounds.
The payload capacity in the models with Dana-44 axles is 2,205 pounds.
Is The Jeep Comanche A Good Workhorse?
Excellent payload capacity, rugged suspension, good fuel economy, comfortable seats, ergonomic controls, and solid torque delivery make the Big Ton 4×4 190hp 4.0L Jeep Comanche an exceptional workhorse, capable of towing 5,000 pounds with the 4-speed automatic transmission and trailer features.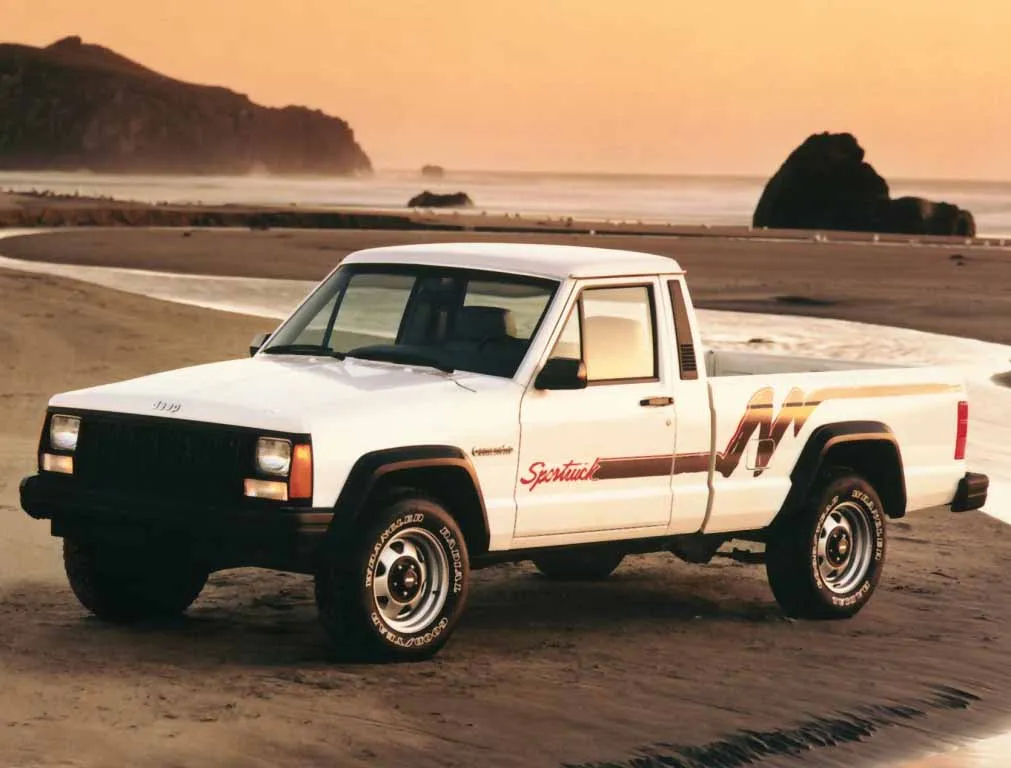 Gas mileage for the Comanche range was estimated at between 15mpg to 19mpg combined, which is impressive, even today. Aftermarket parts were readily available and budget-friendly during the Comanche's heyday, although today, sourcing parts will prove a challenge.
The 4×2 Comanche models serve adequately as farm trucks, while the smaller engine capacity 4×4 models make useful platforms for modification projects.
How Capable Is The Jeep Comanche Off-Road?
The 112,9-inch wheelbase on the short-bed 4×4 Jeep Comanche serves as a useful off-roading platform. The solid axles and Quadralink front suspension offer extended travel and wheel articulation. The nimble 2.5L engine with a 4-speed manual transmission is a proven wheeling winner.
The 4×4 transfer case used in the Comanche (and Jeep Cherokee XJ) allows automatic 'on-the-fly' shifting from 2WD to 4WD, and to locked low range.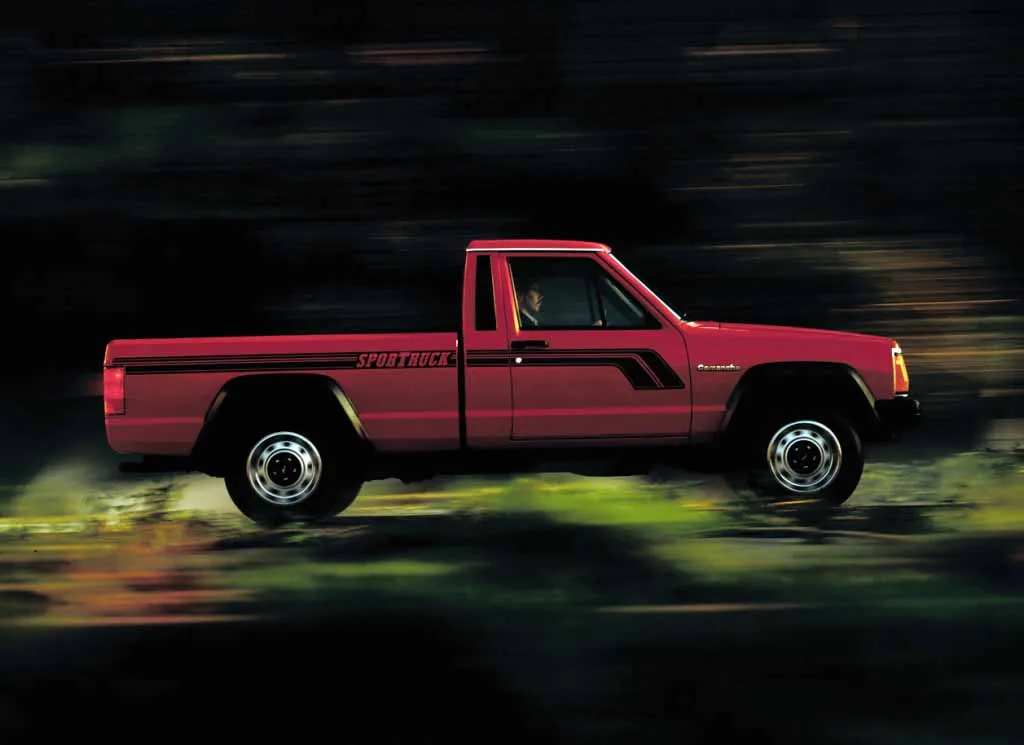 The slender proportions of the Comanche body, high ground clearance, short front and rear overhangs, and good visibility from the driver's seat add extra value to its drivetrain and running gear's off-road capacity.
Is The Jeep Comanche Good Value?
The Jeep Comanche offers investment value for classic car collectors and off-roading enthusiasts. The short production life of the Jeep Comanche makes it a rarity today and thus a sought-after collector's item. The robust chassis and 4×4 drivetrain are ideal for off-roading modifications.
The Comanche wasn't the cheapest compact truck you could buy back in the '80s and early '90s, but it did offer genuine value for money. It was a true-blue workhorse that could jump a few high hedges when asked.
With a base price of just over $7,500 in 1986 to a premium model price of $15,000 in 1992, the Jeep Comanche did have a trim for a wide spectrum of budgets.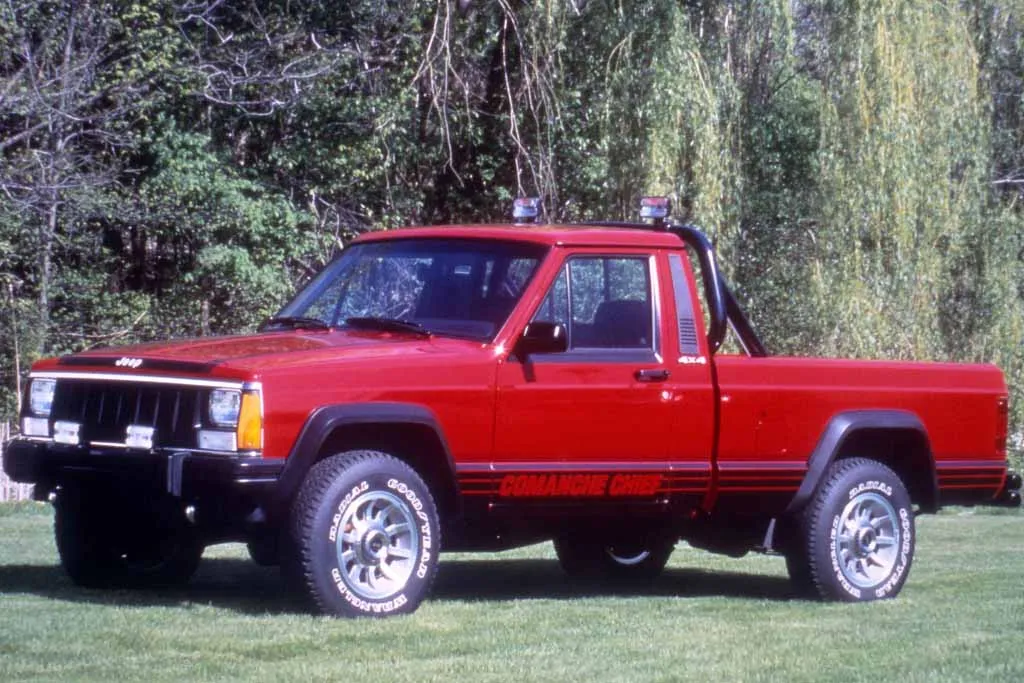 Factoring in inflation, the same new base model would sell today for $18,500, and the premium variant selling new for $30,500.
In 2022, Jeep Comanche models in good condition are rare but can be bought from private and commercial sellers for anything from $3,000 to $30,000.
These figures tell the story – The Jeep Comanche has moved from being Chrysler's cast-aside to the belle of the ball at auto shows and rock crawls.
The Jeep Comanche Concept
Teased in 2016, which happened to also be Jeep's 75th anniversary they released to the public an insight into what a possible new Jeep Comanche might look like. The Jeep Comanche concept seems quite beefy and rugged, it seems to have taken elements from both the harsh and well equipped military Jeeps as well as the more friendly yet still masculine consumer Jeeps.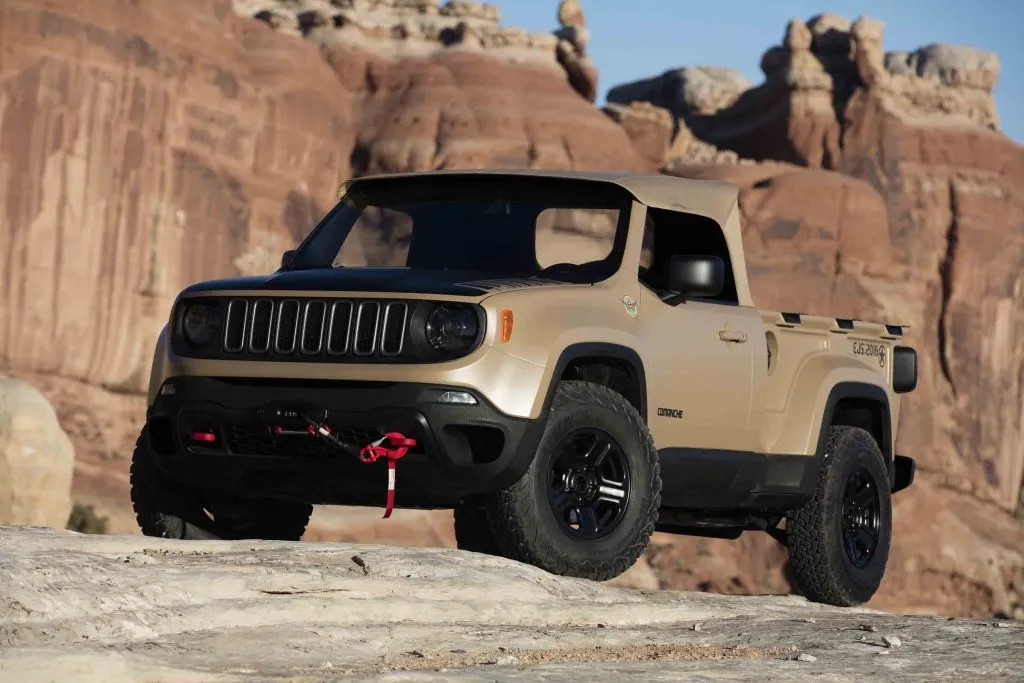 We can clearly see design elements that have made their way into a few consumer vehicles in recent times, but the pickup truck styling and utility packed features makes us reminisce on the old Jeep Comanche. Although such a concept may never see the light of day, and it still hasn't in 2022, the idea behind it and the canvas roof are just purely cool.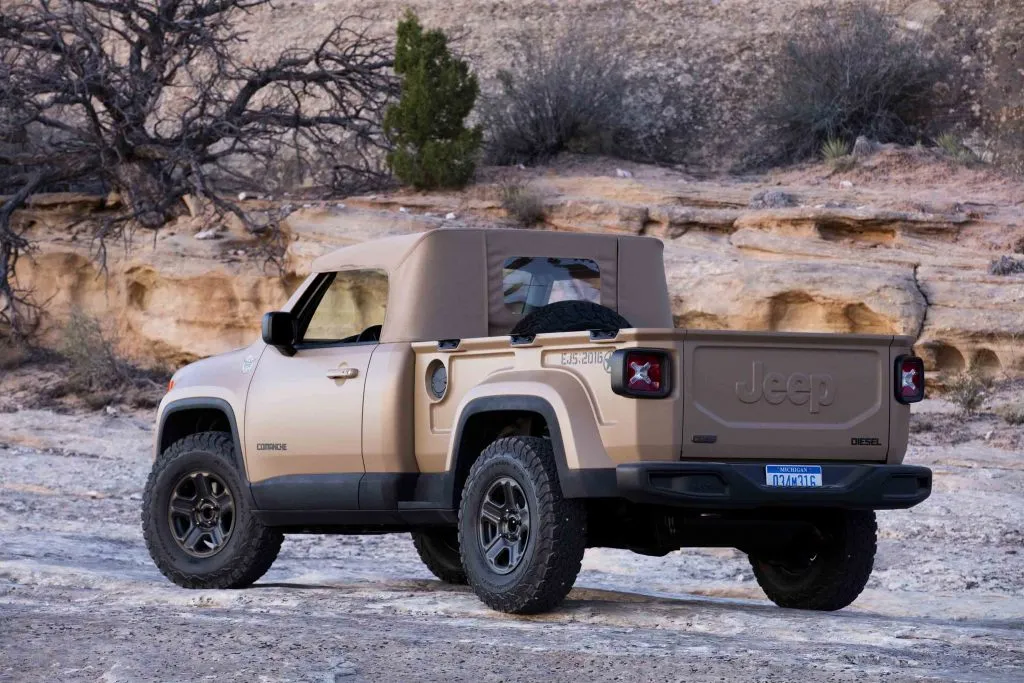 Concluding a Legend
If you're a classic truck collector looking for an investment prospect that has hit the magic spot on the value curve, or a 4×4 enthusiast looking for the ideal Jeep project truck, hop online to the used vehicle sites and see what's out there – if you're lucky, a clean Jeep Comanche at a bargain price!