Good Old 2002 Ford Escape – The Massive Bargain Adventure SUV
So, you've got your eye on a 2002 Ford Escape. It's a great choice, it's got unique styling characteristics, comfort and versatility. But before you make your purchase, be sure to read this ultimate guide! We'll tell you everything you need to know about the 2002 Ford Escape, from its performance specs to its features and accessories.
The 2002 Ford Escape is a small, rugged four-door SUV with a 2.0L four-cylinder or a 3.0L V6 gas engine. With 14 trim options, including Value, Premium, and Sport models, the 2002 Ford Escape range offers manual or automatic transmission options, either front-wheel drive or 4WD.
First released in 2001 with several factory recalls, the 2002 Ford Escape proved more reliable and swiftly grabbed the attention of younger car buyers, becoming market-leader in the small SUV segment while still in its first generation, outselling the Honda CR-V and the Toyota RAV4. Made in the USA, the Ford Escape is a low-on-frills, big-on-thrills buggy suited to drivers with adventurous instincts. Here's why.
How Spacious Is The 2002 Ford Escape?
The 2002 Ford Escape seats five adults and has a cargo area of 33 cubic feet with all seats up. With front bucket seats and a 60-40 split rear seat, the Escape offers ample leg and headroom for tall passengers, while the foldable rear seats enable a maximum cargo capacity of 64,8 cubic feet.
The 2002 Ford Escape is surprisingly roomy for a small SUV, thanks to an angular rather than curvy body design, which caters well to the off-roading set, and frequent movers of boxes, furniture, and large dogs, etc.
Based on their price point, the 2002 Ford Escape 14 model variants are labeled XLT or XLS.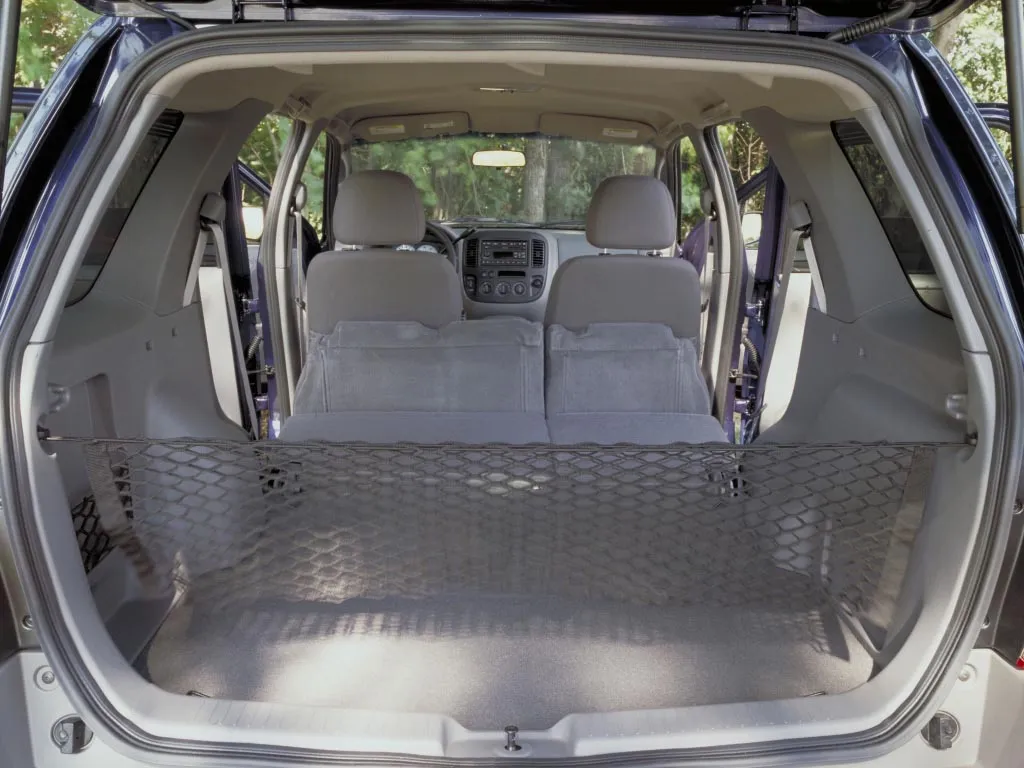 The 3.0L V6 and 4WD models are more expensive and carry the XLT label, while the 2.0L 2WD Ford Escapes are tagged with the XLS label.
The 14 trim options include the XLS Value, Choice, and Sport models, and the XLT Choice, Midnight, Premium, and Sport options.
Here are the interior dimension specs that count:
Front headroom – 40,4 inches
Front legroom – 41,6 inches
Front hip room – 53,4 inches
Front shoulder room – 56,3 inches
Rear headroom – 39,2 inches
Rear legroom – 36,4 inches
Rear hip room – 49,0 inches
Rear shoulder room – 55,9 inches
Payload capacity is 978,0 pounds, which, when combined with the 64,8 cubic feet of total cargo volume, makes the 2002 Ford Escape a more than capable hauler of stuff.
The rear seats don't fold down completely, but the angle from flat is less than 20 degrees.
How Powerful Is The 2002 Ford Escape?
The 2.0L engine in the 2002 Ford Escape produces 127hp@5,400rpm, while the 3.0L engine produces 201hp@5,900rpm. Torque output is 135lb-ft@4,500rpm and 196lb-ft@4,700rpm respectively. The 2.0L models have a five-speed manual transmission, with a four-speed automatic transmission in the V6 variants.
Two decades have passed since its release, and the 2002 Ford Escape remains a much sought-after vehicle for first-time car buyers, thanks to the powerful 3.0L V6 engine that outgunned all rivals in its class back in the day.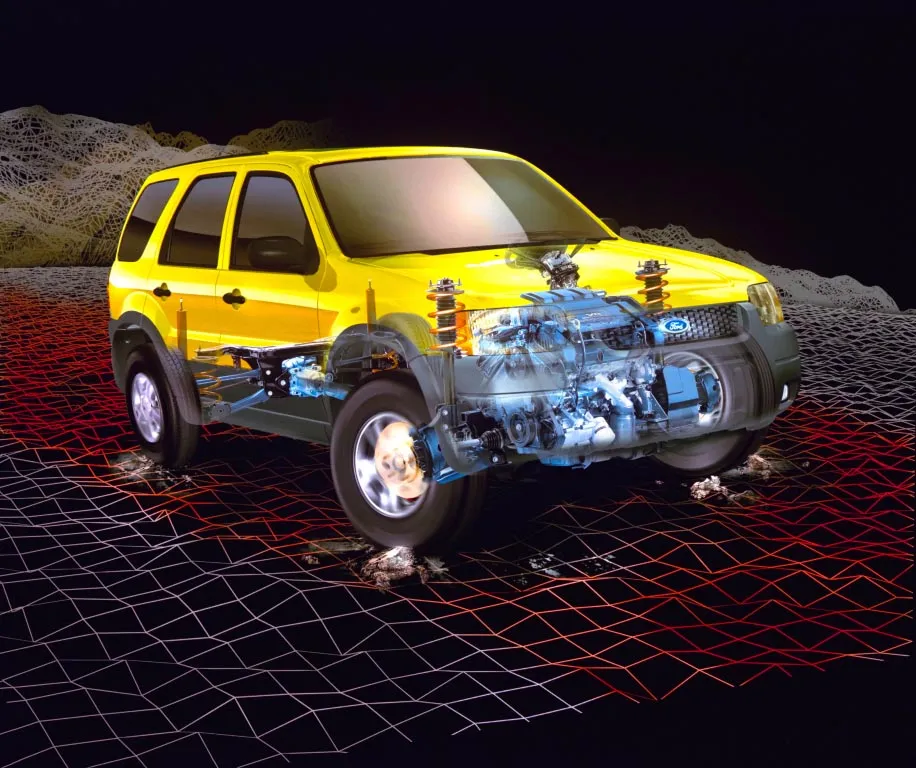 The 2.0L four-cylinder engine is slightly underpowered, especially when the Escape is fully loaded with adult passengers or heavy cargo.
Fuel consumption in the 2.0L engine with the manual transmission is a combined 22mpg in the 2WD variant and 21mpg in the 4WD models.
The 3.0L 2WD Escape achieves 19mpg combined, while the 3.0L 4WD consumes an average of 18mpg.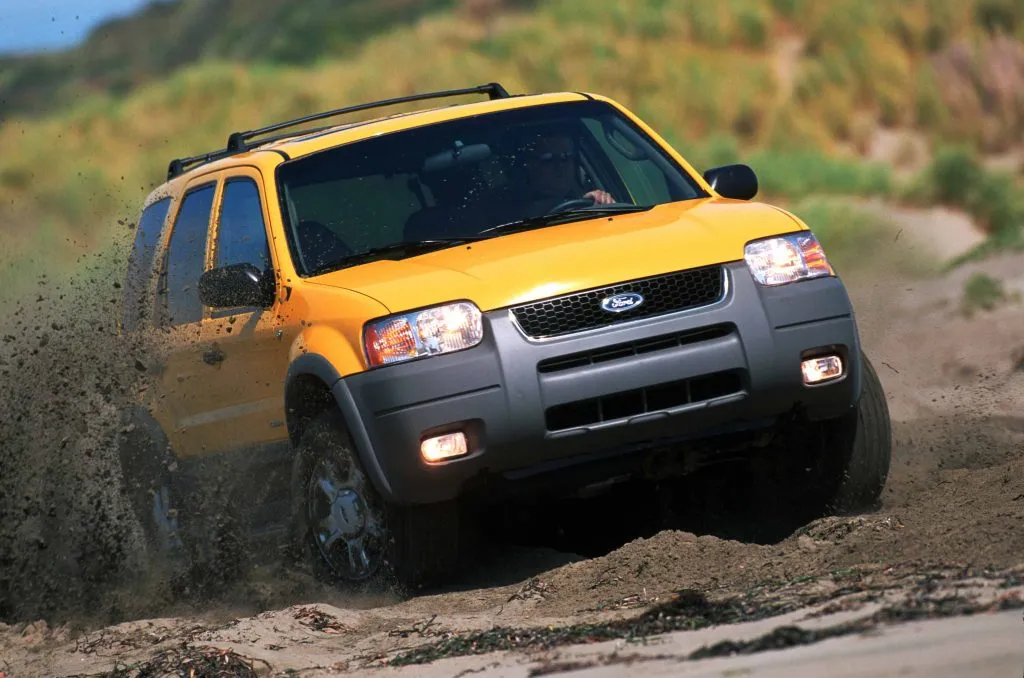 The 2002 Ford Escape curb weight specs are:
3,457lbs. – 3.0L 4WD
3,247lbs. – 3.0L 2WD
3,238lbs. – 2.0L 4WD
3,065lbs. – 2.0L 2WD
Towing capacity for the 4WD 3.0L V6 2002 Ford Escape is 3,500lbs, with the 2WD V6 specified to tow 2,000lbs. The 2.0L 2WD and 4WD models are capable of towing 1,000lbs.
Is The 2002 Ford Escape Comfortable?
The 2002 Ford Escape is utilitarian in its approach to comfort, offering finishes and features that are practical and robust. Power steering, cruise control, cloth or leather upholstery, a motorized sunroof, cup holders, a gutsy stereo, air conditioning, and powered windows provide ergonomic value.
Despite its rugged looks, the 2002 Ford Escape does have select refinements that give it a semi-luxury ride quality.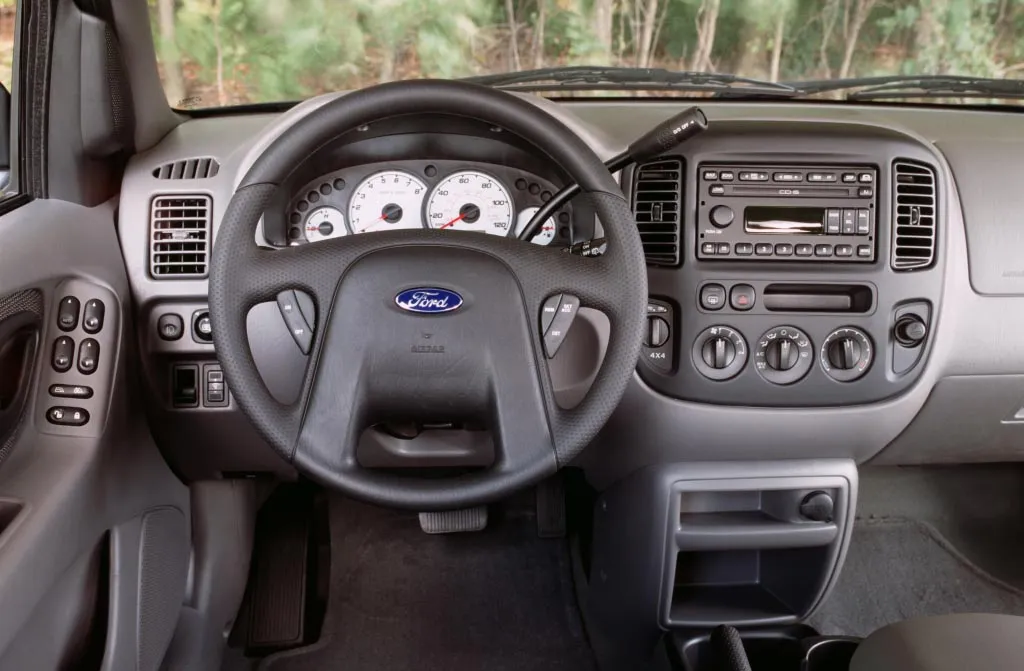 Ford Escape XLS models have a radio/cassette/CD stereo and premium cloth seat. The Sport models have 15-inch alloy wheels with large tires, tinted glass, a roof rack, and side-step bars.
Power steering and air conditioning keep the budget XLS models on the sunny side of rudimentary.
The XLT V6 model variants have a leather interior with a power driver seat, cruise control on the steering wheel, and an in-dash six-CD changer. Privacy glass, a retractable sunroof, and 16-inch alloy wheels give the XLT models the necessary street cred for high-mobility gatherings. 
Color options in the 2002 Ford Escape range include eight exterior Clearcoat paint finishes:
Black
Oxford White
Dark Shadow Metallic Grey
True Metallic Blue
Chrome Yellow
Satin Metallic Silver
Bright Metallic Red
Dark Highland Metallic Green
Interior upholstery and trim colors include:
Medium Graphite
Medium Parchment
Ebony Black
The Purchase price of a vehicle could also be considered an issue of comfort (or discomfort).
The 2002 Ford Escape range was price-competitive with the Jeep Liberty, Honda CR-V, and Toyota RAV-4.
MSRP prices for the Ford Escape in 2002 ranged from $18,670 to $25,880.
The average resale prices in 2022 for the Ford Escape range from around $1,000 to $3,000 for a clean XLT model.
Is The 2002 Ford Escape Good Off-Road?
The 2002 Ford Escape 4WD models have a locking center differential that delivers optimum torque to all four wheels in slippery driving conditions. A short wheelbase, good ground clearance, front and rear independent suspension, and short front and rear overhangs enable moderate off-road driving.
The 4×4 capability in the Ford Escape makes it a favorite among young drivers. It may not handle extreme off-pavement terrain, but the 4WD Ford Escape will get you through mild backcountry dirt trails without a problem.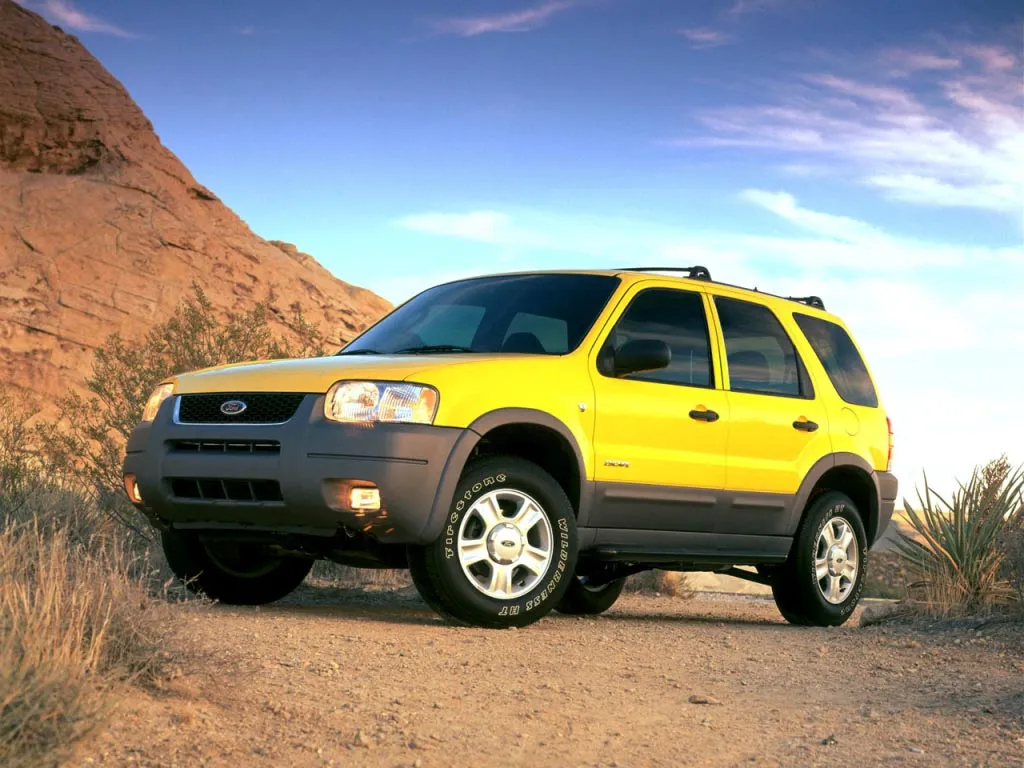 These key off-roading specs make the Ford Escape a humble but capable trail buster:
Ground clearance – 7,8 inches
Wheelbase – 103,1 inches
Turning circle – 35,4 feet
Approach Angle – 28,5 degrees
Departure Angle – 22 degrees
The center differential in the 4WD Escape automatically transfers torque (and tractive force) to the rear wheels when road conditions turn slippery (rain, snow, dirt, and mud).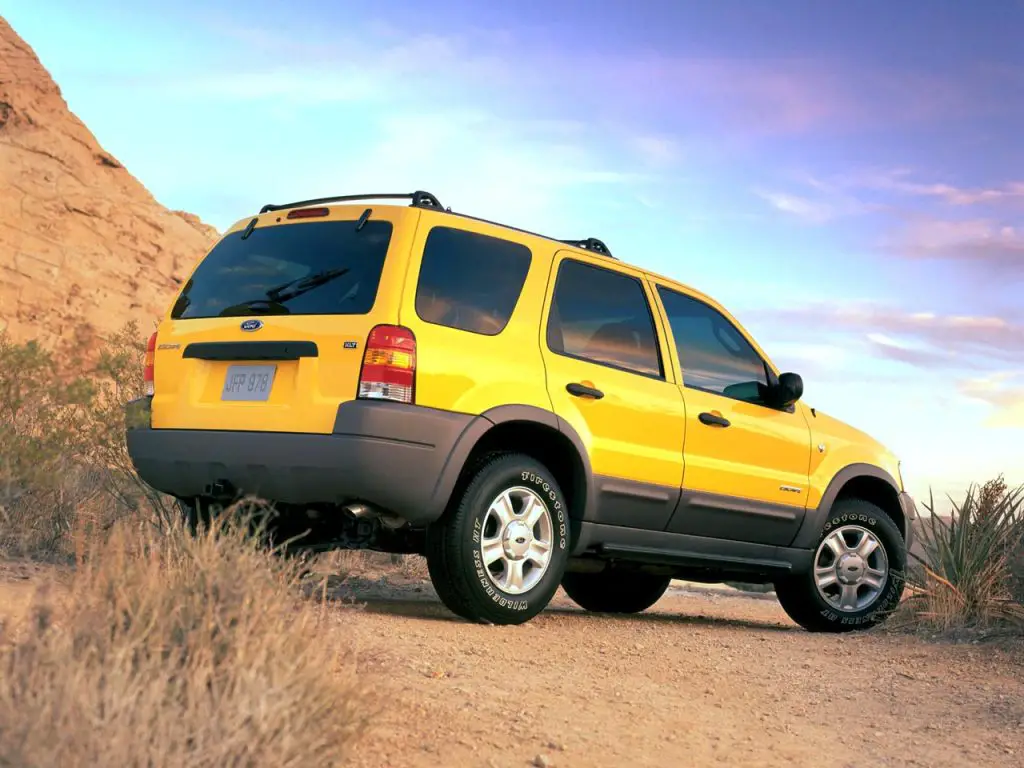 When the going gets gritty, a manually activated locker button on the dash activates the center differential lock, transferring equal amounts of torque to all four wheels.
The 4WD Ford Escape doesn't have a low range transfer case, so in the strict sense of the word, it's not a true 4×4; it's more of an all-wheel-drive SUV.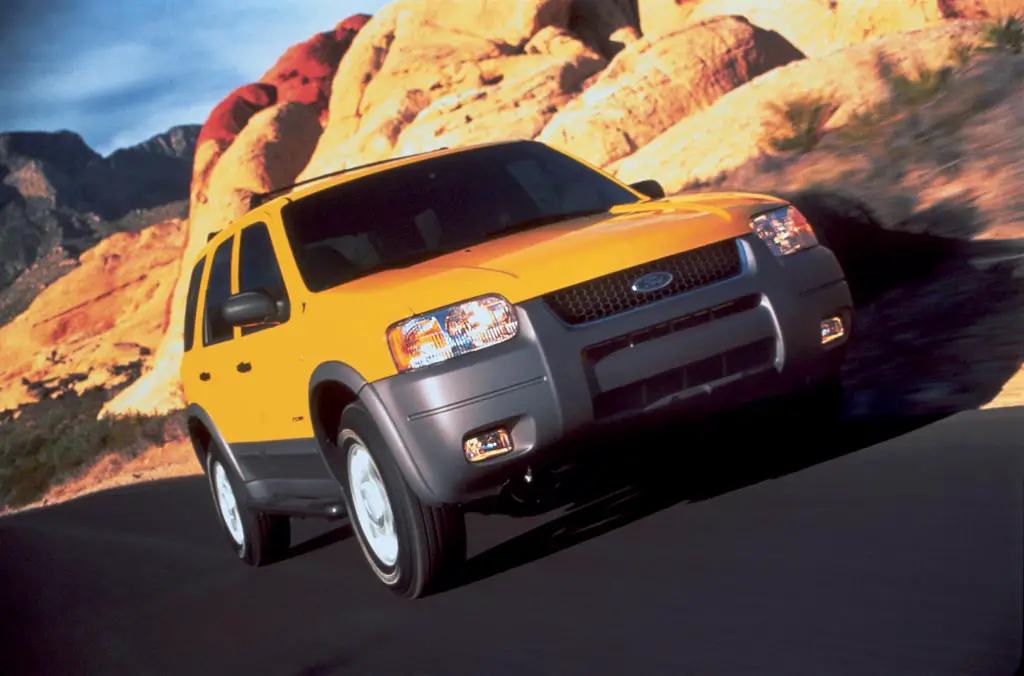 Useful features for outdoor enthusiasts include a gas-sprung tailgate window that lifts open, allowing easy access to the rear cargo area. A 12V outlet in the cargo bay makes powering 12V camping gear much easier.
Safety features include ABS with electronic brake-force distribution (EBD), fog lights, child seat anchors, airbags, and an engine immobilizer.
Does The 2002 Ford Escape Have Problems?
The 2002 Ford Escape does have a few common mechanical issues that result from extensive use and lack of preventative maintenance. Difficulty in starting, poor acceleration, sluggish performance at speed, and cracking or peeling upholstery are frequent issues reported by Ford service technicians.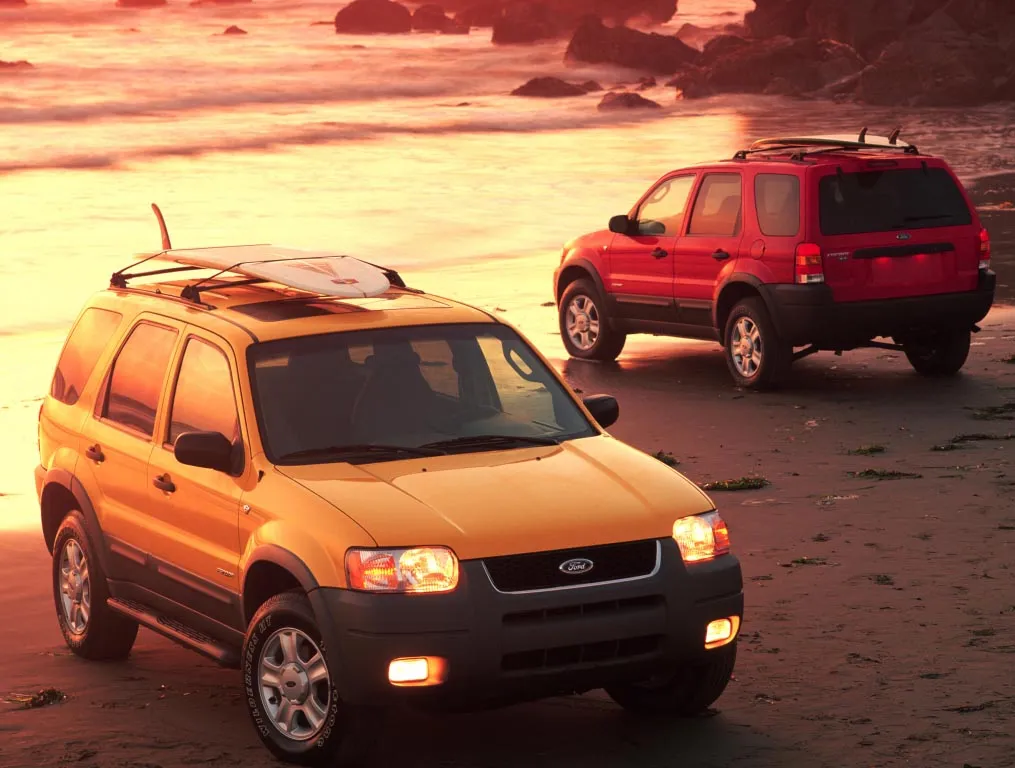 The most common problems with the 2002 ford Escape include:
Faulty or worn ignition coils
A faulty DPFE sensor (in the V6 models)
A faulty blower motor resistor
Transfer case gear wear
Tailgate window shattering due to incorrect torquing
Our Verdict on the 2002 Ford Escape
The 2002 Ford Escape makes a great first car for a young driver, which explains why many of them on sale today look so used and abused. Still, you can find super-clean 2002 Escape models at bargain prices. Imagine – a 4WD buggy with a few mod cons, chunky looks, and a metallic paint job for less than $4,000? That buggy would be a 2002 Ford Escape XLT with 4WD!