When it comes to cars, there are a lot of things to take into account. But for some people, the decision is easy. If you're looking for an affordable and reliable vehicle that doesn't sacrifice style or performance, the Kia Sportage is a great option. In this 2007 Sportage review, we'll take a look at all the features that make this SUV a standout choice. From its interesting design to its performance specs, the Sportage has something for everyone especially at this price point.
The 2007 Kia Sportage is an affordable, compact five-seat SUV with two engine and transmission options. The Sportage is comfortable with an excellent safety rating. Ample cargo space and V6 power to tow offer good tourer capacity. An AWD variant delivers enhanced handling and off-road capability. 
A quick search through online used vehicle pages will show clean, sub-100K miles 2007 Kia Sportage models selling for between $6K and $8K. Back in 2007, they sold for between $16K and $23K. That was 15 years ago, and the 2007 Sportage has held its value well. For a buyer looking for a budget SUV that is reliable and comfortable with off-road capability and lots of cargo space, the 2007 Kia Sportage makes an excellent choice. Let's find out why.
An Overview Of The 2007 Kia Sportage
The four-door 2007 Kia Sportage range offers an impressive suite of drivetrain and trim options in its LX and EX base models. There are two drivelines (FWD and AWD), two engines (a 2L and a V6 2.7L), and two transmission options (a five-speed manual and a four-speed automatic).
Both the Sportage LX and the Sportage EX are available with front-wheel-drive (FWD) and all-wheel-drive (AWD) options.
The 2.7L V6 engine is available only with the automatic transmission.
Despite being $5K cheaper than its main rivals (the Honda CR-V and Toyota RAV4) in 2007, the Kia Sportage LX and EX derivatives were built using high-end materials and sophisticated driveline technology.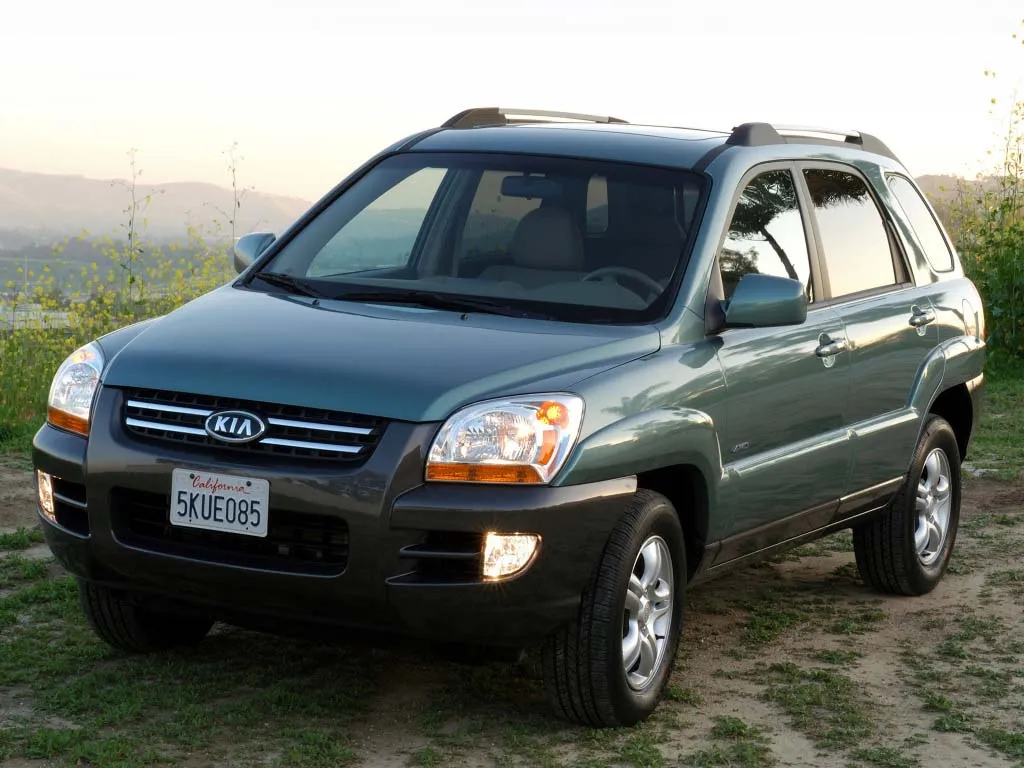 Striking a sensible balance between power-delivery and handling capability, the 2007 Sportage is easy to drive and equipped with sophisticated safety systems including:
ABS disc brakes
Traction control
Airbags
ESP (Electronic Stability Control Program) that provides superior traction and road-holding in slippery conditions.
The 2007 Sportage EX models include a tire-pressure monitor that not only helps improve safety, but also assists in reducing tire wear and replacement costs.
The 2007 Kia Sportage earned a five-star rating for frontal and side impact crash protection from the IIHS.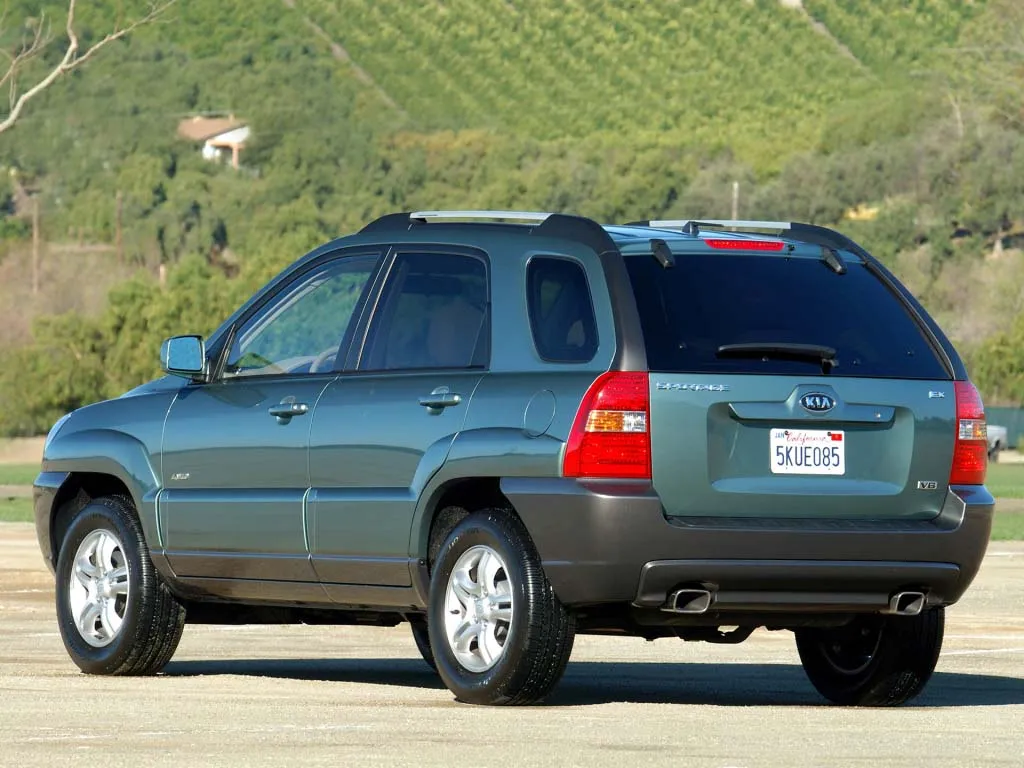 The base models come with comfortable cloth-covered bucket seats, a tilt steering wheel, a stereo system with a self-tuning radio and CD player, a rubber-lined center storage console, cup holders, and rear seats that fold forward to create a flat cargo area.
The cargo volume of the 2007 Kia Sportage is:
23.6 cubic feet when the rear seats are in the up position.
66.6 cubic feet with the rear seats folded down.
Optional trim includes air conditioning, cruise control, fog lamps, a black mesh grille, bumper cladding, leather-wrapped steering wheel and gear stick, additional speakers, and remote keyless entry with a bugler alarm.
How Much Power does a 2007 Kia Sportage Engine have?
The 2007 Kia Sportage range has two gasoline engines to choose from – a 2.0L DOHC four-cylinder option and a V6 2.7L DOHC six-cylinder powerplant:
The 2.0L version delivers 140hp@6,000rpm and 136lb-ft of torque@4,500rpm.
The 2.7L engine produces 173hp@6,000rpm and 178lb-ft of torque at 4000rpm.
The smaller engine was criticized for being underpowered for an SUV with a curb weight of over 3,600 pounds. However, for sedate commuter duties, the 2.0L, 140hp derivatives have received positive reviews from their owners over the years.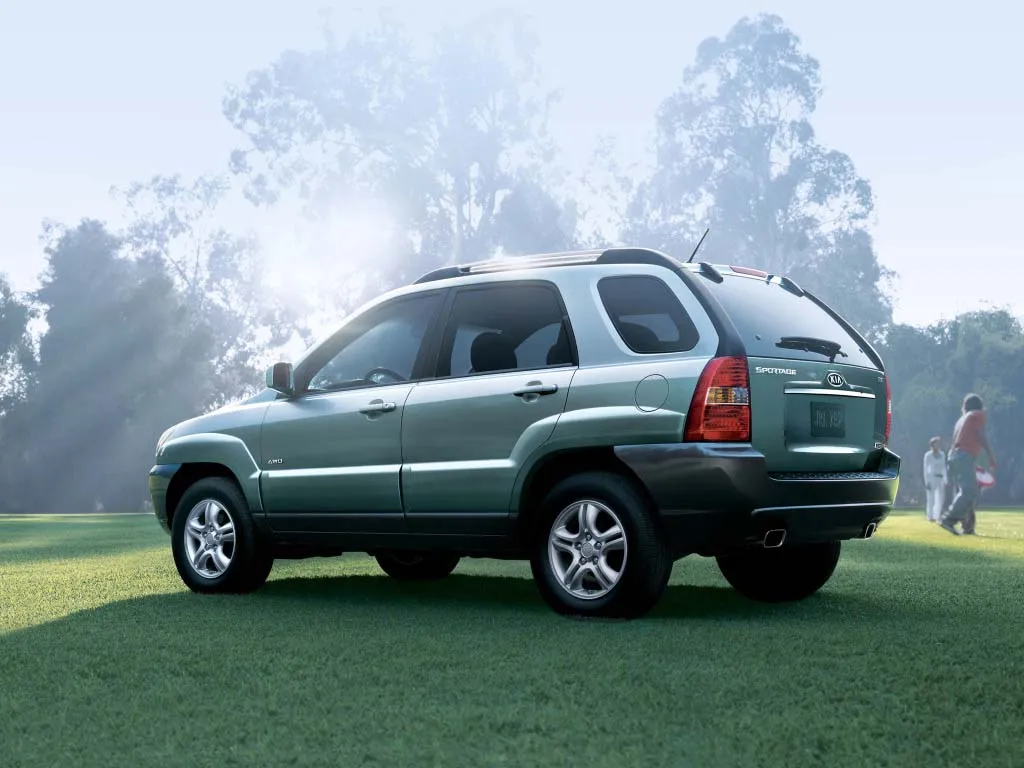 The 2.7L V6 engine has sufficient horsepower and torque to perform adequately as a fully loaded people and cargo carrier, and a towing vehicle for a trailer weighing less than 1,000 pounds.
The 2007 Kia Sportage has a payload capacity of 1,162-pounds.
Fuel consumption in the 2007 Kia Sportage has received negative feedback from the market but this is reconciled by the relatively cheap purchase price of both the LX and EX editions:
Fuel consumption for the 2.0L four-cylinder engine – 23mpg (city), and 28mpg (highway).
Fuel consumption for the 2.7L V6 engine – 19mpg (city), and 25mpg (highway).
Owners attest to both engines' reliability and low maintenance costs for the 2007 Kia Sportage range.
Is the 2007 Kia Sportage a Luxury SUV?
The base models in the 2007 Kia Sportage range were designed with functionality in mind rather than luxury. The interior finishes are robust without being uncomfortable. Several optional trims are available to elevate comfort levels inside the car, including leather upholstery and air conditioning.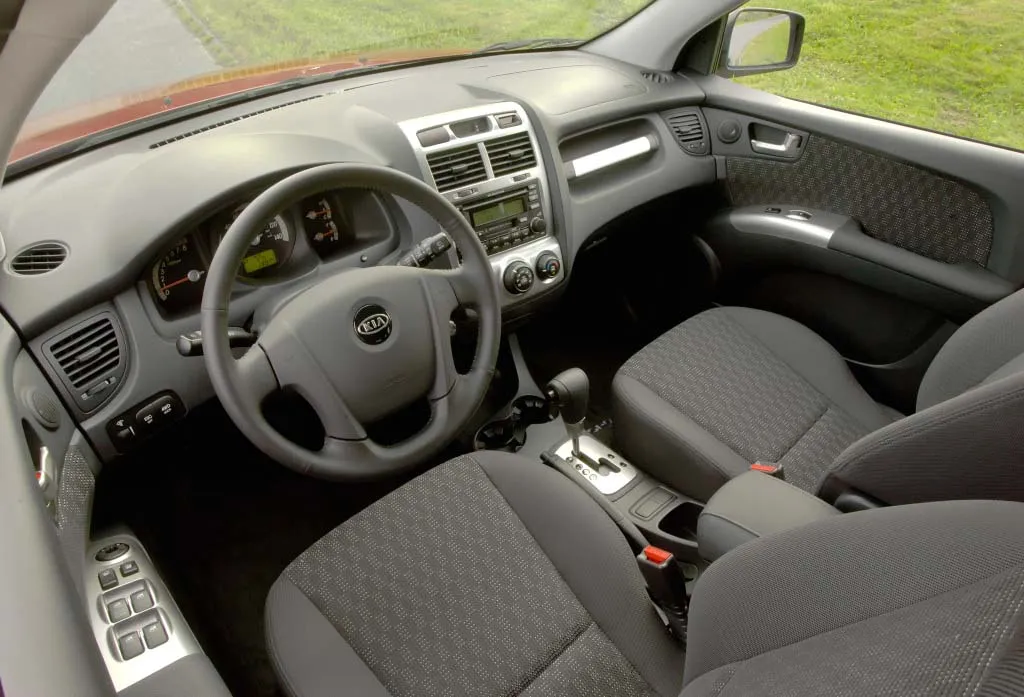 The 2007 Sportage is an efficient utility vehicle but the designers didn't shy away from providing a few creature comforts such as:
A sunroof.
Heated front seats (optional).
An easy-to-read instrument panel.
An ergonomic center console.
A comfortable adjustable driver seat.
Good road visibility from a high driving position.
A rear window hatch on the tail lift.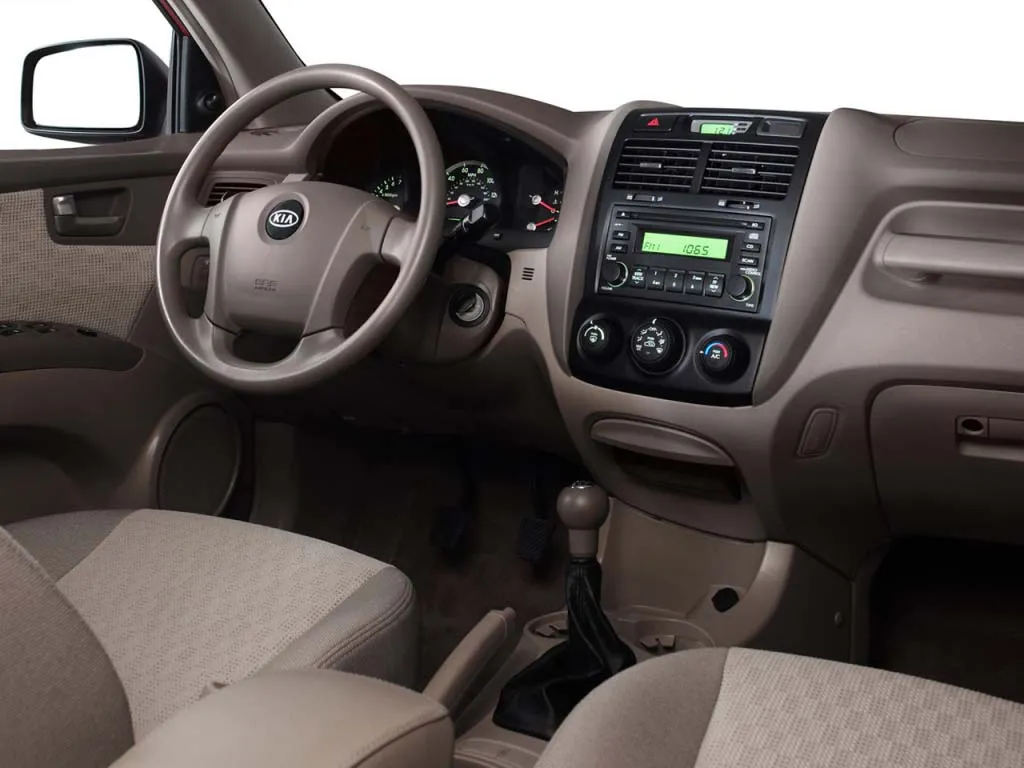 The exterior of the 2007 Sportage is sleek with a utilitarian overtone. The wheels and tires are chunky, and the paint finish and colors are understated, adding to that air of practicality. Function over flash, you might say.
Is the 2007 Kia Sportage a 4×4?
Although all four wheels are permanently driven, the 2007 AWD Kia Sportage is not a true 4×4. Despite lacking a low-range transmission option, the 2007 Sportage is capable of negotiating muddy and rocky off-road conditions when its AWD system's center differential lock is manually activated. 
As a day-to-day city transporter, the 2007 Sportage range has the necessary features to make it a safe, versatile, and comfortable city car. The AWD system with ESP and traction control makes it extremely safe in heavy rain, snow, and ice.
The voluminous cargo area offers enough space to transport household appliances and furniture, as well as the family dogs.
The 2007 Kia Sportage has a Sport package for the LX V6 models that includes:
Fog lights
Sport gauges
A black mesh grille
Leather steering wheel and shift knob
A rear spoiler
An MP3-capable CD six-speaker audio system.
Additional standard Sportage comfort features include:
Cruise control
Front door pockets
An overhead console with storage
Speed-proportional power steering
A tilt-adjustable steering wheel
A cargo area light
Front reading lights
Single zone front air conditioning
One-touch power windows
Power door locks
Powered heated mirrors
If it's an adventure vehicle you're seeking, the 2007 Sportage is well specified to handle backcountry roads.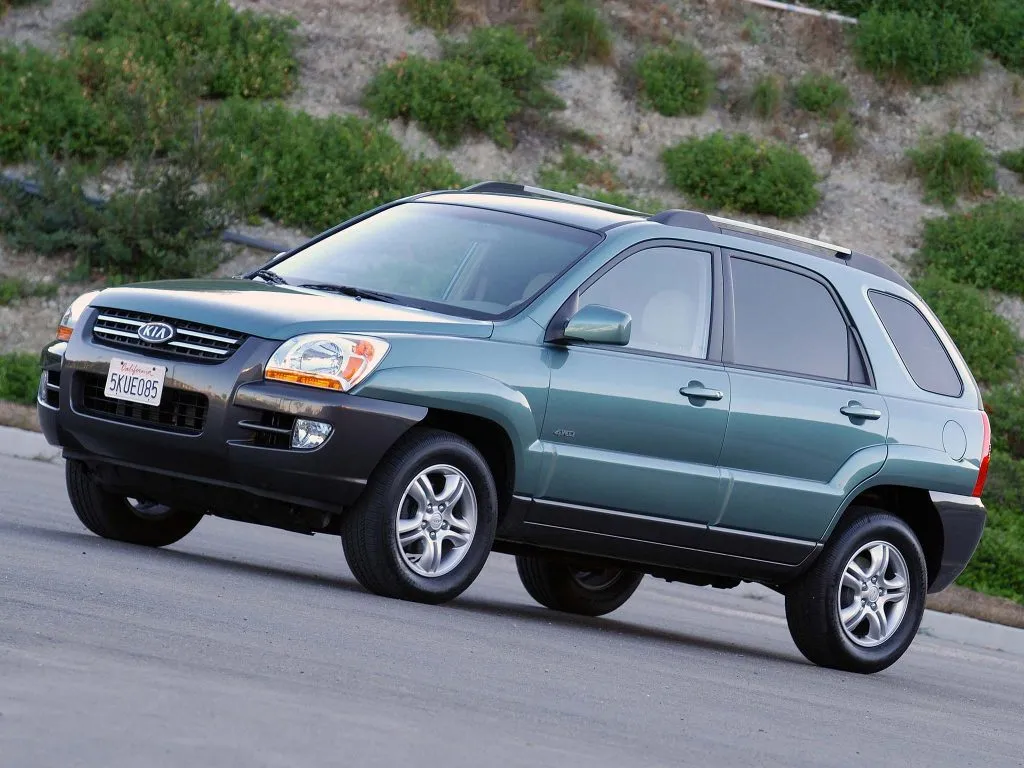 With a ground clearance of 7.7 inches and short wheelbase of 103,5-inches, a 29,5-degrees approach angle, a 28,7 degrees departure angle, and 7,7-inches of ground clearance, the 2007 Sportage is capable of handling moderately challenging off-road conditions.
With the assistance of the center differential locker, the 2007 Kia Sportage will crawl its way be through mud and over rocky terrain, while navigating gravel and sand roads with ease in the AWD options.
Included in the 2007 Sportage standard offering are 16.5-inch alloy wheels with all-season tires, and an inside-mounted steel spare wheel.
A choice of ten exterior paint finishes and four interior paint colors add to the impressive menu of options offered by the 2007 Kia Sportage.
Wide wheels and all-terrain tires, a roof rack, good towing ability, and that all-important AWD center diff lock button on the driver's console should give a small family the means to hit the dusty trails with confidence.
Our Verdict on the 2007 Kia Sportage
For motorists looking for a quality budget SUV, the 2007 Kia Sportage checks all the boxes. There's ample interior room for a nomadic lifestyle for young first-time car buyers, and a sound system to rock the house. For small families, the 2007 Sportage offers reliable versatility to conduct routine trips to the mall or hardware store, as well as rugged AWD tenacity for excursions into nature. It even has a second 12-volt outlet in the rear passenger bay to charge a few extra cellphones!