Love it or not, the 2008 Lexus IS 350 is an absolute icon of a car for Lexus. I remember these driving around whilst I was just getting my licence back in the day and thinking to myself how amazing these looked on the road. It was the envy of everyone and even still today some of us haven't snapped out of it and still feel the need to acquire a 2008 Lexus IS 350 for a hit of nostalgia. Of course, there's the rest of the world that is normal and are just looking for a stylish and reliable car to purchase and this review makes sure to cover all angles.
The 2008 Lexus IS 350 is a capable sports sedan with a robust V6 engine, capable brakes, and a thrilling drive. A refined, high-quality interior and loads of tech make it a desirable option. But with tight rear seats and questionable reliability, it may not be the best option available.   
Sports sedan drivers are generally looking for a nimble and enthusiastic car that can accelerate rapidly, take corners with ease, and provide some fun from behind the wheel. With a potent V6 and a brilliantly-tuned chassis, does the 2008 Lexus IS 350 have what it takes to tick all the other boxes as a genuinely desirable sports car?
A 2008 Lexus IS 350 Review – Desired By All
Sports sedans hold a certain appeal for those who aren't prioritizing family-hauling or ferrying the kids around. But, in a segment where icons such as the evergreen BMW 3 Series and the Audi A4 rule, can a Lexus truly compete?
The manufacturer offers two models in the IS lineup for 2008, but with a potent V6 under the hood, it's the IS 350 that has our attention. It's handsomely styled and comes with an interior worthy of Lexus' luxury aspirations. But is it genuinely desired by all?
The 2008 Lexus IS 350 Exterior
With styling considered bold and sleek by 2008, the Lexus IS 350 isn't an unpleasant vehicle to look at. Its powerful haunches hold some promise of how sporty the manufacturer wants the little sedan to be.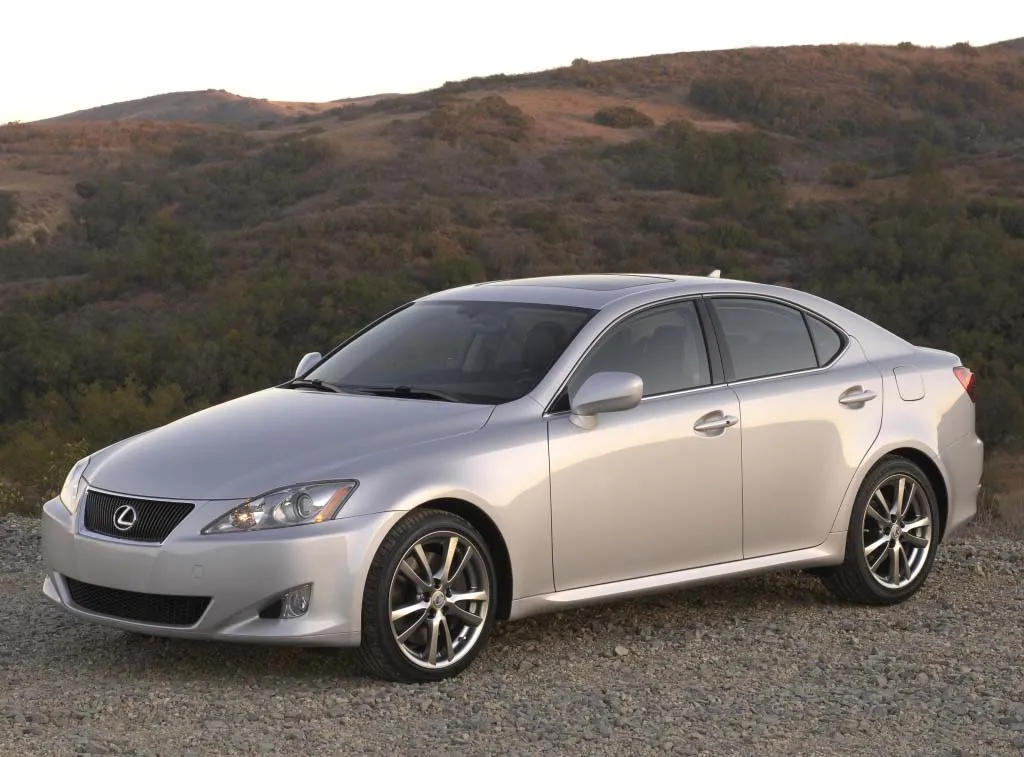 Designers ostensibly spent a great deal of time lowering drag on the IS 350, so aerodynamics have been prioritized in putting this car together. It looks slightly understated for a sports sedan, but it has loads of appeal for those who enjoy a car that will surprise bystanders with its power.  
Size And Cargo Space Of The 2008 Lexus IS 350
In the compact sports sedan segment, size isn't a factor – in fact, many would argue that smaller means more agile, and the IS 350 fits well into this ideal. Dimensions for the 2008 Lexus IS 350 are a length of 180.1 inches, a height of 56.7 inches, and a width that's just under 71 inches. The wheelbase is 107.5 inches.
Considering it's not purposed to stick to only the grocery run or weekends away, the 13-cubic-foot trunk is acceptable. It's sufficient to stow daily essentials, or a trip to the store while packing for the family for a vacation would undoubtedly be problematic.
2008 Lexus IS 350 Interior And Passenger Space
Due to its small size, the 2008 Lexus IS 350 isn't a capacious carrier. It can seat five at a push, though, but we say this in all honesty – space in the back is minimal, and with three abreast, you're bound to have loads of complaints. It's best to stick with two in the rear seats and hope no one is over six feet. There are only 30 inches of legroom back there.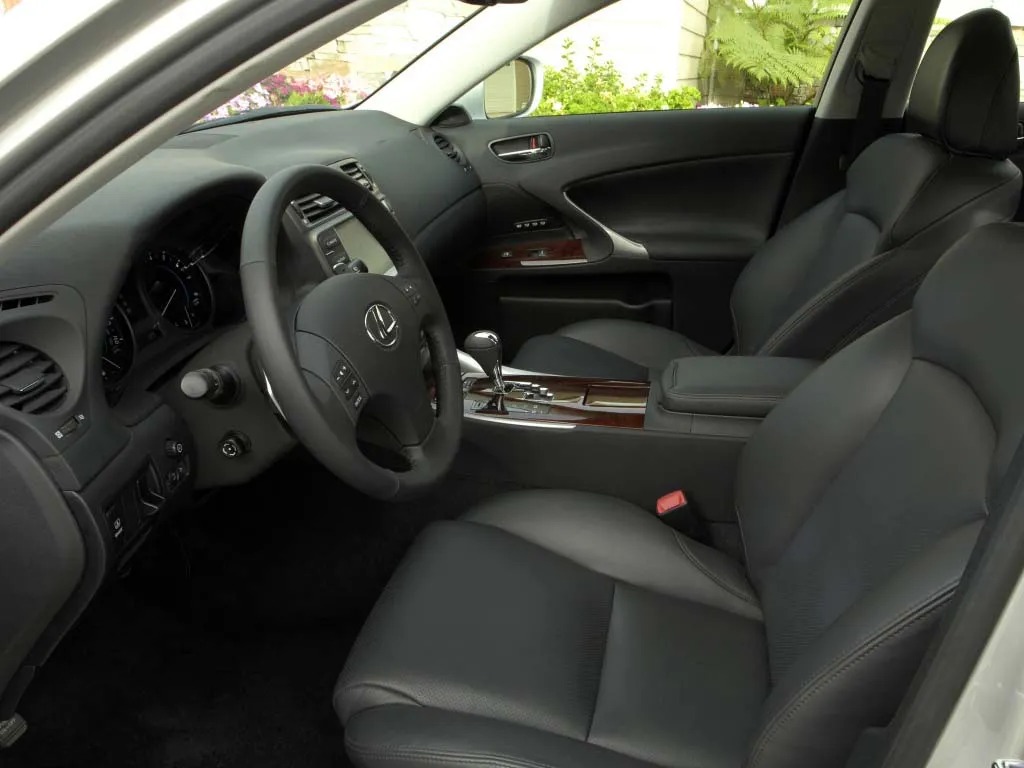 Upfront, things are a little more comfortable, but taller passengers pushing their seats back will make things even more uncomfortable for those in the rear. Headroom all around is a little tight, too. Front passengers have37.2 inches of headroom, and those behind have only 36.7 inches.
2008 Lexus IS 350's Cabin Look And Feel
While the interior may be low on space, it's high on refinement and elegance. Typical of Lexus, the cabin is a lovely place to be and boasts high-quality material and a simple, modern layout that feels ergonomic.
A leather interior is standard in colors such as Cashmere, Sterling, or Black, while perforated inserts are optionally available. The shift lever and steering wheel are leather too, and metallic interior accents help to lift the look and feel to a contemporary one. If you prefer the plusher look of wood trim, Auburn Bird's-Eye Maple accents can be added optionally.  
2008 Lexus IS 350 Performance Specs
The burly six-cylinder under the hood differentiates it from its IS 250 sibling. 2008 Lexus IS 350 specs are courtesy of a 3.5-liter V6 and come in at 306 horsepower and 277 lb.-ft of torque. A six-speed automatic transmission with paddle shifters is standard, with no manual option, and the power goes to the rear wheels only.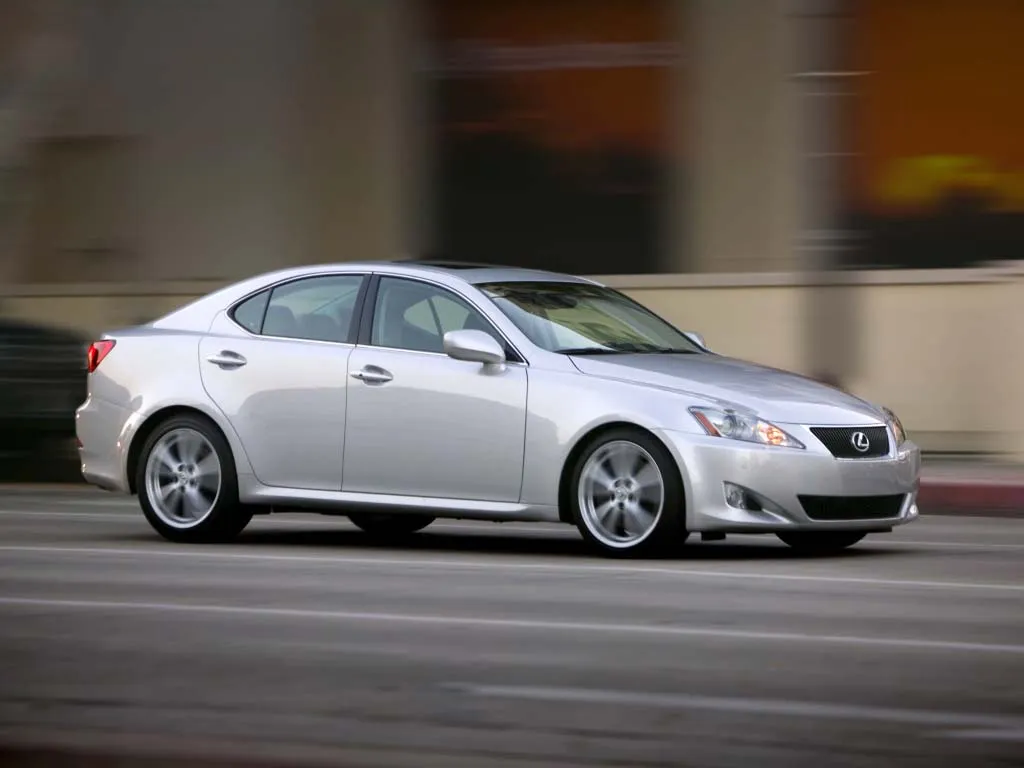 This sounds like an ideal recipe for a sports sedan; the IS 350 does well to live up to its denomination, and the 0-60 sprint is taken care of in a manufacturer-claimed 5.3 seconds. Top speed is limited to 142 mph, and with strong acceleration, you'll be sorely tempted to push on.
IS 350's Driving Feel
Lexus provides a well-tuned chassis, an available sports suspension for the IS 350, and excellent brakes, so the performance aspects are well covered. Enthusiasts will approve of the rear-wheel-drive only setup, and most note that piloting the Lexus IS 350 is quite exciting.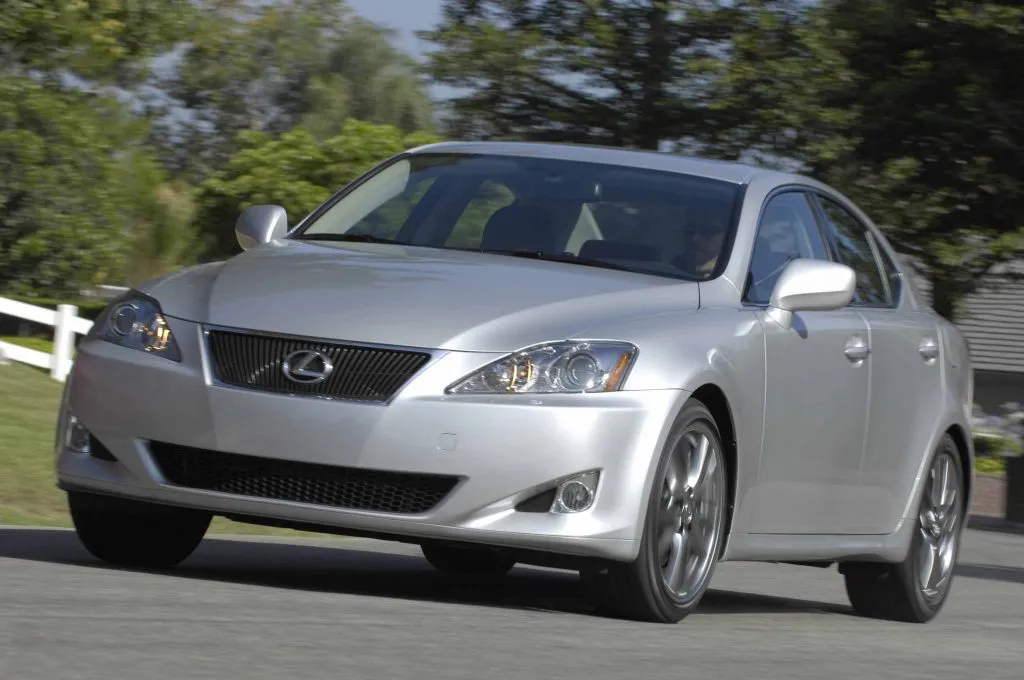 It has grip for days going through corners, and with powerful acceleration, there is loads of fun to be had. While there is no manual transmission option, the paddle shifters do help you feel in control, but unlike some rivals, there's no rev-matching on the downshifts to be genuinely competitive. So, while the little Lexus is a hoot to hoon, it's not entirely on par with the 3 Series.
2008 Lexus IS 350 Gas Mileage
A big V6 is sure to need a lot of fuel, and the EPA estimates for the 2008 Lexus IS 350 are to be expected. The figures reported by the EPA are 18/25/20 mpg on city/highway/combined cycles, and with a 17/1-gallon fuel tank, a range of 342 miles can be expected. Naturally, the 350 is less frugal than its 250 sibling, but – admittedly – neither is remarkably light on fuel.
Features And Tech In The 2008 Lexus IS 350
As technology becomes readily available, luxury cars are expected to have extended specification lists, and the 2008 Lexus IS 350 manages to tick many of these boxes. Features and standard tech include SmartAccess remote entry with push-button start, a power moonroof, and dual-zone climate control.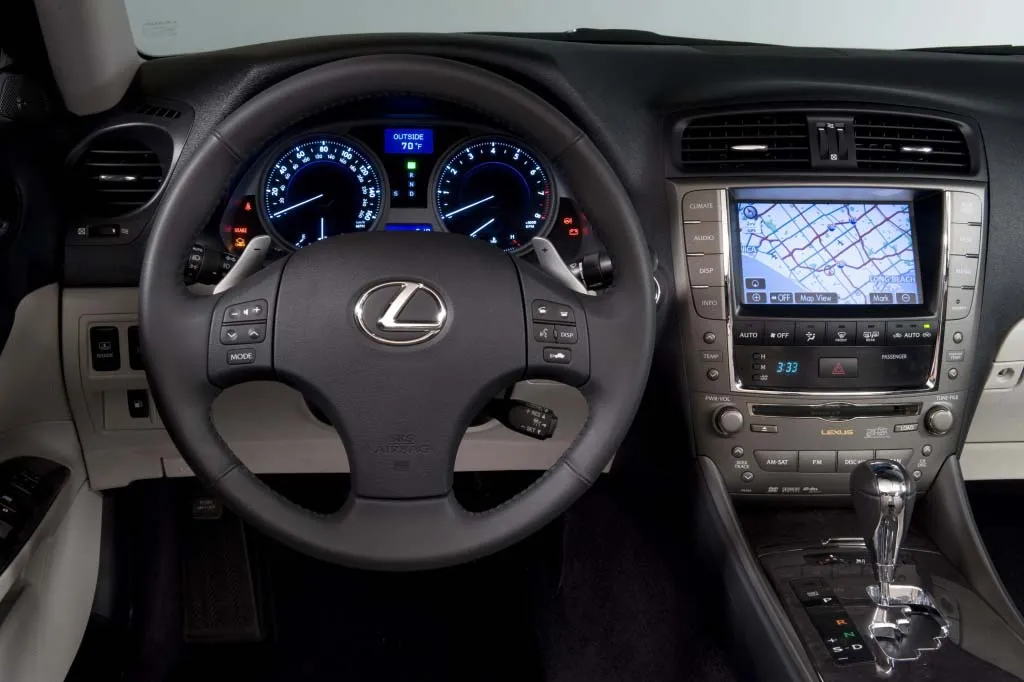 An auto-dimming rearview mirror, cruise control, and a universal garage opener are also included off the factory floor. At the same time, the sound system comprises a thirteen-speaker unit with a six-CD changer.
Available tech includes intuitive parking assist with ultrasonic sensors that detect proximity and provide audio and visual warnings and voice-activated DVD navigation with a rearview camera. Updates to the audio setup include a 14-speaker Mark Levinson unit, although even the base unit is iPod, MP3, and WMA compatible.
Unique to the IS 350 in the IS range for 2008, the Vehicle Dynamics Integrated Management bolsters the existing safety suite, including tire pressure monitoring, stability, and traction control.
2008 Lexus IS 350 Safety Scores
While there is no specific 2008 Lexus IS 350 reviews for safety, both the NHTSA and IIHS put the IS-lineup through its paces. The results are average, with the Lexus IS sedan scoring five full stars in rollover and side crash driver tests from the NHTSA and four stars for both front crash test evaluations.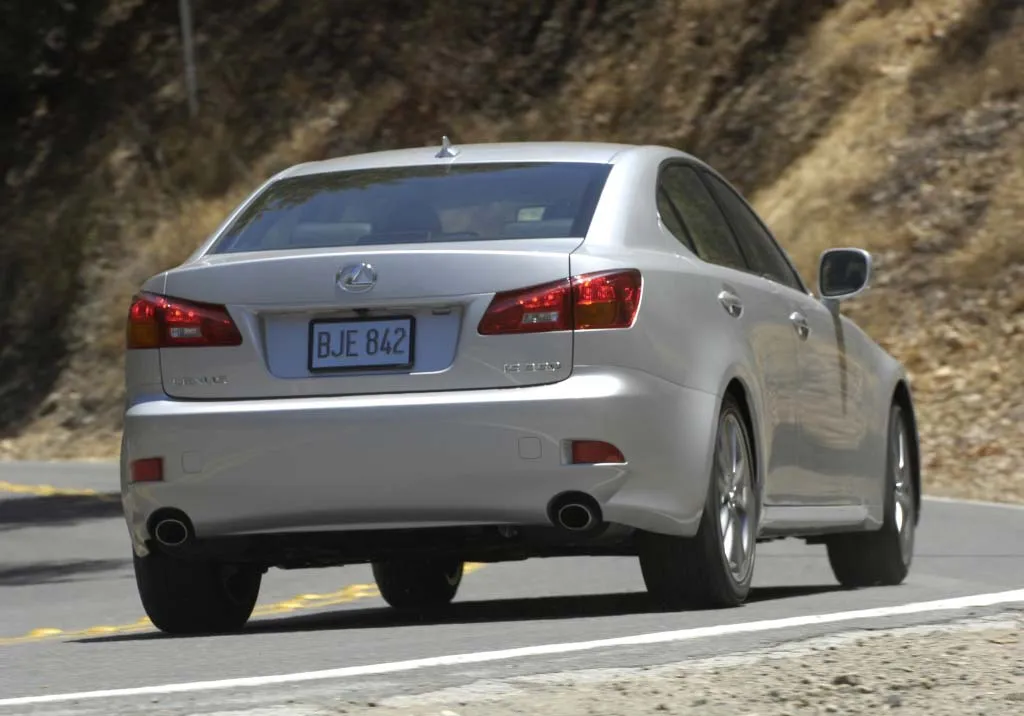 The IIHS was less generous, awarding only two top scores and noting that the small overlap front driver-side test was inferior, and roof strength and head restraints scores only acceptable.
2008 Lexus IS 350 Reliability And Problems
2008 Lexus IS 350 problems are numerous, with 11 recalls issued by the NHTSA. Issues were severe, too, including such problems as exploding airbag inflators, various fuel leaks, and pedal entrapment (a problem shared with numerous Lexus and Toyota vehicles at this time).
More than 200 communications from the manufacturer are also listed for the 2008 Lexus IS 350. Despite a good warranty at its launch, reliability is not one of the strong points in this little sedan.
2008 Lexus IS 350 Price And Value
The 2008 Lexus IS 350 price was competitive when it was new, coming in much cheaper than German rivals. MSRP prices started at around $30,855 and could exceed $38k if you specced all the option packages.
Second-hand examples are generally priced between $6k and $10k, depending on options, mileage, and condition.
Our Verdict on the 2008 Lexus IS 350
For those looking to buy a slight-sized sports sedan with all the enthusiasm and guts to make driving fun, the 2008 Lexus IS 350 is a compelling option, considering its reasonable price. While there isn't much to complain about in terms of mechanics, outputs, and performance, the IS 350 doesn't come close to Audi or BMW offerings in the segment.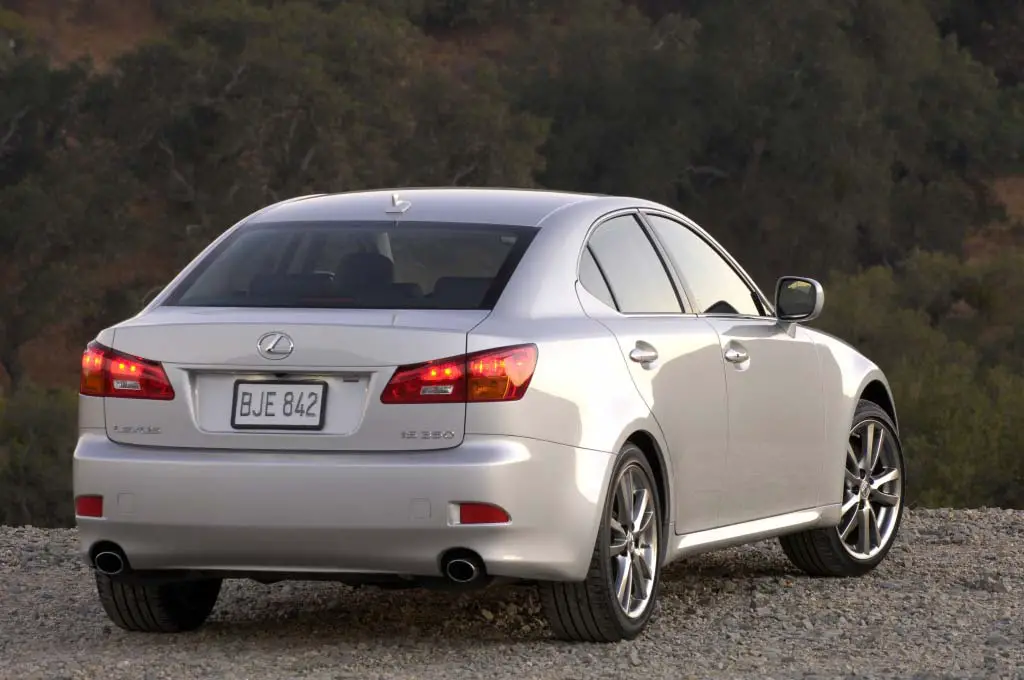 With a cramped rear seat and questionable reliability, you may want to ensure any model you buy has had recall work attended to and has a solid maintenance history. If not, it may be better to consider other options.