2005 Nissan Xterra Review – A Capable Off-Road Companion
If you're the outdoorsy type, and you're looking for a vehicle that can handle just about anything, the 2005 Nissan Xterra is a great option. This SUV is capable of taking on rough terrain with ease, making it perfect for those who love to explore. Plus, it's also comfortable and spacious inside, so you can easily take all of your gear with you.
The 2005 Nissan Xterra is a versatile, rugged body-on-frame 4×4 SUV with a 4-liter V6 engine and a high-tensile steel chassis with full underbody protection. A solid rear axle, long-travel suspension, aggressive ramp angles, and high ground clearance provide class-leading off-road performance.  
When the 2005 Nissan Xterra was released, it quickly earned the respect of off-roading enthusiasts. Back then, the Xterra's 4L V6 engine had more grunt than any other 4×4 SUV in its class, and its off-road dimensions and componentry kept it well ahead of the competition out on the trail. Designed to be a go-anywhere sporty SUV, the 2005 Xterra's robust interior and suitably flared and aggressive exterior styling reflect its gutsy powertrain credentials. Is the 2005 Nissan Xterra your new off-road companion?
How Good Is The 2005 Nissan Xterra Off-Road?
With ample power, torque, and high ground clearance, the 2005 Nissan Xterra can handle tough off-road conditions. Hill Descent and Hill-Start modes maintain constant speeds on steep grades, while low-range gears and a rear diff-lock provide forceful traction in slippery conditions.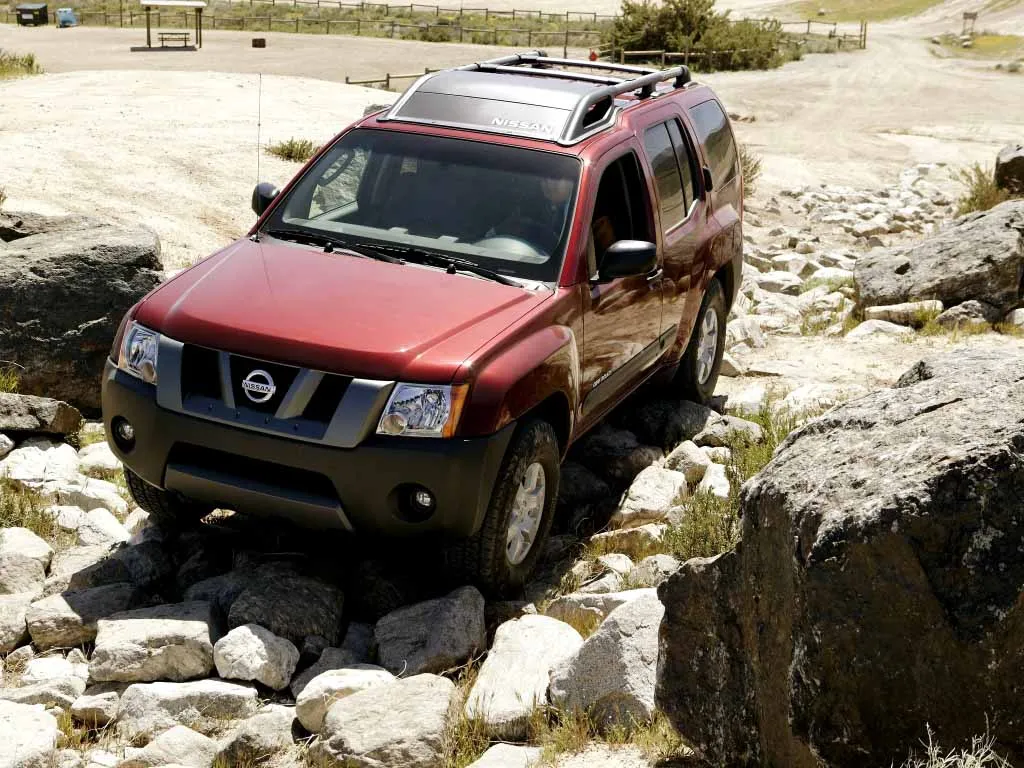 The four-door 2005 Nissan Xterra range of SUVs includes ten model variants, with various trim options, including five-speed automatic or six-speed manual transmission. The most popular model in the 2005 Xterra range has proved to be the Xterra Off-Road (OR) derivative, a designed-for-the-dirt high-rider wagon. Let's look at this model for your potential ideal 4×4 match.
Under the hood, the 2005 Nissan Xterra Off-Road boasts a four-liter V6 engine pushing out 265hp@5,600rpm, with a torque delivery of 284lb-ft@400rpm.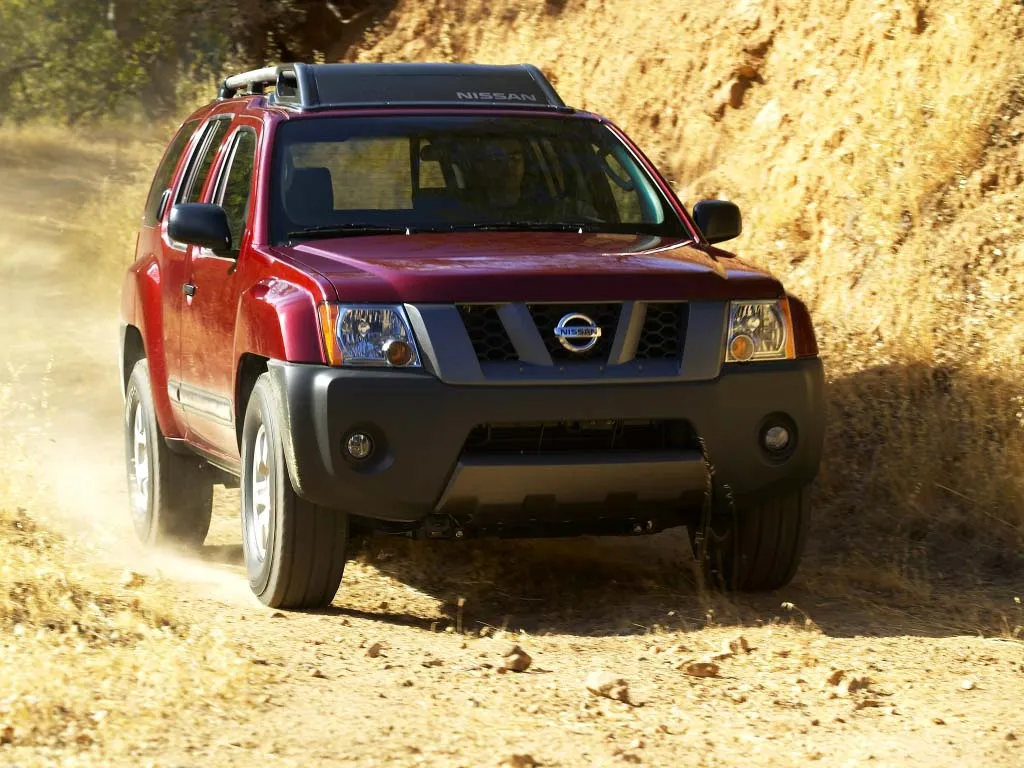 As mentioned earlier, this mill was the gutsiest in its class back in 2005, outrunning the Jeep Liberty Limited, Land Rover Freelander HSE, and Kia Sorento EX by over two seconds in a quarter-mile dash.
In a 0-60mph acceleration challenge, the 2005 six-speed manual transmission Nissan Xterra Off-Road proved quicker than the 310hp VW Touareg V8 and equal to the 335hp Porsche Cayenne S at 7.6-seconds!
The drivetrain in the 2005 Xterra Off-Road comes with manual and automatic transmission options with 2WD and 4WD modes. A locking rear differential coupled to 4×4 low-range crawler gears.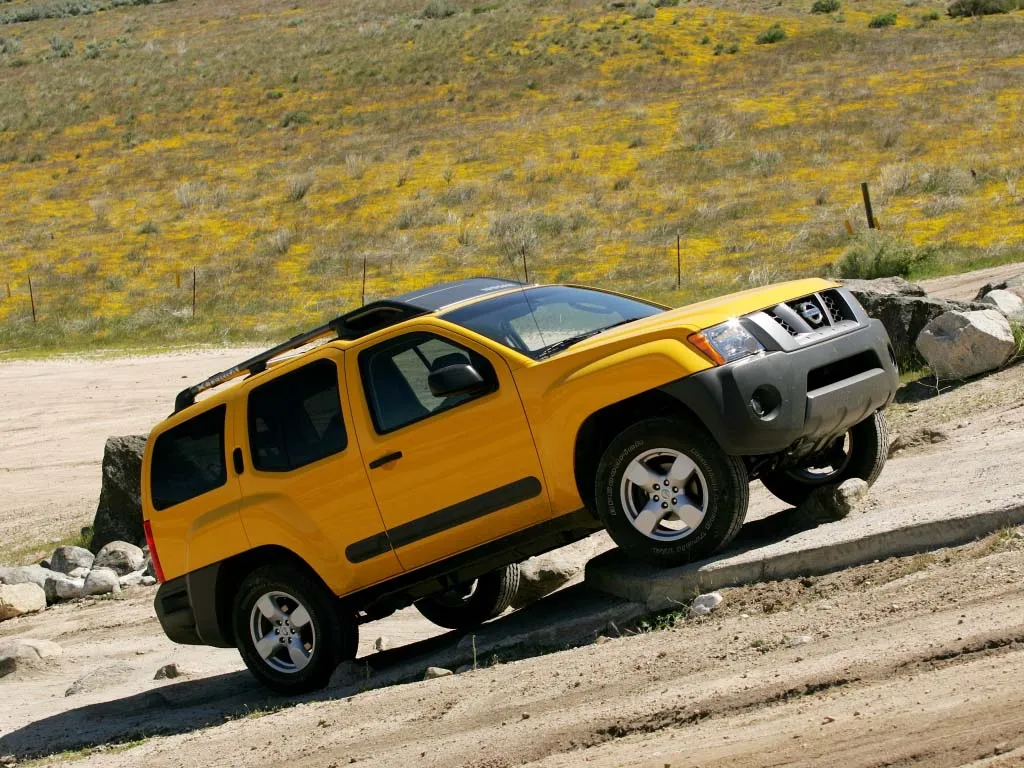 Undercarriage protection on the 2005 Nissan Xterra is excellent with the transfer case and fuel tank tucked snuggly between the robust frame rails and shielded from gnarly rocks by three steel skid plates.
Ground clearance is an impressive 9.5-inches, with an approach angle of 33.2-degrees and a departure angle of 29.4-degrees. A 104.6-inch wheelbase affords a tight 37.3-feet turning circle.
The running gear on the 2005 Nissan Xterra Off-Road is specified for high-performance and includes:
A double-wishbone independent front suspension with Bilstein shocks.
A solid live axle rear axle with leaf-spring rear suspension and Bilstein shocks.
16×7.0-inch steel alloy wheels with all-season tires.
A maximum towing capacity of 5,000-pounds.
A maximum payload capacity of 1,061-pounds.
With the 4×4 Nissan Xterra Off-Road purposefully driven, these features get the truck (yes, that's what it is, despite its SUV garb) over, through, and out of gritty dirt-trail situations with ease, with a trailer too.
Is The 2005 Nissan Xterra Comfortable Off-Road?
The 2005 Nissan Xterra has a utilitarian interior with premium-cloth adjustable driver and front passenger bucket seats. Power steering, an adjustable steering wheel, and cruise control enhance driver control, while ample interior storage space and air conditioning keep passengers comfortable. 
As an off-road companion, you want your ride to offer more than just a comfy perch for you and your cohorts. The 2005 Nissan Xterra offers functional interior features and steers clear of lavish overkill in the trimming department.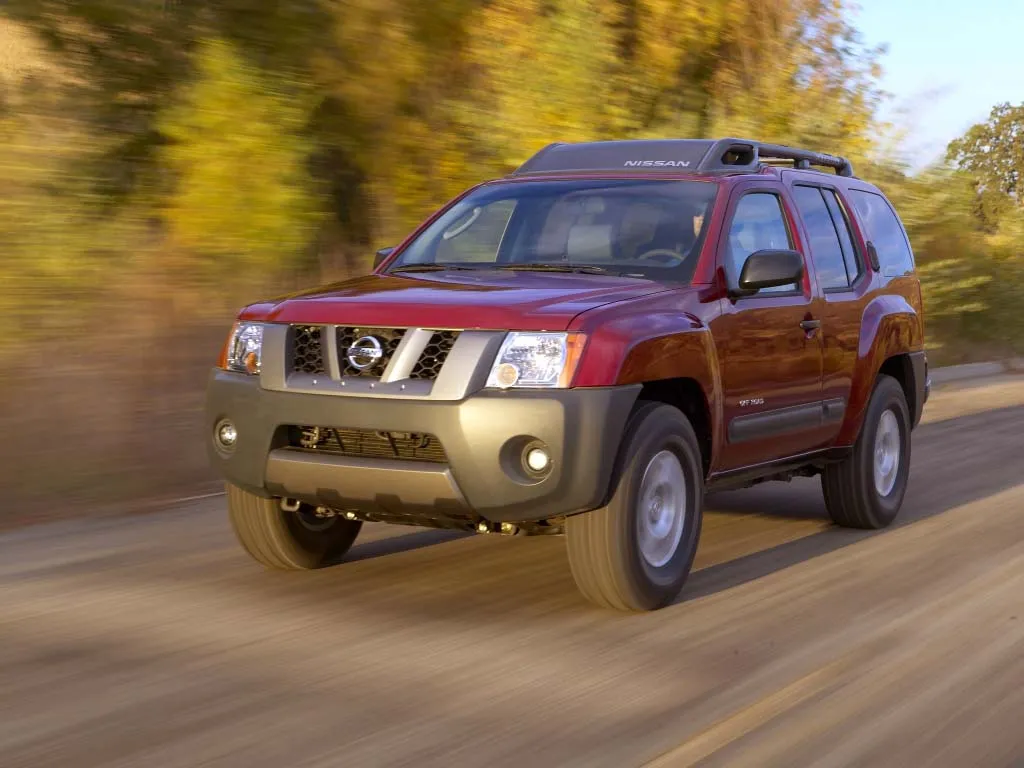 Ergonomics and practicality are the 2005 Nissan Xterra's interior objectives, including:
Front legroom of 42,4-inches
Rear legroom of 34,4-inches
An easy-to-set Radio/CD player with six speakers.
Front and rear cupholders and water bottle holders.
Front door pockets.
Front seatback storage space.
Overhead console with storage space.
12V power outlets in the cargo area.
A MultiFlex cargo area with easy-to-clean textured vinyl and hard plastic.
A Utili-Trak channel tie-down system.
Ten cargo area tie-down hooks on the floor, sides, and ceiling. 
One-touch power windows.
Powered heated mirrors.
The rear seats fold down, enlarging the cargo volume from 35,2-cubic feet, to 65,7-cubic feet. For extra carrying capacity, there's a sturdy roof rack with a storage compartment.
Does The 2005 Nissan Xterra Have A Good Safety Rating?
The 2005 Nissan Xterra received an NHTSA five-star rating for front and side-impact crash protection. Active safety features in the Xterra range include stability control and traction control, with four-wheel ABS with EBD, child seat anchors, fog lights, and a tire pressure monitoring system.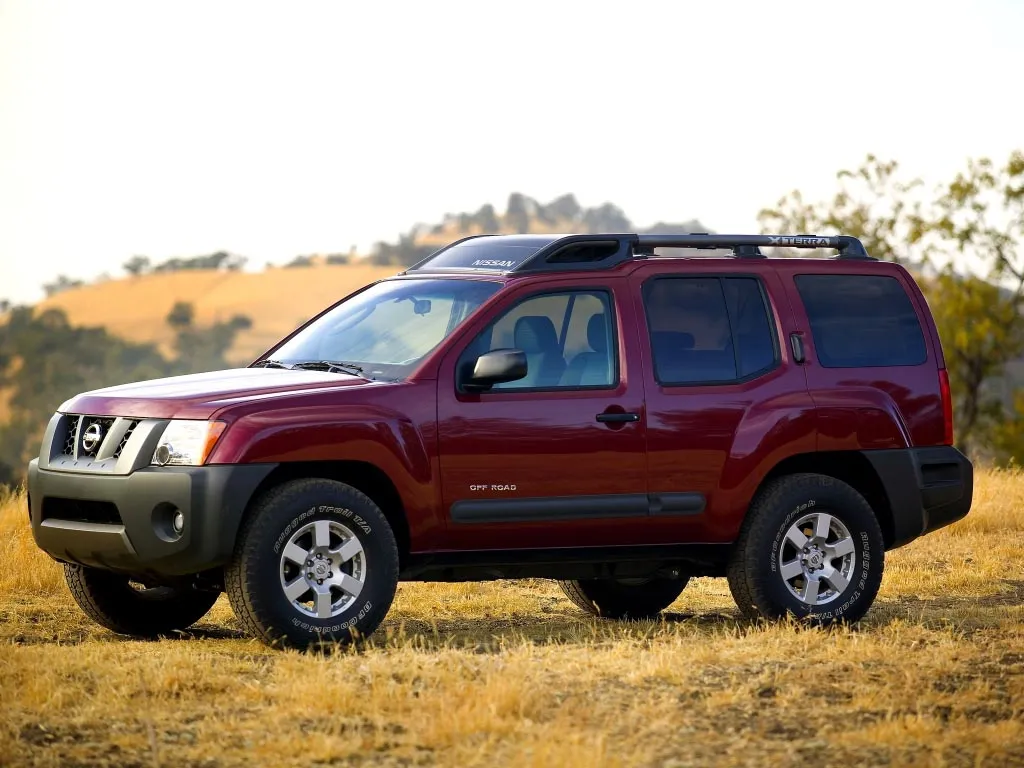 Safety features for the 2005 Xterra extend beyond the mandatory to include rear-seat child locks, a first-aid kit, a remote anti-theft alarm system, a passenger head restraint whiplash protection system, and an engine immobilizer.
Driving in rain and snow is made safe in both 2WD and 4WD with active traction control and electronic brakeforce distribution keeping the Xterra's wheels firmly gripping the road at all times.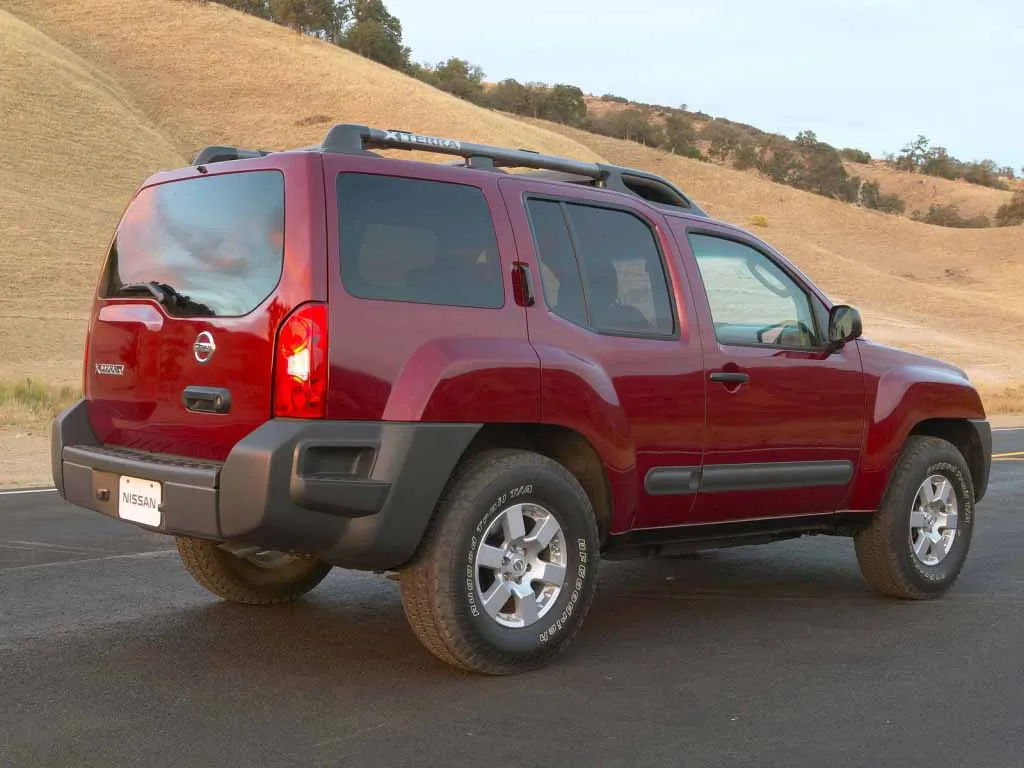 A cargo net used in conjunction with the many load securing points in the cargo area will keep your payload safely where it should be.
Does The 2005 Nissan Xterra Have Any Problems?
Many owners of the 2005 Nissan Xterra cite a coolant leak at around 90,000-miles causing transmission failure due to cracks in the radiator. Timing chain defects are also problematic. 2005 Xterra owners report excessive engine whine and the Service Engine light coming on too soon.
The expensive problem is the coolant leak. A new transmission for a 2005 Nissan Xterra will cost around $3.5K plus labor.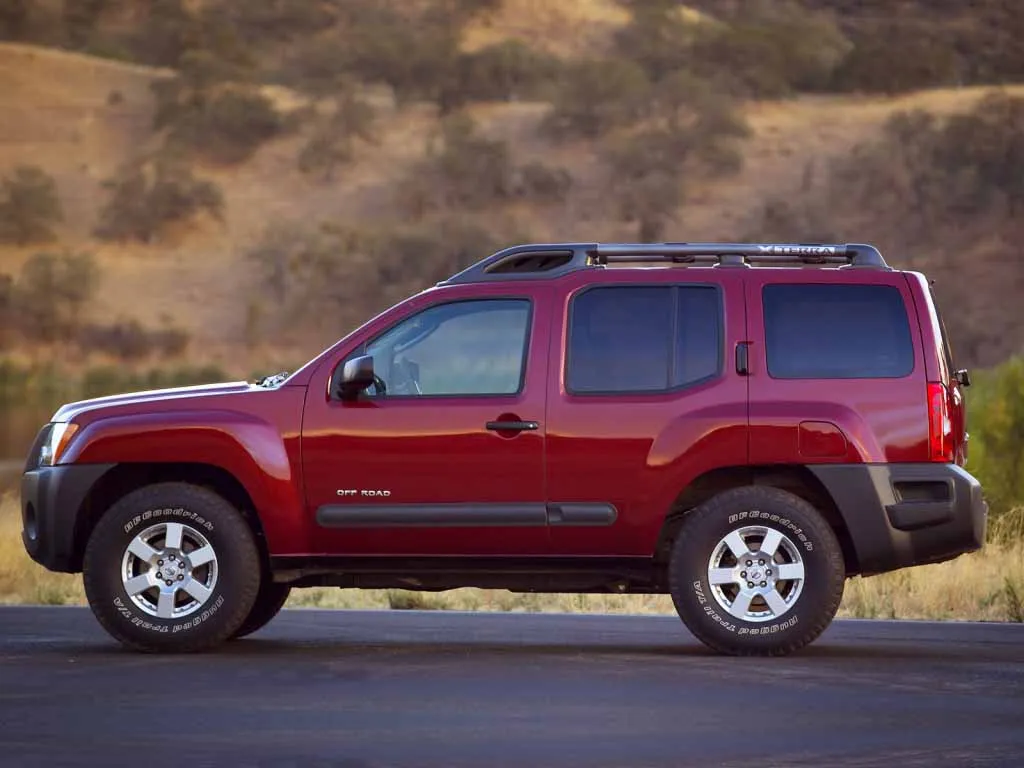 Apart from that, the 2005 Xterra is reliable, with budget-friendly parts and repair costs.
Fuel economy is always a pain point in 4×4 trucks (and SUVs). The 2005 Nissan Xterra's EPA rating is:
15mpg in the city
19mpg on the highway
17mpg combined (which would be the off-roader's benchmark)
Is the 2005 Nissan Xterra Good Value?
In 2022, the 2005 Xterra offers excellent value. The premium 2005 Xterra SE retail price new was $27,350. The best-in-class 2005 Xterra Off-Road retailed for $26,750. Today, a used 2005 Xterra sells for between $2.5K – $6.5K by a private seller, and between $3.5K and $6.5K through a dealer.
Let's assume you're fortunate enough to get your hands on a 2005 Nissan Xterra Off-Road with under 120,000-miles on the clock, with radiator and timing chain issues ironed out, for under $7,000. Think about what you're getting:
A beast of an off-roader that can carry five people in comfort and conduct urban duties in the manner of a powerful minivan.
A gutsy 4×4 that can tow a trailer or carry a load on its roof with ease.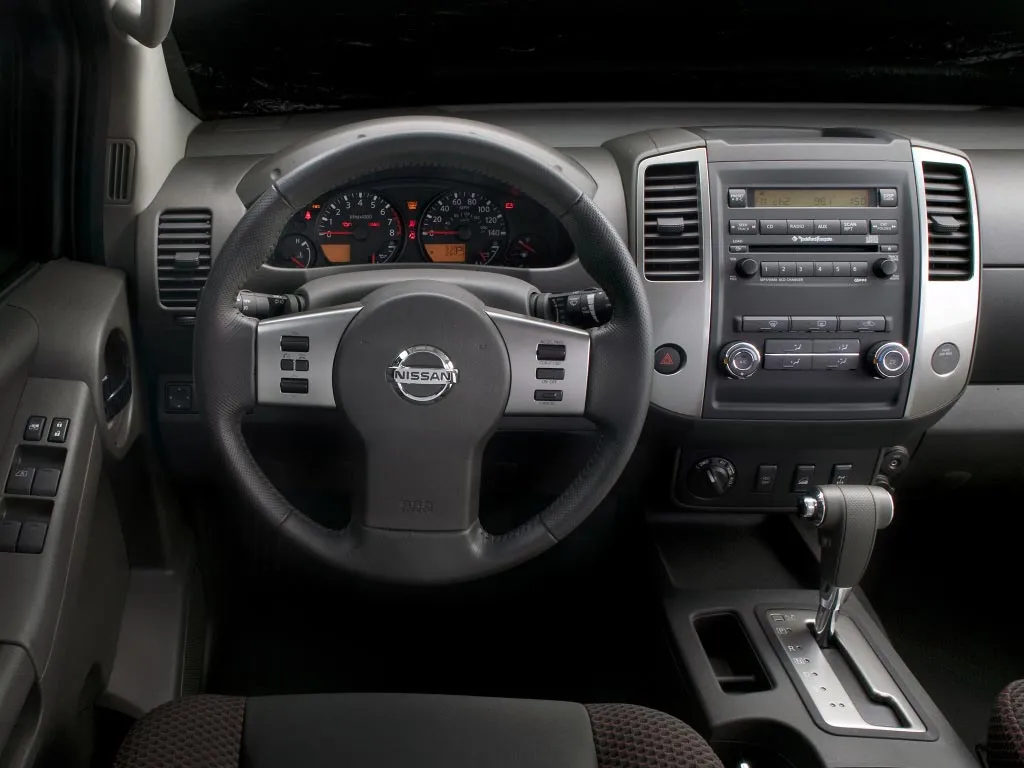 The interior finishes are mostly made of hard plastic and are a little unforgiving on the bony bits of your body, but they are durable.
And, if you choose a used 2005 Xterra SE or Off-Road, you'll score the extras from the original trim, like the 380-watt Rockford Fosgate stereo sound system with those speakers and that sub-woofer. Enough said.
Our Verdict on the 2005 Nissan Xterra
When directly comparing a 2005 Nissan Xterra Off-Road with a competitor like the 2005 Jeep Liberty Limited, it's a no-contest situation. The Xterra Off-Road will cost a good couple of grand less than the Jeep and punch way above its fighting weight.
The 2005 Nissan Xterra will carry you through the backcountry trails with a genuine 4×4 fighting spirit and get you to your destination with all the spirited enthusiasm you'd expect from a true companion.