The 2012 Volkswagen CC is a car that has something for everyone. It's perfect for the person who wants a stylish and sophisticated car, but doesn't want to sacrifice performance or comfort. The CC has impressive specs and features, and I'll go over all of them in this comprehensive review. Whether you're already a fan of the VW CC or you're just curious about it, we'll tell you everything you need to know.
The 2012 Volkswagen CC is a coupe-styled sedan that stands out for its good looks. It is well-appointed and luxurious inside and is powered by a peppy, frugal base engine. A larger V6 is available with AWD. Rear space is limited to two, and headroom is tight, but it's an excellent value proposition.
Shopping for a midsize premium sedan opens up a large segment with loads of choice – but what if you're looking for something a little different? Enter the 2012 Volkswagen CC – the coupe-like four-door sedan with sexy, swooping lines and four bucket seats to cosset its passengers. Keep reading about the 2012 VW CC below.   
The Comprehensive 2012 Volkswagen CC Review
Shoppers looking for a sedan with a bit more style than usual would do well to have the 2012 Volkswagen CC on their shortlist. Despite sharing bones with the previous-gen Passat, it's a little different from the norm. The CC in its name is an abbreviation for 'Comfort Coupe,' and the manufacturer's intentions are evident in how this car has been designed.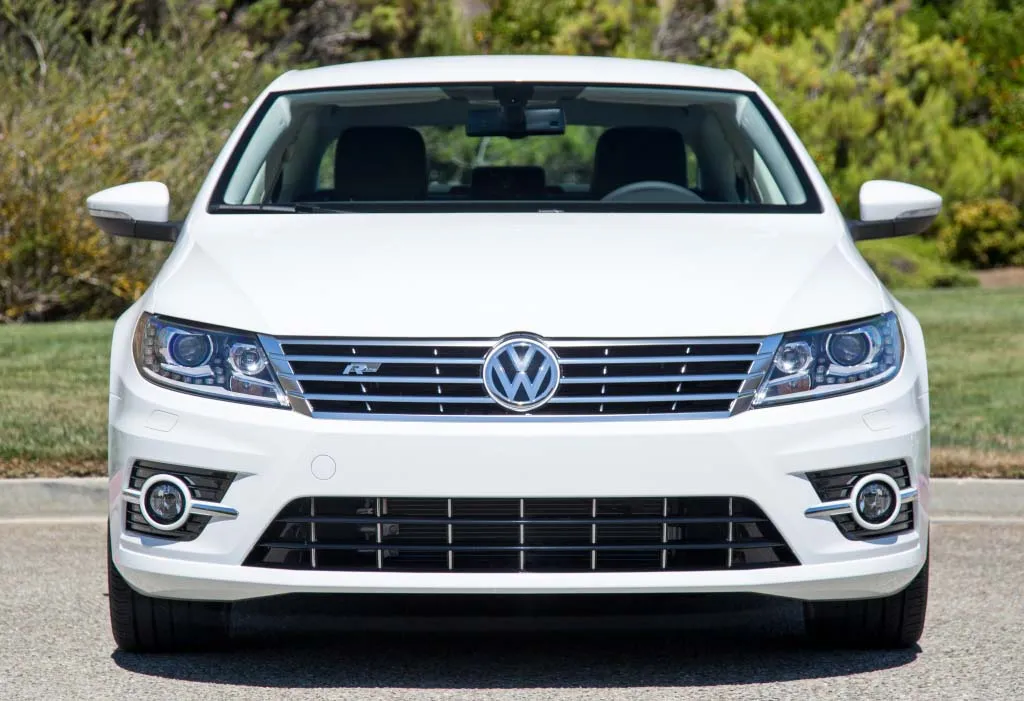 This is not your average family car – it has swoopy styling and an elegant interior that seats only four. Instead, it offers a stylish cabin, good fuel economy from the base engine, and even a V6 option with all-wheel drive. Let's unpack what the 2012 Volkswagen CC has to offer.   
2012 Volkswagen CC Exterior
We've touched on the sweeping lines of the VW CC and how elegant it looks with its sloping roofline and coupe-like design, which genuinely sets the CC apart from rivals in the class. Base models roll on 17-inch wheels, while the rest of the range ride on more oversized 18-inch items. Mid-range Lux Plus models add a power tilting, tinted-glass sunroof to the package.
Volkswagen CC Size And Cargo Space
The 2012 Volkswagen CC is a midsize luxury sedan that looks like a coupe, despite having four doors. It's a smidge under 190 inches in length and has a wheelbase of 106.7 inches, allowing it to offer enough space to seat four.  
With 13 cubic feet of available cargo space in the trunk, the 2012 Volkswagen CC isn't the most practical sedan. This is slightly below the segment average, although in-cabin storage solutions mitigate this a little. This includes a center front armrest and a rear center console with a storage compartment.  
2012 Volkswagen CC Interior And Passenger Space
The interior offers a pleasant, elegant, and high-quality overall feel, taking the cue from sleek exterior styling. The 2012 Volkswagen CC is set apart from other sedans in that rear-seat passengers are limited to two. There's no rear bench with a middle seat available, which cuts down seating capacity, but ups the executive feel with two bucket seats.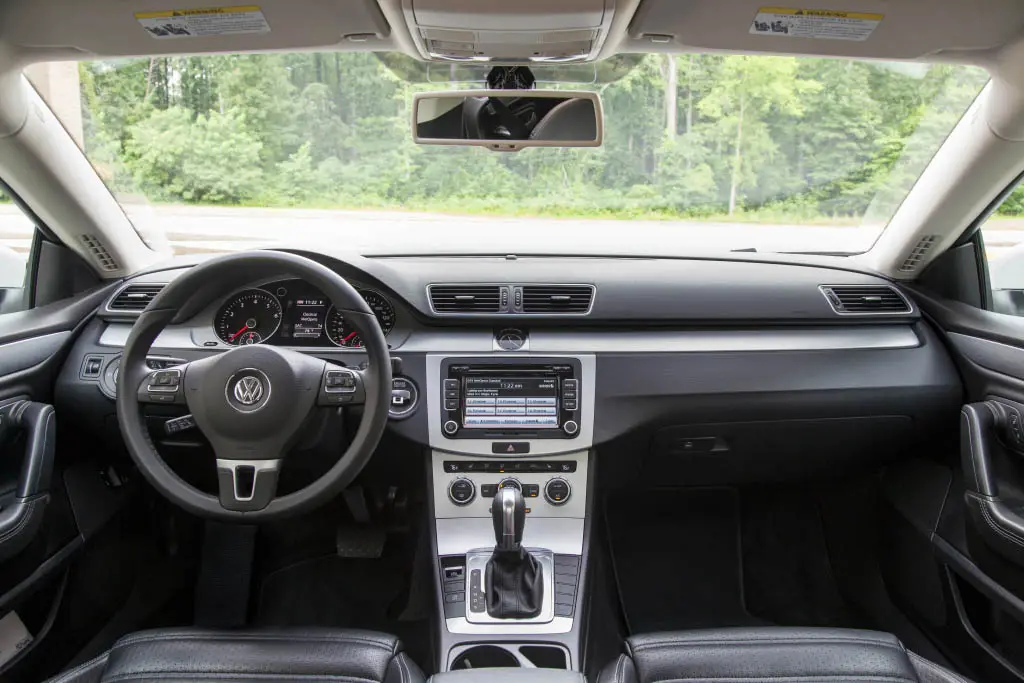 The front sports seats come with 12-way power adjustments right off the bat, so finding a comfortable position is a breeze for those up front. There is ample legroom and headroom is adequate for most. The two seats in the back are comfortable and supportive, although headroom is a little restrictive due to the sloping roofline. Taller passengers won't be comfortable on long journeys.
Volkswagen CC's Cabin Look And Feel
There are loads of elements that come together to make the cabin of the CC as plush as it is. This includes metallic-look matte chrome interior accents on the base models, brushed aluminum midway through the range, and genuine wood trim on the top-end models. The steering wheel is leather-wrapped on all models.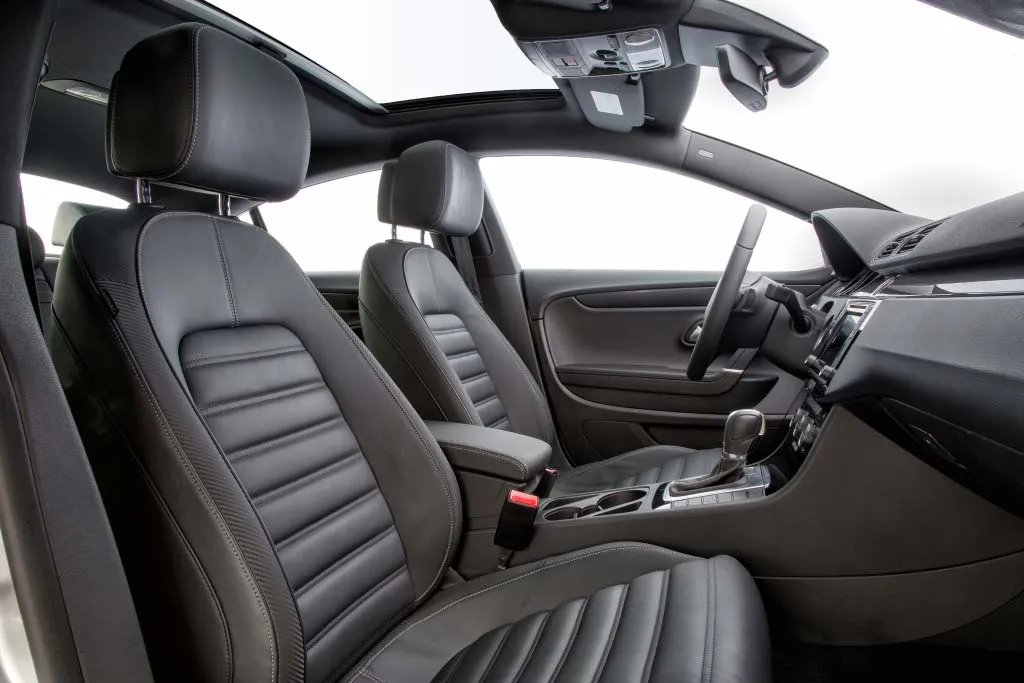 Leatherette upholstery is standard from the base model onwards, while full leather is included if you opt for the range-topper. All grades get heated front seats as a standard specification.
2012 Volkswagen CC Specs & Performance
There are two options when it comes to what powers the CC. The base models come with a 2.0-liter TSI turbocharged four-cylinder, making 200 horsepower and 207 lb-ft of torque. 2012 Volkswagen CC R-Line and Sport models come with a six-speed manual transmission as standard, with the option of switching out for a six-speed DSG auto. Lux editions have the latter only.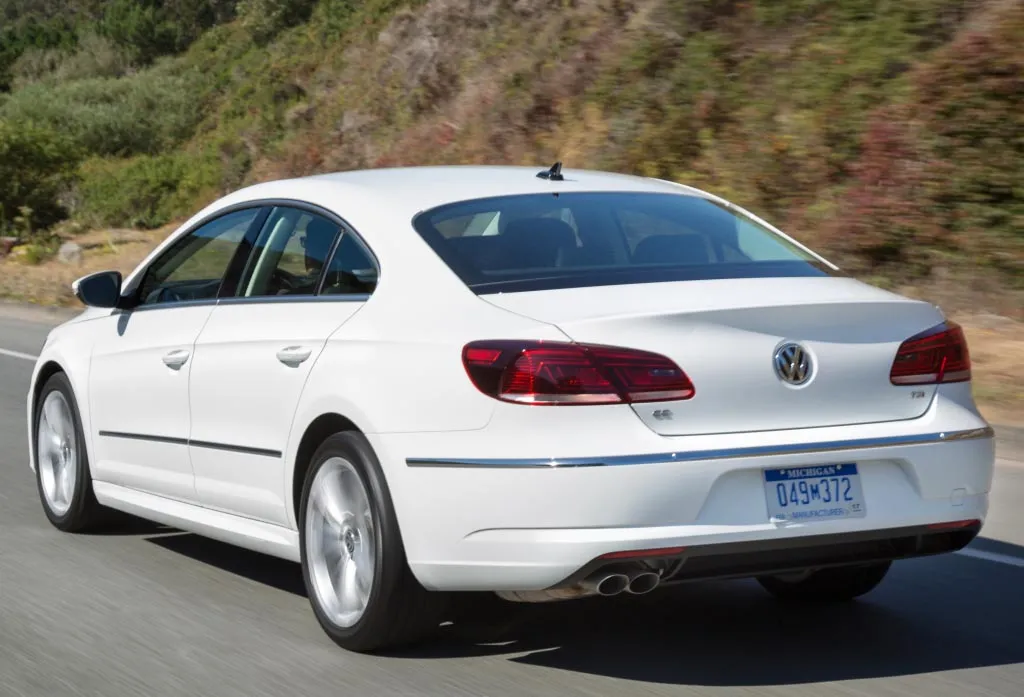 The top-spec VR6 4Motion variant gets a 3.6-liter V6 with all-wheel drive, 280 hp, and 265 lb-ft. It's mated to a six-speed automatic featuring Tiptronic and Sport mode and is the powerplant to go for if you want gusto off the line. 2012 Volkswagen CC top speed is noted at 130 mph.
CC's Driving Feel
Naturally, the V6-powered CC has the most impressive outputs, but the 2012 Volkswagen CC specs are impressive even for models with the base engine equipped. Most independent reviewers note an impressive sprint time. Even in the turbocharged four-cylinder model, like the 2012 Volkswagen CC Sport 0-60 mph is dispatched in under seven seconds, with an even quicker time recorded for V6 models.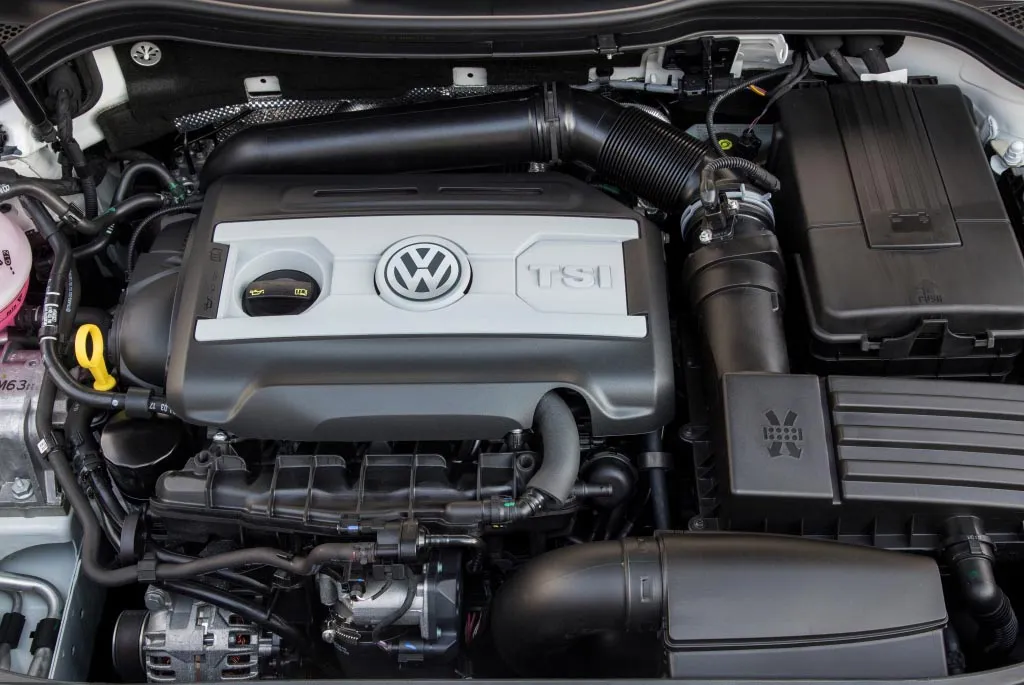 Interestingly enough, the turbo-four mill from VW is the more popular choice, especially paired with the DSG gearbox, and offers a smooth and pleasant driving feel. The VR6 is known to be a little more gruff, wanting you to wring it out a little to get the most out of the available torque.
The driving feel is compliant and composed, as a sedan should be, especially in base models with the smaller 17-inch wheels that don't pick out road imperfections and bumps quite so easily.
Gas Mileage Of The Volkswagen CC
There are a few reasons why the smaller displacement engine is such a gem, and fuel economy is one of them. The 2.0-liter four-cylinder with the auto is the most frugal configuration, earning 22/31/25 mpg on city/highway/combined cycles. With the six-speed manual, these EPA ratings drop to 21/31/24, which isn't too much of a difference. The bigger powertrain is the least efficient, at 17/25/20 mpg.
2012 Volkswagen CC Features And Tech
There's lots to unpack regarding features and tech, starting with manual single-zone climate control on the Sport and R-Line models. From Lux grades, this is upgraded to dual-zone climate control while ambient interior lighting is added from the Lux Plus trim. Only 4Motion models have a premium color multi-function display as standard.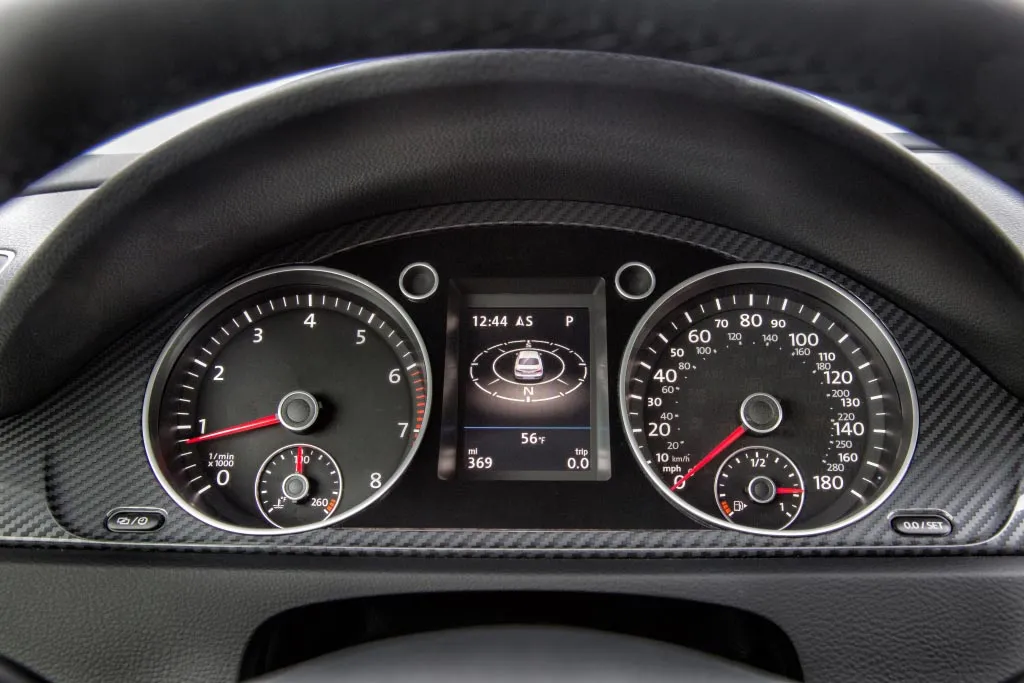 Other features included on the entry-spec models are an auto-dimming rearview mirror, 12-way power-adjustable front seats with lumbar support, an eight-speaker Premium VIII sound system with MP3 compatibility, and a 6-disc CD changer Sirius Satellite radio. Bluetooth and iPod connectivity are also standard features.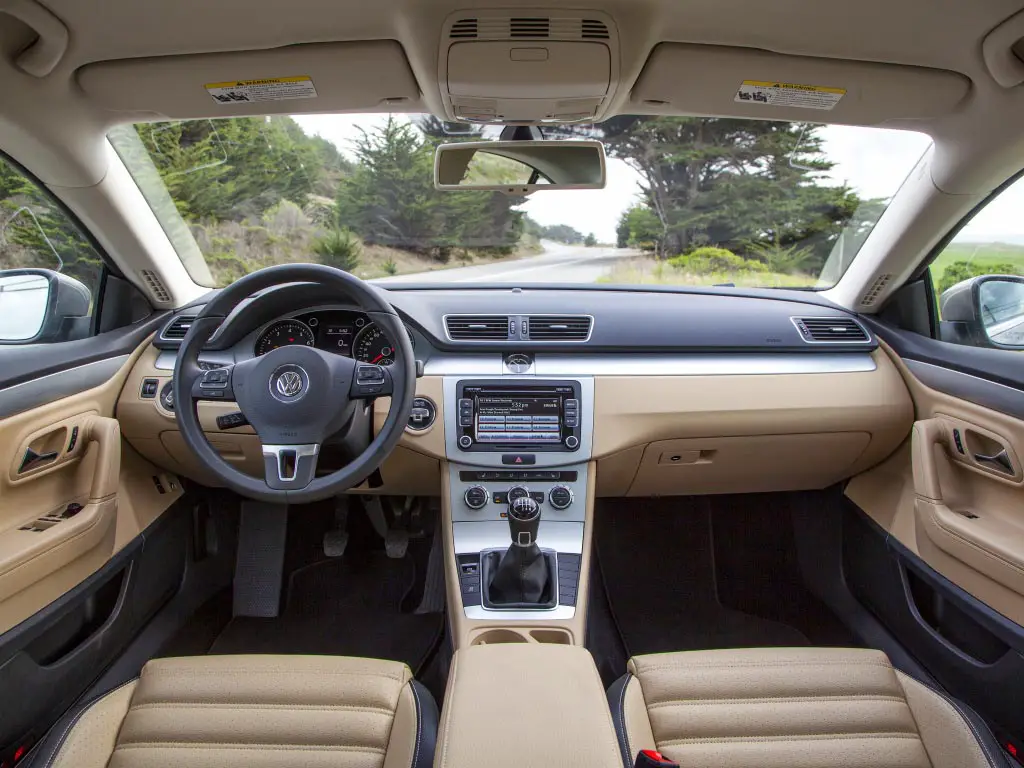 Moving up through the range adds features such as a navigation system with a five-inch color touchscreen in the console on the Lux models. At the same time, Lux Plus trims get a universal garage door opener, a power sunroof, a 6.5-inch color touchscreen, and a rearview camera. At the top of the range, the VR6 4Motion packs in everything the automaker has to offer, including paddle shifters, memory settings on the front seats, park distance control, and a premium sound system.
Volkswagen CC Safety Scores
There isn't a comprehensive 2012 Volkswagen CC review for safety from the NHTSA, and the authority has scored only the rollover tests. This resulted in four stars out of five. The IIHS did see things in a more positive light, giving four top scores of Good and a Marginal score for Small overlap front: driver side.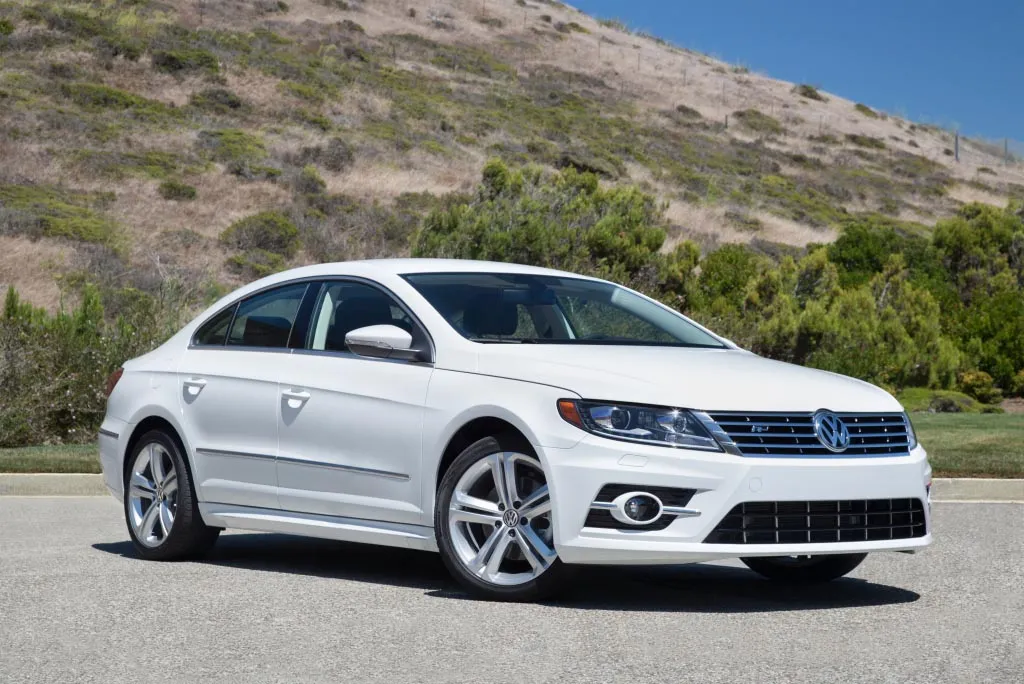 Standard safety features for the lineup include ABS, stability and traction control, dual front, front side, curtain airbags, and a hill-hold function. Tire pressure monitoring is standard, but a rearview camera was only equipped from the middle of the range on Lux Plus models. Lux Limited variants have adaptive front lighting, and the VR6 comes with park distance control with front and rear sensors.
2012 Volkswagen CC Reliability And Problems
2012 Volkswagen CC problems are numerous, with a variety of recalls issued by the NHTSA. This included the fact that modifications to vehicles made them non-compliant, there was a fault with the driver's frontal airbag, a potential fuel pump failure, airbag clockspring failure, and a TPMS sensor failure.
2012 Volkswagen CC reliability was rated at 74 out of 100 by J.D. Power, which is rather average for the segment. For peace of mind, Volkswagen included a three-year/36,000-mile new car limited warranty, a five-year/60,000-mile powertrain warranty, and 12 years/unlimited mileage coverage against corrosion and perforation.
Volkswagen CC Price And Value
As new, the 2012 Volkswagen CC retailed for around $28,515 for the base model. Sticker prices could be as high as $40k, though, excluding options and other fees. The CC proved to be a value-for-money option even on lower-spec trims with a generous features list for the time.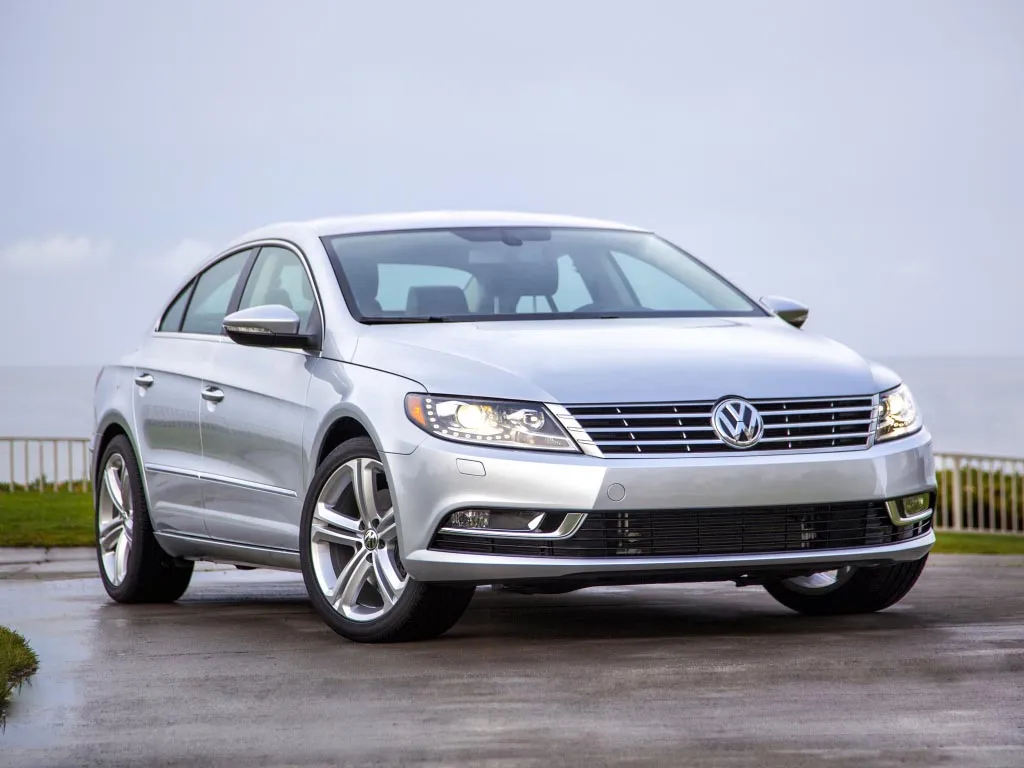 If you're looking to buy used, the 2012 Volkswagen CC is still a good option, and finding one with a clean maintenance history can cost you anywhere between $7k and $15k, depending on options added and mileage on the clock.
Our Verdict on the 2012 Volkswagen CC
The 2012 Volkswagen CC offers an exciting alternative to more mainstream sedans with its coupe-like styling and four-only seating layout. The CC has a few things going for it, not the least of which is a peppy yet frugal base engine, a gorgeous cabin with high-quality fit and finish, great features, and the option to upgrade to an all-wheel-drive V6.
Negatives to consider include limited seating space and headroom that isn't particularly tall-person friendly at the back. Trunk space isn't overly generous, but it's a small price to pay for a car that stands out, looks good, drives well, and feels like a premium mix between a sedan and a coupe.