Once upon a time, in the faraway land of Japan, there was a small company that made cars. These cars were different than anything else on the road at the time; they were sporty and efficient. The company was called Subaru. Fast forward to today, and Subaru is still making amazing cars – including the 2010 Subaru Legacy. What can I say about the 2010 Subaru Legacy? It's a car that has been around for what seems like forever, and it doesn't seem to be going anywhere. That's a good thing, too, because the Legacy is a fantastic car. If you're not familiar with it, let me give you a quick overview.
All 2010 Subaru Legacy vehicles come standard with all-wheel drive; a feature that has helped Subaru become a snowbelt institution. Meanwhile, the Legacy's dimensions have been greatly increased, as the previous model's small cabin was a restricting problem.
While past Subaru Legacy designs ranged from unobtrusive to downright elegant, this one is a little more divisive. We hope consumers warm to the Legacy's new exterior since there is much to appreciate about Subaru's extensively revamped midsize sedan below.
2010 Subaru Legacy Review
To put it mildly, the new, completely redesigned 2010 Subaru Legacy is a stylistic departure from its predecessors. Its steroidal fender flares are a cross between Mercedes-Benz S-Class and J.C. Whitney, and its huge headlights and slab-like front end appear well at home on a crossover SUV.
Like the Honda Accord and Mazda 6, the new Legacy increases by over three inches in height, three and a half inches in width, and slightly over three inches in wheelbase over the 2009 Legacy. On the inside, this results in significant head-, shoulder-, hip-, and legroom benefits.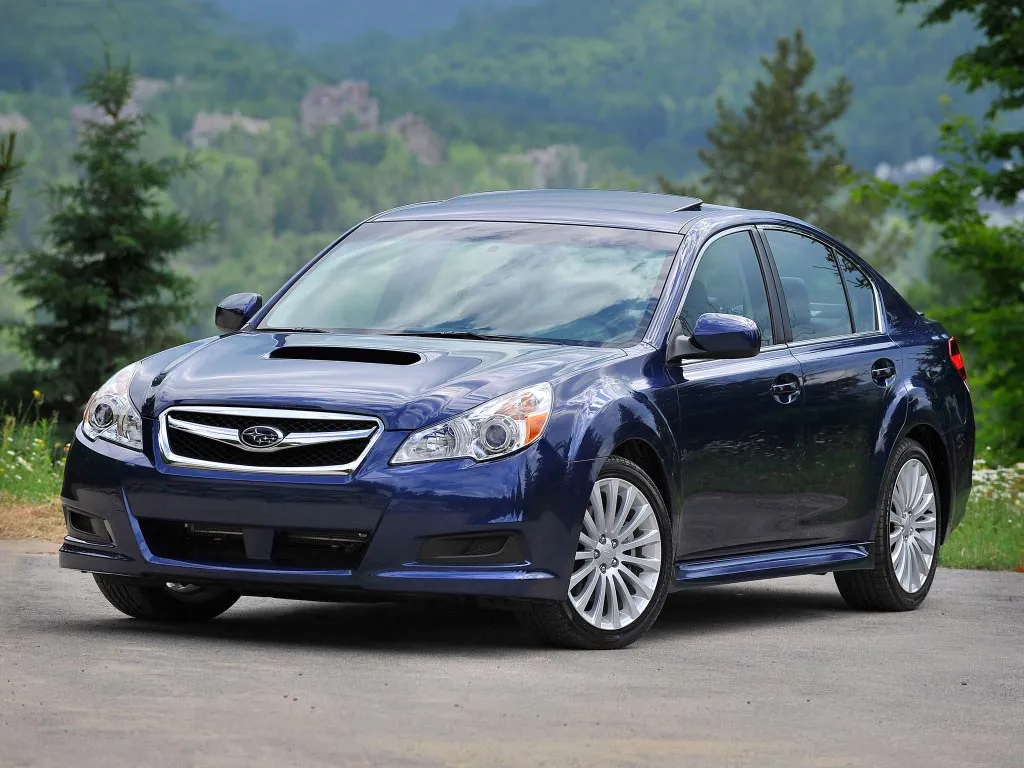 Nonetheless, the car's overall length increases by just 1.4 inches, and its curb weight increases by roughly 50 pounds, indicating that the Legacy's historically above-average agility has not been jeopardized significantly.
Another Legacy trademark in recent years has been its varied lineup of engine options, which the 2010 Legacy continues. While the base 2.5-liter "boxer" (horizontally opposed) four-cylinder engine will suffice for the majority of buyers, those with a greater desire for speed will be pleased to learn that two optional engines are available: 
A revised turbocharged version of the boxer-4 engine that promises to be the sportiest
A smooth-running 3.6-liter horizontally opposed six-cylinder engine adds significantly more punch than last year's 3.0-liter flat 6.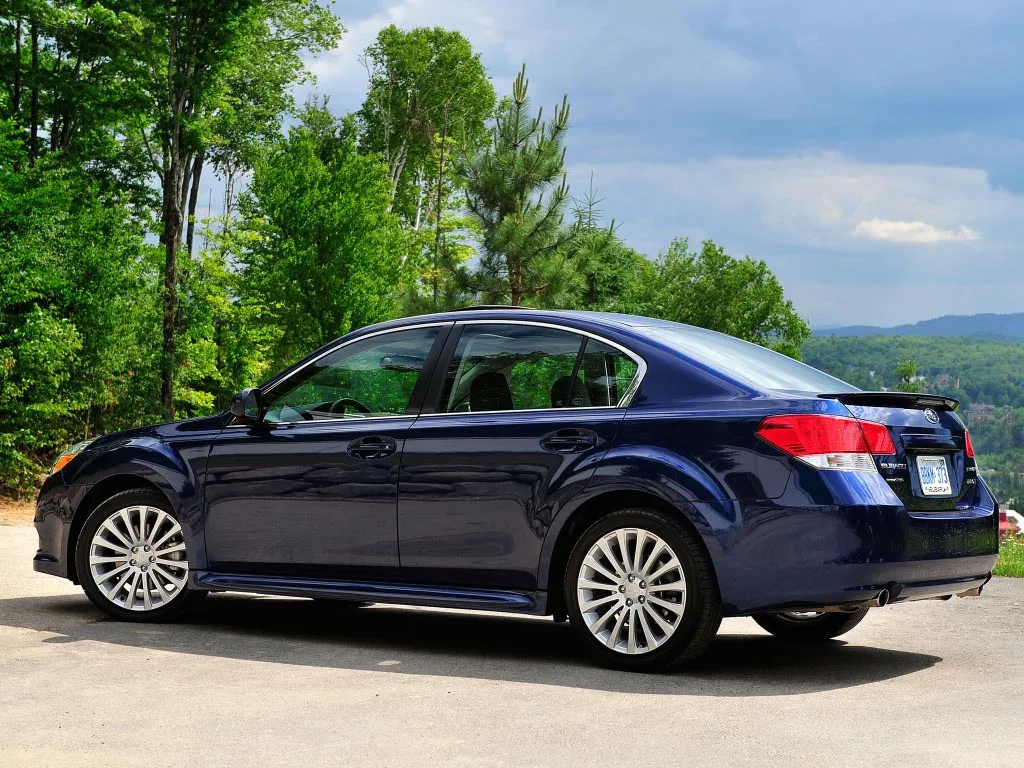 The Legacy can be considered a more affordable competitor to Germany's and Japan's premium all-wheel-drive sport sedans with any of the improved engines. Along with its larger cabin, unique powertrains, and standard all-wheel drive, the 2010 Subaru Legacy boasts a contemporary interior that can be customized with a variety of electronic gadgetry.
These characteristics should help the Legacy stand out in the congested midsize sedan sector. 
2010 Subaru Model Options
Subaru's 2010 Legacy midsize sedan is available in five trim levels: 2.5i, 2.5i Limited, 2.5GT Limited, 2.5i Premium, 2.5GT Premium, 3.6R, 3.6R Premium, and 3.6R Limited.
Standard equipment on the base 2.5i Subaru Legacy includes; 
16-inch steel wheels, 
air conditioning, 
a height-adjustable driver seat, 
an adjustable steering wheel with integrated sound system control,
a 60/40-split fold-down rear seat, 
an electronic parking brake, 
a four-speaker stereo with a compact disc player and auxiliary audio jack. 
The 2.5i Premium specification adds 16-inch alloy wheels, a leather-wrapped steering wheel, an eight-way power driver seat, and a driver window that automatically rises and falls.
The 2.5i Limited trim level adds 17-inch alloy wheels, a four-way power passenger seat, an All-Weather package (windscreen wiper de-icer, heated side mirrors, and heated front seats), climate control, leather upholstery, Bluetooth, and a Harman Kardon audio system with nine speakers.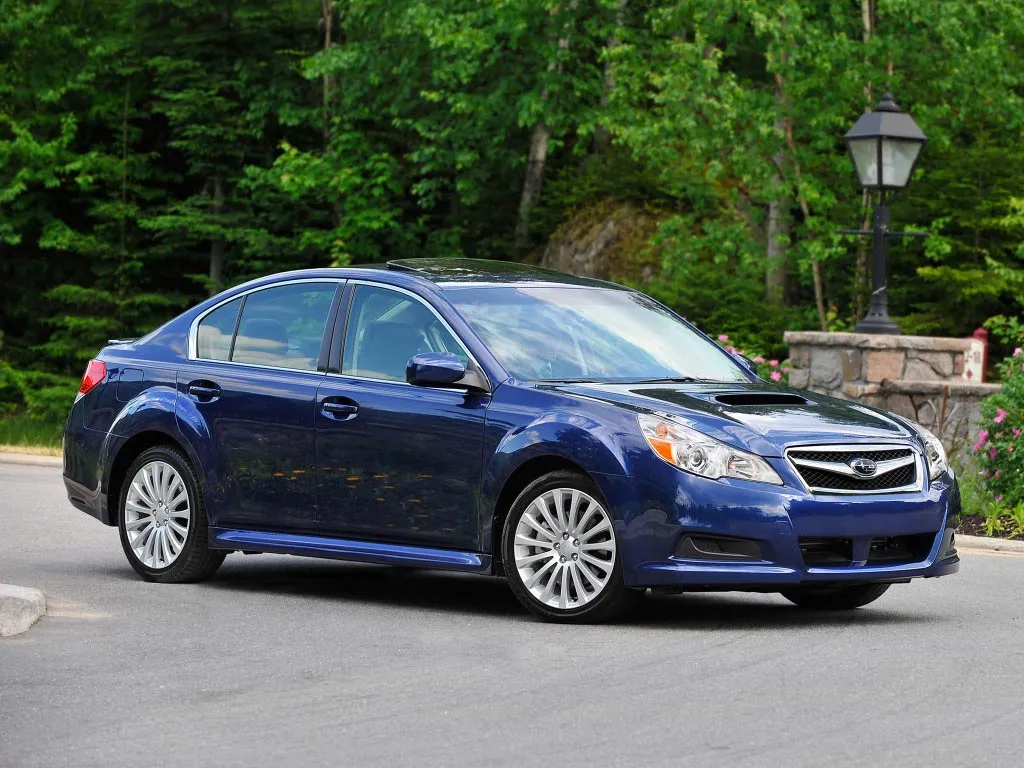 The 2.5GT Premium begins with the same equipment as the 2.5i Premium but includes a turbocharged four-cylinder engine, 18-inch alloy wheels, performance tires, bigger brakes, a hood scoop, and the All-Weather package. The 2.5GT Limited adds a motorized passenger seat, automatic climate control, and leather upholstery to the base model.
Numerous standard features of higher trim levels are available as options on lesser trim levels. An optional voice-activated navigation system is available on Limited models, along with an iPod/USB interface, Bluetooth with streaming Bluetooth audio, and a rearview camera. The option to have a sunroof installed is available as a stand-alone on all models save the base 2.5i model.
Two settings are available for manufacturer-equipped options on the 2010 Subaru Legacy Wagon:
LEGACY premium sound system with acoustic field tuning, built particularly for Legacy, and LEGACY McIntosh sound system.
The G-BOOK ALPHA with HDD navigation is equipped with a high-definition VGA8-inch monitor and a rearview camera.
2010 Subaru Legacy Specs
The 2010 Subaru Legacy all-wheel-drive is available with three engines and three gearboxes. The base 2.5-liter horizontally opposed (affectionately referred to as "boxer") four-cylinder engine produces 170 horsepower and 170 pound-feet of torque. 
The base 2.5i and 2.5i 2010 Subaru Legacy Premium models come standard with a six-speed manual transmission, while the 2.5i Limited comes standard with a continuously variable transmission (CVT) with manual shift control. Additionally, Legacy 2.5i cars have the highest-level PZEV tailpipe emission certification.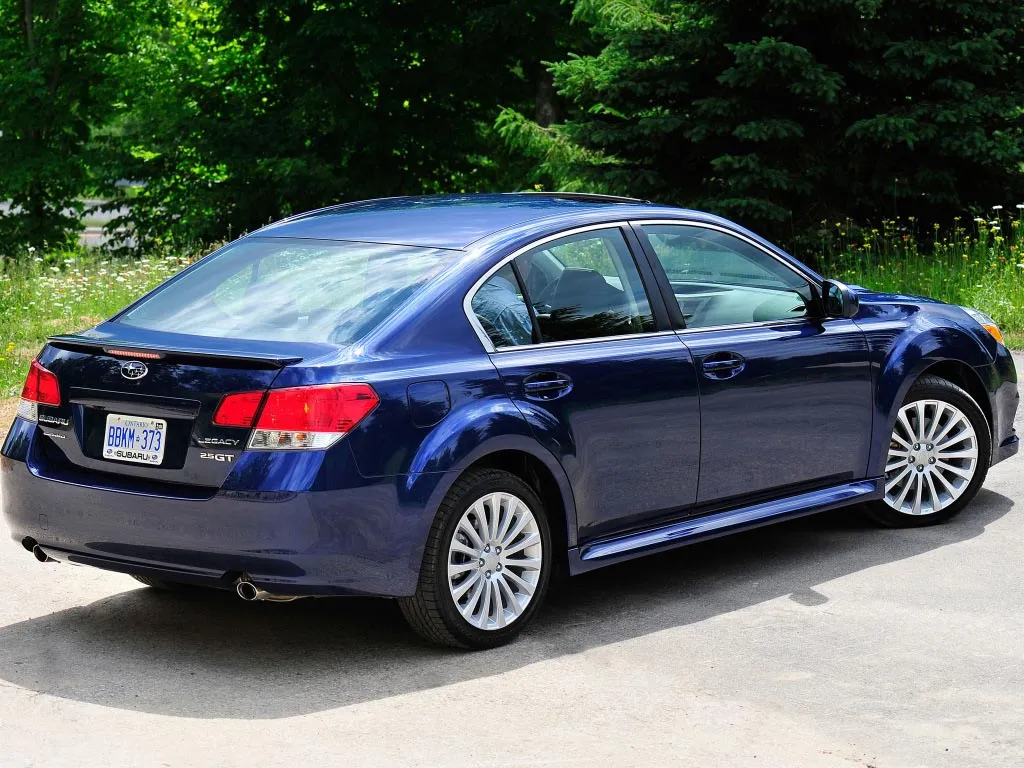 The 2010 Subaru Legacy 2.5GT versions include a turbocharged 2.5-liter four-cylinder engine that produces 265 horsepower and 258 pound-feet of torque on premium fuel. Notably, the 2.5GT is only available with a six-speed manual transmission.
The 3.6R versions are equipped with a 3.6-liter horizontally opposed six-cylinder engine that produces 256hp and 247 lb-ft of torque on regular gasoline. 
The 2010 Subaru Legacy GT comes across as a speedy (0-60 mph in 5.3 seconds), surefooted (0.86 g lateral acceleration), and compliant—much like its smaller sibling, but just not relatively as quick (4.5 in a WRX hatchback). 
Consumption And Performance
The only available transmission option is a five-speed automatic. The EPA estimates the best fuel efficiency with the CVT-equipped 2.5i.  You can expect 23 miles per gallon around town and 31 miles per gallon on the interstate with this combination.
When equipped with the six-speed manual transmission, those figures drop to 19/27 mpg. Both the Legacy 2.5GT and 3.6R are rated at a less spectacular 18/25 mpg.
Interior Finishing
The inside design of the Legacy is sleek and classy, but you better be a fan of silver paint, as the V-shaped center stack is entirely coated in it. While the interior plastics appear to be upmarket, the majority are rough to the touch and lack the upscale feel found in cars such as the Ford Fusion and Volkswagen Passat.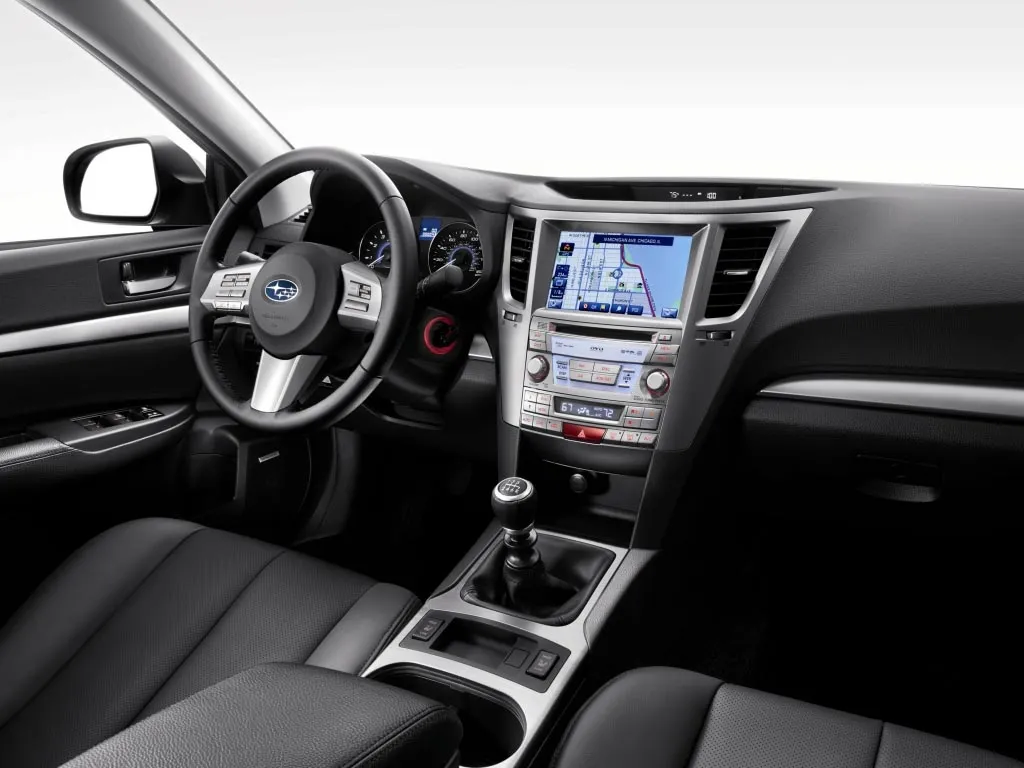 A dynamic three-spoke steering wheel suggests this Subaru's agility is above average. The seats are supportive, and the Legacy's newly expanded proportions result in increased passenger space, notably in the rear, where legroom is improved by nearly 4 inches.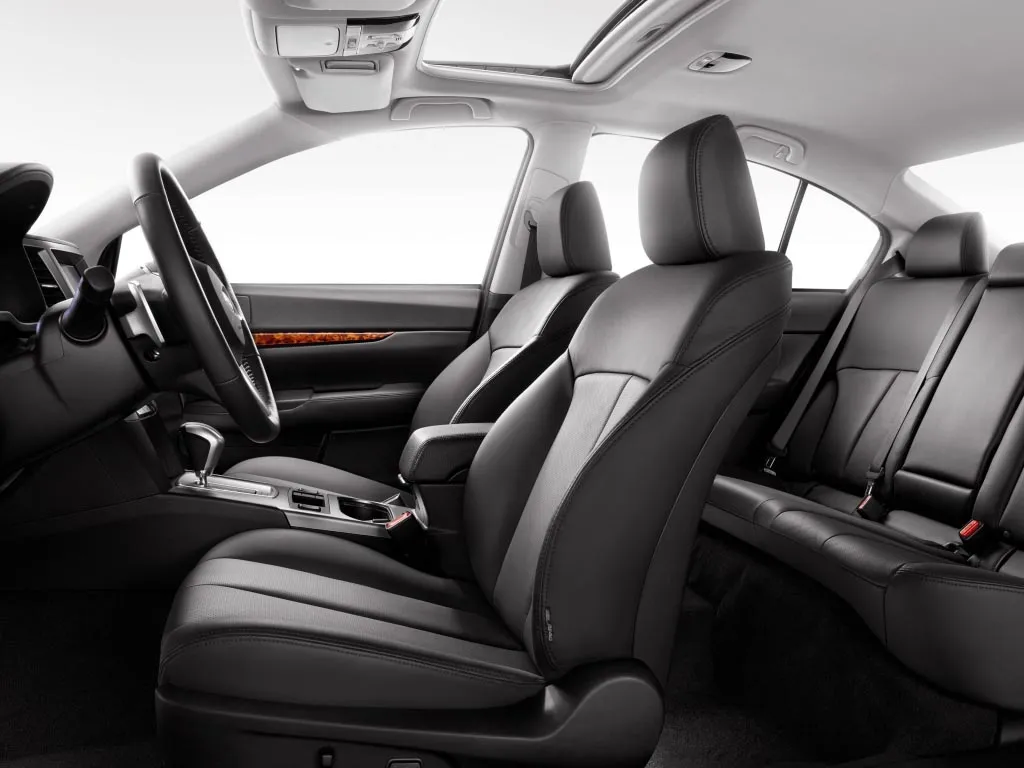 Technophiles will like the available navigation system, which is included in a gadget suite that includes an iPod connection and Bluetooth music streaming. Regrettably, this feature is only available on the top-of-the-line Limited trim level. The average trunk space is 14.7 cubic feet.
2010 Subaru Legacy Problems
The Subaru Legacy suffered from 2 major problems. 
It consumed excessive oil between oil changes, even though owners maintained their vehicles at recommended intervals. On average, it costs the owners $6,600.00 to repair the engine. Subaru eventually accepted a portion of the payment burden following a lawsuit against them for faulty engines.
CVT transmission problems after 5-year warranty expiry. On average, it costs the owners $2,000.00 to repair the CVT transmission. Subaru eventually extended the warranty on the CVT transmission to ten years/100,000 miles, but only new replacements would be covered, not refurbished or salvaged units.
2010 Subaru Legacy Price
Prices on the 2010 Subaru Legacy will be dependent on the year, mileage, model, optional features, and condition of the vehicle. Prices will range from $2585.00 for a rough trade-in and can go all the way up to $8143.00 for one that is in outstanding condition. 
Our Verdict on the 2010 Subaru Legacy
The midsized 2010 Subaru Legacy is a well-priced car that offers the discerning buyer a wide range of models to choose from, all with excellent features and options available while also sporting a newly designed exterior body.