Maserati were three years into their big business plan and things were going very well. Overall global sales had seen an increase of 25%, as they climbed from 32,474 up to 42,100 in 2016; and 25% of these sales came from their newest edition to their roster – the 2016 Maserati Ghibli. It had managed sales of 11, 224 worldwide and that included 7,100 units sold in North America alone. Maserati's gamble, to dip into the highly competitive executive sedan market, was paying off for them. The midsize luxury sedan segment they had not catered for since 1994, when they were producing the Biturbo.
By comparison to all their major rivals (Mercedes-Benz; BMW; Audi and Jaguar) their interior specifications were noticeably of a lower grade while the Maserati did not offer the same amount of safety driver assistance aids as the others did as standard. But the allure to actually own an iconic Italian brand was just too intoxicating for many.
The 2016 Maserati Ghibli came in three models – Base, S and S Q4. While the Base and S editions were rear wheel driven, the Q4 had an all-wheel drive system.
A Treasured Name
When choosing a name for this brand new model, the Modena carmaker would resurrect a name from their past. The Ghibli, built back in 1967, was regarded as their last great car before their recent resurgence. A grand tourer, with a reputation that had been widely respected, would heap a lot of pressure onto the new Ghibli but, it seemed, Maserati were very confident in its broad appeal.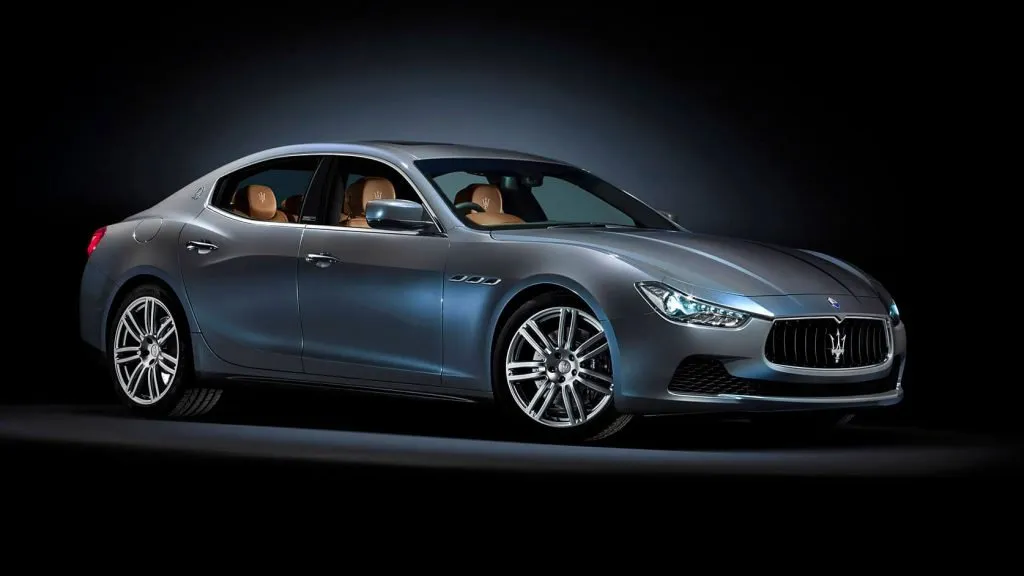 Tried & Trusted
Maserati wouldn't go far in searching for an engine for this model. As they required a smaller engine to ensure the overall pricing of the vehicle remained sub-100K. They would look to the bigger brother, Quattroporte VI and use its 3.0 liter twin turbocharged V6 Ferrari engine. There were two petrol engines to choose from. The Base, for this year's model, had been given a power tweak so that it now had 20 bhp more than previously. The 345 bhp and 369 lb-ft of torque saw the car producing quicker acceleration than before. A 0-60 mph sprint was completed now in 5.5 seconds although its top speed had crept up to 166 mph.
The Ghibli S had much better output as it achieved 404 bhp and 406 lb-ft of torque; only taking 5 seconds to complete the 0-60 mph sprint and a top speed of 177 mph. The S Q4 had the same engine power as the S though making 0-60 mph in a faster time of 4.8 seconds though its top speed slightly under the S at 176 mph.
Dazzling Diesel
But their biggest challenge would be to make something Maserati had never done before – creating a diesel engine and one that could achieve high performance. Diesel availability in this motoring sector was crucial to its success, as many territories were very reliant on them due to their fuel economy. In order to achieve this, they would need expert help – one they had worked with before.
Paolo Martinelli would be tasked with trying to make this (supposedly) sluggish diesel engine-block into something worthy of wearing the Trident badge. Snr Martinelli had long experience with Ferrari engines; back in the 1990's he was overseeing the V10 engines of the Scuderia Ferrari team that ran the F1 racing cars for Michael Schumacher.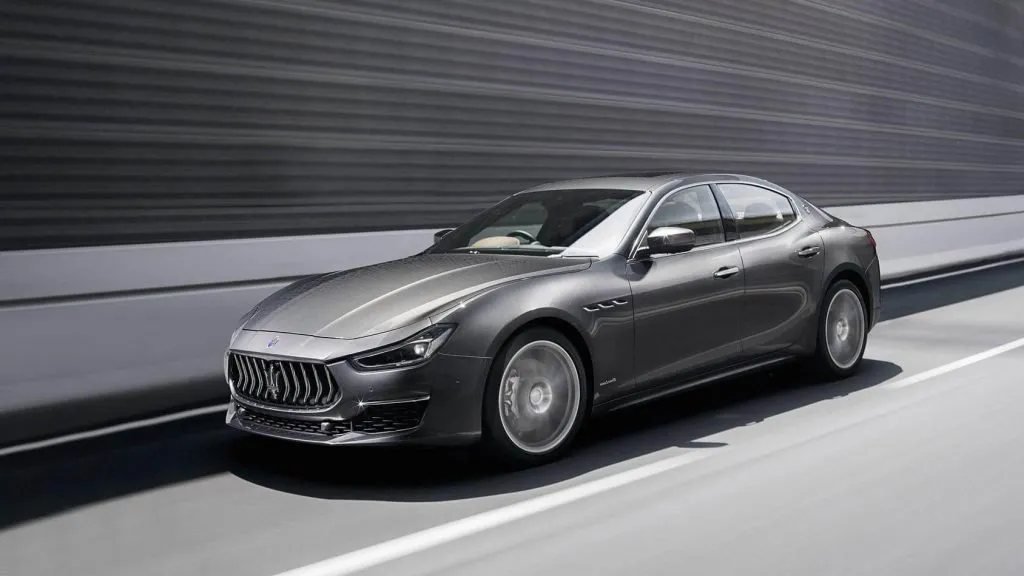 What he created was a 3.0 liter turbo diesel engine that produced 271 bhp and 443 lb-ft of torque (that was 23 lb-ft better than last year's model). The 0-60 mph dash was made in 6.3 seconds and hitting a top speed of 155 mph.
Both petrol engines had a combined (urban / highway) fuel economy of 19 mpg.
Stuck in Gear
As always, with the 'Maestro's of Modena', they would source their transmission from the, ever reliable, German company, ZF. All models of the 2016 Maserati Ghibli were fitted with the eight-speed 8HP automatic transmission. There were a few driving modes to choose from – Normal, Sport & ICE.
The most exciting mode to use was Sport as it quickens the shift changes and livens up the throttle, allowing the rev count to climb towards the redline. The driver also has the option of slipping the gearbox into a manual mode so that they can take full control of the shift changes, via the gear stick or through the wheel column paddles (if installed as an option). This allows the driver to really experience the power and agility of the powerful engine under the hood and the roar of the Maserati growl erupting from the exhaust
But for urban driving, set in 'normal' mode, the 2016 Maserati Ghibli would perform its duties very quietly. To add more engine efficiency and fuel economy, the transmission can be engaged in ICE (Increased Control Efficiency) which reduces the engine and transmission.
Exhilaration Behind the Wheel
Here would be the main reason buyers would turn to the Modena-made car. The 2016 Maserati Ghibli would offer exceptional driving experiences as it could hug the road as it was thrown through turns and bends at high speed. As if riding on rails, the vehicle would attack corners and explode out of exits effortlessly. Even drivers with lesser experience could get thrills out of the Maserati though, with driver aids installed, if the excitement got too much then the car would take control and ensure it did not get out of hand.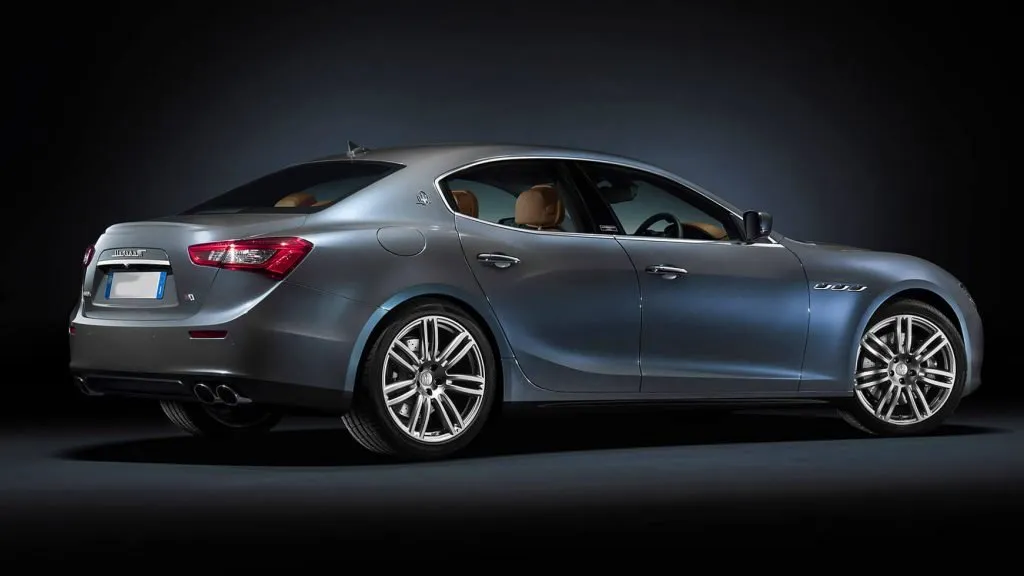 The setup had almost perfect balance, which was one of the main reasons there was almost no over or understeer or drift. The addition of stability and traction control, along with anti-lock brakes, meant for a safe ride. Though the feel of the steering was too "soft" and some drivers felt they didn't have enough "feel" of the tires.
Trident Cachet
Taking its origins from the Quattroporte VI, the 2016 Maserati Ghibli would become its small offspring. At 11 inches shorter, the cars would have similar looks and feel. Wonderful flowing lines, from its nose and over the rounded wheel arches and along to the back, would ensure this executive sedan stood out amongst the rest of the field which was becoming more and more amorphous with each passing year.
The interior sat five passengers. The front seats gave good lumbar support and comfort while the backseat had good headroom though space for the feet was tight. A generous trunk offered 17.7 cubic feet and the back seats could be folded down in a 60/40 arrangement for added space.
Luxury Guaranteed
As befitting an Italian status symbol, the interior is quite sumptuous. The 2016 Maserati Ghibli is awash with fine leather from Poltrona Frau, who only provide their finest leather to Ferrari and Maserati. Other quality textures and surfaces on offer is wood, finished in high gloss or open pore, and carbon fiber.
These would adorn all the seats (though Alcantara suede was available for the headliners), side panels, dash, central panel, steering wheel and gear stick. For added customization, the leather dash could be finished in a two-tone effect.
Though, much to everyone's bewilderment, the knobs and switches installed in the car came from Jeep and Dodge models which did not sit right with an Italian luxury vehicle.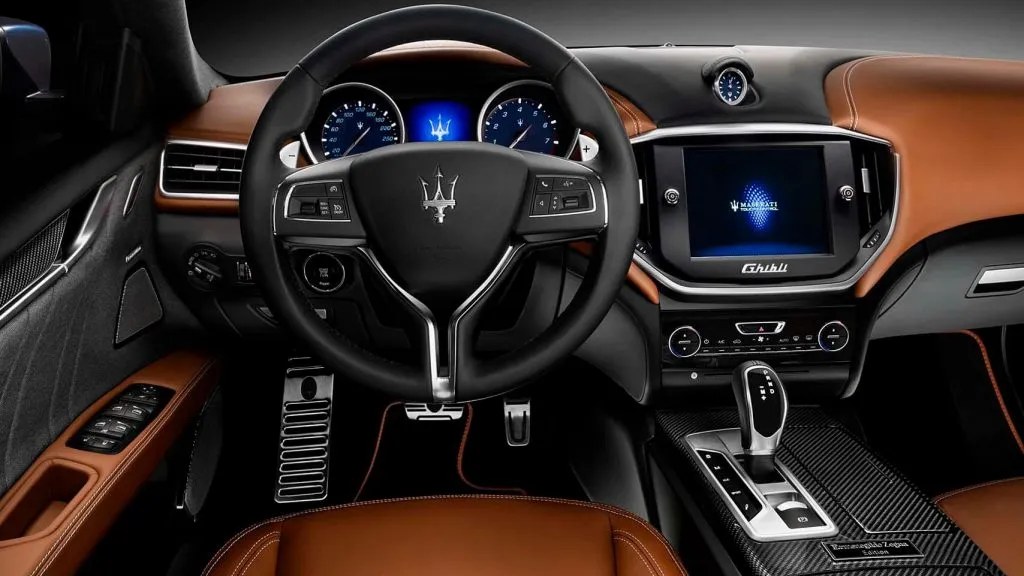 User Friendly System
The Infotainment system, that utilized the 8.4-inch touchscreen, was very accessible and easy to use. With large icons at the bottom of the screen, all interior functions could be accessed with no trouble. The satellite & terrestrial radio, CD/DVD player, sat nav and dual climate control were all in easy reach. Bluetooth, USB and other auxiliary ports allowed connectivity with most devices.
Though it was championed for being easy to use (better than most of its competitors), it was not much appreciated that this hardware was also from a lower end Jeep model.
The sound system could be augmented through three choices of surround speakers. The standard Harman Kardon setup was with eight speakers though this could be upgraded to ten speakers. However, a premium 15 speaker system from Bowers & Wilkins was offered too.
At a Price
To really appreciate the panache of an Italian made car, the bespoke color palette had to be utilized to the fullest. There would be multiple color choices for the leather trim and wood finishes, while the piping and hand stitching came in endless varieties. On the exterior, the bodywork paint choices were plentiful while the Brembo brake calipers offered several choices too. The 19-inch alloy wheels could also be enlarged to a 20 or a 21-inch diameter.
But all these upgrades did not come cheap and would add up to 20K to 25K to the overall price; pushing a S Q4 nearer the $100,000 mark.
If that was not enough for the discerning buyer, then they could opt for a special edition 2016 Maserati Ghibli S Q4 Zegna. Named after the collaboration with the world-renowned Italian fashion house, Ermenegildo Zegna, who oversaw new leather color schemes and special silk paneling with triple layered exterior body paint and bespoke 20-inch wheels.
Though this may not have the full features of other executive sedans out there, the Italian splendor and driving performance, offered by the Ghibli, ensured it would be sought after by the more discerning buyer.