The end of the decade would be similar to the beginning of it for Maserati. A constant state of flux and lurching from one deal / partnership to the next. In 1979, Maserati were still coming to grips with their new ownership with the De Tomaso motor company. Maserati was heavily in debt at this time, to the tune of 4 billion Lira (US$20 million in today's money) and this was making operations difficult to maintain.
Alejandro De Tomaso was on a mission to expunge all aspects of Citroen (the previous owner) out of Maserati. Vehicles that were heavily dependent on French parts would be quickly ditched while other cars would have Citroen parts replaced for standard items. A joint Citroen / Maserati V6 engine, that had been developed and shelved, was now scrapped altogether. Even all the engineers, who might have had affiliations to the French company were booted out. This included the longtime chief engineer, Giulio Alfieri, who was sacked on De Tomaso's first day!
Alejandro had specific plans for what direction Maserati would go in. Reducing Maserati's allure as a high-end, high-performance, high ticket item and something more for the "common man" in Italy. Making vehicles of a more family-orientated nature that would give the average man in the street a chance to own a Maserati. Looking back, this was Maserati's bleakest period. But, to De Tomaso's credit, he kept the Maserati afloat and still producing something.
Let's take a look at what automobiles in 1979 Maserati were producing.
1979 Maserati Merak
This highly acclaimed little brother of the Maserati Bora had been in existence since 1972. As a common theme for Maserati, this car was born out of necessity and a directive to keep costs down. Apart from the wonderful classic Italian body shape (which owes part of it to the Bora), most of the car was made up of Citroen parts.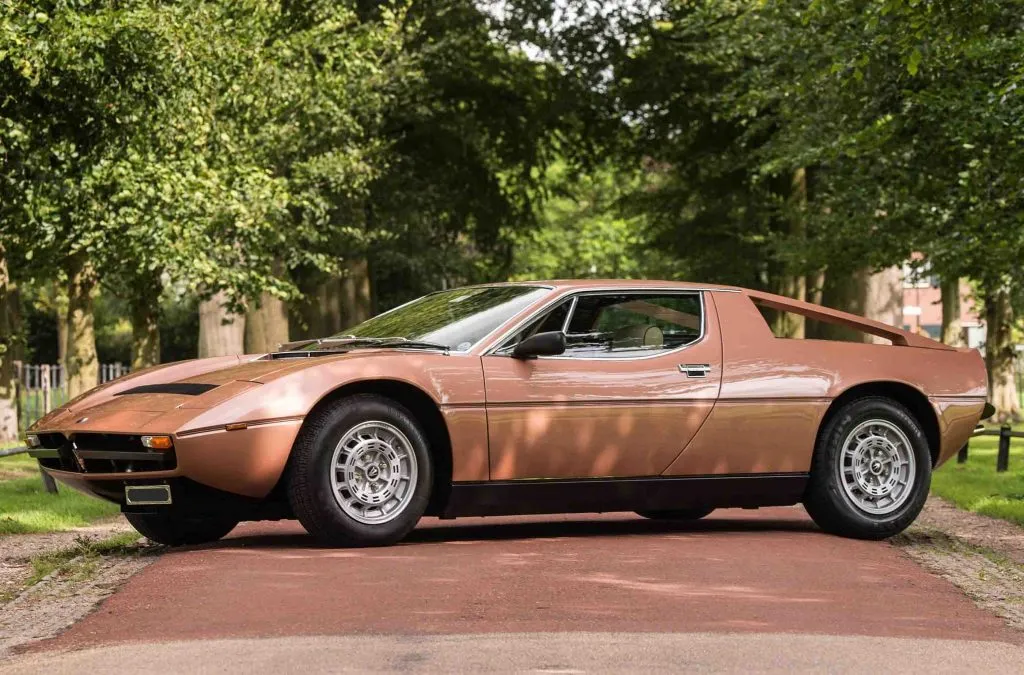 They had modified the Citroen SM V6 engine to produce a little more horsepower. Taking the original 2.7 liter and turning it into a 3.0 liter V6 which produced 187 bhp at 6,000 rpm and 188 lb-ft of torque at 4,000 rpm. This gave the mid-engine sports car a top speed of 149 mph. The transmission would also come from Citroen which was a five-speed manual gearbox.
Speed and acceleration was very responsive and similar to the performance of the Lamborghini Urraco, which was one of its direct competitors, along with the Dino 308 GT4.
In the early iterations of the Maserati Merak, extensive use of the Citroen hydropneumatics system was affixed to many areas of the car. This included the braking system and pop-up headlights and the clutch, though after 1976 these were gradually replaced.
In 1979 Maserati Merak SS was still in production. This 3.0 liter V6 would see a little more power as they were able to increase it to 217 bhp. While the Maserati Merak 2000 GT was still available, in Italy alone, that had a 2.0 liter V6 which gave out 168 rpm at 7,000 rpm and 137 lb-ft of torque at 4,000 rpm. Similar to the 2.0L Urraco and Dino, these engines sizes were required in their home country to avoid hefty sales tax on large engine vehicles.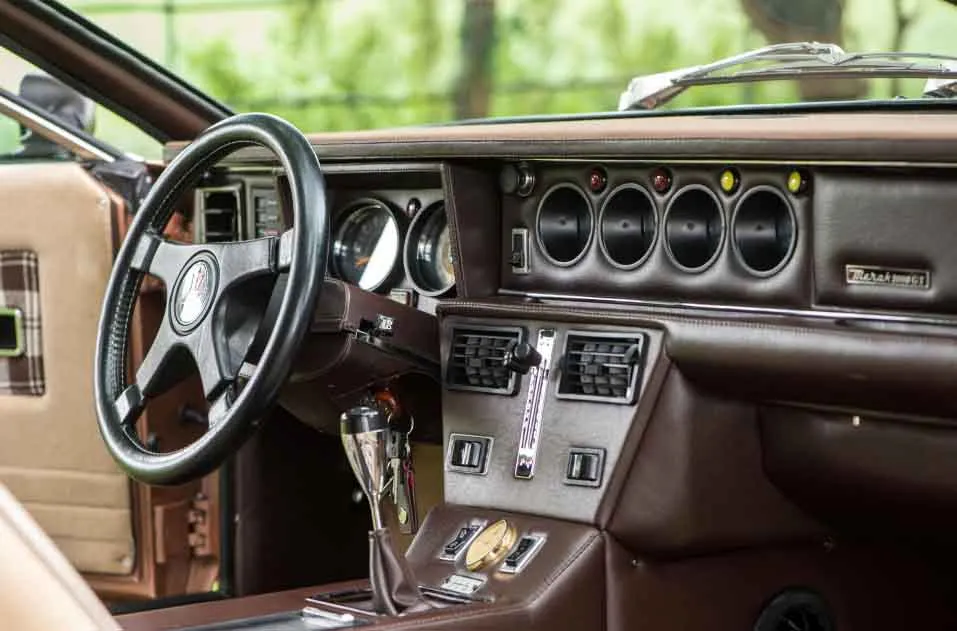 The interior of the 1979 Maserati Merak was just as elegant as the outside and was a very comfortable ride. Though the initial units were given the SM dashboard and unique oval, single strut steering wheel, later models would get a proper Maserati fit out.
A popular sports car for Maserati, largely due to its great performance and value for money (US$10,000 less than the V8 Bora), would sell over 1,800 models in its 11 year run.
1979 Maserati Kyalami
This would be the first De Tomaso project which saw an unsuccessful De Tomaso car being rebranded as a Maserati. The results were not good.
Alejandro would take the De Tomaso Longchamp, to save on development cost, which was a grand tourer and had been in production since 1972 though not to any level of success. Apart from the redesigned body shape (to reduce the angular shape of the original) and the Maserati Trident on the front grille, the rest of the car was a De Tomaso.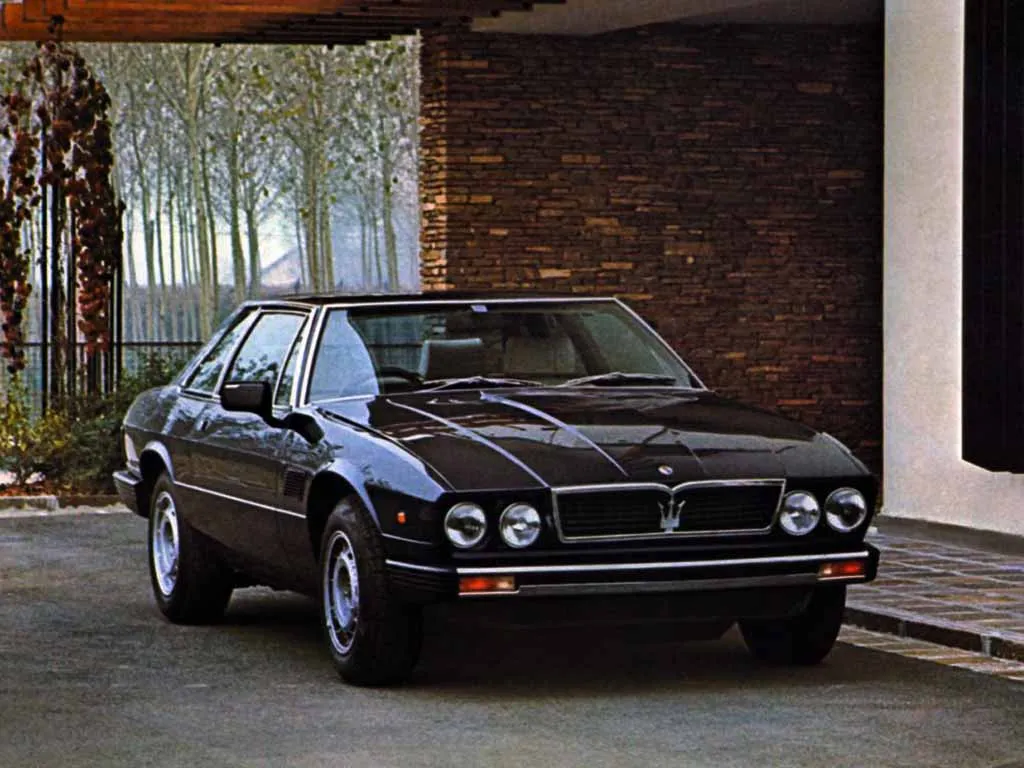 The Kyalami was available with two engines sizes. A 4.2 liter and a 4.9 liter V8 that each produced 261 bhp and 276 bhp respectively and both achieved a top speed of 149 mph.
Manual transmission came in five-speeds from ZF while an automatic option three-speed gearbox came from Borg Warner.
Though looking better than some of their recent models (which wasn't saying much), this proved to be a failure for Maserati. In seven years only 200 were sold and it was quietly dropped by 1983.
1979 Maserati Quattroporte
Alejandro was keen to revive the four-door sedan to match his business direction. The ill-fated Quattroporte II had died on the design drawing-board and motor show, in 1978. A poorly conceived Citroen clone which went against all their basic engineering design and its engine was not sufficient to propel the car forward with any confidence.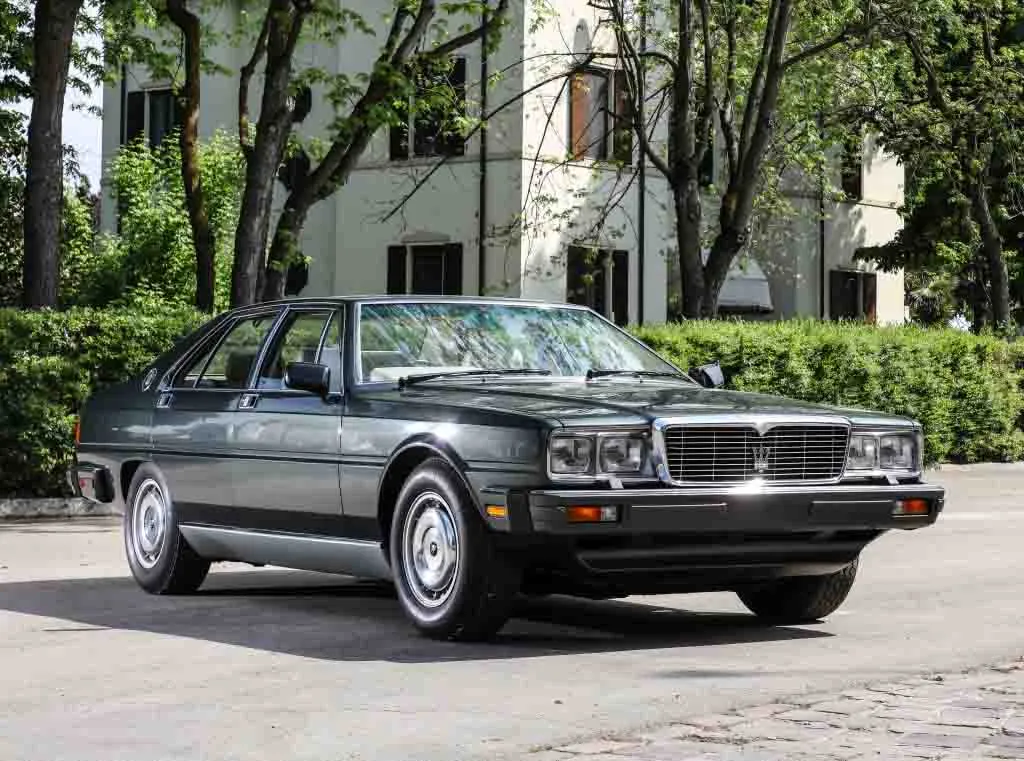 The 1979 Maserati Quattroporte III finally came into being after a three year design gap. They had moved forward with a Giorgetto Giugiaro designed concept car called, the Medici II.
Using the same Kyalami engine variants of a 4.2 liter and 4.9 liter V8, providing 252 bhp and 276 bhp respectively. Both engine sizes would hit a top speed of 143 mph. Manual transmission came from the ZF five-speed gearbox and an automatic three-speed option was fitted by Chrysler.
Though the outside body shape was uninspiring, by Maserati standards, the interior was on a much higher level. To exemplify how much of a luxury sedan this was supposed to be, the cabin was plush and elegant. Everything was either fine English leather from Connolly or briar wood detail and what was left over was covered in a deep shag pile carpet. The seats are like armchairs that gave the passenger a deep level of comfort. The only disappointing aspect would be the cheap looking steering wheel and tacky instrument panel although the iconic analog oval clock was a plus.
This model proved relatively successful for Maserati as they would build and sell 2,155 models over an 11 year period.
1979 Maserati 330 Ricarrozzata Berlinetta
A one of a kind special project came out during this year and it was to celebrate Maserati's golden years of racing. the 1979 Maserati 330 was the work of an Italian design company called, ATL. They essentially created a hybrid of two iconic racers. Putting together the PininFarina designed A6GCS /53 with the Zagato made 450S.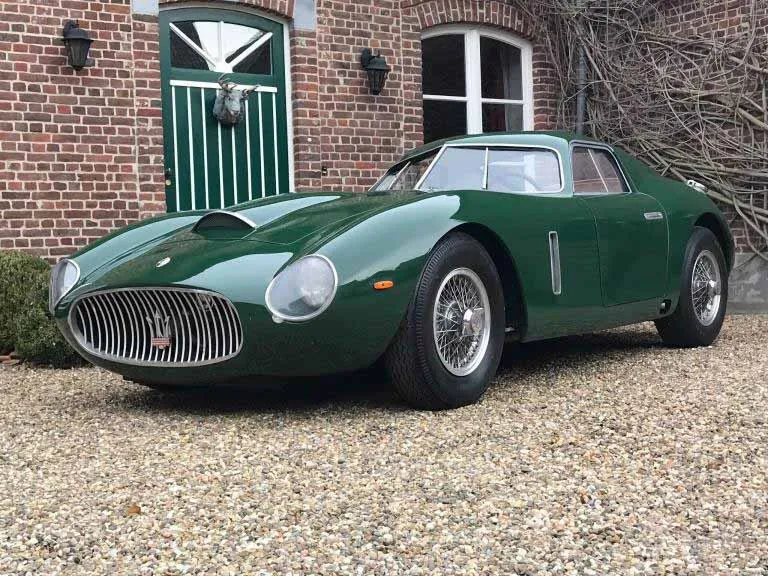 This two-seater coupe was powered by a, Kyalami borrowed, 4.2 liter dual overhead cam V8 engine that produced 255 bhp at 6,000 rpm and 260 lb-ft of torque at 3,200 rpm. A five-speed manual transmission completed the powertrain to the rear wheel drive.
Painted in distinctive racing green, the body is a classic throwback to the Maserati racers of the 1950's and 60's.
So, from the beginning to the end of the 1970's, Maserati would see many obstacles in their way. But moderately better at the tail end of the decade for their stability though their reputation was taking a dent from the lack of quality coming out of their factory But, at least, the engine and driving performance was still something that could be relied on.