Over the last decade, the Maserati motor company has moved front and center to the hearts and minds of car enthusiasts. Especially their introduction of the two-door GranTurismo which has staked its claim as one of the most iconic performance cars in the 21st century. At the present time, it is one of the most desirable car brands to own and drive. But where did this success derive from? If we go back 60 years we can see where the iconic manufacturer began.
History of the Maserati 3500 GT
At the beginning of the 1960's, we can discover the "Ground Zero" of the brand's launch into luxury driving. 1962 Maserati 3500 GT would be showcased at a motor show in the late '50's and go into production in the years thereafter. Due to its evolvement from its strong racing pedigree, utilizing the best engineering from around Europe and meticulous design work that you would expect from the factories of Milan, this would become an immediate classic and, still to this day, dictates a very high selling price from dealers around the world.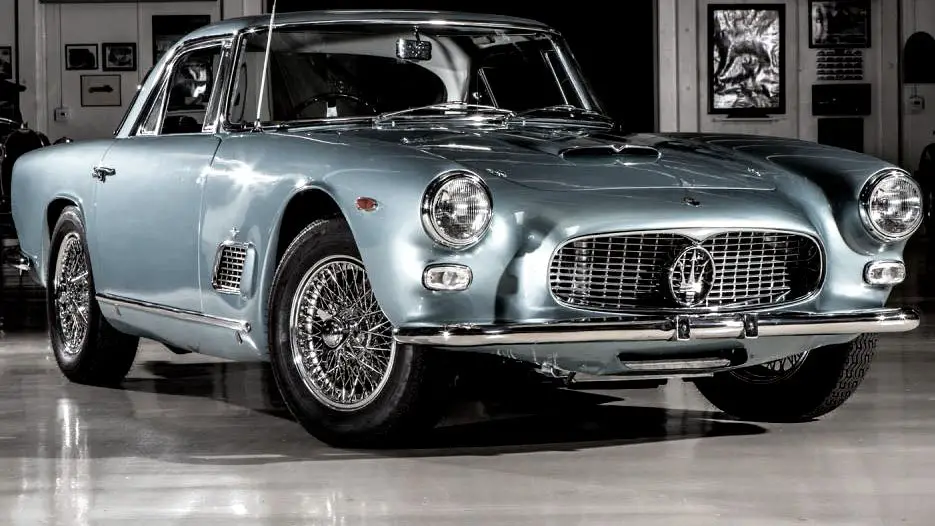 But, prior to its manufacture, the motor company had purely focused on its racing capabilities, with only occasional productions of road cars made on a miniscule level. The Trident brand had begun in 1914 but it was during the 1950's it reached its peak with continued success in both F1 and World Sportscar Championships. The most famous and successful F1 driver (until Michael Schumacher took that record 40 years later) was Juan-Manuel Fangio from Argentina. He would spend several years driving for Maserati and winning the F1 Championship in 1957. But, though racing gave them titles and plaudits it didn't make them any money. With finances becoming desperate for the small car manufacturer, the owners took the drastic step of pulling out of racing altogether and focusing their attention on making production road cars instead.
But this decision would not see them forget their high performance racing heritage. Maserati 3500 GT, the car they would design would still reflect all that was highly regarded from Maserati. While utilizing their own engine they would look elsewhere for other parts of the car, as to develop everything in-house would have been prohibitive in time and cost. It was simply easier to shop around the best manufacturers in Europe to buy and install what they needed. From Italy they used Weber and Marelli for carburetors and the ignition. While from England they sought the rear axle, brakes and suspension parts from Salisbury, Girling and Alford & Alder. They would later install fuel injection and use the model from Lucas. The gearbox came from the German manufacturer, ZF, who provided the four-speed manual and later five-speed manual transmissions.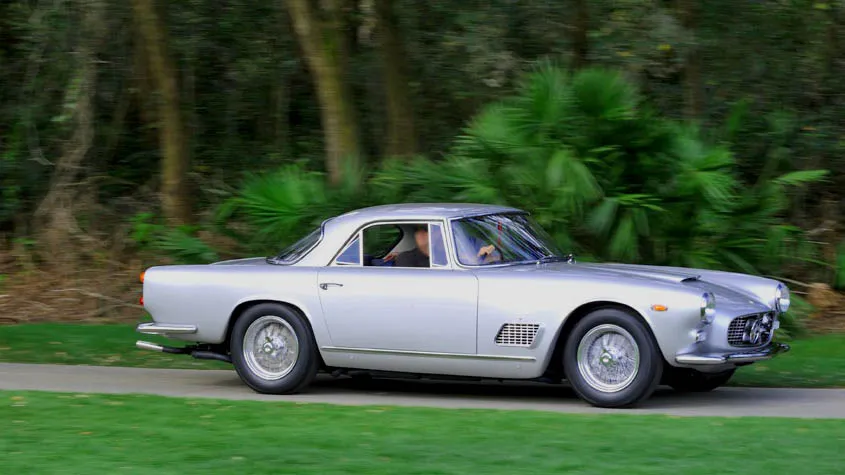 3500 GT Engine Specs
The engine they would design for the car, a twelve valve straight-six, was the first they had ever specifically designed to be used on the road.  The 3.5 liter, twin overhead cams would generate 217 bhp from its carburetor but horsepower would increase to 230 bhp after the fuel injection was installed and reach top speeds of 130 mph. Performance was enhanced by the use of their lightweight aluminum bodywork, known as 'Superleggera'.
This would all be put together under the watchful eye of Maserati's Chief Engineer, Giulio Alfieri, it would finally go on public display at the Geneva Motor Show in March 1957. But, before the end of the year, some models were being made (just eighteen) and some were ready to buy before Christmas.
3500 GT Model Variations
It wouldn't be long before they looked at designing a convertible. With two different soft top models on display at the 1958 Turin Motor Show and the 1959 Paris Show, it would be the latter design that went into production as the Maserati GT Convertible. The following year, the fuel injection, five-speed gearbox model was introduced as the Maserati 3500 GTi at the Paris Motor Show. This would be the first Italian production road car that boasted fuel injection. It would be the same year that they renamed their convertibles for the export market and they became the GT Spyder and GTi Spyder.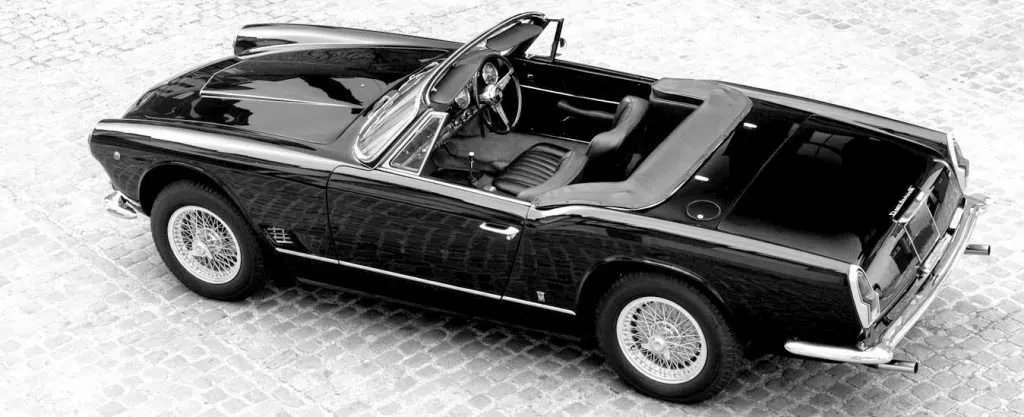 To further focus on the North American market, Maserati produced a two-door 2+2 coupe that would be named after their famous victory at the 12 hour Sebring Race. The Maserati Sebring enjoyed a higher top speed of 137 mph and able to reach 0-60 mph in 8.5 seconds. As another first for the Italian motor industry, this would be the first car to offer the option of having an automatic transmission. In the three years that this car was made only 345 units were manufactured.
For the rest of the Maserati 3500 GT models that were built over a seven year period, between 1957 and 1964, there were just over 2200 models coming off the production line; of those, only 245 were convertibles. In their first year of availability, they sold 119 units and their best year of sales, in 1961, they would manage to sell 500.
They were an immediate success. As soon as they went on sale they created a "buzz" that was felt from Hollywood all the way to the royal palaces of Europe. Two of the biggest names in Hollywood, Rock Hudson and Tony Curtis, had both bought one each and Prince Rainier III of Monaco was also a proud owner of a Maserati 3500 GT.
Initial Pricing vs Todays Pricing
The car's success was founded on both its high performance (and reliability) and its elegant design. This proved to be a great blend of road comfort and practicality with racing car drivability. This level of quality did not come cheap in those days either. Retailing at over $13,000, this was four times more expensive than the E-Type Jaguar and the same price as the Ferrari GTO at the time.
But sixty years on and this car is still as desirable as when it first rolled out of the dealer's showroom. With so few made over the short life span and not so many still roadworthy, the selling price of this car has soared and continues to rise. $200,000 should get you a decent hard top model though if you are holding out for a convertible then that could cost an extra $75,000. The later models with the better specifications will generate a higher price too.
Desirability
One of the reasons this model has remained so desirable to own is that it is still one of the best cars Maserati ever built, both in terms of design and performance. This car has only been equaled by their recent output over the last decade and a half. Maserati models of the late '60's and into the '70's, '80's and '90's were, on the whole, unimpressive. Due to the company's continued issues and lack of stability, it went through a variety of different owners and partnerships. This would see a rather disappointing production line of cars, especially in terms of their design. While setting the bar high with the 3500 GT, they would later be producing poor replicas of other brands. The Maserati BiTurbo of 1985 being a particular low point in aesthetics.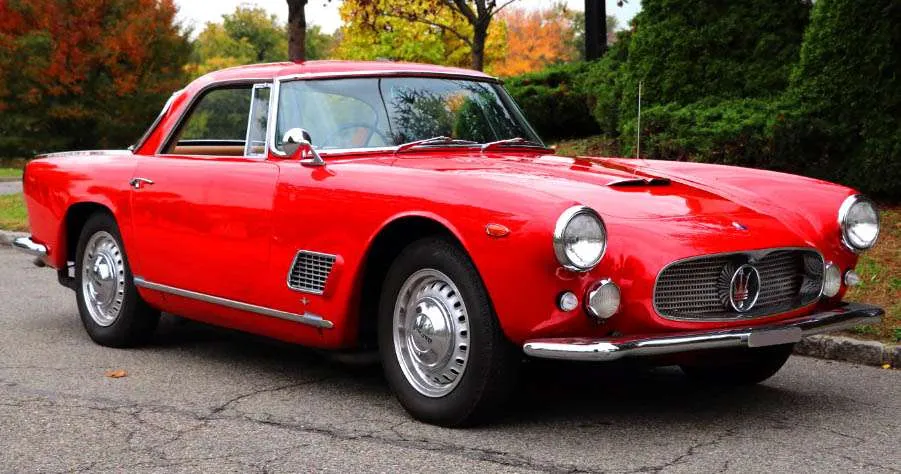 But, ironically, it would be after they ended they partnership with Ferrari that things really began to improve. When they were tied up with Alfa Romeo under the FIAT Group, in 2005, that they finally got back to producing high performance cars that we could be excited about again. It would be here that the Trident brand would hit some landmarks. On 9th June 2005, the 20,000th Maserati rolled off the lines – their four-door Quattroporte V. Two years later, in 2007, they would finally make a profit which they had not done in 17 years. But, if you sit down and focus on designing a high quality performance car that looks just as sleek and elegant it will garner financial success.
The Present and Beyond for Maserati
In 2007, the Maserati GranTurismo was released to similar accolades that the 3500 GT acquired exactly 50 years previously. Another two-door sporty sedan that still used a ZF gearbox, now as a six-speed automated manual or automatic transmission. Of course, over five decades, the performance has improved a lot. Acceleration has halved to just 4.5 seconds and the top speed has increased by another 50 mph. Brand new, these models are being sold at around $150,000 which is still 100K less than the original Maserati 3500 GT – so it must be a bargain?! But maybe the pricing makes sense when you compare the amount of units produced for each. In its 12 year production line, over 28,800 units were made which is over ten times more than what the original Maserati 3500 GT had produced. So this does make the 3500 GT more desirable to own.
But certainly, the only older model of Maserati that can sit beside the latest GranTurismo and not feel out of place is the 1962 Maserati 3500 GT. This is the natural successor to what the 3500 GT established and, when you look at them together, they have very close similarities in their distinctive styles.