In 2019, Chevrolet made the key decision to bring back their iconic model, the Blazer. This classic 4×4 had dominated the market in previous decades as a truck based SUV but this new rendition would delve into the lucrative VSU/Crossover segment. Brought back as a mid-size Crossover, the Blazer, was initially offered with three different engine sizes and several levels of trim.
Universally applauded for its daring exterior looks which used a lot of the hallmarks of the latest Chevy Camaro for its front fascia. More plaudits went to its driving performance and handling which made it one of the best in its niche segment. While the interior looked "camaro-esque", the quality of the finishing was poor. Only by investing in the luxury trims would the buyer see some improvement in this area although not to the required standard. Other criticisms of the SUV was the smallest powertrain which struggled to provide proper performance for the car.
Sales began well with the Chevy Blazer, as they sold 58,000 models in the first year then achieving 98,500 in sales in the following year.
So, let's bring this up to date with this 2021 Chevy Blazer review and see what changes (if any) have been made to the SUV/Crossover.
Chevy Power
The 2021 Chevy Blazer is offered with three different powertrains that all run from a nine-speed automatic transmission. The 2.5 liter engine provides 193 bhp and 188 lb-ft of torque. The turbocharged 2.0 liter creates 231 bhp while the 3.6 liter V6 engines pushes out 308 bhp and 269 lb-ft of torque.
Fuel economy is standard for the SUV segment, with the 2.0 liter engine getting 21/27 mpg city/highway from its Front Wheel Drive. The 2.0 liter achieves 22/29 mpg for the FWD option and 22/27 mpg for the All-Wheel Drive edition. While the 3.6 liter V6 engine makes 20/27 mpg (FWD) and 19/26 mpg (AWD).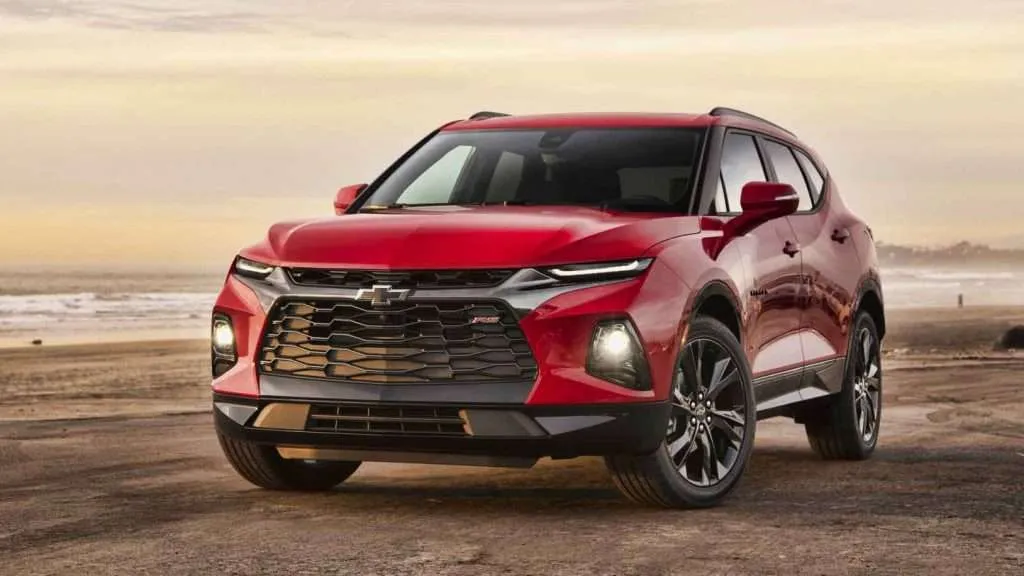 All driving reviews were unanimous with their opinions that the 2021 Chevy Blazer was the best handling Chevrolet SUV. Not only that but it was one of the most responsive across the mid-size budget segment. Its racy and aggressive Camaro looks are equally matched by its intuitive response on the road.
New to the 2021 Chevy Blazer was an increase in pulling power. A new trailering package was introduced to all models to allow the SUV to pull up to 4500 lbs. instead of the original 1500 lbs.
Chevy Styling
While the original Blazer was a steadfast but, relatively, simple design, the 2021 Chevy Blazer cuts a dazzling look amongst other nondescript SUVs on the market. With an oversized black mesh front grille supporting horizontal strip headlights, certainly ties it closer to the brand's flagship automobile, Camaro.
18 inch wheels are fitted to most models though the sporty Blazer RS has 21 inch rims. A wide selection of exterior paint is available and these have been modified for the 2021 lineup.
The Camaro motif continues inside the cabin with some nice design flourishes, especially the large round air vents in the dashboard. However, on closer inspection, the materials are very cheap quality and low grade switchgear. Only the higher trims provide any level of sophistication with leather upholstery and accents.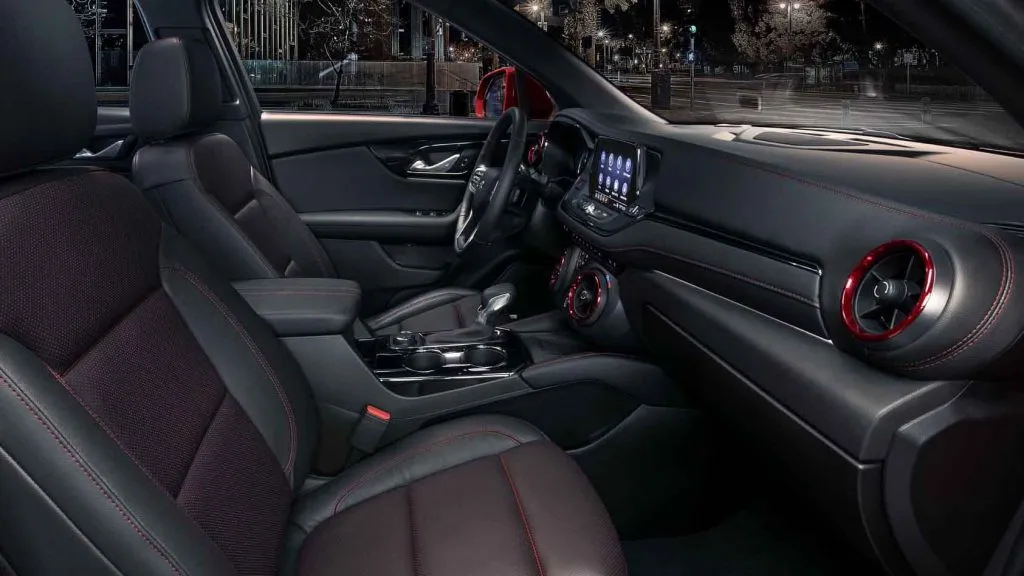 Cabin space is at a premium with front and rear leg room being very generous and a large amount of cargo space too. Cargo space with the rear seats up, allows 31 cubic feet while putting the seats down increases this to 64 cubic feet. In tests, reviewers were able to load 11 and 26 suitcases respectively. Around the cabin there are plenty of storage areas to make use of, as well.
Chevy Features
Every 2021 Chevy Blazer comes with an 8.0-inch touchscreen with Apple CarPlay and Android Auto capability. The system's interface is attractive and easy to operate. A pair of USB ports located at the front and on the back of the center console are standard; a 120-volt outlet is also available on certain models. The Blazer also can be equipped with a Wi-Fi hotspot, eight-speaker Bose audio system, built-in navigation, and wireless charging for phones.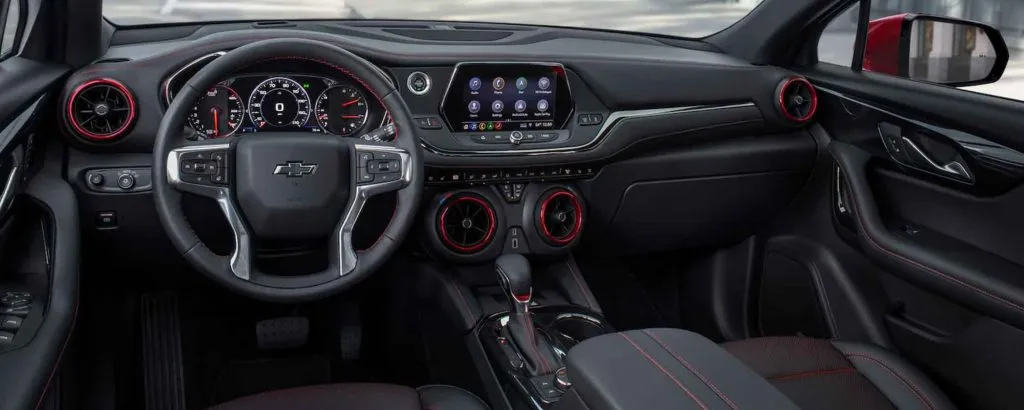 Other features include keyless entry with keyless access and push-button start, and alloy wheels. Also, remote start, upgraded alloy wheels, GPS navigation, SiriusXM Satellite Radio, a power sunroof, heated and ventilated front bucket seats with driver's memory, red interior accents (RS trim only), and a power tailgate.
The Chevy Safety Assist package includes forward collision warning, front automatic emergency braking, pedestrian detection, lane keeping assist, following distance indicator, and automatic high-beams. These are standard for all accept the bottom two trims.
Chevy Issues
The 2021 Chevy Blazer problems are still visible from where they were first discovered, in 2019. The main issue being the poor power performance of the "base" model's 2.5 liter engine. Though it is sufficient enough for moderate driving in urban and highways, it fails to deliver key acceleration when needed. In fact, for the 2022 Chevy Blazer, this engine iteration will be discontinued.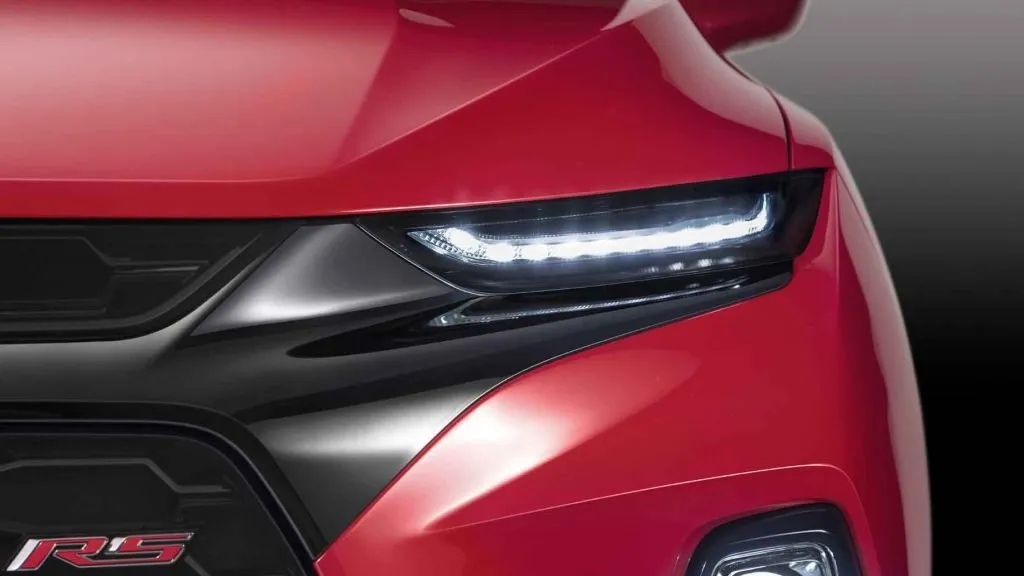 Other transmission issues observed has been the slow downshift when trying to achieve a higher rev count for acceleration purposes. While the larger 21 inch tires of the 2021 Chevy Blazer RS can be unforgiving on rough roads giving the occupants an uncomfortable ride. It is advisable to stay with the 18 inch set instead.
The low quality interior finishing is a big letdown still. To try and improve some of this quality, the buyer must invest in the more expensive trims though this does push the SUV/Crossover into a price bracket it cannot match with its quality it offers.
Chevy Dreams
Ever since the Chevy Blazer came out, there has been a continuing clamor for a high performance version of the Crossover. Many have dreamed about what the 2021 Chevy Blazer SS might look like and how powerful it could be. Any Chevy with the Super Sport badge has a lot to offer and fans were hoping for a large Camaro V8 engine to be put inside with a 400+ bhp to go with it.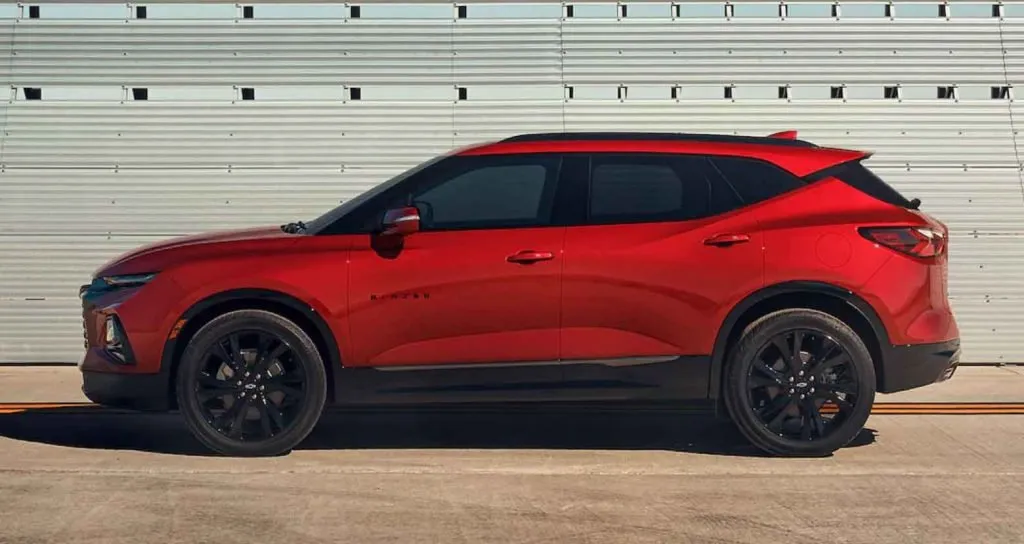 There were thoughts this engine block would be too big for the mid-size frame and a re-tuned RS V6 would be a better fit which could achieve a top speed of 155 mph.
Though there has been some talk in recent years, we are still waiting to see whether this will ever come out.
Chevy Values
The 2021 Chevy Blazer price ranges from just under US$30,000 and reaches to just under $44,000. The base model, L, shows a price tag of $29,995 while the other 2.5 liter, 1LT, is priced at $33,795. The remaining trims, offered with either the 2.0 liter turbo or 3.6 liter V6, begin with the 2LT and priced at $34,295. The two highest trims push the price up considerably, with the 2021 Chevy Blazer RS retailing at $42,295 and the Premier tops out the lineup at a cost of $43,895.
Chevy Beginnings
Though it generated a lot of excitement, when Chevrolet announced they would resurrect their iconic Blazer nameplate, it also caused some consternation that it would not return it its usual truck-based format. The thought of a Crossover being used for a Blazer seemed to be a long way from its past glories.
In the history of American SUVs, the Chevy Blazer is one of the Founding Fathers. The format began in the early '60s with the introduction of the International Harvester Scout, in 1960. This small light-truck was not expected to do much in the market and maybe sell around 6,000 – 10,000 units a year. But, by the following year, production was increased to 28,000 just to try and keep up with the demand.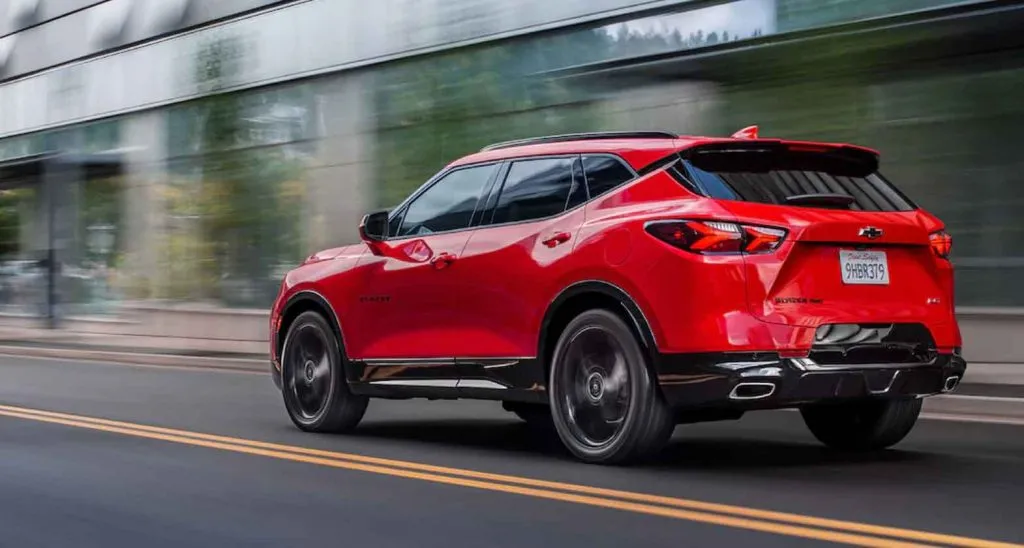 It wouldn't be long before Ford got into the segment and, by 1965, the Ford Bronco was released. With a similar body shape and usage, the two-door SUV had some strong engine output. Powertrains ranging from 2.8 liter straight-six, a 4.7 liter V8 (200 bhp) and both would be replaced with a 3.3 liter I-6 and a 4.9 liter V8.
During the 12 years of its first generation, Ford sold over 225,000 units of this American workhorse.
General Motors were watching from the sidelines and, in 1969, they rolled out a new Chevy SUV called the Blazer. Before bringing this new SUV out based on a truck platform, they decided to shorten the length and create something lighter.
Though released with little fanfare and subdued reviews, it would quickly convince the motoring world this was something to be reckoned with. Especially, with the powerful engine under the hood. With 255 bhp the '69 Blazer could reach 60 mph in 11 seconds which was 3.5 seconds faster than the Ford Bronco. This was the fastest 4×4 on the market.
In its first year it sold just under 5,000 units but within three years this had increased to over 44,000 being sold. The Chevy Blazer would reach a peak of 91,000 vehicles by 1979.
Overall, the 2021 Chevy Blazer is a great purchase. A stylish SUV/Crossover that delivers an exciting driving experience. Avoid the lower powered engine block and don't look too closely at the quality of the interior. Though this is very different from its origins, it does seem to be a worthy successor.
Is the 2021 Blazer a good car?
All round the 2021 Chevy Blazer is a decent car, there's plenty of amenities and things to get you excited. The styling isn't bad but that's subject to each individual an their tastes. The most unfortunate parts about this car is the subpar interior finishing and the lackluster motor that's doesn't provide much of a kick, well atleast for the lower spec model.
If the price wasn't as steep for the higher spec models then this would be a fantastic proposition, but you can chop and change the options to match what you're willing to spend.
How much is a 2021 Chevy Blazer fully loaded?
Towards the higher end models a 2021 Chevy Blazer RS retails at $42,295 and the Premier tops out the lineup at a cost of $44,395 for the top of the line 3.6L V6 engine. Then if you start adding options ontop of this you can quickly reach the $50,000 mark and above. Although, it's not necessary to spend that much to enjoy this car. With every single higher cost option selected on our build we were able to reach a total of $53,445, but it wouldn't be hard for us to deselect a few options such as the black accent package which costs $925 to lower the price.
How long will a 2021 Blazer last?
Longevity test are something we can't perform and have to actually witness new cars in the wild to assess properly. With new cars these days and the advancement in technology you can probably expect the new 2021 Chevy Blazer to last at least 200,000 miles or more. Just make sure you take the car for its regular maintenance to ensure it runs optimally.