2021 Nissan Frontier – The Reliable But Unremarkable Pick-up
When casting your eyes upon the 2021 Nissan Frontier, you might be mistakenly thinking you have entered a timeslip. This mid-size pick-up truck, from Japan, has not changed since it rolled off production lines in 2004. Three years before the first iPhone came out (and the truck still has no smartphone compatibility!) the Nissan Frontier had entered the competitive market segment.
Over the intervening years, this pick-up has proven to be a reliable, if unremarkable, workhorse. For buyers looking for something unadorned and basic in its simplicity, then the Frontier was the truck of choice. While many of its direct competitors outstrip it, in terms of higher quality specifications and technology, the Nissan Frontier keeps things simple and reliable.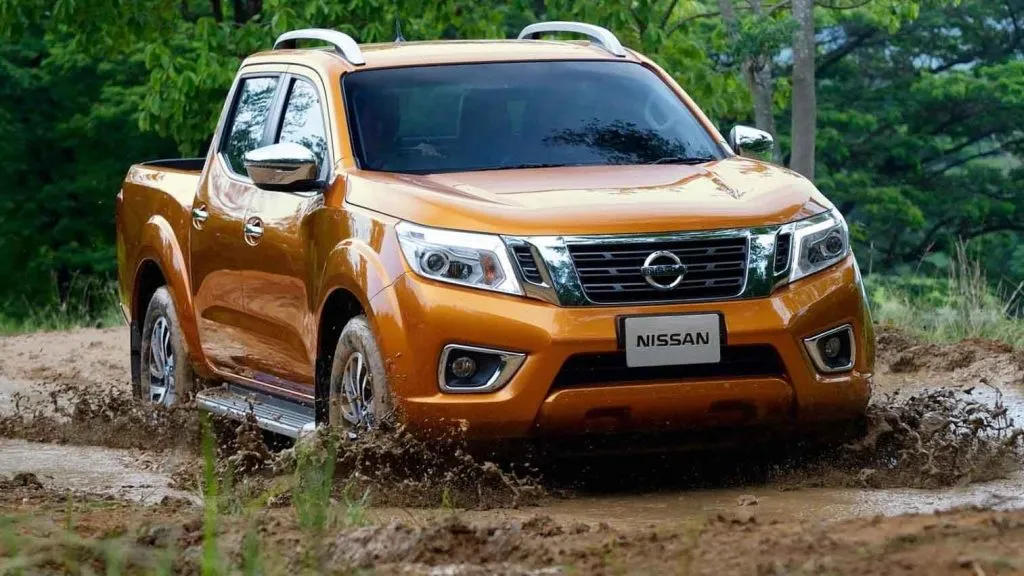 The 2021 Nissan Frontier model will be the final release of this second generation before the third generation comes out by 2022. So, let's take stock of what this pick-up truck has to offer now and what to expect for the upgrade. The 2021 Nissan Frontier review continues below.
Nissan Power-Up
The 2021 Nissan Frontier model has made one significant change to previous years. It has discarded its, much maligned, inferior 2.5 liter powertrain and installed the larger V6 in all models. The 3.8 liter V6 delivers 310 bhp and 281 lb-ft of torque and mated with a nine-speed automatic transmission delivering power to a rear wheel or four wheel drive setup. This has the capability of pushing the truck from 0-60 mph in 7.5 seconds and hits a limited top speed of 120 mph.
Horsepower for the 2021 Nissan Frontier is one of the best in its segment though other rivals, using smaller turbocharged powertrains, can produce more torque.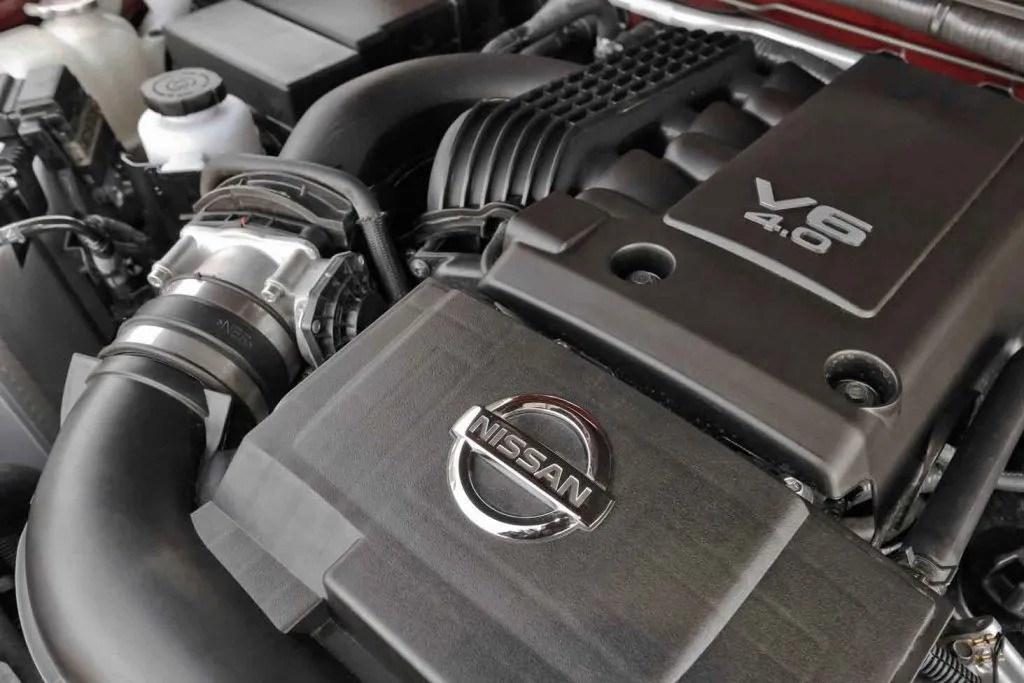 Fuel economy is not great as the RWD is supposed to give you 18 mpg in the city and 24 mpg on the highway while the AWD model shaves 1 mpg from both stats. Though in driving reviews, it was found to be even lower than stated with highway usage at just 20 mpg.
The 2021 Nissan Frontier towing capacity allows you to tow up to 6700 lbs. and carry up to 1400 lbs. of payload. This brings it in at the bottom of the list for towing capacity, as several other brands can pull 1000 lbs. more.
Bare Bones Pick-Up
Neither exterior or interior designs have changed since this truck came out and, even back then, it was a fairly tired and old dated look. The front of the cab has more of a '90s feel to it while the insides are adequately comfortable but very spartan.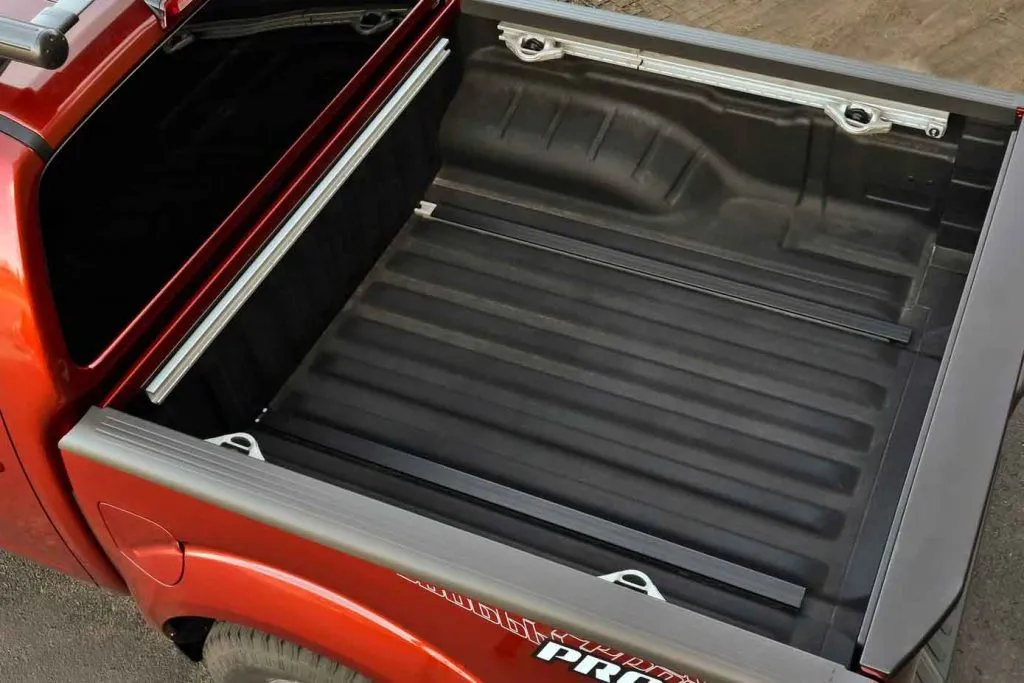 The plastic-heavy dashboard is as uninspiring as the cheap switchgear that sticks out of it, while the 7 inch touchscreen infotainment system is a living antique. Apart from Bluetooth connectivity there is nothing else to pair your phones to. Not to offend either brand, there is no Apple CarPlay or Android Auto as well as no WIFI hotspot.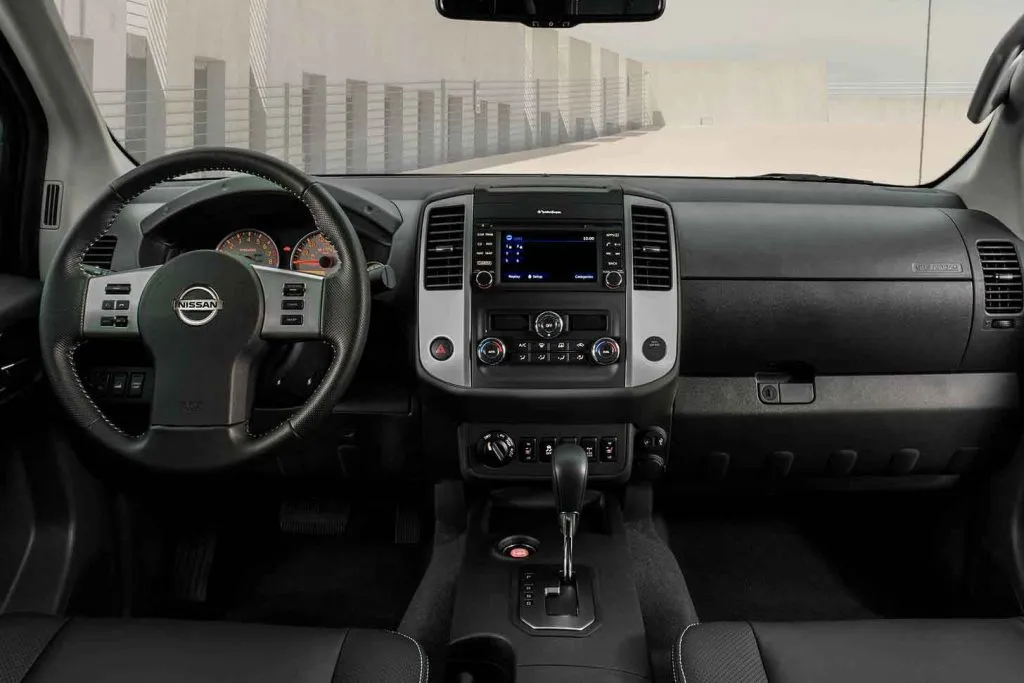 While front leg room is spacious, the rear seats are cramped. For the King Cab, this equates to 25 inches while the Crew Cab stretches this to 33 inches. But, from my own experience, I can contest that the restricted setting of the rear bench seat is very uncomfortable after any length of time.
The 2021 Nissan Frontier offers two different sized cargo beds. The standard wheelbase Crew Cab offers 59.5 inches while the King Cab and extended wheelbase Crew Cab offers 73.3 inches. Though both are 61.4 inches wide and 18 inches deep. By comparison, this is smaller than most of its rivals.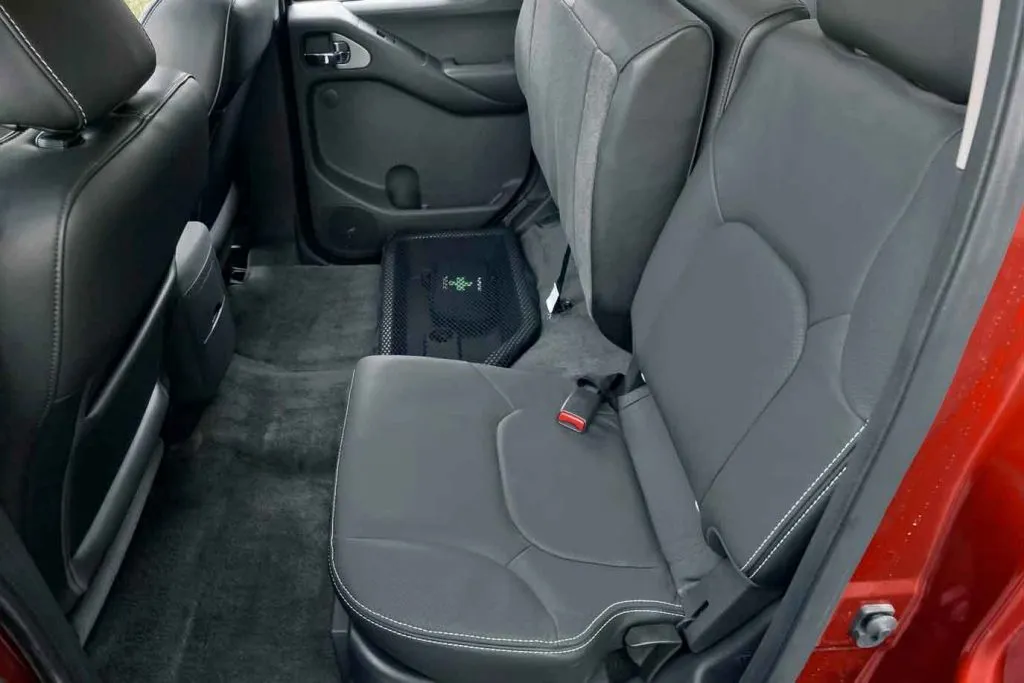 The 2021 Nissan Frontier is offered in four trims: S, SV, Pro-X & Pro-4X. The top of the range, 2021 Nissan Frontier Pro-4X is fitted with four-wheel drive as well as electronic locking differentials, Bilstein off-road shocks, and underbody skid plates.
Nissan On The Road
Driving reviews were unanimous that the V6 engine is a much better fit for its performance, handling basic road conditions well and at speed. Once the truck was taken off-road and hit steep dirt inclines and deep rutted trails, it managed this with aplomb.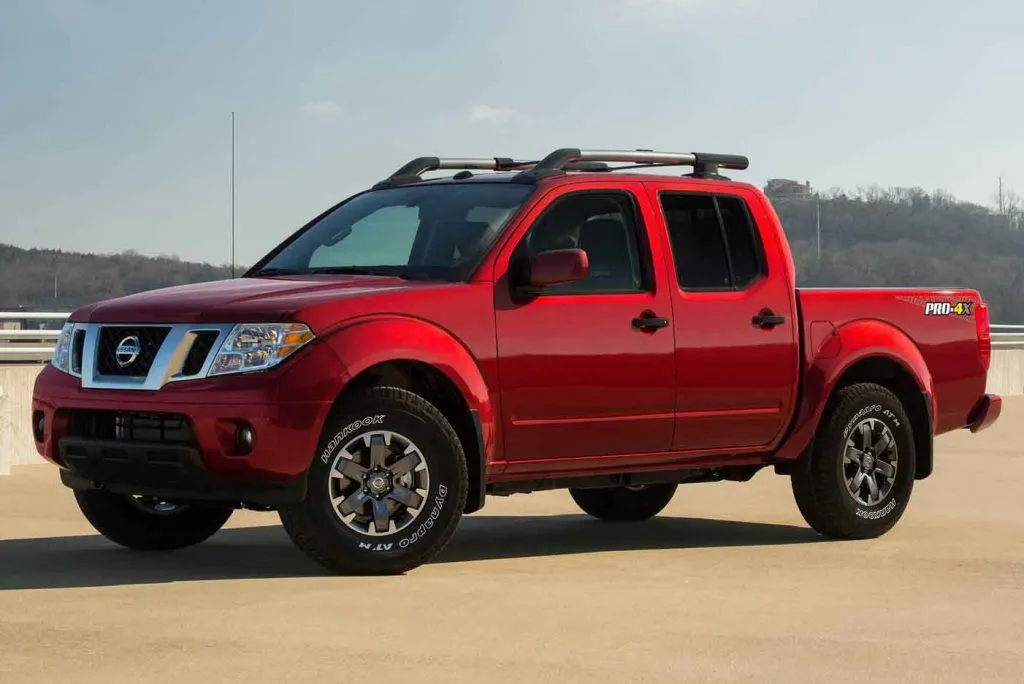 Where things went amiss was with the shift changing in the nine-speed gearbox. Upshifts were coming in too early while downshifts were too slow. When trying to maintain high speeds on inclined roads puts the transmission into a head spin as it continually adjusts, trying to find the right gear.
Nissan Safety Score
 Safety is not the 2021 Nissan Frontier's strong suit. It earns just four stars (out of five) in NHTSA safety testing with three-star frontal crash and rollover ratings. Under evaluation by the IIHS, it receives Marginal (second worst) and Acceptable ratings for small overlap front and head restraints/seats crashworthiness, and the lowest possible Poor rating for its headlights.
To compound this issue, driver-assist active safety features like automatic emergency braking, blind-spot monitoring, lane keep assist, and adaptive cruise control are not available on any Frontier.
New Look Nissan
The third generation of this Japanese pick-up would go some way to correctly some of the above shortcomings, though sadly not completely. The 2022 Nissan Frontier release date was set for September 2021 and, once released, quickly turned heads by its modernized appearance.
Taking a lot of cues from its "big brother", the Nissan Titan, the new exterior design was much more befitting for the decade it appeared in. A rugged new front grille and headlight combination along with accentuated side panels allows the pick-up to stand apart from the crowd.
The interior cabin has been given a good makeover too with some stylish touches. The artful front seats are rounded off with some snazzy red trim making them look very up to date while this red accent is continued through the dash to give the cabin some much needed style.
Infotainment has finally been modernized as the 8 inch touchscreen (or a 9 inch optional screen) is now compatible to both Apple CarPlay and Android Auto. Several USB-C ports have been included while a subscription-based Wi-Fi hotspot and wireless smartphone charging are optional. If an improved audio system is required then a 9 speaker Fender unit can be installed.
However, compared with many of its competitors, there are still many features that are not just standard but are not even available as optional extras.
Fitted with the same powertrain as the 2021 Nissan Frontier, the V6 engine in the new model can carry a further 160 lbs. as it can now carry 1610 lbs. though still towing the same load as the previous model. Test driving the Frontier, while it was pulling a trailer of 5700 lbs., found that the engine gets very noisy when trying to pick up speed. Anything over 45 mph the ride gets very loud. Fuel economy has not improved and still produces the same numbers as before.
Safety aspects have been greatly improved for the 2022 Nissan Frontier with the installation of Nissan Safety Shield 360. This includes automatic high-beams, automated emergency braking, and class-exclusive rear automated emergency braking. Other key safety features include blind-spot monitoring and rear cross-traffic alert, lane-departure warning & adaptive cruise control.
Nissan Prices
The 2022 Nissan Frontier price range begins with the entry level S at US$29,015. The Frontier SV trim retails at $31,715. The higher level trims start with the Pro-X priced at $35,415 and the top of the range 2021 Nissan Frontier Pro-4X goes for $38,415.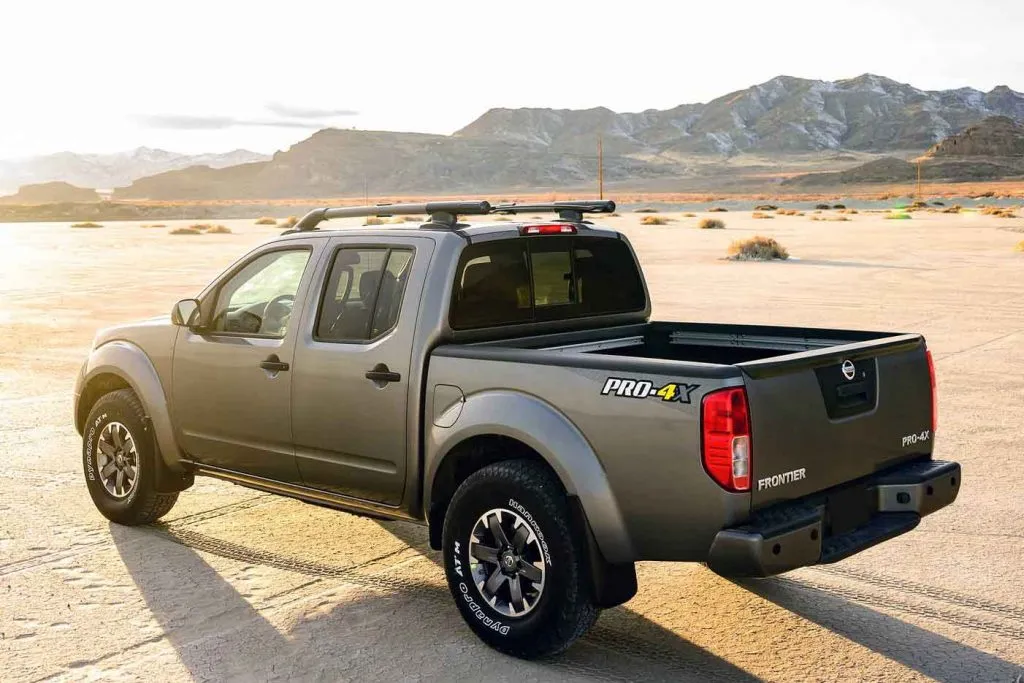 Our recommendation would be, considering all vehicles run with a V6, is to avoid the, higher priced, Pro trims and go with the SV trim. This gives you a good balance of standard features and value for money.
You Get What You Pay For
Whilst it has been noted that the higher trims do not provide the level of specifications and styling that you would expect for the price tag. The lower S & SV trims are perfectly adequate for what you are paying for. If your purpose is to use these vehicles as a strictly utilitarian / tradesman use then they are a good fit. But there are several mid-size pickups which offer a lot more for around the same price.
 Though to be considered a better option than the Toyota Tacoma or the Ford Ranger, there are four pickup trucks much more respected than the Nissan Frontier.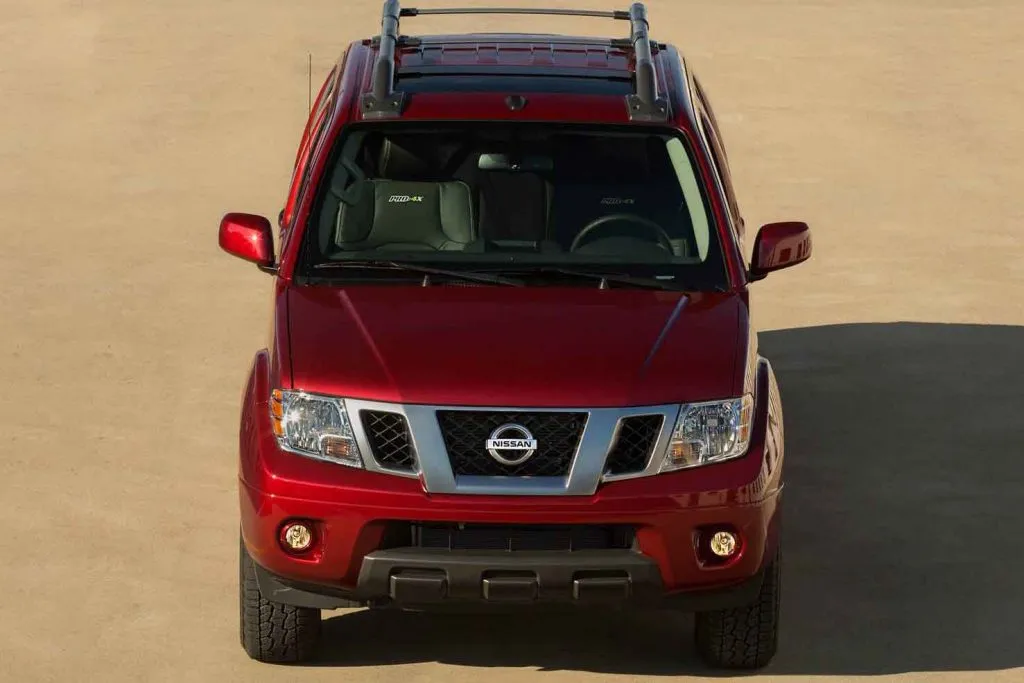 There are three American models which are regarded better, including the GMC Canyon, Chevrolet Colorado and the Jeep Gladiator. All of these have a better driving performance on or off the road while also having a stronger towing capacity. Though the Jeep's starting price begins at $37,000, the Chevy and GMC are priced lower than the Nissan at $26,000 and $28,000 respectively.
The best of the bunch is another Japanese model – Honda Ridgeline. While the 2021 Nissan Frontier receives a 7 out of 10 rating, the Ridgeline scores 9 out of 10. With a starting price of $37,700, it has an excellent and roomy interior and great road performance and fuel economy.
Though not specifically designed for off-road work and a towing capacity of only 5,000 lbs., this is still regarded as the best of the mid-size pickups on the market.