2021 Dodge Durango Citadel Review- Is It Worth Its Weight?
The 2021 Dodge Durango Citadel blurs the line between car and sport utility vehicles. The Citadel looks like a traditional SUV from the outside, but its unibody design allows it to drive more like a car. After being on the market for more than a decade, the 2021 Dodge Durango is still worth its weight.
The 2021 Dodge Durango Citadel is available in a 3.2-liter V6 or a 5.7-liter V8. It's marketed as the SUV for the whole family, with its three-row seats transporting up to six people comfortably. It's a vehicle worth its weight, blessed with heavy-duty towing capabilities (6200-7400 pounds).
The 2021 Dodge Durango Citadel comes with a very up-to-date navigation and entertainment system via a 10.1-inch touchscreen with the updated Uconnect interface technology, a sunroof, and chrome exterior trim. The upgraded Citadel features all the bells and whistles that you would expect from a crossover mid-sized vehicle.
2021 Dodge Durango Citadel Review
The 2021 Dodge Durango Citadel is fitted with a standard 3.6-liter V6 24-valve engine that kicks out 295 hp @ 6400 rpm with a torque of 260 lb. Ft @ 4000, paired with a shiftable 8-speed automatic transmission.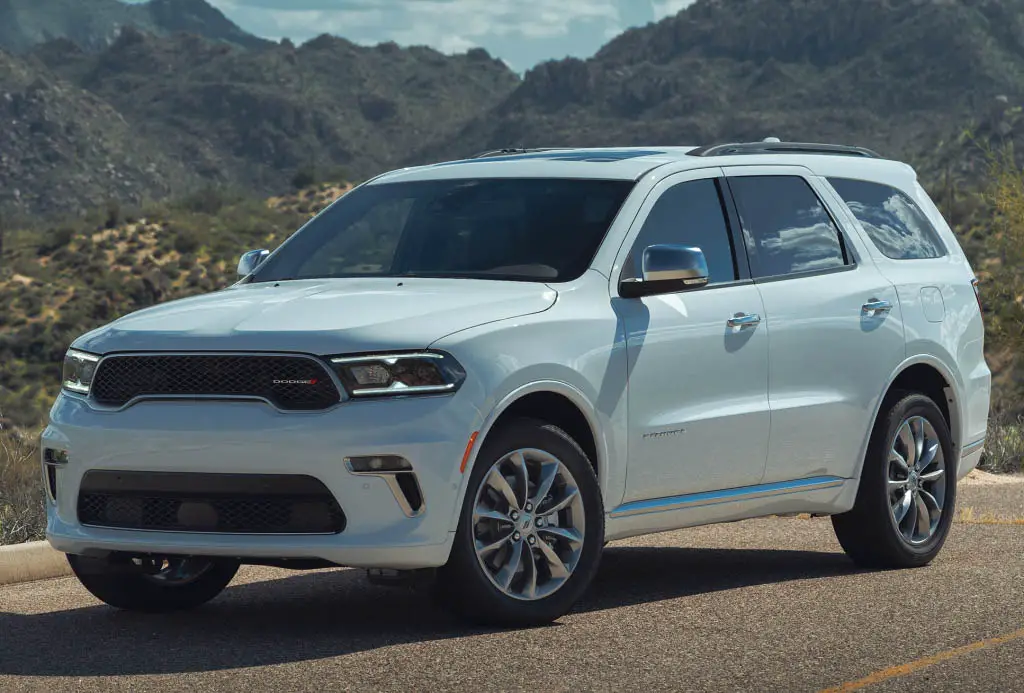 Some might suggest that this V6 is a little too light in the pants for such a big SUV, and if you agree with that assessment, feel free to rather opt for the 5.7-liter V8 Hemi engine. The Hemi produces a respectable 360 hp @ 5150 rpm and torque of 390 lb. ft @ 4250 rpm. The V8 does 0-60 mph in 6.2 seconds, pulling its weight with a powerful 7400 pounds towing capacity.
As with any choice in life where extra power is involved, there is a downside: the thirstiness of this engine. Compared to the V6 that gives you 18 mpg in the city and 25 mpg on the highway, the V8 will only allow for an estimated 14 mpg in the city and 22 mpg on the highway.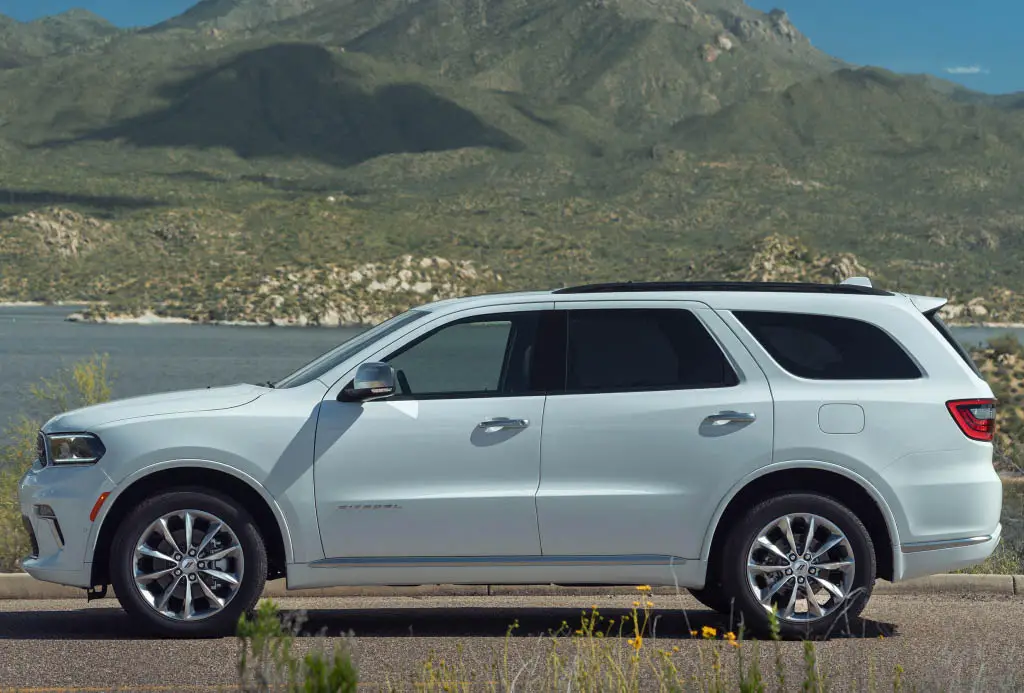 The fuel economy of the Durango is not the best found in the market, and you might want to look at more efficient SUV models on the market, but fans of the powerful Durango range gladly exchange some fuel for the rugged-looking, car-like driving experience that you find in a Dodge Durango.
2021 Dodge Durango Citadel Exterior
The exterior of the 2021 Durango Citadel has been improved in the following manner:
Updated Grille
Tweaked Front Bumper
New Headlamps
Amended Rear Spoiler
Chrome Exterior Trim
20" Satin Carbon Wheels
2021 Dodge Durango Citadel Interior
Time to tell you about the 2021 Dodge Durango Citadel's interior. The seats are leather, heated, and ventilated in the front. Second-row seats are also heated. The driver seat has memory settings, eight-way-power adjustable front seats, and extra four-way power-adjustable lumbar settings.
Three rows of seating are available, with the second-row captain's chairs decreasing the seating capacity to six adults. The seating is roomy and comfortably fits the intended passengers.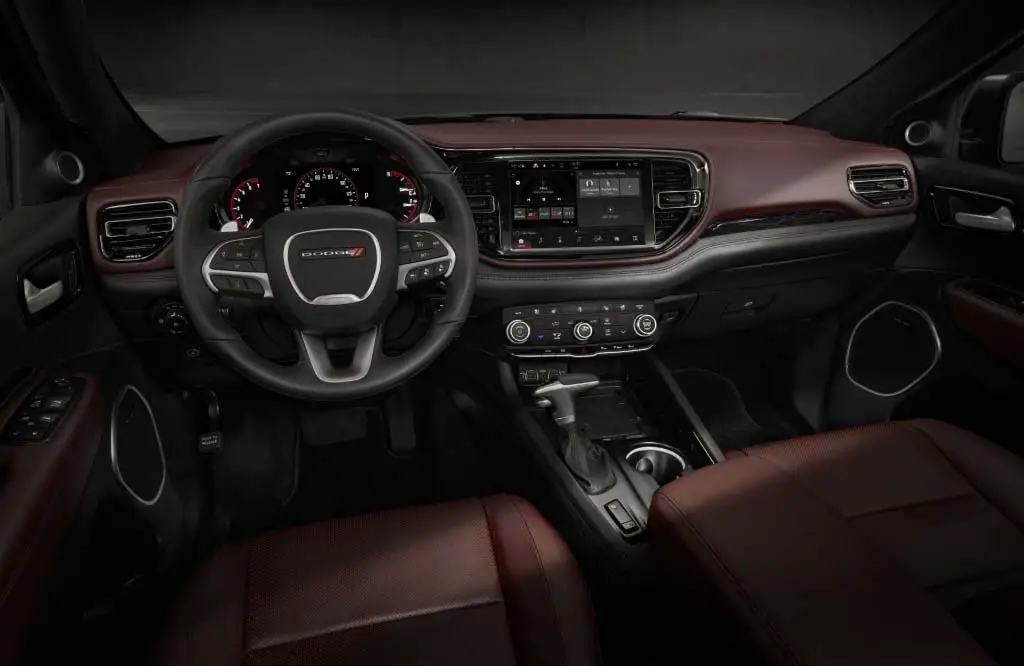 If you have young ones that still ride in their safety seats, you will be happy to find two sets of latch connectors and three additional tether anchors in the second row. The setup earned an "acceptable" from the Insurance Institute for Highway Safety.
The flat-bottomed heated steering wheel can be switched to power tilting and telescoping positions. The sunroof adds a splash of luxury to the interior, and the interface system is very driver-friendly and well designed in its layout and functionality (as described below.)
2021 Dodge Durango Citadel: Connectivity And Infotainment
The 2021 Dodge Durango Citadel is equipped with a 10.1-inch touch screen featuring an updated version of the Uconnect interface, rated by many as one of the best infotainment systems on the market,  with standard Apple CarPlay and  Android Auto already installed.
The wireless smartphone charging pad is also a lifesaver. A nineteen-speaker premium Harman Kardon stereo system plays the HD Radio with excellent clarity, and Alexa speaks loud and clear when you bark some instructions her way.
Also included are satellite radio, voice recognition, and in-dash navigation, with a 4G LTE Wi-Fi hotspot. The rear-seat entertainment system adds some dual screens to the mix and provides RCA and HDMI ports so that no passenger is excluded when it comes to keeping oneself busy on long trips.
2021 Dodge Durango Citadel Safety Features
Seeing that Dodge promotes the Durango as a family SUV, with a little bit of grunt and attitude on the side, we have to inspect the standard and upgraded safety features of the Citadel:
Forward Collision Warning With Active Braking
Adaptive Cruise Control With Stop
Advanced Brake Assist
LaneSense Lane Departure Warning
Lane Keeping Assist
Integrated Trailer Brake Controller
Blind Spot Monitoring
Rear Cross-Path Detention
The NHTSA scores the 2021 Dodge Durango a 4 out of 5 stars as an overall safety rating. 
2021 Dodge Durango Citadel Price
The price of the 2021 Durango varies according to the spec you selected, an inventory price for the 2021 Dodge Durango Citadel 3.6-liter V6 RWD MSRP at $49,727 and the AWD Citadel at $52,327. The Citadel fitted with a 5.7-liter V8 has an MSRP of $53,722, and the AWD Citadel has an MSRP of $56,322.
2021 Dodge Durango SRT Hellcat
As its name suggests, this cat is imbued with powers from the dark side. The 2021 Dodge Durango SRT Hellcat has no good intentions besides delivering a performance that can only be described as constantly driving in beast mode.
With a supercharged 16-valve 6.2-liter V8 engine (8-speed automatic) producing 710 hp @ 6100 rpm and beastly torque of 640 lb. ft @ 4300 rpm, a joyride can quickly turn into a ride from hell if you are squeamish when true power and speed is at work.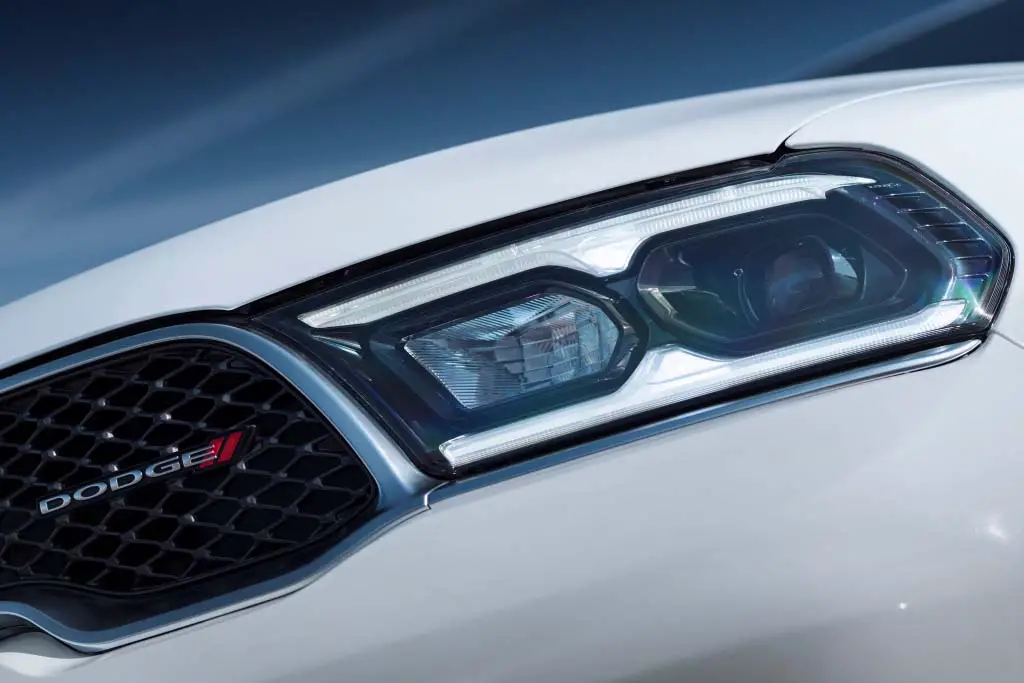 The Hellcat is by far the most powerful SUV built by Chrysler or any auto-manufacturer for that matter, and it's easy to understand why people are absolutely in love with the Hellcat. The all-wheel-drive system's extra traction system can pull the torque and horses to the pavement while the supercharger slams you back in your seat with authority.
The sound of the supercharger and exhaust system is primal and is well supported by its all-wheel-drive system and Brembo brake system. The brakes have been tested to bring this monster to a stop from 70 mph in 165 feet. The Durango Hellcat does 0-60 mph in a hellraising 3.6 seconds.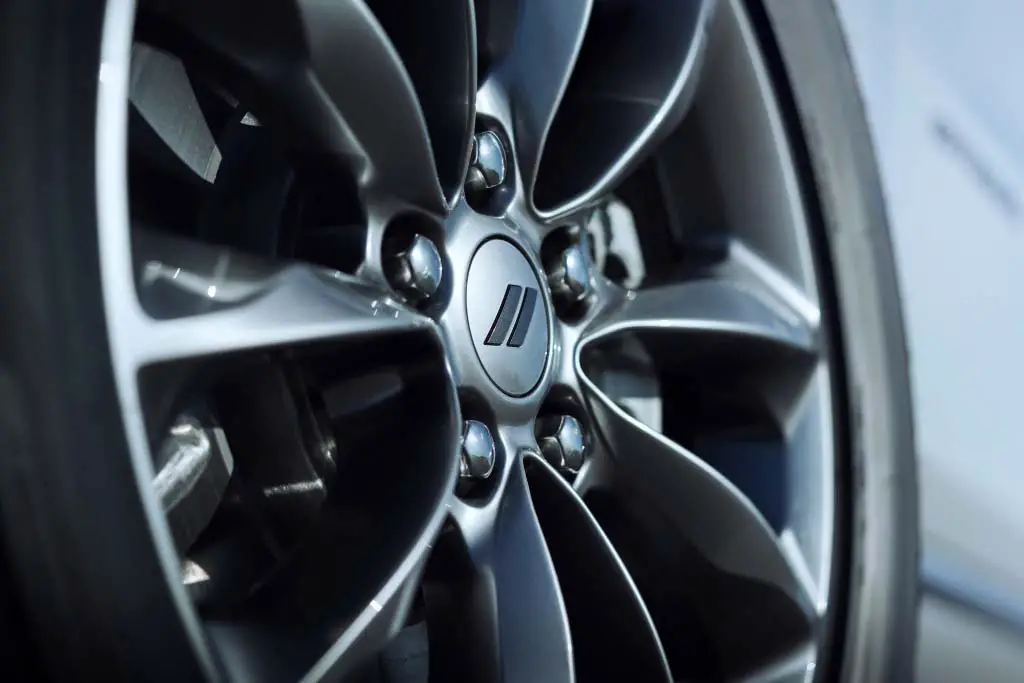 The Hellcat is the alpha male of the 2021 Dodge Durango range, and only 2000 models were made that sold out in no time. The towing capacity of 8700 pounds is indicative of its power, which is higher than any other mid-size SUV.
The suspension featured in the Hellcat is specially tuned (adaptive dampers), as it should be considering the amount of power available, to be gentle or firm and fast, depending on the selected drive mode. The Hellcat is fitted with Pirelli (20″ x 10″) all-season or three-season tires (Pirelli P Zero Run flats: 295/45ZR-20.)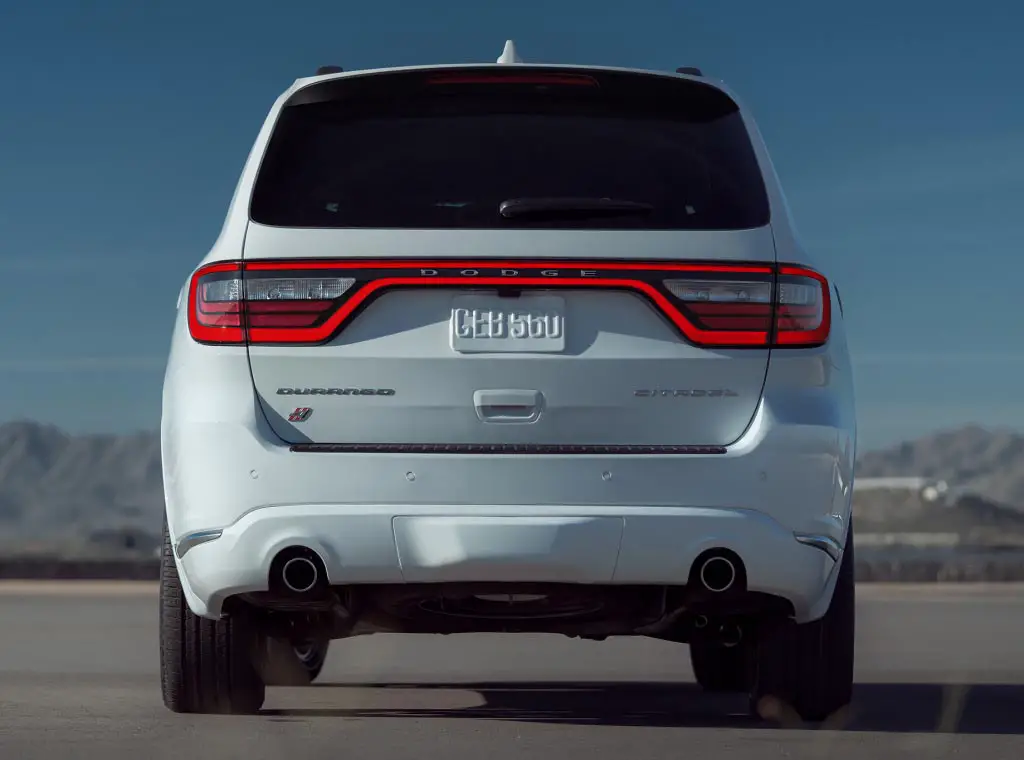 When driving this beast of an SUV, the only negative that I have to mention is the supercharger's hellish scream at low RPMs. Luckily, the impressive 19-speaker Kardon/Harman sound system was at hand to drown out the howl when necessary.
The layout inside is driver-orientated, similar to the Dodge Challenger dashboard. Nappa leather heated seats come standard, but you can upgrade it to Laguna leather in black or Demonic Red – embossed with Hellcat logos.
The Hellcat will cost you just over $80,000, a small price to pay to own the street's most powerful SUV.
Our Verdict on the 2021 Dodge Durango Citadel
Fuel is expensive, and I get that it's a serious consideration when looking at crossover vehicles that are not that fuel-efficient but have a look at the 2021 Dodge Durango Citadel before making any hasty decisions. Take it for a test drive. You will get why people love this abridged version of a car and truck.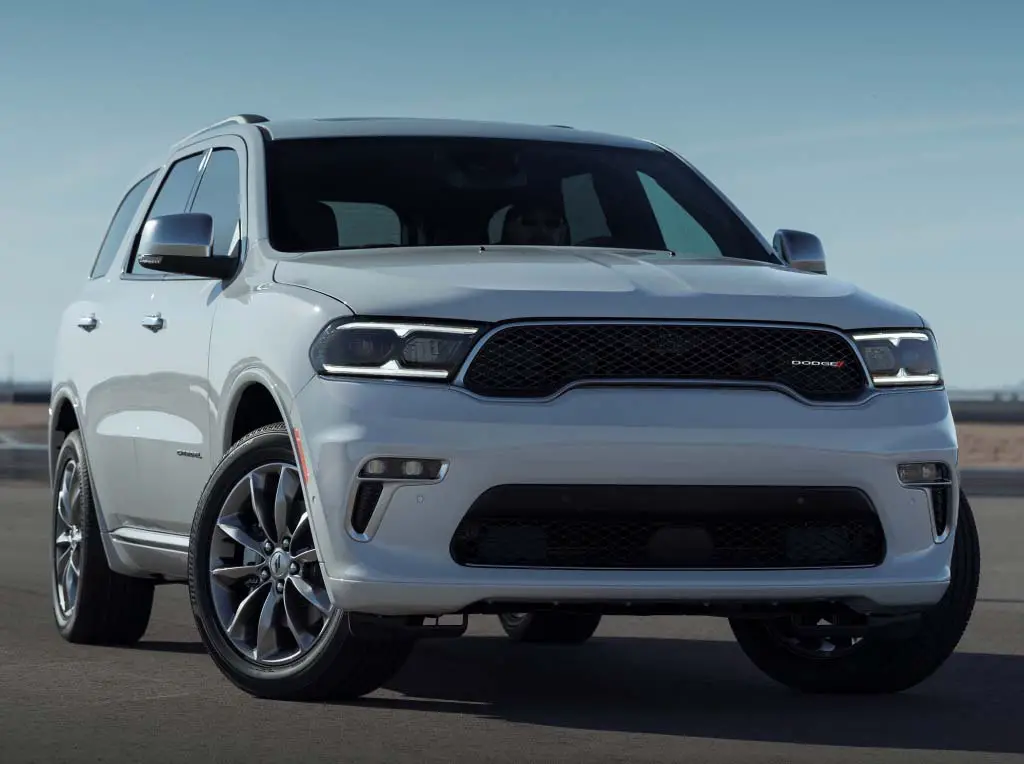 It feels like you are driving a powerful car that handles well, has ample power throughout the drivetrain, and fits your whole family; The best part is it fits all of their big toys as well, ready for any adventure.