2021 Volkswagen Tiguan – Stylish Urban Runabout
It is now 20 years since the German automaker, Volkswagen, entered the highly competitive market of SUVs. In that time, they have increased their output from just one model up to eight currently. But the, ever efficient, German car maker has big plans for the future. With plans of having a VW SUV represented in every auto segment, they are striving to be able to offer 30 different models around the world by 2025, including the 2021 Volkswagen Tiguan.
It's no surprise that Volkswagen have such big plans as they are one of the biggest global manufacturers of vehicles worldwide. In 2016 and 2017, they had the most sales globally while their biggest market, China, produced 40% of their profit and sales. By 2019, one in four cars that rolled off a VW production line was a SUV and the most of these was the Tiguan.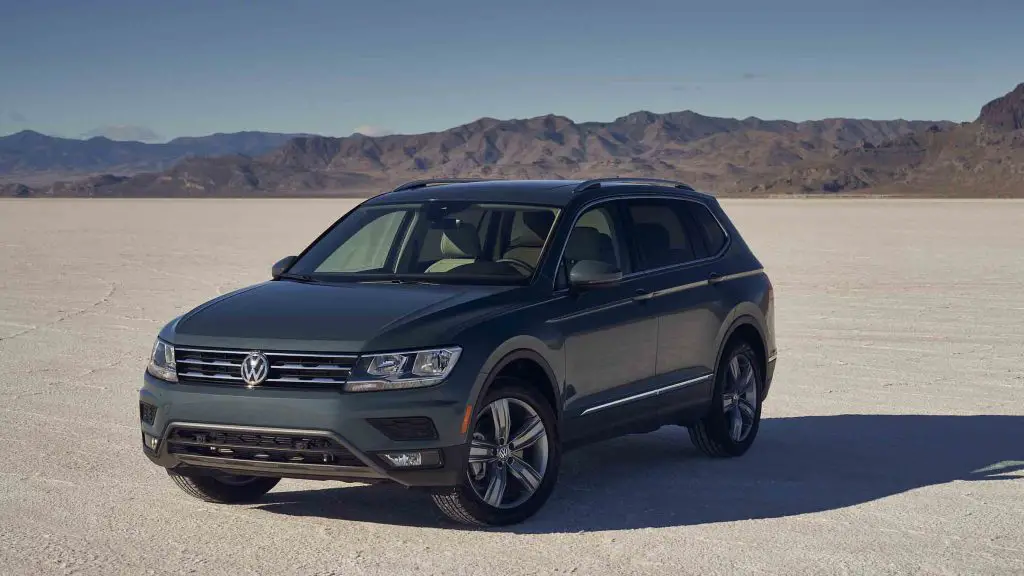 Since its release, in 2007, VW Tiguan (a name, picked by a naming competition from Auto Bild magazine, created by joining two German words together; the German words, Tiger and Leguan, which means Iguana, became the name of their bestseller) have sold six million units worldwide and over 900,000 were shifted in 2019 alone. These figures would make it Volkswagen's bestselling model overall and Europe's #1 SUV. Initially, offered with a choice of a 1.4 liter or 2.0 liter turbo gasoline engine, producing 148 bhp and 138 bhp respectively, and offered in three trims: S, SE & SEL.
2015 would see the introduction of a second generation which offered a short wheelbase or long wheelbase option for the VW Tiguan. This would allow the choice of whether having a third row of seats or just two. In 2020, VW would give the SUV a facelift while introducing a hybrid and a sportier version to the range.
So, in this 2021 Volkswagen Tiguan review, we will take a look at what's on offer and see why this has become VW's moneymaker.
Power To The People
Apart from the 2021 Volkswagen Tiguan R, all the Volkswagen SUV 2021 models, of their compact crossover, are powered by the same powertrain. A 2.0 liter turbocharged 4 cylinder engine produces 184 bhp and 221 lb-ft of torque. This, rather limited, engine block allows the Tiguan to make 0-60 mph in 9.5 seconds which is slow for the motoring segment. This is mated to an eight-speed automatic transmission.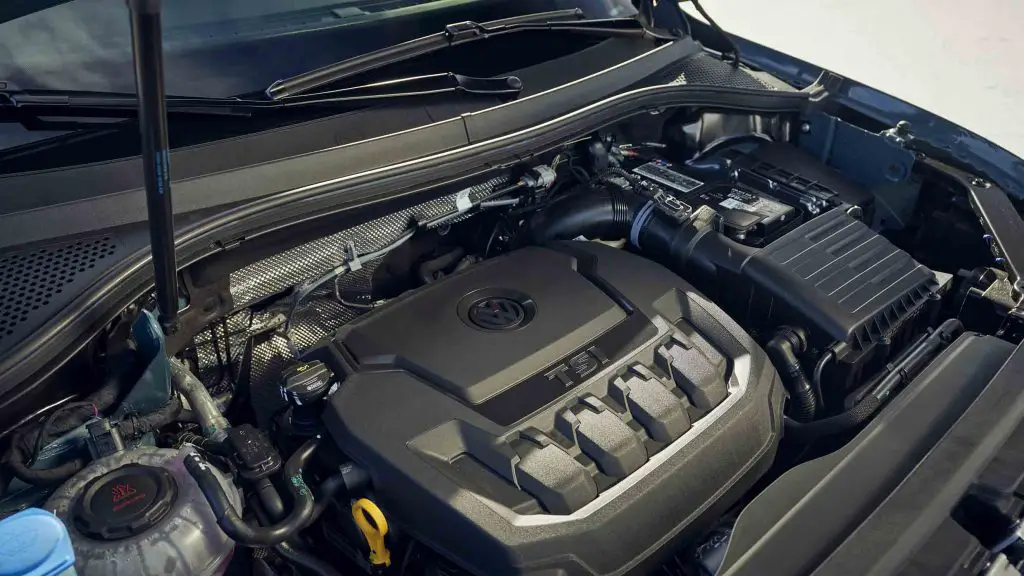 The 2021 Volkswagen Tiguan R line enjoys a significant boost, compared with the others, as its 2.0 liter turbo pushes out 316 bhp and 310 lb-ft of torque. The 0-60 mph dash is almost halved as it completes it in just 4.9 seconds. This gearbox uses a seven-speed dual clutch automatic arrangement.
Handling & Performance
All driving reviews have made comment about the Tiguan's driving experience – and it's not a good one for the most part. Both the transmission and the turbocharger are quite sluggish and underwhelming. Slow in acceleration and in its downshifts, it performs adequately on urban roads but less well at higher speeds on highways.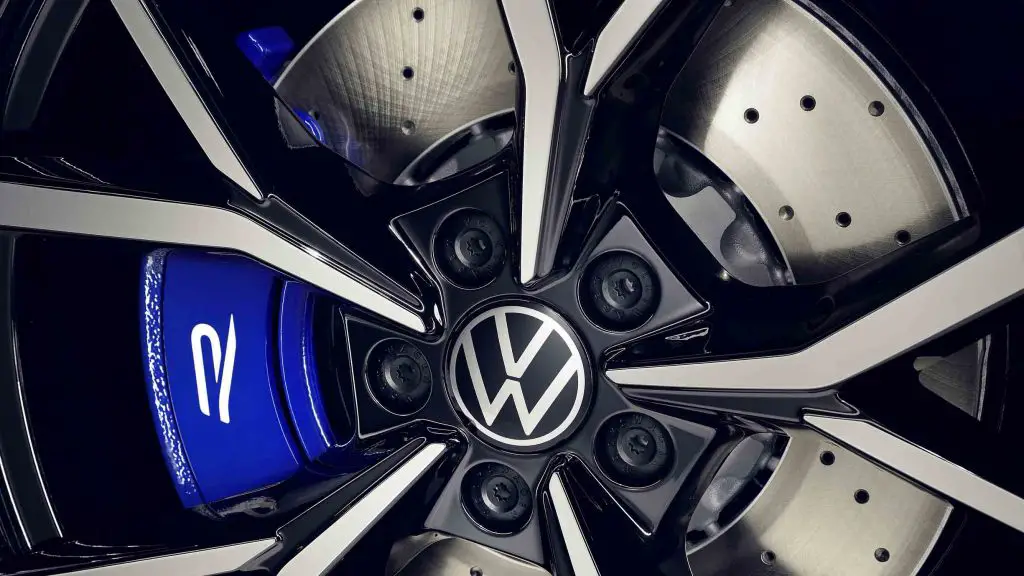 Steering and handling are also an issue as cornering is not as assured as it should be. While riding over rough terrain is not comfortable for the car or driver. Braking was a little softer than other VW models.
The VW Tiguan R line does a much better job of all of the above issues. Much more responsive dynamics with acceleration and handling as the adaptive dampers, in conjunction with the AWD, make for a much better grip on the road.
Fuel economy is at a combined figure of 24 mpg though one of the thirstier SUVs in its class.
Plenty Of Trim
The 2021 Volkswagen Tiguan configurations are quite varied and offer a lot of specifications. All models offer great space inside with both leg room and storage space come at a premium. In three-row Tiguan's, cargo space measures 12.0 cubic feet behind the third row. Capacity expands to 33.3 cubic feet when the third row is folded. With both rear rows folded, maximum cargo space is 65.7 cubic feet. In two-row Tiguan's, cargo volume is 37.6 cubic feet behind the second row, or 73.5 cubic feet when the second row is folded.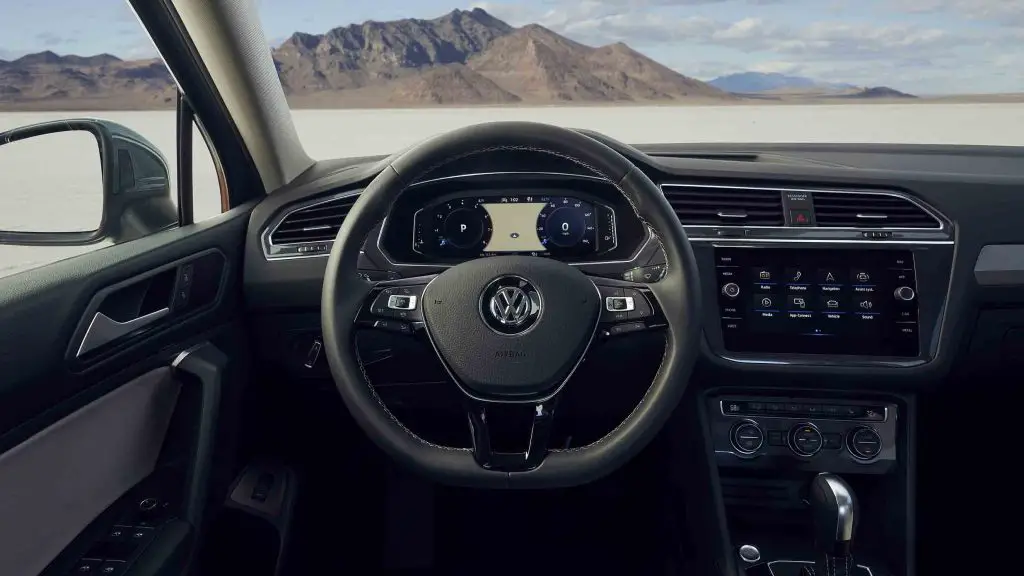 Front-row legroom is 40.2 inches in the Tiguan. Second-row legroom is 36.5 inches in three-row Tiguan's, 38.7 inches in two-row Tiguan's. Third-row legroom is 27.9 inches in the Volkswagen. Reasonable space though smaller than the Kia Sorento, by comparison. Cloth seats are standard unless you opt for the higher trims, in which you get a faux-leather upholstery.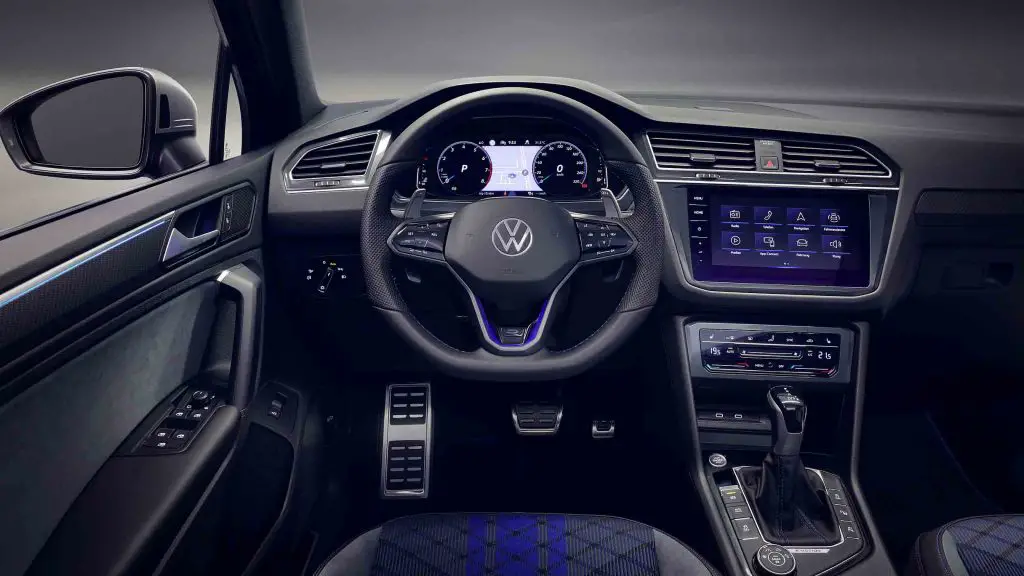 The infotainment system is offered with a 6.5 inch screen in the 2021 Volkswagen Tiguan "base" model while the rest have an 8.0 inch touchscreen. A very attractive glass screen with sleek, integrated buttons. This comes with a WIFI hotspot as well as connectivity to both Apple carPlay and Android Auto.  On their top trim, Premium SEL, they install a 480-watt, nine speaker Fender audio system. The audio system in the 2021 Volkswagen Tiguan is regarded as one of the best for the SUV segment.
2021 Volkswagen Tiguan – Plenty Of Features
The 2021 Volkswagen Tiguan is available in six trim levels: S, SE, SE R-Line Black, SEL and SEL Premium R-Line. While the latest, top of the line model is the Tiguan R. The third row of seats are standard on the FWD models while it is optional on the AWD.
The base trim kicks off the 2021 Volkswagen Tiguan line with these standard features: Halogen headlights with LED daytime running lights, LED tail lights, power-adjustable, heated side mirrors, 17-inch alloy wheels, 6.5-inch color touchscreen, single USB port, Apple CarPlay and Android Auto compatibility, Bluetooth connectivity, six-speaker sound system, cruise control, manually adjustable cloth front seats, roof rails, trailer hitch receiver, Volkswagen Car-Net mobile app with remote start, door locking/unlocking, parked location finder and other functions.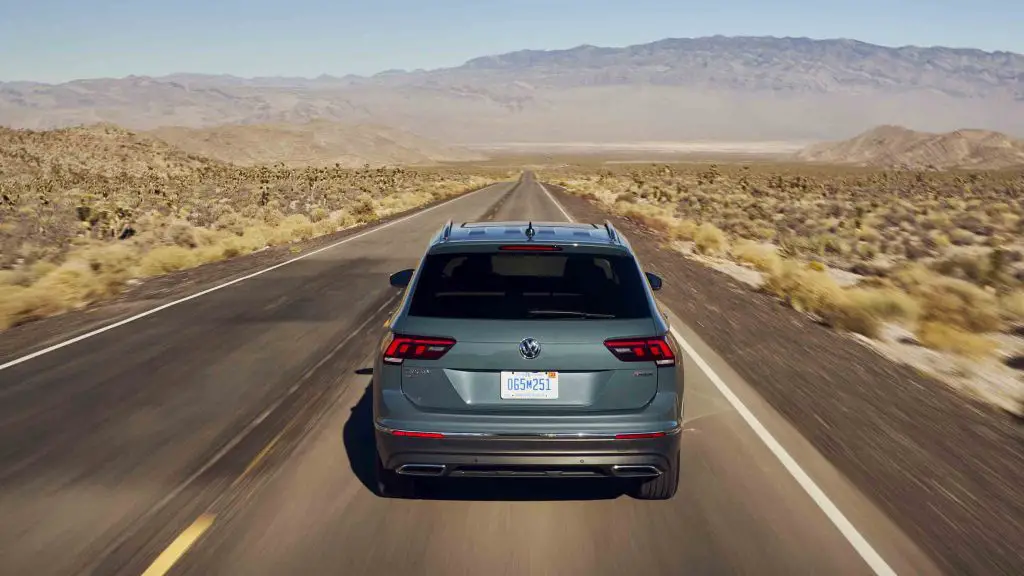 Standard safety equipment on every Tiguan includes: forward collision mitigation (warns you of an impending collision and applies the brakes in certain scenarios), blind-spot monitor with rear cross-traffic alert (warns you if a vehicle is in your blind spot during a lane change or while reversing).
The next level up comes with the following: push-button start, upgraded infotainment system with 8-inch touchscreen, wireless Apple CarPlay and Android Auto compatibility, wireless smartphone charging station, four USB ports, voice-activated controls, simulated leather seating surfaces, power-adjustable driver's seat, heated front seats, dual-zone automatic climate control, adaptive cruise control (adjusts speed to maintain a constant distance between the car and the vehicle in front).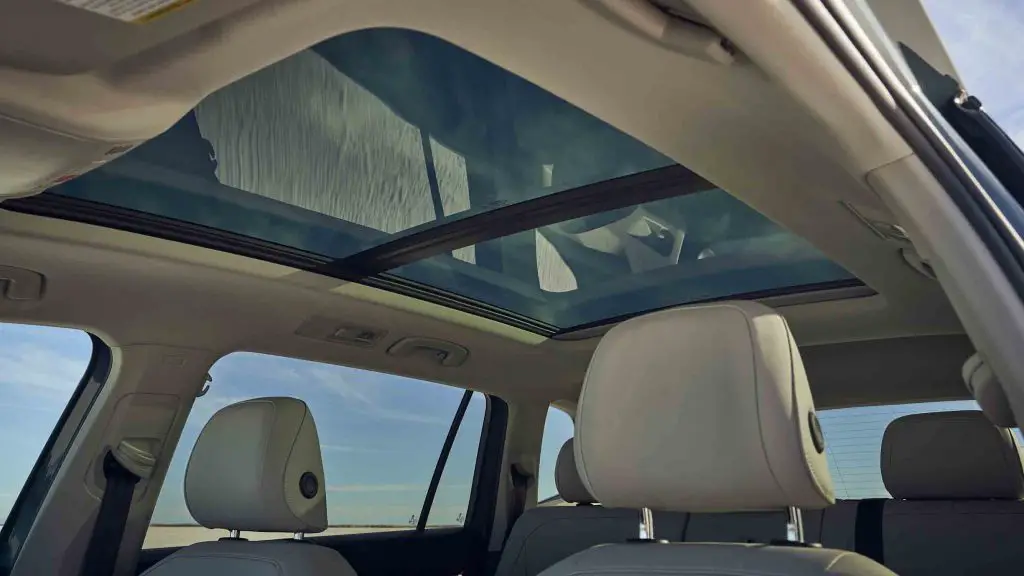 The SE R-Line Black comes with unique dark styling and numerous luxury add-ons: black exterior and interior accents, 20-inch wheels, adaptive fog lights that turn in the direction you steer, leather-wrapped steering wheel, panoramic sunroof, black roof rails, front and rear parking sensors (alert you to obstacles that may not be visible when parking).
The SEL is a well-equipped trim that tacks on the following: 19-inch wheels, rain-sensing windshield wipers, remote start, 10-inch digital instrument display (VW Digital Cockpit), navigation, heated steering wheel, power liftgate, lane keeping assist (steers the car back into its lane if it begins to drift over the lane marker).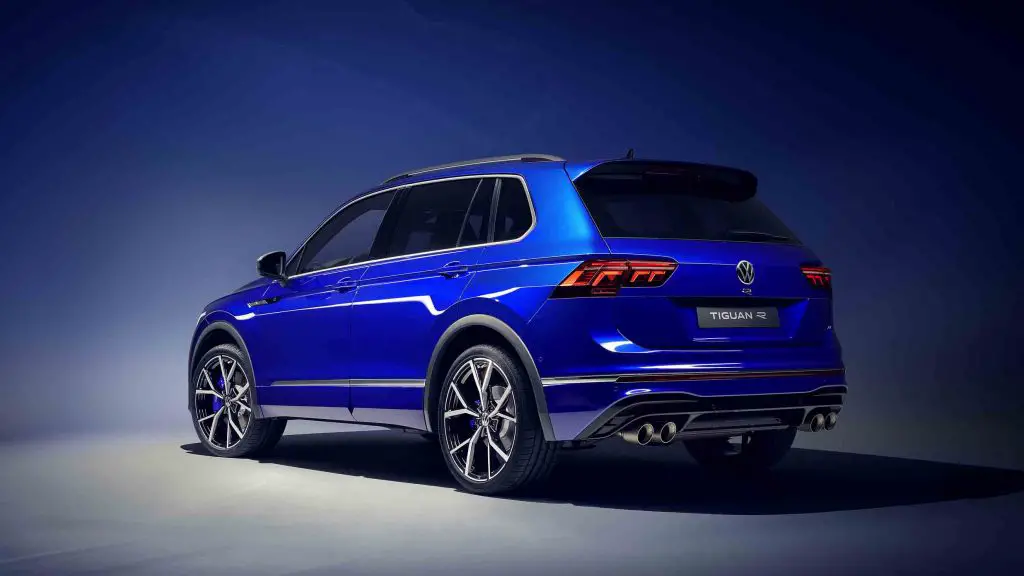 SEL Premium R-Line is packed with standard features: all-wheel drive, LED headlights, power-folding side mirrors with ground-projecting lights, 20-inch wheels, nine-speaker sound system, driver-seat memory settings, power-adjustable passenger seat, leather seats, ambient lighting, hands-free tailgate, 360-degree surround-view camera (gives you a top-down view of the car and its surroundings for tight parking situations), automatic high-beam assist
The latest Tiguan R pushes these specs to greater heights with sports seat upholstery, more ambient digital dashboard lighting and a more intuitive 9.2 inch touchscreen infotainment system offering wireless Apple & Android connectivity.
2021 Volkswagen Tiguan Price
Pricing begins competitively with the base, S model tagged at US$26,440. The SE model (the iteration that is most recommended) retails at $29,890. The SE R-Line Black model has a price tag of $33,090 while the SEL costs $35,040. The Premium R-Line $40,290 but then there is a big jump to the Tiguan R which has a UK retail price of GBP45,000 which is around the $60K mark.
Conclusions
For most of the range, the 2021 Volkswagen Tiguan is a very well-presented and comfortable ride around town. Smooth and quiet around city streets, it is a perfect SUV for a sedate journey. This is not a high performance SUV, like some in the segment, as the mediocre 2.0 liter turbo is not tuned to that effect.
Unless you purchase the top of the range, Tiguan R, which excels at handling and performance, and really makes an impact on straightaways and twisting roads. Certainly, the better model to recommend if the higher price for a mid-range SUV doesn't put you off. But probably, if you have the budget to spend on a $60K 2021 Volkswagen Tiguan you would probably invest in something different, anyway?
Our recommendation would be, is to stick to a lower spec model and cherish the SUV as a discreetly elegant urban runaround. The SE would be the best bet, considering all models have the same powertrain, as it provides a decent selection of features without the cost beginning to rise quickly.