When we think of Maserati we think of luxury, excitement and seductiveness. Exotic high performance sports cars and grand tourers that ignite passion and desire in any driver with a pulse. But that was not always the case.
There was a time Maserati thought it might be a good idea to create family sedans for the "common man". Let the ordinary man on the street experience a taste of the Trident's allure. The result would be the Maserati Biturbo. This Maserati conundrum would be a flawed experiment for the Modena carmaker and it was heavily rumored that its ignoble reputation in America would lead to the Trident leaving the US market and not returning for 11 years.
This might have some credence as, in 1984, Time Magazine voted the Maserati Biturbo as the "Worst Car of the Year". In a, now infamous, Top Gear episode, Jeremy Clarkson rather succinctly summed up his review of the car by dropping a metal dumpster on to it from a great height!
But despite such low accolades, the automobile would have a long life from 1981 until 1997 (though the last three years under a different name completely) and become available in multiple formats and derivations.
So how did Maserati get to this decision in the first place? And was the car really that bad?
A Good Idea at the Time
To understand where this original thought came from, we must go back to 1976. It was here when Maserati were saved from liquidation by the rival Italian motor company, De Tomaso. Their owner and CEO, Alejandro de Tomaso had some specific ideas and new directions for Maserati. His very first decision would be, on his first day, to dismiss the longtime chief engineer, Giulio Alfieri. He had served at the carmaker since 1953 and had been intrinsic to all of Maserati's iconic automobiles. It does not take much hindsight to realize how much of a mistake this was to what followed.
He would inherit their current lineup of mid-engine sports cars – the Maserati Bora and the Maserati Merak – and replace it with a family sedan instead. He wanted to offer the flair and excitement of what Maserati stood for and make it more usable and at a lower price. The chance to give all ordinary Italian men a chance to own a car with a Trident on the front.
In that regard, the project was successful as, during its lifespan, Maserati shifted 38,000 units of the Biturbo. But a plethora of mechanical and electrical failures would curtail any long term confidence in the car and, almost single handedly, destroy Maserati's reputation.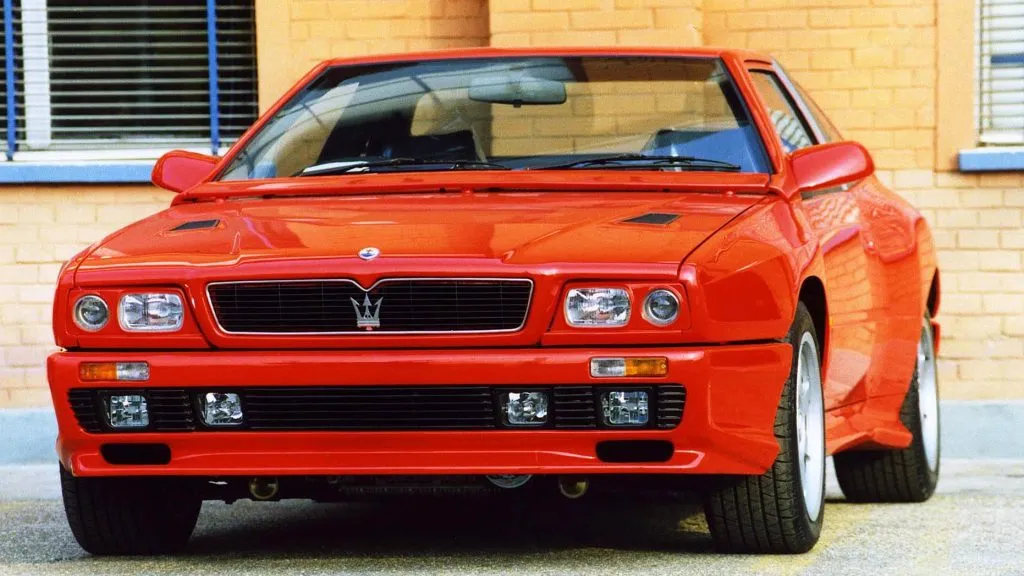 A Collision of De Tomaso and 80's Styling
The Maserati Biturbo would be designed by the De Tomaso stylist, Pierangelo Andreani, who had designed most of the rival carmaker's output (which were known for not being very nice to look at). As requested, he would produce a body shape that checked all the boxes for what was required.
When it was first unveiled, in 1981, it looked like every other family sedan that was on the market (and looking very similar to the BMW 3 Series of the time). A very simple and unremarkable body shape that happened to be sporting a Maserati logo on the front. At least they tried to install some luxury to the interior as every surface was awash with leather and wood inserts.
As the years rolled on, they would tinker with the exterior design of the Maserati Biturbo and try and improve on its average looks. In 1983, they livened up the front facia with a revised grille, headlights and (the wonder of the 80's) fog lights and a front spoiler below them, while adding a two-tone strip along the side of the car. The year after, they introduced a Spyder edition which, again, looks eerily like the convertible BMW 3 Series of that era.
By 1986, redesigning had softened the edges even more and a wraparound front bumper was now fitted along with more rounded headlights and grille. A fixed top version of the two-door Spyder was brought out in 1988 that was known as the Karif.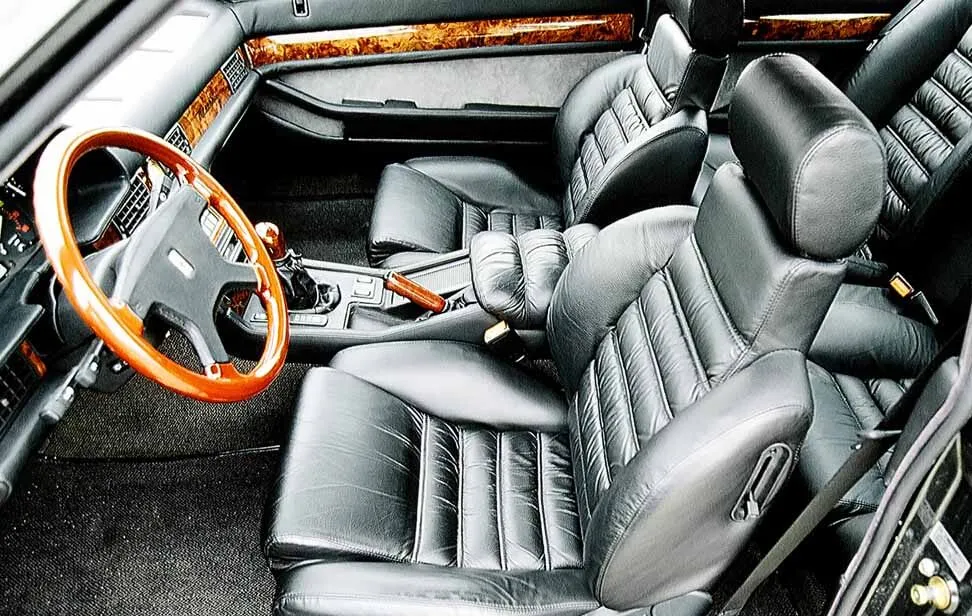 By 1990, some of the best looking Maserati Biturbo models came out (but this is a low bar) with the 222.4v and the Shamal. The latter being their most "racey" version of the model so far with aerodynamic lower bodywork being typical of the era. A sportier looking front with headlights sunk into the bodywork and a slimmer grille while the door mirrors have been redesigned to reduce drag. The interior was still sumptuously laid out with leather and sporting a nice wood-finish steering wheel.
Its final design would be under a different name entirely as the Maserati Biturbo was given the name of the Ghibli II. Despite the name change, the body looked exactly the same as previous models with just some upgrade to the front facia again.
Power Under the Hood
During the intervening years, the Maserati Biturbo would see multiple upgrades and revamps to its engine. Taking its basis from the Merak powertrain, three sizes of the twin turbocharged V6 engine (2.0L / 2.5L / 2.8L), which was the first for any production car, would be available and these saw changes from using carburetors to fuel injection, 3 valves per cylinder up to 4 valves. Over this time the transmission would be modified as well with ZF providing a five-speed manual as well as three-speed and four-speed automatic gearboxes.
The reason for the lower power output was for the heavily regulated domestic market. The majority of the production would be sold within Italy and there were high taxes slapped on vehicles with engines bigger than 2.0 liters. So, to avoid the 38% tax hike, they kept their domestic product under the magic number.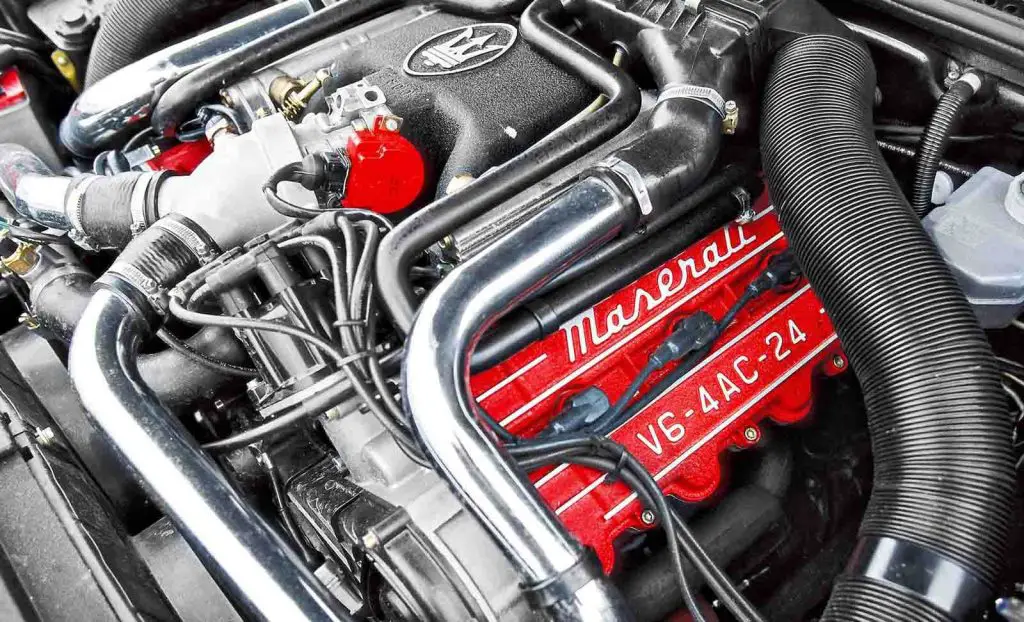 The basic Maserati Biturbo produced 180 bhp and 187 lb-ft of torque while the Biturbo S made 205 bhp and even later models with the 2.0 liter engine got even more power. The Biturbo Si made 220 bhp and the 222 4v got 245 bhp though the Racing edition achieved 285 bhp.
For the export market, Maserati produced the 2.5 L engine and, in 1988, upgraded this to a 2.8 L version. The former powertrain gave 185 – 188 bhp during its lifespan while the 2.8 liter saw output rise from 250 bhp up to 280 bhp.
The Need for Speed
Considering the era of the early 1980's and these were regular production vehicles, their acceleration and top speeds were exemplary for their class. The export models could make the 0-60 mph dash in 6.5 seconds and hit a top speed of 135 mph which, for 1982, was very impressive. The later and more powerful models would push these numbers further still.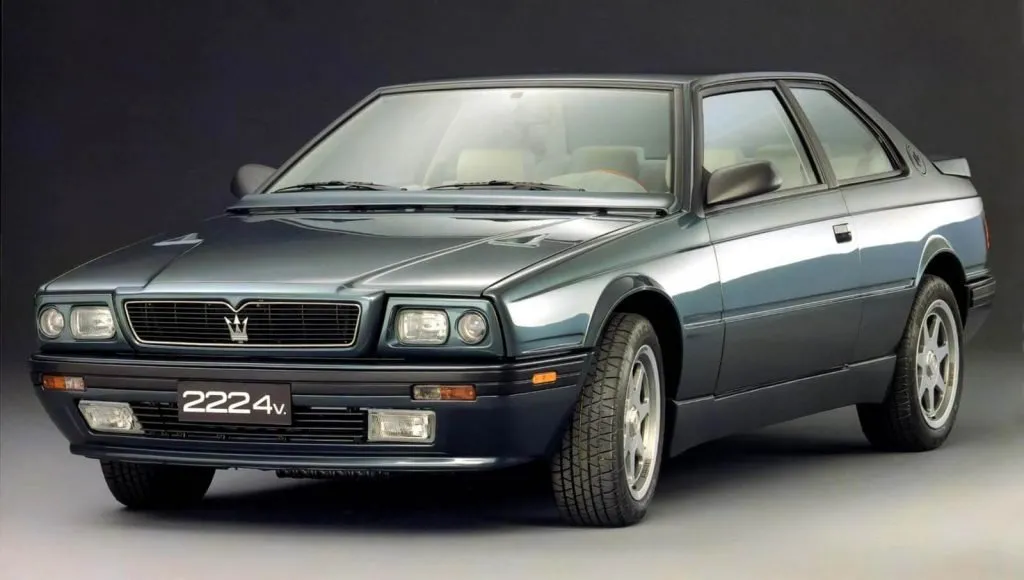 The high performing 222 4v had 319 lb-ft of torque and reach a top speed of almost 160 mph. The Karif could accelerate from 0-60 mph in 4.8 seconds which was faster than most vehicles on the road at that time.
Reviews, at the time, heralded the car's handling and steering performance. Being able to maintain a good driving line at high speed with minimal drift or body-roll.
Top of the Class
The most powerful of the lot was the 1990 Shamal. This Maserati Biturbo was fitted with a 3.2 liter 32 valve dual-overhead-cam twin turbocharged V8 engine. Also fitted with a six-speed manual gearbox from Getrag (a rare outing away from ZF transmissions), this produced 325 bhp and made the 0-60 mph sprint in 5.3 seconds while hitting a top speed in excess of 168 mph. This put it into supercar territory.
Change of Name
In 1992, the Maserati Biturbo was given another major overhaul as well as a name change as it inherited the iconic Ghibli moniker. Production models came with two different twin turbocharged V6 engines, one for the domestic Italian market and a more powerful export version. The domestic 2.0 liter 302 bhp (the highest output of any production car at that time) and 275 lb-ft of torque. It could accelerate from 0-60 mph in 5.7 seconds and hit a top speed of 158 mph.
Though the export edition had a bigger 2.8 liter engine, it was actually a slower car. It created 280 bhp but giving 305 lb-ft of torque that only allowed it to make 0-60 mph in 6 seconds and reaching a top speed of 155 mph.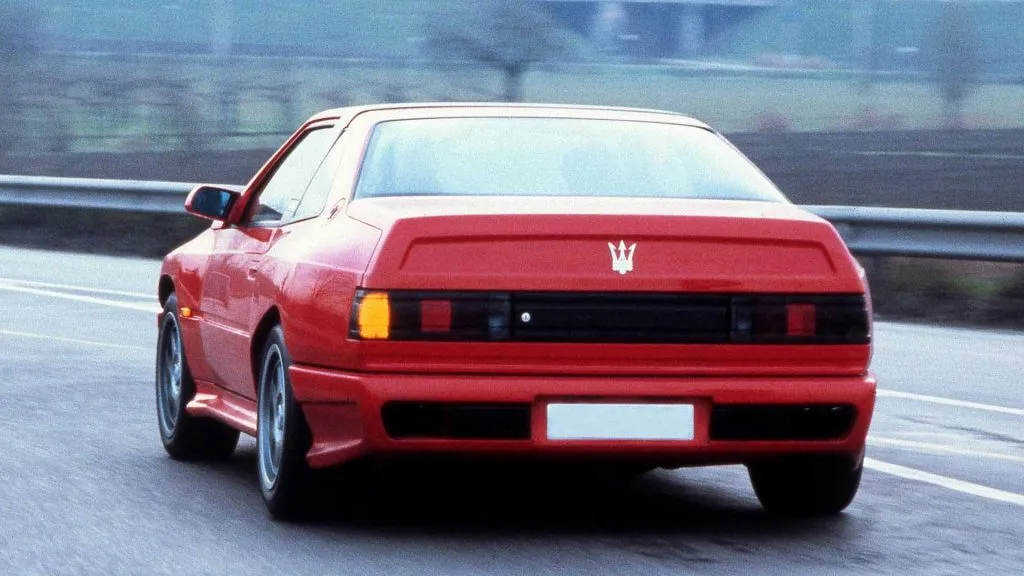 Reliably Unreliable
But, despite their high performance and low retail cost of US$25,000, their terrible reputation for breakdowns ensured these models never really caught on with the public. Malfunctions included: electrical failures aplenty; overheating and blowing turbos; carburetors always needing adjustment and not suited well to the turbo engine; refusing to start on hot days or simply catching fire!
To show the decline of this car, 38,000 models were sold worldwide though less than 5,000 made it to America. Maserati sold 2023 models in 1984, 1190 in 1985 and 1298 in 1986 but sales fell drastically after that. With so few sold in 1987, no new models were delivered in 1988 to give dealerships a chance to clear the old stock. By 1990 just 240 automobiles were sold and this would be their final year in North America until returning in 2002.
Unfortunately, the Maserati Biturbo would be remembered for all the wrong reasons and nearly cost a classic Italian carmaker its reputation and everything it had achieved in the previous decades.