The 2022 Audi Q7 Interior – Welcoming and Tech Focused (Detailed Review)
Audi lovers, rejoice! The all-new Audi Q7 is coming in 2022, and it's going to have a seriously impressive interior. We've got all the details on what to expect from this luxury SUV, from the high-end materials used to the cutting-edge technology included. If you're looking for a car that's both beautiful and functional, the Audi Q7 is definitely worth considering. Read on for more information!
The Audi Q7 interior can seat seven across three rows with loads of space in the first two rows. It has leather upholstery, tri-zone climate control, and a ten-speaker sound system as standard. Third-row seats are a little tight, but the Audi Q7 is a modern, comfortable SUV with a great interior.
In the luxury midsize SUV segment, competitors vie for top honors by offering plush interiors, a long list of features and safety aids, and spacious accommodations for up to seven passengers. How well does the Audi Q7 interior compare to rivals, and does it offer enough to earn its luxury segment title? Read on to find out.
Detailed Review Of The 2022 Audi Q7 Interior
Sixteen years after making its debut in the USA, the Audi Q7 is still going strong in the luxury midsize SUV segment. While it rivals big names from German powerhouses like BMW and Mercedes-Benz, the Q7 has lots to offer.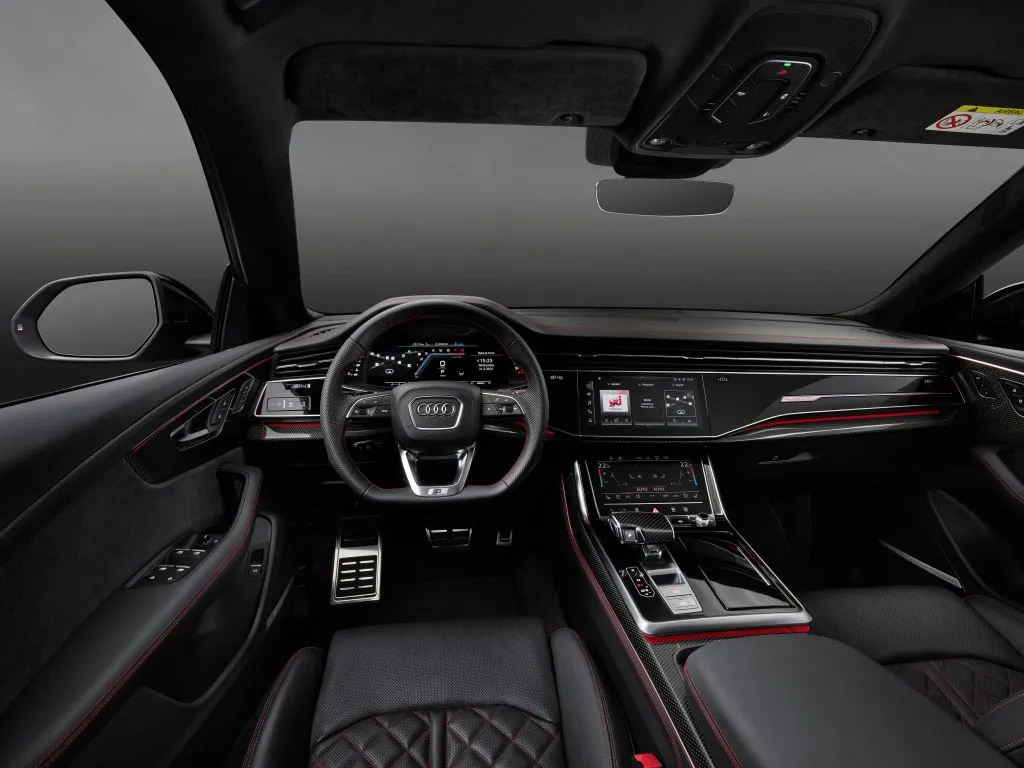 Many competitors take the 'luxury' tag very seriously and splash out on plush materials and pillowy comfort inside. At the same time, Audi strives to strike a better balance between elegance, comfort, and high-tech equipment. The Q7 manages this exceptionally well and makes for one of the most well-rounded family carriers on the market.
The New Audi Q7: Tech-rich And Comfortable
2022 doesn't offer too many changes for the new Audi Q7, although the manufacturer has updated the options list and made a few items standard. The Audi Q7 interior has been enhanced with ambient LED cabin lighting and a few new driver-assist features.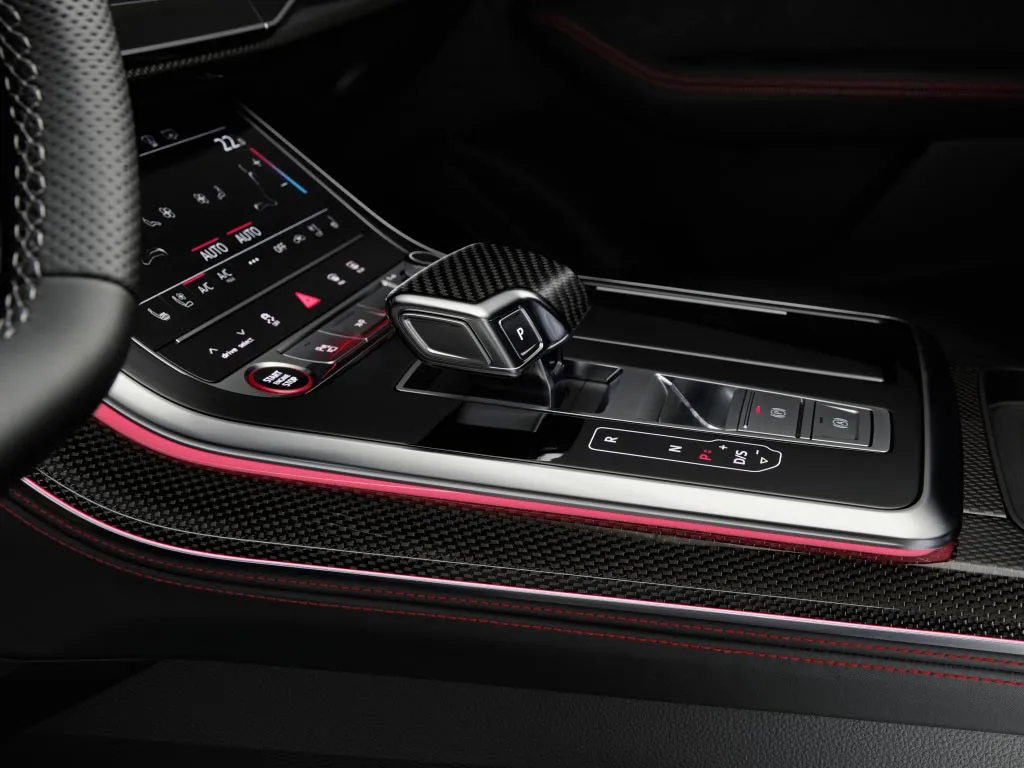 The interior of the Audi Q7 is characterized by a classy, even sporty finish, with high-end materials used throughout. It has enough space to keep the midsize family comfortable on long road trips, too, and a panoramic roof to give the Audi Q7 interior that spacious feeling. Let's delve into the nitty-gritty to see if it ticks all the boxes.
Interior Dimensions And Space
One of the few seven-seaters in the US, the Audi Q7 interior has three rows to accommodate all occupants. While the first two rows are easy to access and roomy, the third row is a little tight – it's worth mentioning that this is a segment-related issue, though, and isn't unique to the Audi Q7 interior dimensions. It's tricky getting back there, too, so you'd do well to reserve those perches for little ones.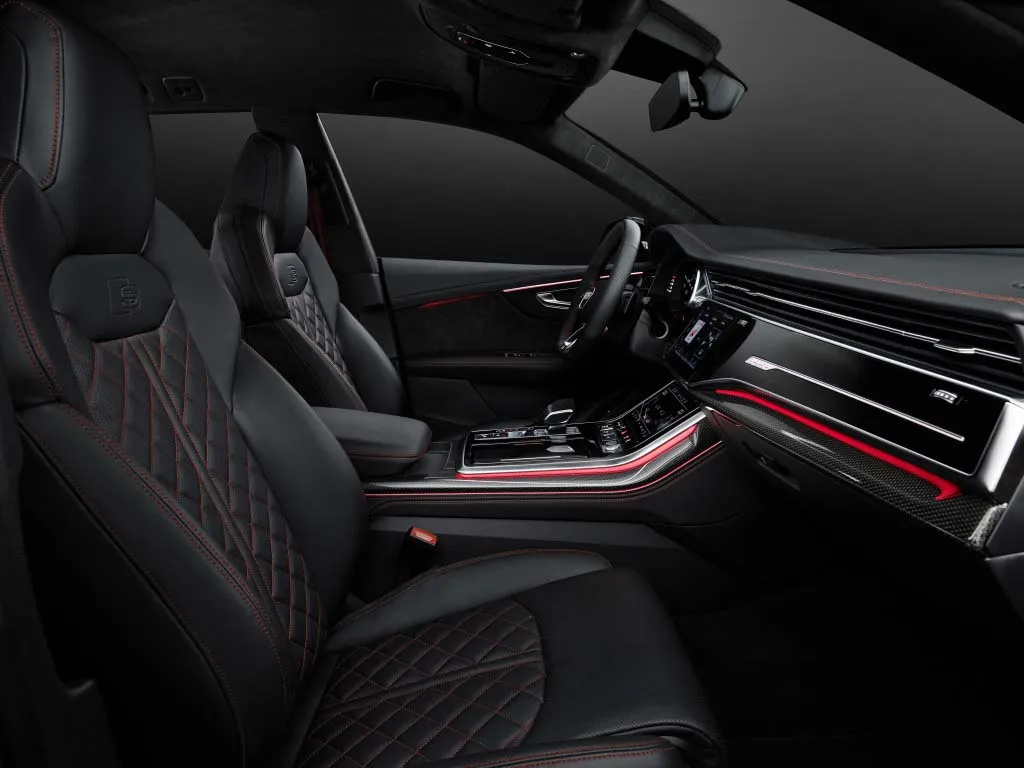 The Audi Q7 interior offers 41.7 inches of front leg room and 39.9 inches of headroom in terms of dimensions. There is loads of adjustability for the front occupants, making it easy to get comfortable and providing a good vantage point for the driver. The second row is slightly less impressive, with 38.8 inches on offer, which is sufficient to stretch out just a little.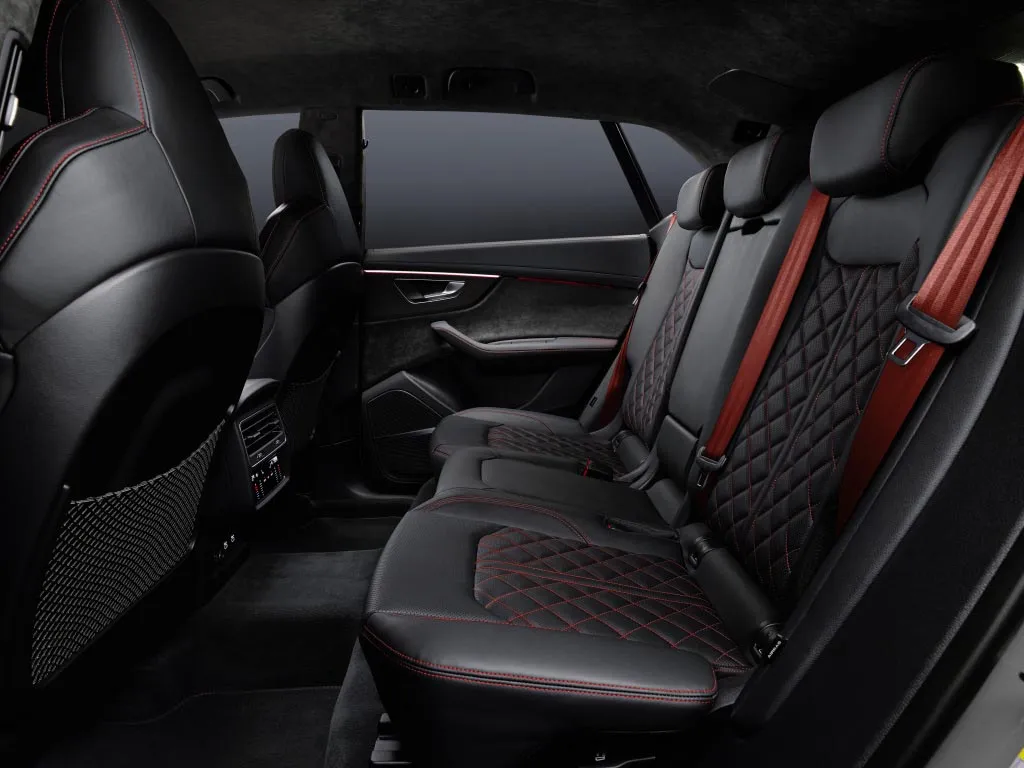 There's less than 30 inches of legroom to work with in the third row, so trust us when we suggest that you keep the back seats for children or additional storage – short trips might be fine, but adults won't be comfortable there for longer journeys.
On the plus side, the Audi Q7 interior with 7 seats offers straightforward and user-friendly child seat connectors, with five complete LATCH connector sets. With three in the second row and two in the back seats, you'll be able to strap your baby in without a fuss.
Cargo Space And In-Cabin Storage
Versatility and carrying the belongings of all your passengers is a big drawcard in the SUV segment, and in this regard, the Audi Q7 interior does a good job. You'll find 14.2 cubic feet of cargo space behind the third row and 35.7 cubic feet if you fold those back seats down. This is more than the BMW X5, which the Audi competes with. It's not quite class-leading, though.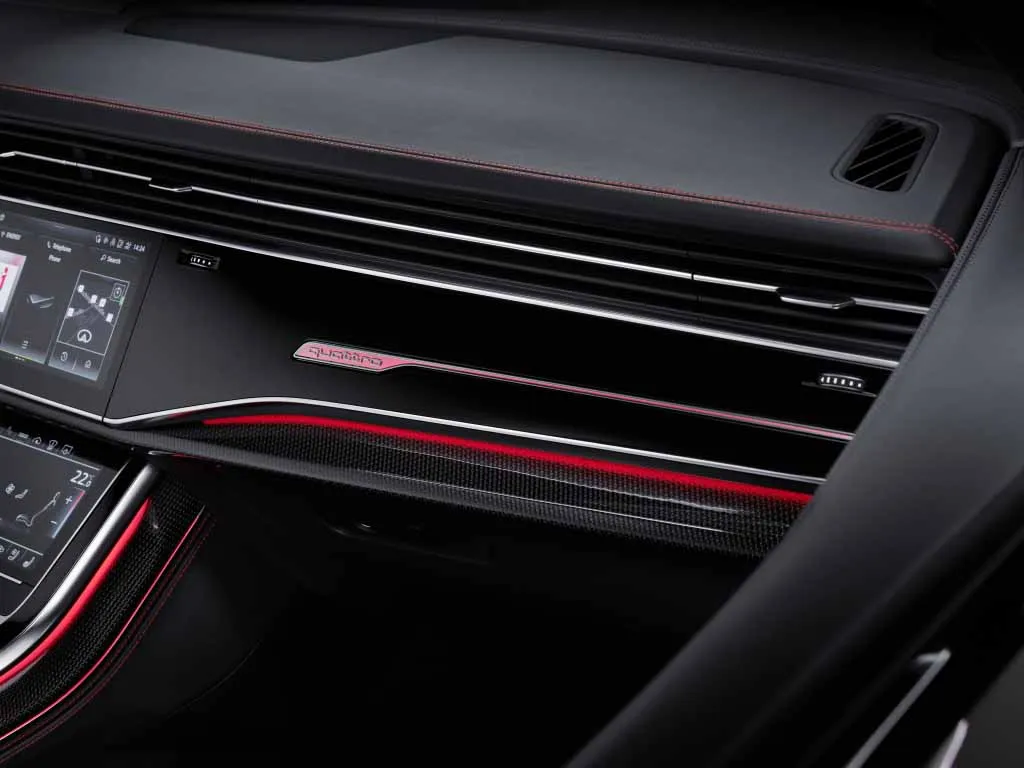 For maximum cargo space, fold down the second row of seats, and you'll have just under 70 cubes to work with. This is substantial, and we love that the seats fold flat into the floor, giving you an accessible space to shift heavier cargo into. The load space itself is vast and easy to lift things over.
For the contents of your pockets, the Q7 offers deep door pockets, a standard glovebox, a large center console storage bin, and a little bin next to the shifter. You also get ergonomically placed cup holders to make sipping your favorite Starbucks beverage as convenient as possible.
Seating And Upholstery
In keeping with the 'luxury SUV' title, the 2022 Audi Q7 interior is fitted in leather upholstery from the get-go. The base model offers hide in a variety of hues, including black, gray, brown, or beige, with high-gloss oak inlays or fine grain ash natural wood décor.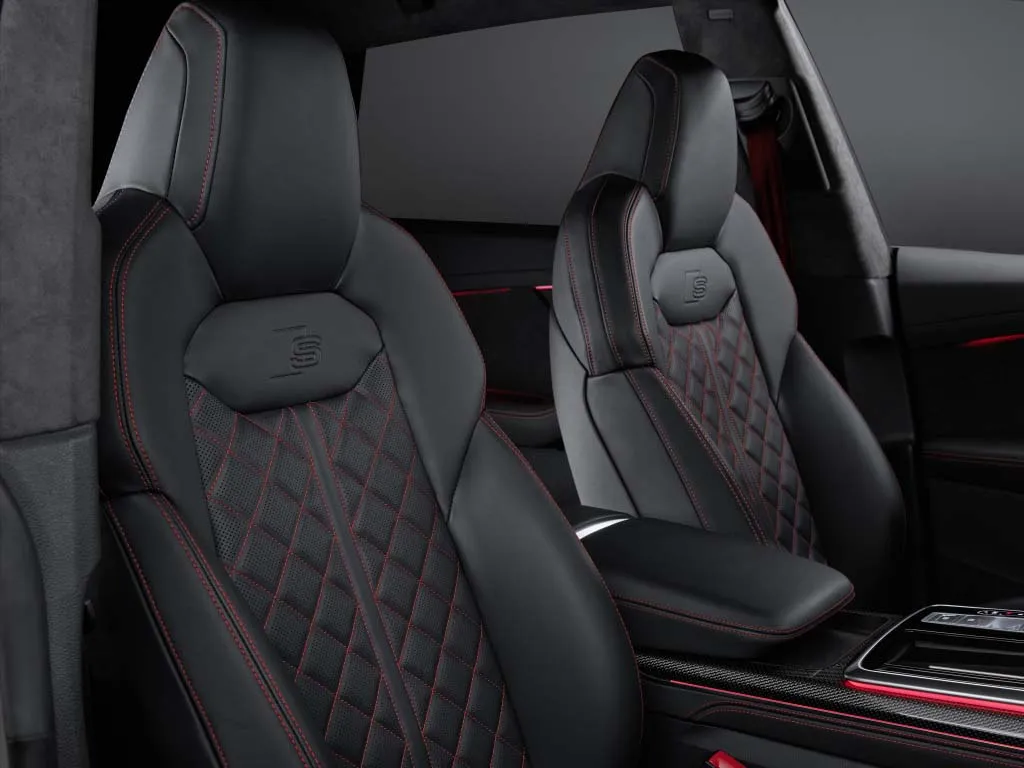 If you want to up the luxury just a little, the Prestige trim allows you to option on Valcona/Cricket leather, an Alcantara headliner, and Eucalyptus wood inlays. The Audi Q7 interior colors in this setup are the same, but the front seats are upgraded with ventilation and massage function.
Tech And Audio
Audi strikes a balance between cutting-edge tech and user-friendly cabins, and the Audi Q7 interior is an excellent example of this. The Q7 comes with the Virtual Cockpit setup from the base model, which comprises a 12.3-inch TFT instrument cluster with three visual modes to display all the relevant vehicle functions in the driver's line of sight.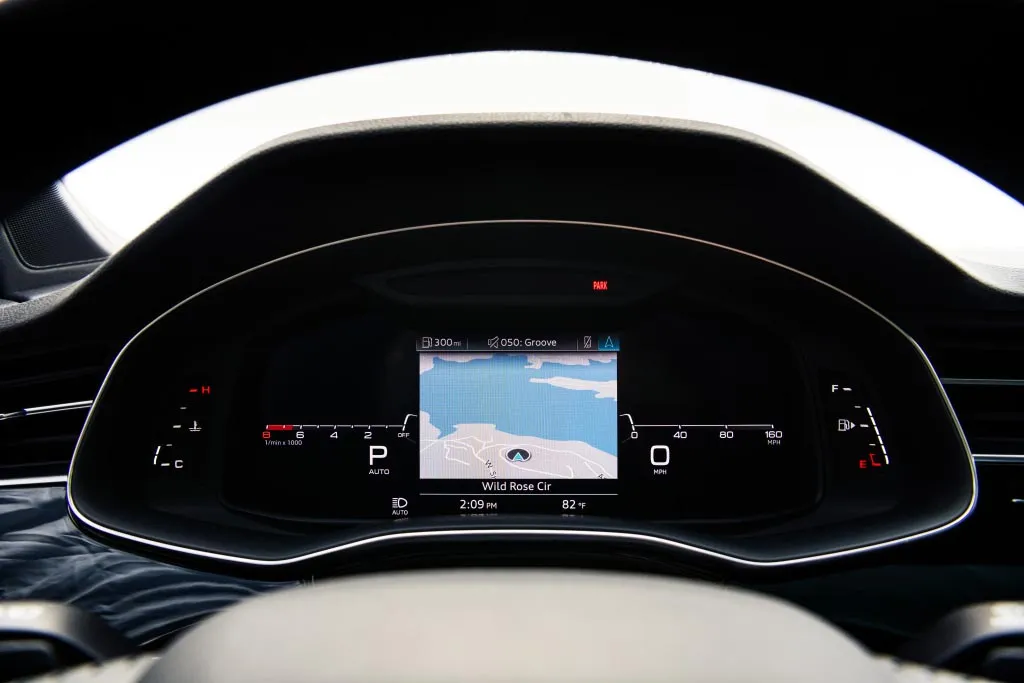 The infotainment system runs off a 10.1-inch touchscreen display, but there's also a smaller 8.6-inch screen positioned below it for managing in-cabin functions like climate controls. Some standard tech from the base model includes navigation, SiriusXM radio, HD Radio, and full smartphone integration for Apple and Android devices.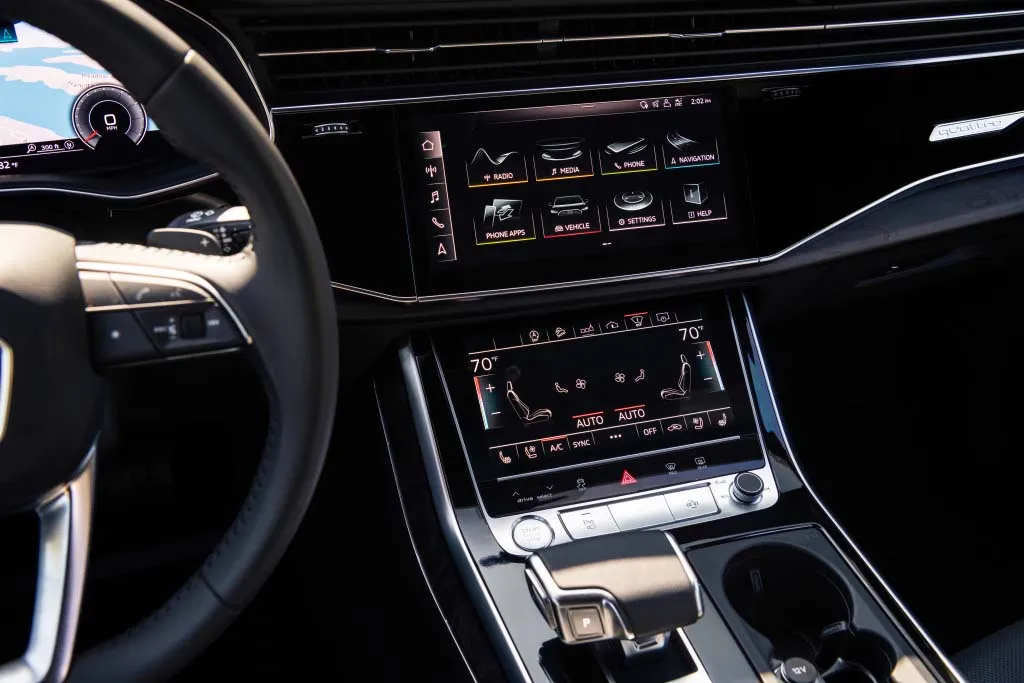 Generally speaking, the infotainment system is good, with speedy responses and easy-to-use menus. Still, we found it a little distracting to set controls on the lower screen, requiring us to take our eyes off the road momentarily.
As standard, the Audi Q7 interior houses a ten-speaker sound system, while the upper trims get a 19-speaker Bose system for better audio. There is an optional Bang & Olufsen unit with 23 speakers up for grabs, too, for those who are true audiophiles. A head-up display, adaptive cruise control, and even traffic sign recognition are included on top-end models.
Comfort And Convenience
Looking after the comfort of passengers is the top priority in this segment, so the Audi Q7 interior comes fitted with tri-zone climate control, heated front seats with loads of power adjustment, and front and rear parking sensors. There's also a rearview camera, cruise control, a garage door opener, and a host of safety features to make piloting the midsize SUV a breeze.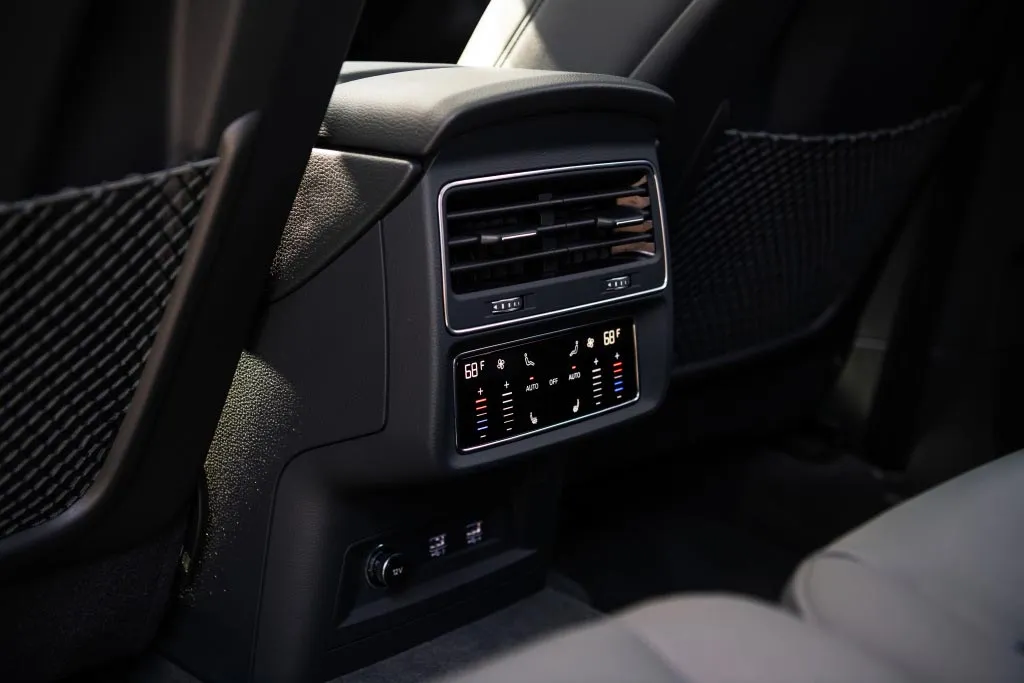 Higher up in the range, you get four-zone climate control, heating for the second-row seats, and ventilation added to the driver and front-passenger seats. Everything about how the cabin is set up makes it easy for the driver to focus on the road while being comfortable. Passengers have very little to fault, provided they aren't stuck in the rear-most seats.
Overall Impressions
The Audi Q7 interior remains one of our favorites in the midsize luxury SUV segment. We love that the manufacturer has managed to make it a comfortable, convenient, classy place to spend time while still giving you sufficient tech to achieve high safety ratings and listen to your favorite playlists in style.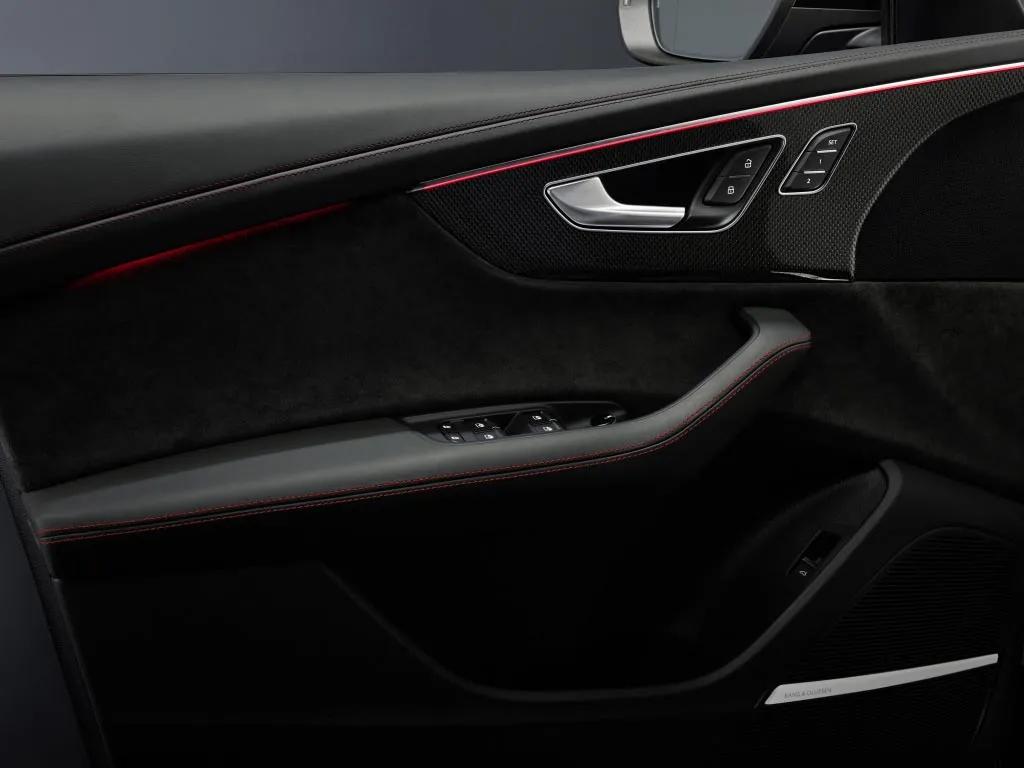 Some SUVs may offer more luxury (and then also a higher price), but the Audi Q7 interior is perfect for its price point. It's elegant and modern, comfortable but not overly flashy, and somewhat sporty. There's very little to nit-pick about when it comes to the Four Ringed 7-seater.
Our Verdict on the Audi Q7 interior
Priced between $57k and $74k MSRP, the Audi Q7 interior offers you a base model that's loaded with tech and convenience features or a fully-loaded version that earns its sticker price. The latter comes with luxuries like soft-closing doors, comfort-oriented adaptive air suspension for a pillowy ride inside the cabin, and a head-up display to bolster an already excellent safety suite.
A mid-range model will set you back just over $60k, and considering this includes a contemporary cabin with a premium sound system, loads of space across two rows (and the third row for kids, in a pinch), we'd say it's a worthwhile price. The interior of the Audi Q7 is an exercise in balance and minimalist excellence.