What Does Lamborghini Mean? (Detailed Answer)
We all know what a Lamborghini looks like. They are one of the most popular luxury car manufacturers around, with one of the most recognizable sports car designs to have ever been made.
Italian car brand Lamborghini has been around for almost 60 years – since 1963, to be exact – and has manufactured everything from coupes to supercars.
It seems everyone has dreamed of owning a Lamborghini at some point. Countless celebrities own and drive Lamborghinis. The Lamborghini Murciélago was even the choice of Bruce Wayne (better known as Batman) in the hit blockbusters Batman Begins and The Dark Knight.
But why did Batman drive a Lamborghini? Was there a reason behind it? And what does Lamborghini mean? There's no doubt that the name has got a catchy ring to it!
In this guide, find out what Lamborghini means, as well as the meaning behind some of the most popular Lamborghini models ever made.
The Meaning Behind Lamborghini
Drum roll!
Lamborghini means… nothing. Nada. That's right – the catchy car name has no actual meaning behind it. But don't be disappointed just yet, as Lamborghini is not just a made-up word.
Lamborghini was named after the man who created Lamborghini, Ferruccio Lamborghini. That's it! Ferruccio Lamborghini was a business magnate who also was a winemaker, inventor, designer, and mechanic.
So, if you were expecting to impress your friends with a random fact about Lamborghini, that's what we've got for you.
But you have to admit that it's a stylish surname. And if it wasn't so catchy, or so luxurious-sounding, Lamborghini might not have been the globally recognized manufacturer that it is today.
What Does Murciélago Mean?
Above, we mentioned that Bruce Wayne drove a Lamborghini Murciélago in Christopher Nolan's blockbuster Batman films Batman Begins and The Dark Knight. If you have seen either of those movies, you might even remember the color of the car.
Turns out, it wasn't just a coincidence.
Murciélago means "bat" in Spanish. Much more interesting than the meaning behind Lamborghini!
So, it wasn't just the sleek look of the Murciélago LP640 that earned its place as Batman's daytime car. 
What Does Gallardo Mean?
The Lamborghini Gallardo, released a year after the Murciélago in 2003, updated the Murciélago with a narrower, boxier design. It worked, as during its first ten years it became Lamborghini's best-selling car.
But what does Gallardo mean? As for the car, Gallardo doesn't mean anything. But it was named after a breed of Spanish fighting bull.
When you think about it, it does make sense, as the Gallardo happens to be one of Lamborghini's stronger, bulkier looking car models.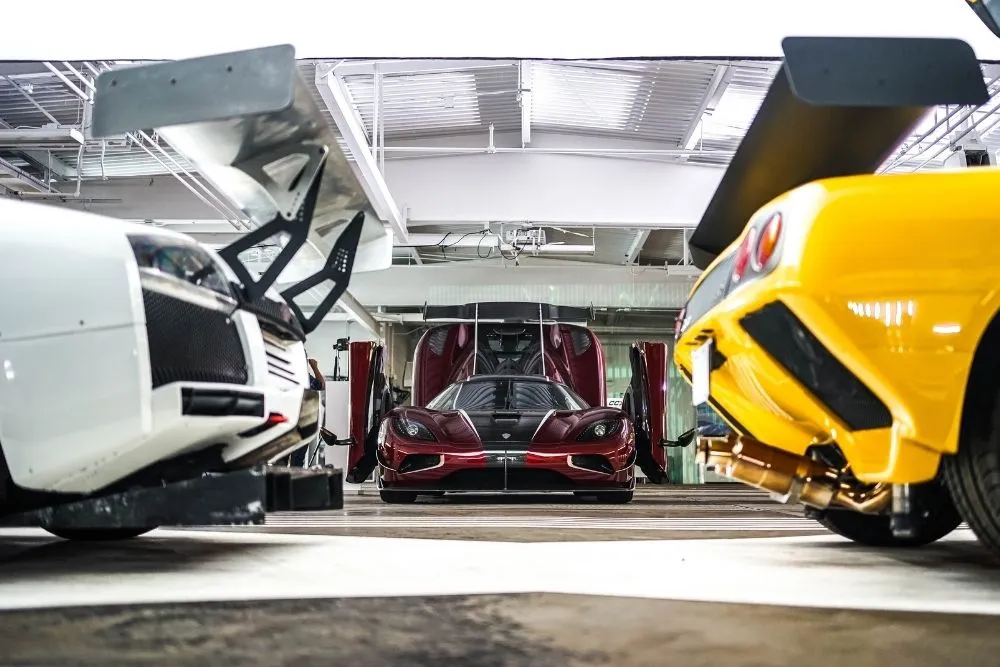 What Does Sesto Elemento Mean?
The Lamborghini Sesto Elemento came out in 2010, first revealed in Paris.
The lightweight, limited edition Sesto Elemento featured a sleek, futuristic design for its time that somehow looked light years ahead of the Murciélago and Gallardo.
This could be owed to the car's body being made out of carbon fiber, which, as a result, is how the car got its name.
Sesto Elemento means "sixth element", referring to carbon fiber's atomic element.
What Does Aventador Mean?
What about Aventador – what does that mean?
The Aventador is one of Lamborghini's best-selling high-end sports cars. It was unveiled in 2011, boasting a sleeker, sharper design as the successor to the Murciélago.
Similar to the Gallardo, the Lamborghini Aventador is named after a Spanish fighting bull. That's right – this particular bull won so many bullfights that it caught Lamborghini's eye, enough to name one of its cars after it.
Yep! In fact, you'll find that a lot of Lamborghini's car models are named after bulls. And, as it turns out, it happens to be something of a tradition over at Lamborghini HQ.
What Does Huracan Mean?
Huracan, another of Lamborghini's high-end sports cars, launched in 2014, with a similar design to the 2010 Sesto Elemento. This one surely means hurricane, right?
Yes, and no. 
While Huracan does mean "hurricane" in Spanish, Lamborghini named this particular model after, you guessed it, another bull. 
You might be starting to notice a pattern here! In fact, a lot of Lamborghini's car models happen to be named after famous bulls, including the 2008 Reventon and the 2013 Lamborghini Veneno.
There is a reason for this, however. And it turns out that it's something of a tradition over at Lamborghini HQ – a tradition that started with one of Lamborghini's earliest car models, the Islero, named after a bull that managed to kill its matador.
What Does Centenario Mean?
The Lamborghini Centenario was released in 2016. It's one of Lamborghini's most exclusive limited edition car models, so good luck trying to buy one.
The Centenario was launched to mark, and celebrate, one-hundred years since Ferruccio Lamborghini's birthday in 1916. That's right – the Centenario was not named after a bull!
Ferruccio Lamborghini passed away in 1993. So, unfortunately, he did not get to see this touching tribute, which happens to be one of Lamborghini's most dramatic-looking sports cars.
What Does Terzo Millenio Mean?
The Terzo Millenio was unveiled in 2017, featuring the iconic flat, rounded design of its luxury sports car range but with futuristic intentions.
In fact, the Terzo Millenio remains a concept electric car by Lamborghini that is not yet available to buy.
Terzo Millenio means "third millennium". The words themselves are Italian, and are most likely a suggestive nod to the next millennium and the future of cars as a whole, in terms of design and electric power.
In Short
Lamborghini, as a word, has no meaning. The luxury Italian car manufacturer was simply named after its creator, Ferruccio Lamborghini.
The cars that Lamborghini has designed, however, are a different story. Each car model has a special meaning behind its name, many of which follow a long-held Lamborghini tradition that has them named after famous fighting bulls.
Some Lamborghini models, like the Lamborghini Veneno and the Lamborghini Centenario, were named to commemorate special anniversaries.