2007 Cadillac Escalade Review – Crisp and Unified
What do you think of when you hear about a 2007 Cadillac Escalade? You may think of luxury, power, and wealth. Well, that is exactly what the 2007 Cadillac Escalade delivers. This vehicle is perfect for those who want to make a statement while driving. From its sleek design to its powerful engine, the Escalade is sure to impress. Read on for more information about this amazing car.
The 2007 Cadillac Escalade, like its lower-line relatives the Chevrolet Tahoe and GMC Yukon, is built on General Motors' all-new full-size SUV platform. While the new Escalade retains its angular style, the overall appearance is crisper, more unified, and in keeping with other Cadillac vehicles.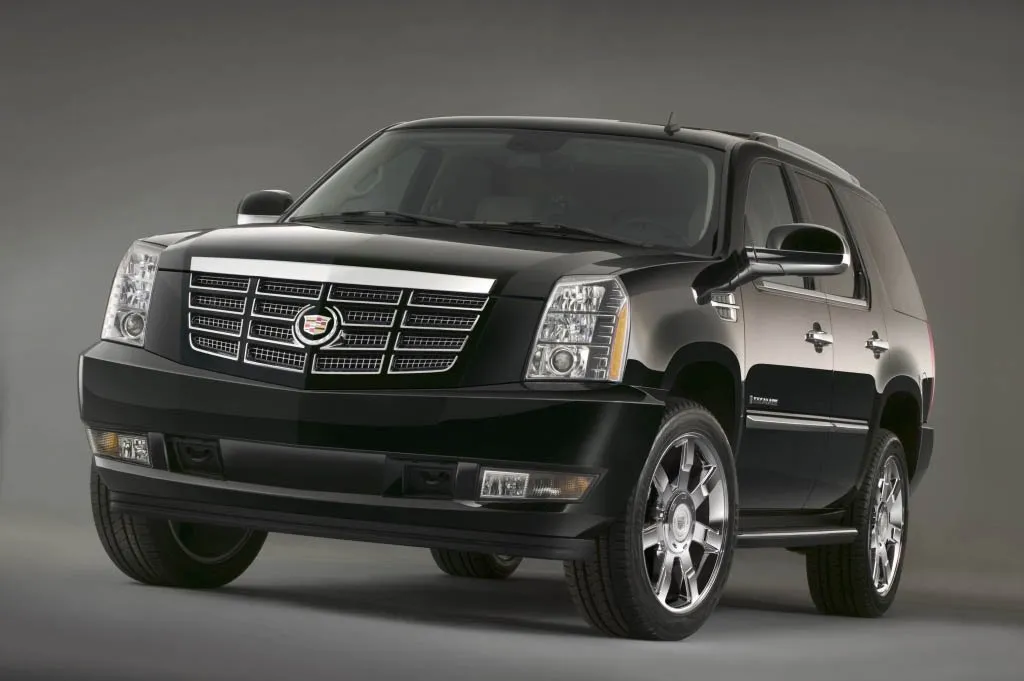 Cadillac's Escalade picked up steam in 2002 with the introduction of the second generation. The truck was stunning on its own, thanks to its bold appearance, comfortable seating, and strong V8 engine. Additionally, the Escalade received extensive celebrity-driven media coverage, which reinforced its market appeal. Let us examine why you should consider owning one in some more detail.
The 2007 Cadillac Escalade – An Overview
While comparable vehicles such as the Infiniti QX56 and Lincoln Navigator may edge it out in some areas, the Escalade is a more robust car altogether. Paying significantly more for a Lexus LX 470 or Land Rover Range Rover, in our opinion, is a case of diminishing returns.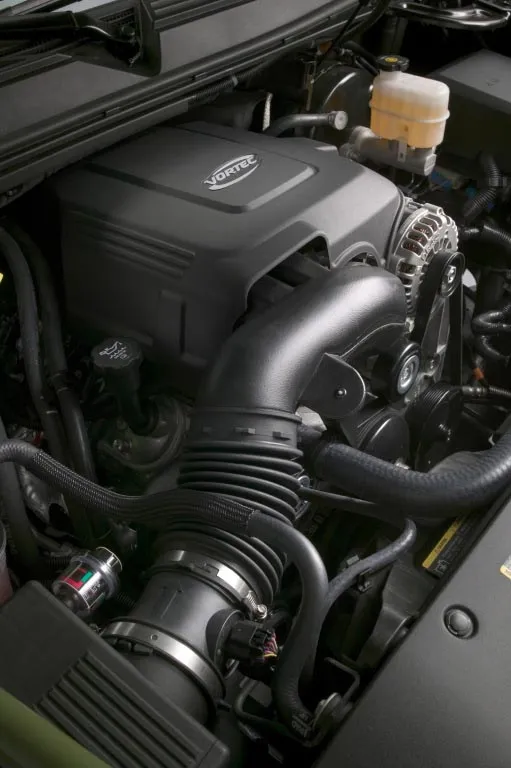 The 2007 Cadillac Escalade is equipped with a 6.2-liter V8 engine as standard. It produces 403 horsepower and 417 pound-feet of torque, making it one of the most powerful engines offered in a luxury SUV. 
ENGINE TYPE: pushrod 16-valve V8, aluminum block, and heads, port fuel injection
Displacement: 376 cu in, 6162cc
Power (SAE net): 403 bhp @ 5700 rpm
Torque (SAE net): 417 lb-ft @ 4300 rpm
A new six-speed automatic transmission with a manual shift option maximizes the new engine's broad power range. The Escalade is offered in two drivetrain configurations: rear-wheel drive or all-wheel drive. All-wheel-drive models come standard with a 40/60 front/rear power split.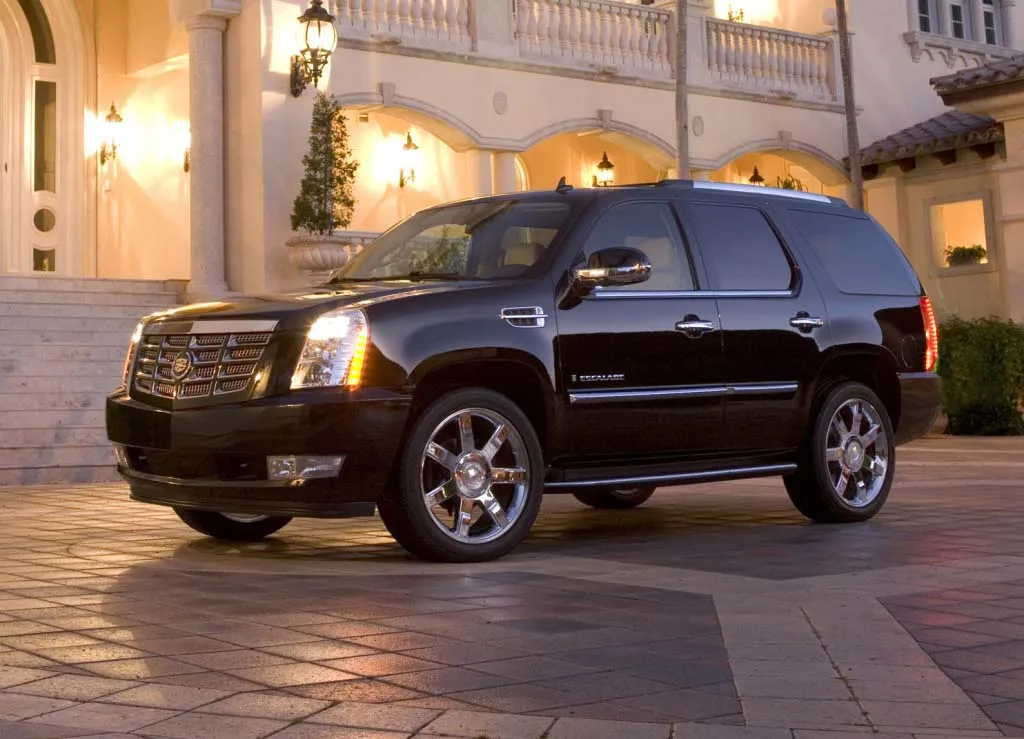 Escalades are rarely driven off-road and hence lack a dual-range transfer case. The AWD variant has a 7,400-pound towing capacity.  The Escalade reached 60 mph in 6.5 seconds from a standstill and completed the quarter-mile in just 15.1 seconds at a speed of 92.5 mph.
These are excellent results for a full-size SUV weighing just under 5800 pounds. The Cadillac scored a commendable 0.75g of lateral grip and a slalom speed of 58.9 mph on the skid pad, which is roughly identical to the Mercedes-Benz R500's pace.
2007 Cadillac Escalade Interior
The two-tone dash of the Cadillac Escalade features beautiful lines that accommodate a vast, vivid navigation screen and faux walnut inlays (although at this price, they should be natural wood). The navigation panel features a simple touchscreen interface, and all controls are easily accessible and usable.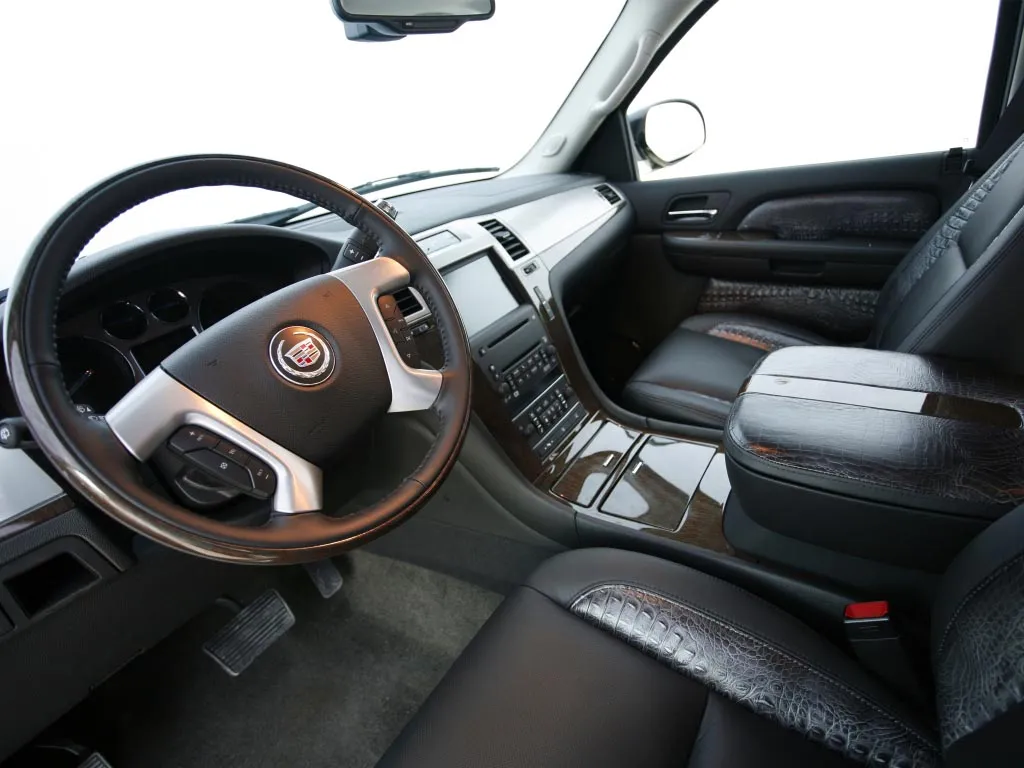 While soft-touch surfaces are prevalent, as they should be in this class, there are still a few low-cost plastics included. The Escalade is available with seating for six, seven, or eight passengers. The second-row seats can be power folded and flipped to facilitate third-row access.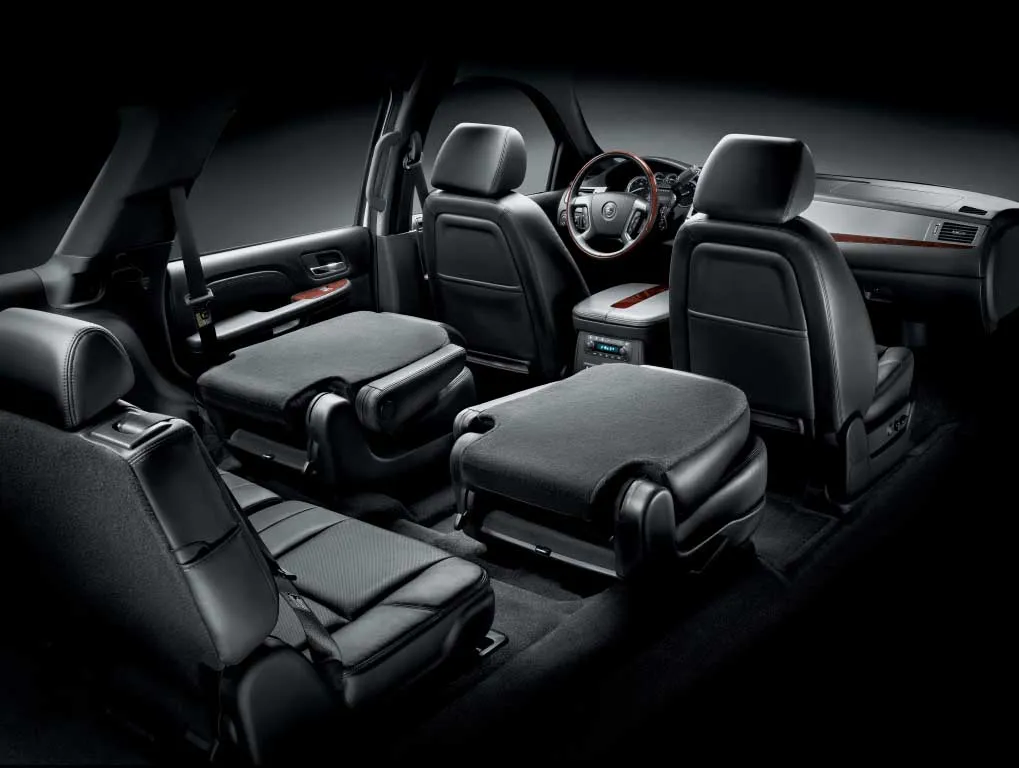 Unfortunately, the third-row seat does not fold into the floor as it does in the ESV's competitors and removing the 50/50 portions is a pain. The maximum load capacity is 137 cubic feet, with an additional 46 cubic feet behind the third row. 
2007 Cadillac Escalade EXT
Introduced in 2002 and fully redesigned in 2007, the Cadillac Escalade EXT defies easy categorization. Is it a crew-cab pickup with the cabin of a luxury SUV or a luxury SUV with an enclosed cargo area instead of a pickup bed?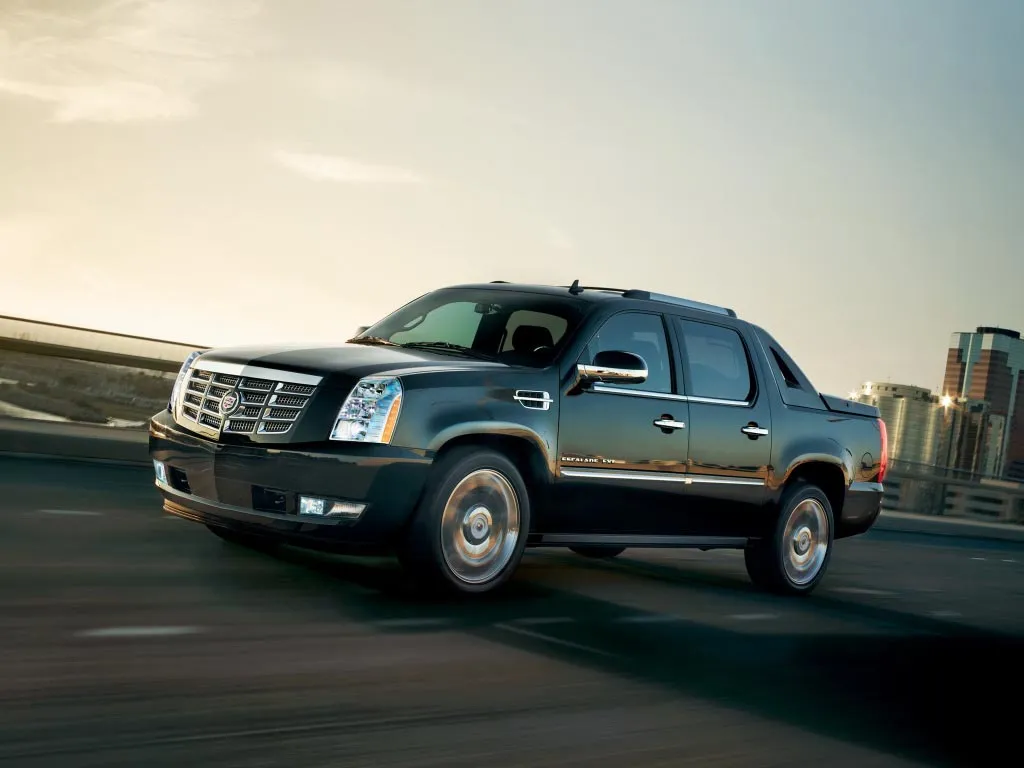 In either case, this Caddy has proven to be equally popular with image-conscious individuals as it has been with those who actually make use of its outstanding capabilities.  As with its Chevrolet Avalanche cousin, the Escalade EXT includes an extensible utility bed that gives it a half-truck/half-sport-ute personality.
Additionally, as a Cadillac, it features advancements in all critical areas, including performance, luxury, and elegance.  The bold grille, powerful headlight treatment, and extensive use of chrome accentuate the Escalade EXT's social position, while a gorgeous new interior design creates the kind of cabin feel anticipated of a high-priced SUV.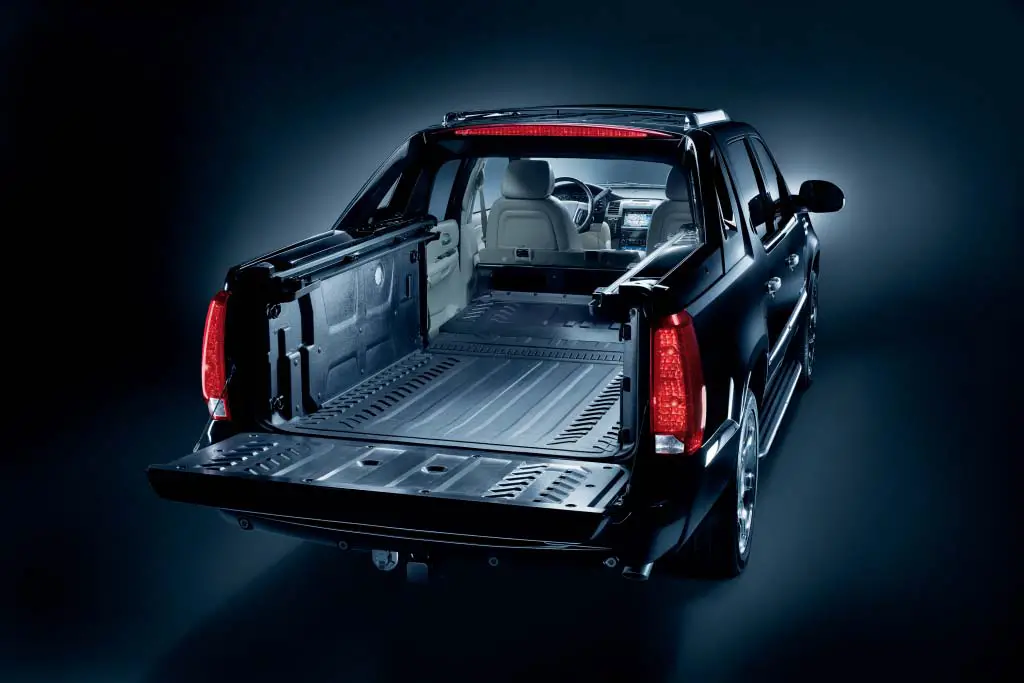 The 2007 Cadillac Escalade EXT is essentially a full-size crew cab pickup truck equipped with a unique midgate that opens the cargo bed into the interior. With the rear seats folding, lengthy goods can be transported inside the vehicle while remaining shielded from the weather by closing the tailgate and tonneau cover.
2007 Cadillac Escalade ESV
The 2007 Cadillac Escalade ESV is a full-size luxury SUV available in a single trim level. 18-inch alloy wheels, HID headlights, 14-way power-adjustable front seats with multilayer heating, driver memory settings, leather upholstery, and faux wood trim are all standard.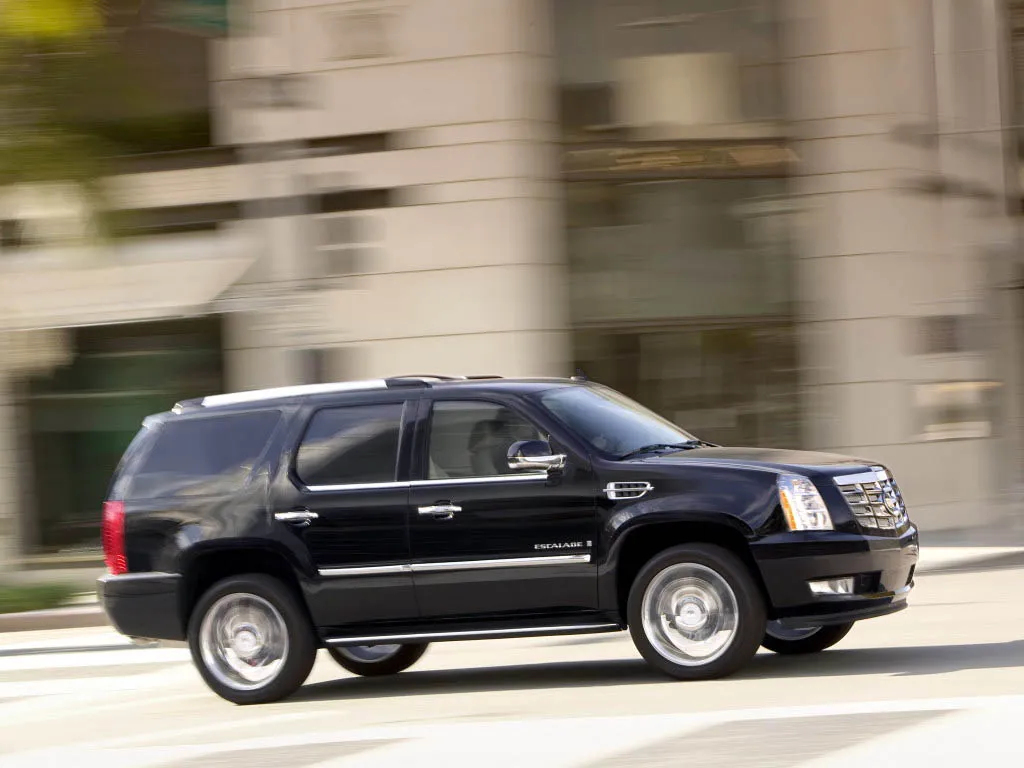 Automatic climate control with three zones, a 10-speaker Bose audio system with an in-dash CD/DVD changer, remote start, a power rear liftgate, and power-folding exterior mirrors are also standard. The ESV's second-row features heated bucket seats, as well as a bench seat.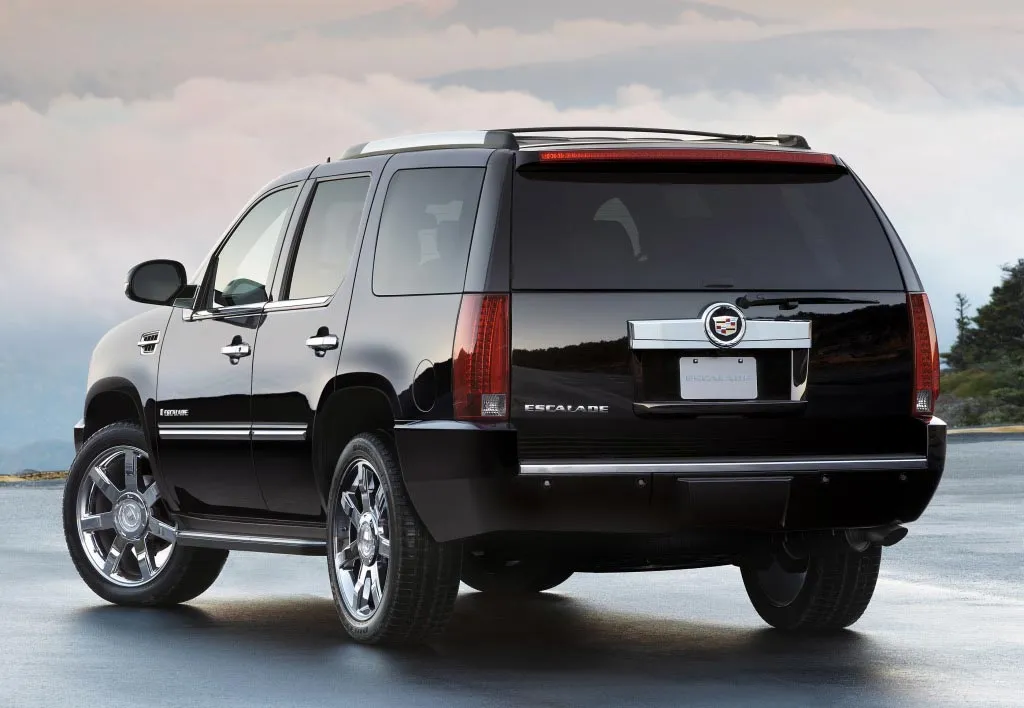 22-inch chrome wheels, multilayer front seat conditioning, a heated steering wheel, a navigation system with a rearview camera, a rear DVD entertainment system, power-folding second-row seats, and a sunroof are available as options.
Cadillac Escalade Driving Comfort
Although the 2007 Cadillac Escalade weighs over three tons, with over 400 pound-feet of torque available, acceleration is effortless in almost any situation. The six-speed automatic transmission's shifts are precise and well-timed, and the manual option comes in on wet and curvy roads.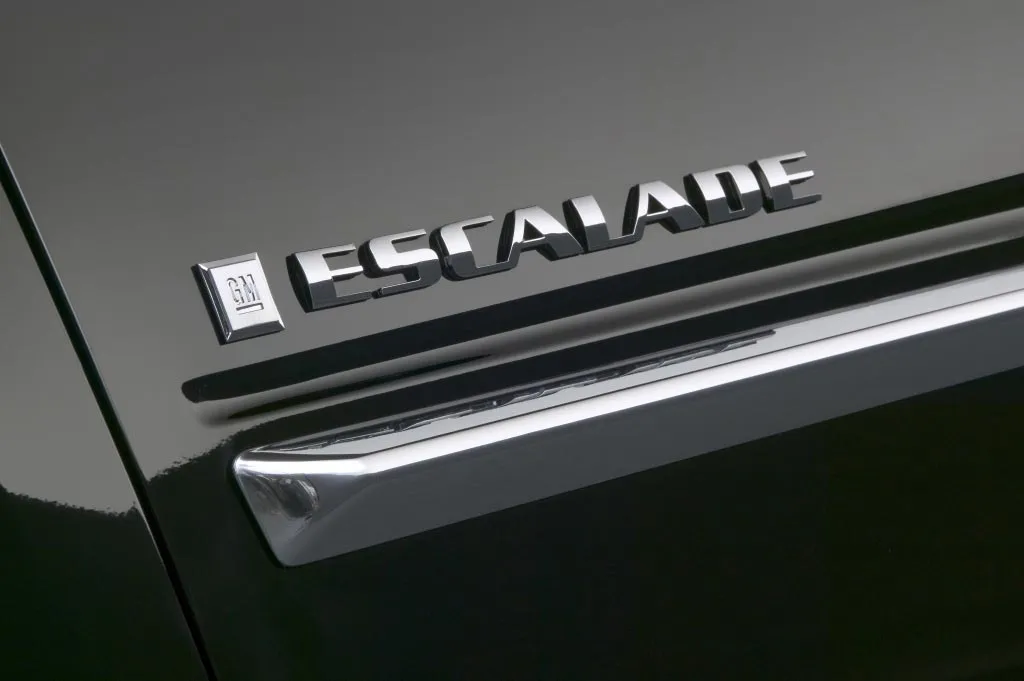 The all-new frame and suspension system deliver a smooth, controlled ride overall but the most severe bumps and ruts. The Escalade ESV handles predictably through turns, but it never seems particularly agile despite its weight.
Cadillac Escalade Safety Features
All Escalades include standard equipment for four-wheel antilock disc brakes, StabiliTrak stability control, and full-length side curtain airbags. Not only will these airbags deploy in the event of a side-impact crash or rollover, but also in the event of a severe frontal-impact collision, in which occupants will require all available assistance.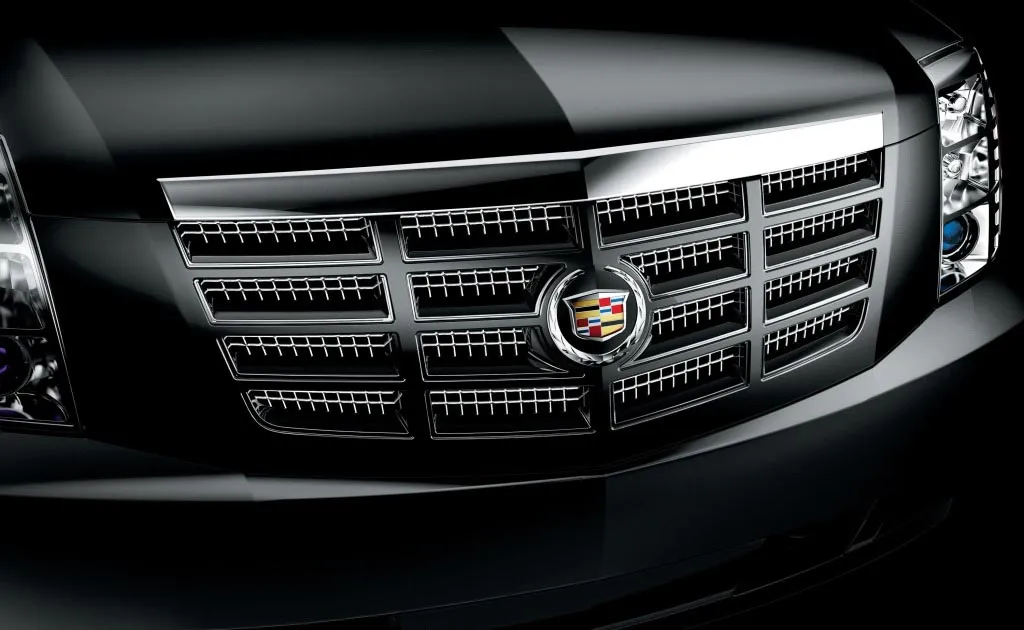 In addition, another sensor detects rear collisions and engages the seatbelt pre-tensioners, assisting front-seat occupants in avoiding whiplash. Every Escalade ESV comes standard with rear parking sensors, and vehicles equipped with the navigation system also include a rear camera system.
In addition, the ESV includes a tire pressure monitor and an OnStar communications system. The Cadillac EXT's equipped with the navigation system also come fitted with a rear camera system.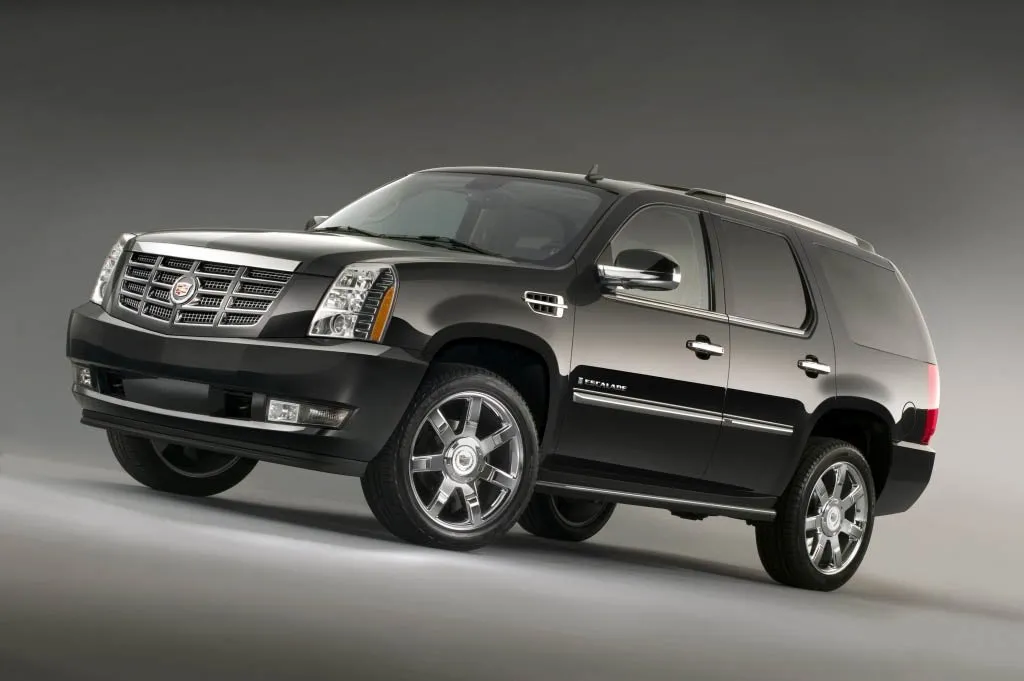 The Cadillac Escalade performed admirably in terms of safety, except for the brakes, which remains a weakness for GM models. The Cadillac required 135 feet to come to a complete stop from 60 mph and 405 feet to halt from 100 mph entirely. By comparison, the 2018 Range Rover comes to a complete stop in 115 and 337 feet respectively.
2007 Cadillac Escalade Problems
Although the 2007 Cadillac Escalade is a robust SUV with not many problems being reported, the most frequently reported problem encountered on the 2007 Cadillac Escalade was that the door handles broke off quite easily.
How Much Is A 2007 Cadillac Escalade Worth
To begin, you'll need the vehicle's year, mileage, condition, options, and trim level.  As a general indication, the trade-in value of a 2007 Cadillac Escalade equipped with no options and driven approximately 12,000 miles per year is roughly $6,402 for one in "Clean" condition and roughly $7,873 for one sold privately.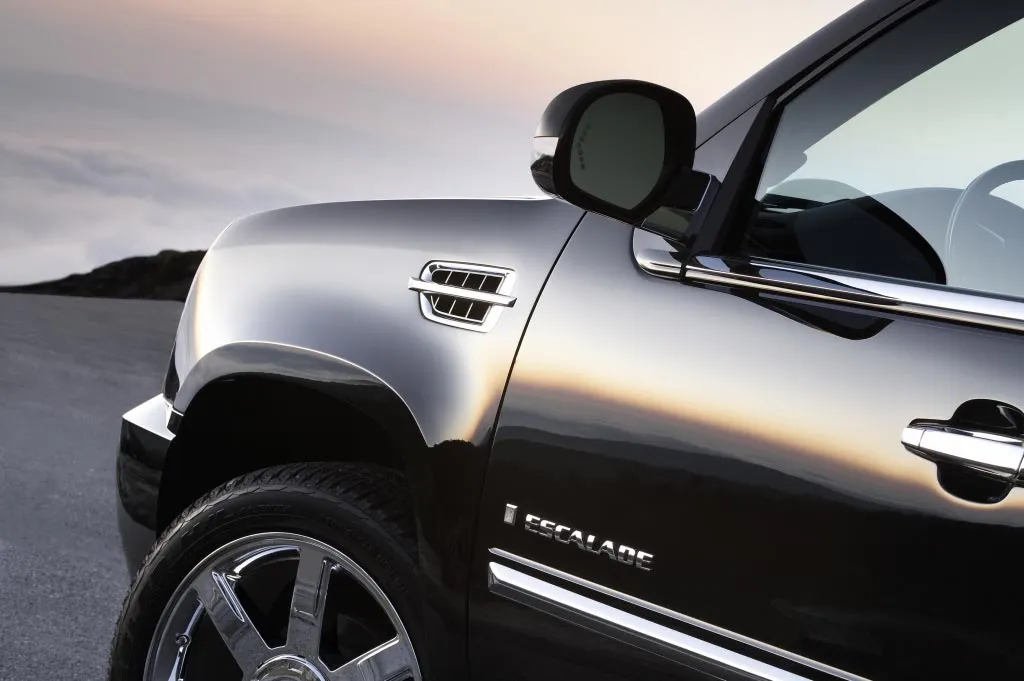 Conclusion
If you are looking for a solid SUV that sports more than sufficient engine power, has numerous luxury features, is equipped with robust safety features, you can't go very wrong in purchasing the 2007 Cadillac Escalade SUV range of vehicles.