2014 Hyundai Accent Review – Inexpensive Little Hatch
There's a lot to like about the 2014 Hyundai Accent. It's stylish, efficient, and affordable – perfect for drivers on a budget. But what should you know before you buy one? In this comprehensive guide, we'll go over everything from performance to features. So whether you're considering buying an Accent or just want to learn more about it, read on!
The 2014 Hyundai Accent is available as a sedan or hatchback and is reasonably priced with good fuel economy figures. Safety ratings aren't outstanding, and it's boring to drive, but it's a reliable car with a peppy engine and comfortable cabin that deserves to be on your shortlist.  
Whether you're considering the 2014 Hyundai Accent in its sedan or hatch configuration, you're probably shopping for a daily commuter that ticks all the boxes for comfort, convenience, safety, and reliability. But does the Accent have what it takes to convince you? And is it better to choose the sedan over the hatchback? Let's have a closer look.
2014 Hyundai Accent – A Comprehensive Guide
As an automaker, Hyundai has tried to develop practical and affordable cars, and in the Accent lineup for 2014, it has undoubtedly succeeded. There are two Accent models to choose from, with the family-friendly sedan available in one trim and the cheekier Hatchback variant available in two.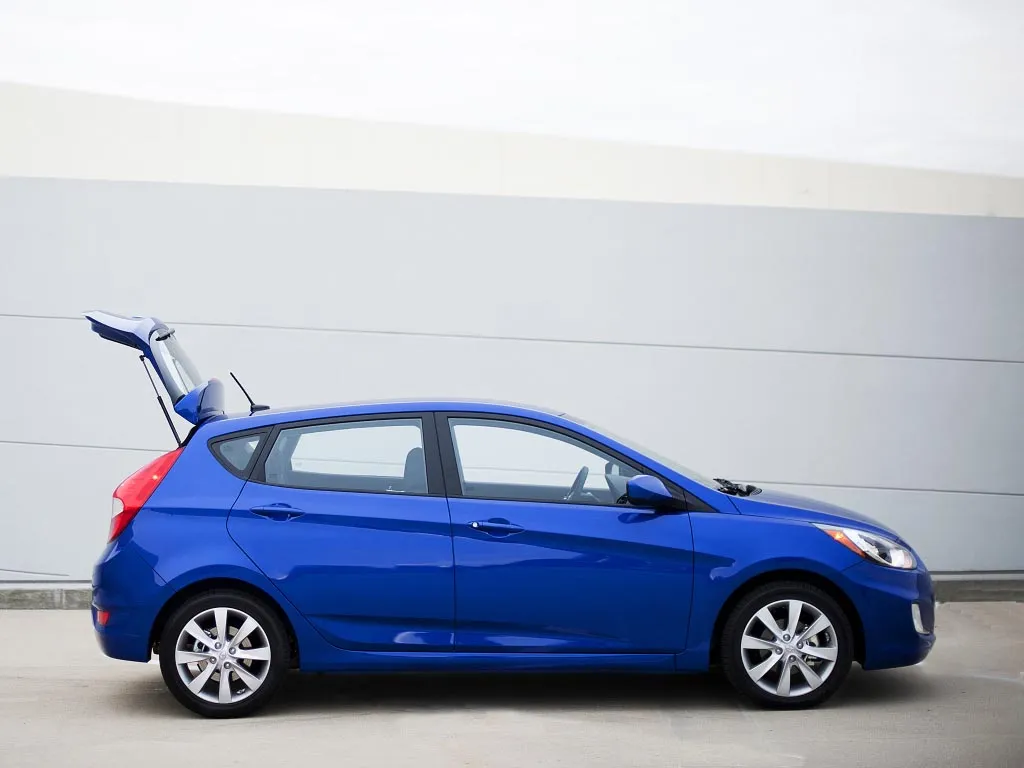 The new model year brings a few tweaks to the features list, including a one-touch turn signal, sliding sun visors, and a blind-spot mirror for the driver. You also now have the option of adding a tilt-and-telescoping steering column and projector headlights. There's also a new racing sport shifter added to the SE Hatch. Let's see how the 2014 Hyundai Accent stacks up.
2014 Hyundai Accent Size Cargo Space
While both available body types are on the smaller side, the 2014 Hyundai Accent sedan is a little more sizeable, thanks to the addition of its trunk. However, this doesn't necessarily translate to more cargo space. The 2014 Hyundai Accent hatchback has up to 47.5 cubic feet of cargo space if you fold down the rear seats and 21.2 cubes if you leave them up.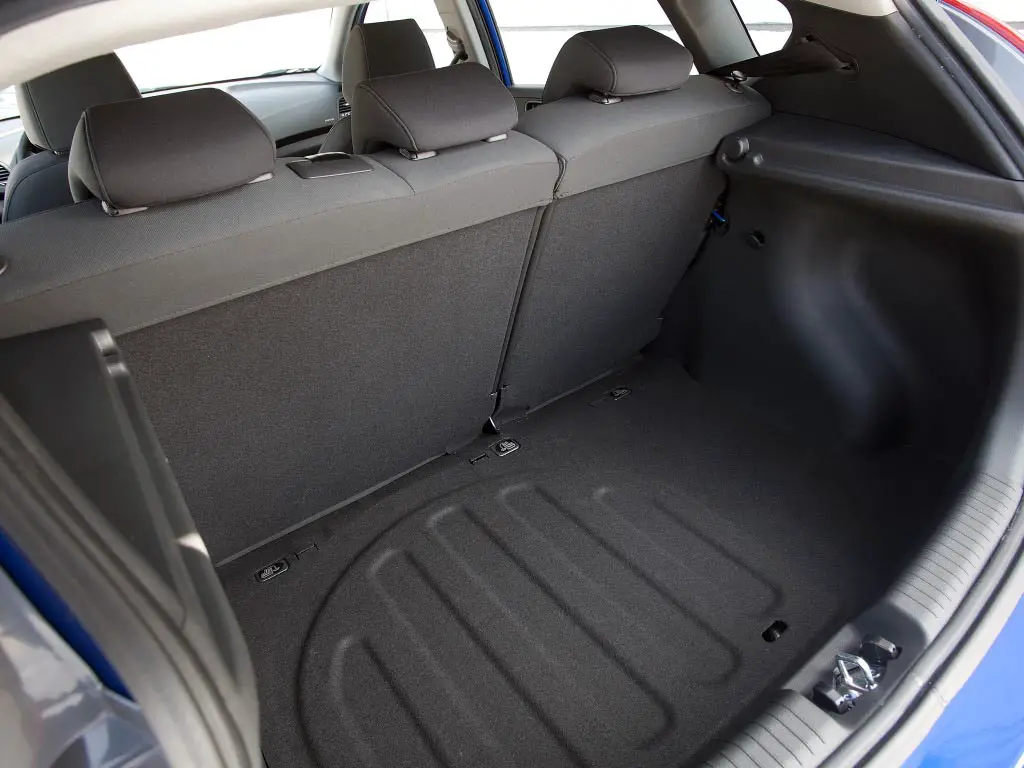 By contrast, the 2014 Hyundai Accent sedan only offers 13.7 cubic feet in the trunk, and although you can stow the seats as well in a 60/40 split, it's the five-door hatch that offers more practicality. Regarding the subcompact sedan segment, the Accent sedan is generally on par with rivals when it comes to size and space.
2014 Hyundai Accent Interior
The sedan and hatchback variants of the Accent are designed to tackle the daily commute, so seating and interior space are essential. Seating five is the aim, and in both configurations, the occupants of the front seats will be pretty happy with the space allocated to them. Even taller passengers have enough headroom and legroom upfront.
With sufficient adjustability on the seats and steering column, the driver and front passenger won't have much difficulty getting comfortable.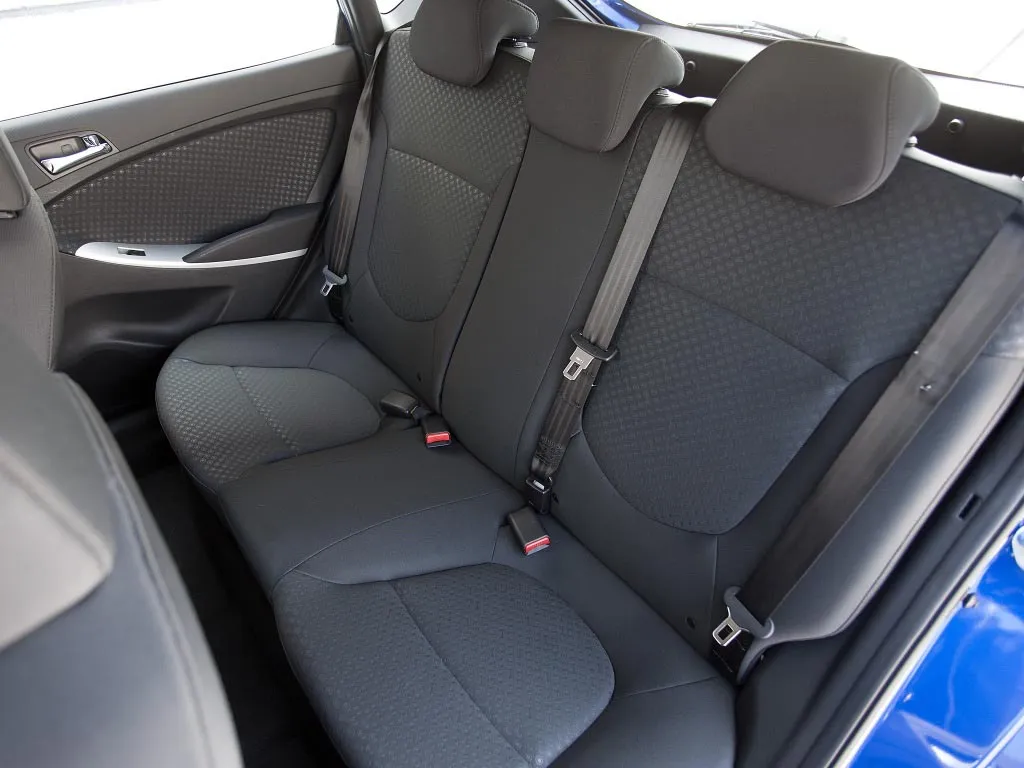 The back seats are spacious, except for the middle seat, which is obviously quite cramped. Ideally, it would be best if you only used it for small kids in a pinch – it's best to keep the back row to two adults as a rule.
Cabin Look And Feel
Thanks to a comprehensive redesign in 2012, the interior of the 2014 Hyundai Accent is a much more contemporary and elegant space than ever before. Hyundai has gone to great lengths to use high-rent materials and focus on an ergonomic, flowing layout that makes it easy to feel at home, whether you're the passenger or driver.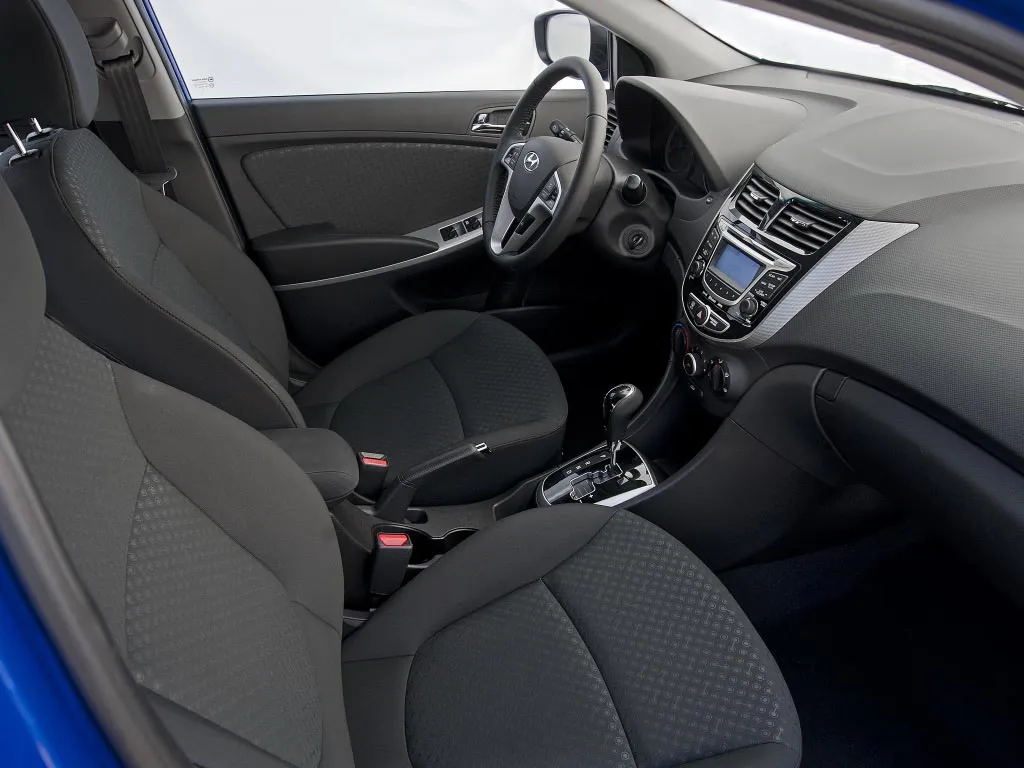 The Accent comes with cloth seating as standard, although the Premium Package adds a premium fabric when specified. This is also standard on the top-spec SE Hatchback. While luxury and opulence are not even close to being on the menu, comfort certainly is. The seats feel sturdy and supportive and are comfortable. Some plastics are present throughout the cabin, but that's to be expected at this price point.
2014 Hyundai Accent Performance And Specs
Whether you choose the four-door sedan or the five-door hatch, the 2014 Hyundai Accent comes standard with a 1.6-liter four-cylinder gas engine that makes 138 horsepower and 123 lb-ft off torque. All variations are front-wheel drive, but you do have the option of a six-speed manual gearbox or a six-speed automatic, with the latter offering an Eco mode if you're particularly conscious of your gas budget.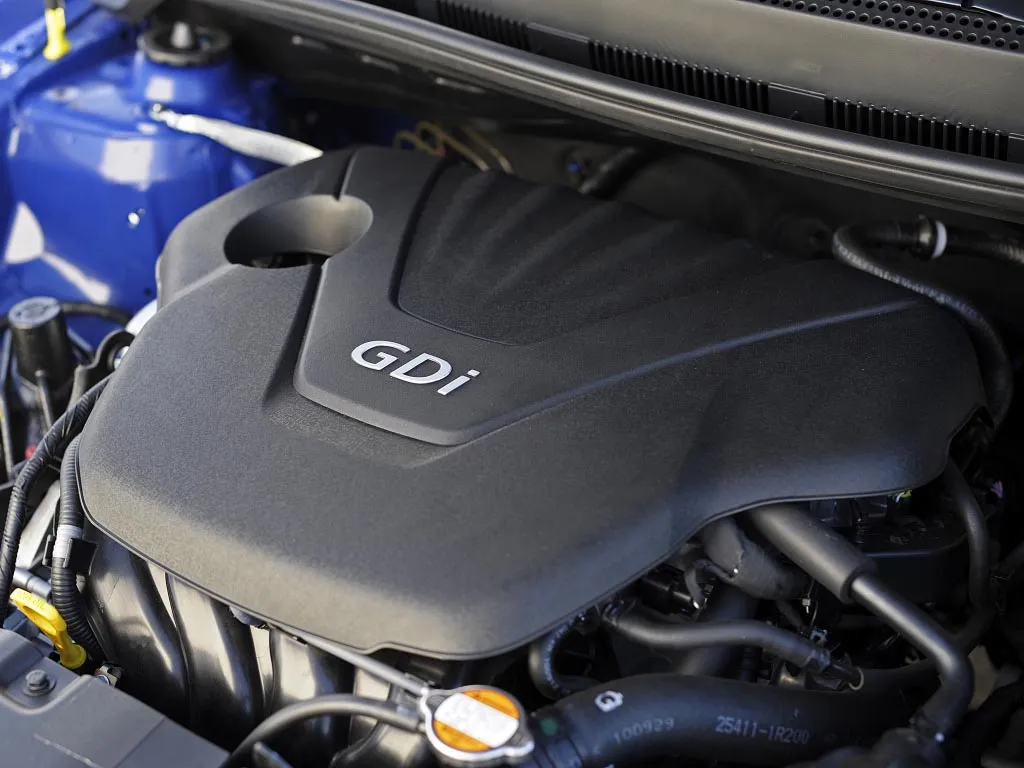 The 2014 Hyundai Accent specs aren't bad for the segment, and the peppy powertrain is admirable overall, but the idea here was never to sprint to 60 mph; instead, expect around ten seconds for the 0-60 race and high revs to get the little car moving.
Driving Feel
Hyundai manages to create cars that do as they are told and react in a comfortingly predictable way. The 2014 Hyundai Accent is no different, with off-the-line speed, steering, and handling that is entirely on par with what is expected of it. This isn't a racer, so it doesn't act like one.
What you do get is a little car that is nippy and agile in traffic and around parking lots while also being easily maneuvered on back roads and highways. It will hustle you where you need to go without a fuss, which most people shopping in this segment are looking for. That obviously won't do for gearheads who like to make a scene and announce their arrival. This is not the car for you if that's the case.
Gas Mileage
Another area where the Accent excels is in terms of gas mileage figures. According to the EPA, the manual Accent is most frugal, with city/highway/combined estimates of 27/37/31 mpg. This drops only slightly to 26/36/30 mpg when you opt for the automatic. These are excellent ratings, although not quite class-leading.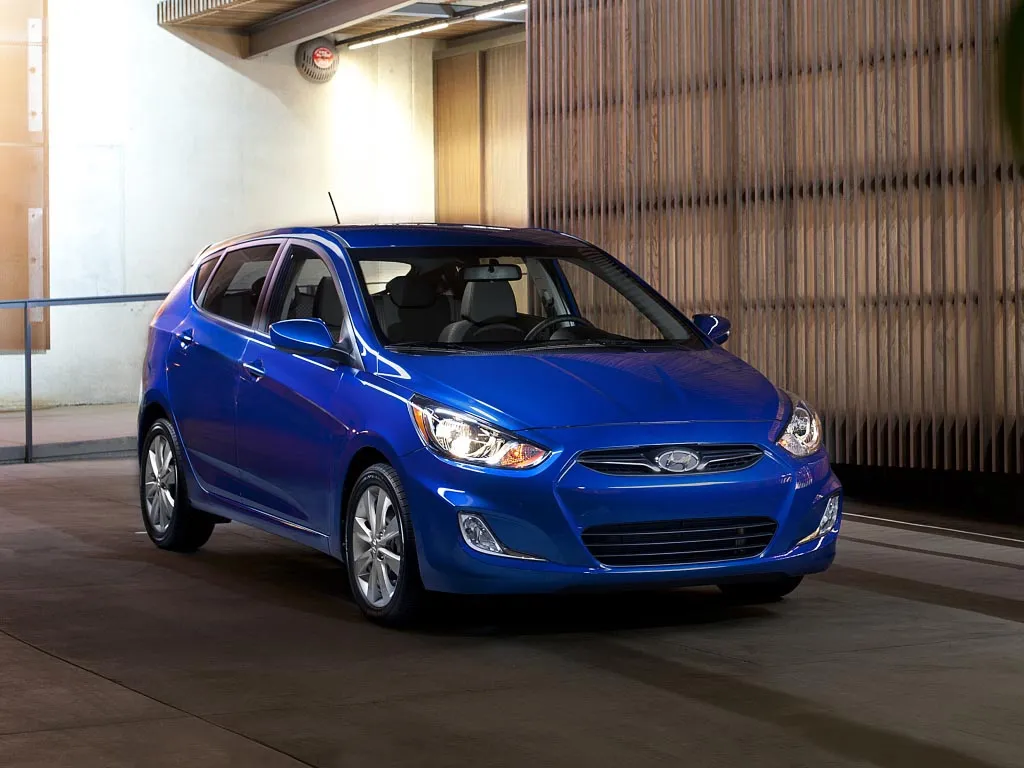 Across the range, the 2014 Hyundai Accent has an 11.4-gallon fuel tank, which means you should manage between 340 and 350 miles on a full tank of gas.
Features And Tech
Both base models come with a generous feature specification which includes satellite radio, one USB port, CD player, a six-speaker sound system. Air conditioning and power accessories in the cabin are standard, as are heated exterior mirrors and remote keyless entry. If you want a little more on your sedan, you'll need to add the Premium Package for Bluetooth and cruise control.
The top-of-the-range 2014 Hyundai Accent SE Hatchback is a little more kitted out with a sliding armrest, a sportier steering wheel, fog lamps, and a few appearance upgrades.
Safety Scores
The NHTSA's crash testing revealed some interesting scores. While all four tests returned four stars out of five, the authority includes a critical concern noted on side crash tests for rear passengers. The IIHS concurs, awarding an Acceptable score for side crash tests and only the lowest score of Poor for the small overlap front: driver side evaluation.
Despite these being rather dismal scores, all Hyundai Accent models come with six airbags, stability and traction control, ABS, and brake assist.
Reliability And Problems
There are very few 2014 Hyundai Accent problems to speak of. Neither the 2013 nor the 2014 Hyundai Accent suffered any recalls, and J.D. Power rates the Accent range at an overall 84 out of 100 on its consumer rating scale, which is high praise.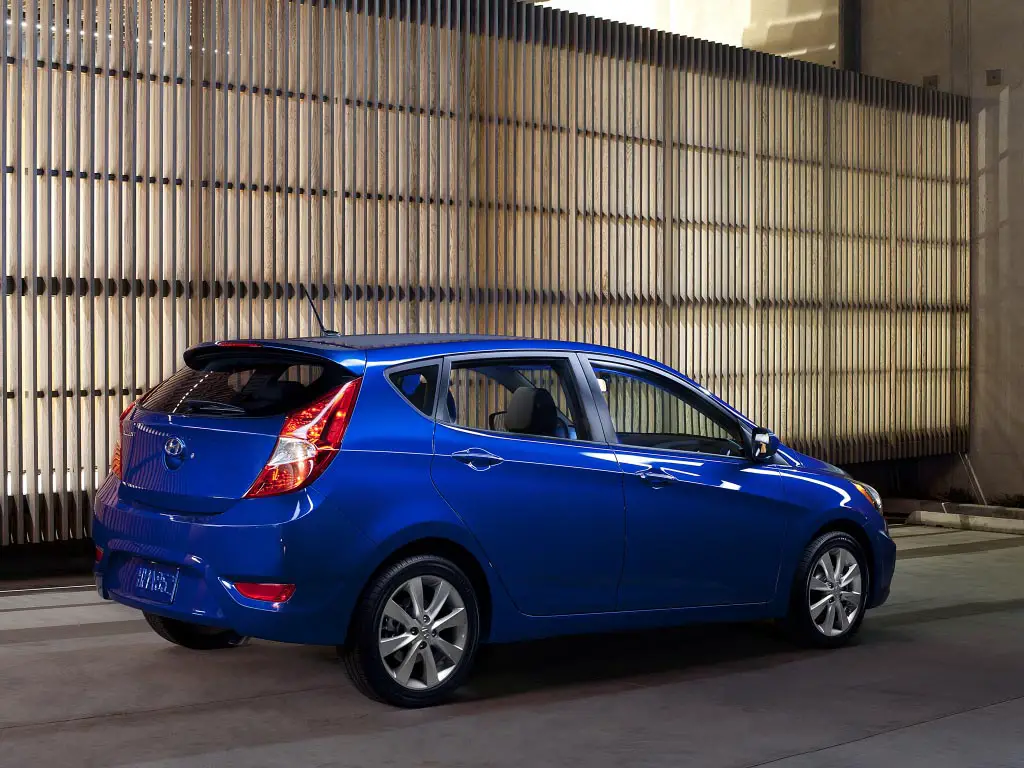 When it was released back in 2014, the Hyundai Accent range offered America's best warranty, which included powertrain cover for ten years or 100,000 miles, and a new vehicle limited warranty of five years/60,000 miles.
Price And Value
MSRPs for the 2014 Hyundai Accent GLS started at around $14,645 for a sedan with the manual gearbox. Opting for the automatic added $1,000 to the base price. The Hatchback in GS trim was priced at $14,895 and $16,095 for the manual and automatic, respectively. The 2014 Hyundai Accent price peaks for the top trim, with $16,395 for the manual SE and topped out at $17,395 for the SE automatic.
If you're looking at a used 2014 Hyundai Accent, you can expect to pay anything from around $9k to $10k, depending on condition, mileage, and options.
Our Verdict on the 2014 Hyundai Accent
The 2014 Hyundai Accent offers a compelling, reasonable package for those who need something reliable to transport them from A to B. The bonus is that there's even an eager engine under the hood to help hurry you along. And, with excellent fuel economy figures, you'll be saving at the pumps, too.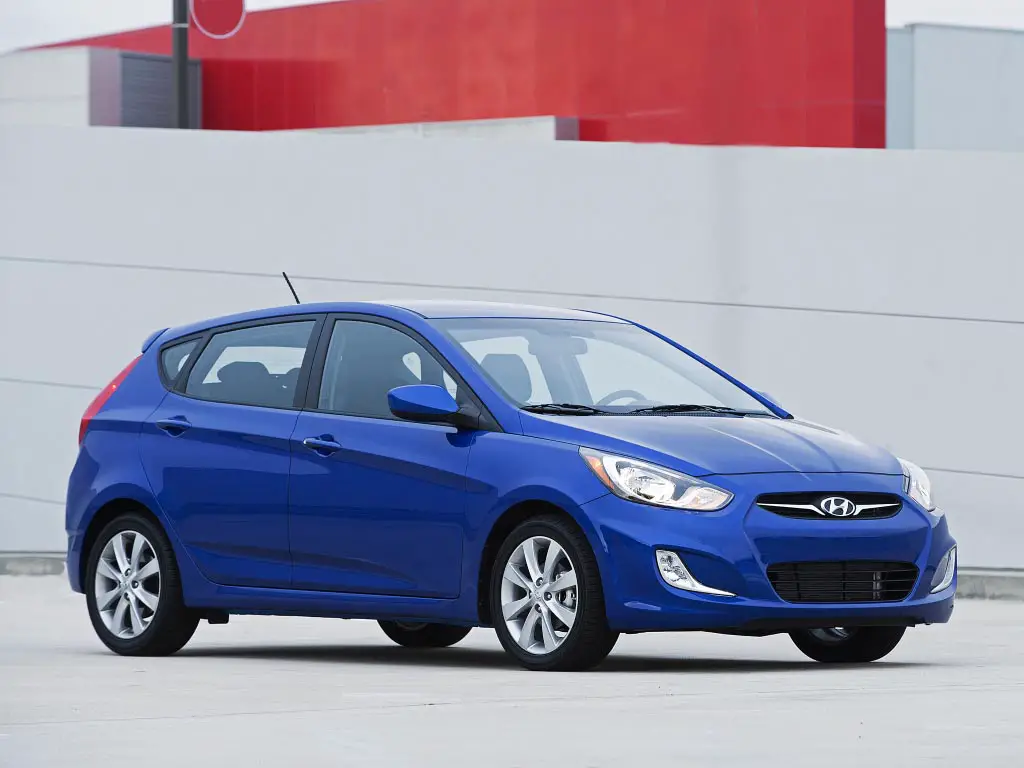 But is this enough to recommend the Accent to buyers? Safety ratings aren't ideal and whether you buy the hatchback or sedan version, it's not the most fun car to drive. Still, if you're shopping in this segment, chances are good you're not looking for a performance car at all, and if you go with the hatchback, you have the option of a sportier look with a few added extras in the SE trim. The Accent is worth a look.