The all new 2018 Hyundai Elantra Sport is a great choice for anyone looking for a fun and sporty car. This vehicle is perfect for people who enjoy being behind the wheel and want a car that will keep them entertained. The Elantra Sport comes packed with features that are sure to make your ride enjoyable. Keep reading to learn more about this vehicle and find out if it is the right fit for you.
We know what you're thinking: "another boring review of a generic sedan?" Well, we thought so too at first, but after driving the all-new 2018 Elantra Sport, we quickly changed our tune!
The 2018 Hyundai Elantra Sport sedan is an affordable car, featuring many extras like leather seats that stand out from its competitors. It's powered by a 1.6-liter turbocharged engine and provides an adequate infotainment touch screen system that's easy to use and an absolute pleasure to drive.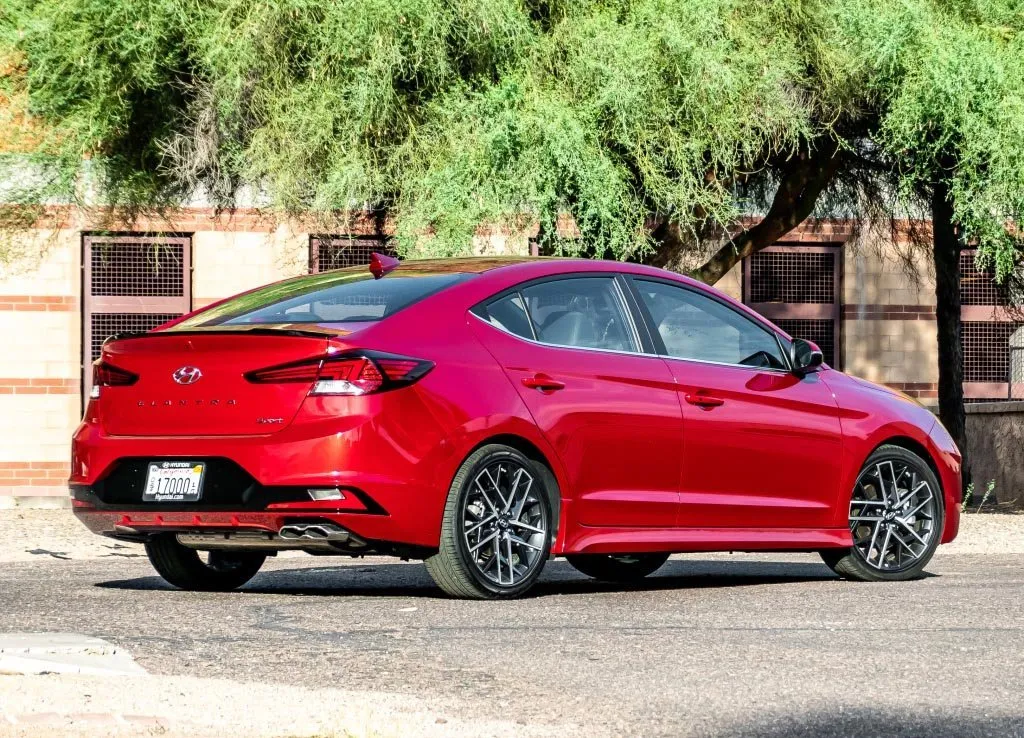 The 2018 Hyundai Elantra Sport is available in a sedan and hatchback model. This article will explore the sedan type as it's marketed as a family car that packs a punch. If you are looking for a sporty family sedan within a budget, the Hyundai Elantra Sport may be perfect for you.
Comprehensive Review Of The 2018 Hyundai Elantra Sport
The 2018 Hyundai Elantra Sport is an affordable sports sedan that offers many extras to its buyers to what you pay. It's not a Volkswagen GTI by any stretch. However, when driving one, you are pleasantly surprised by the punch it delivers and the overall presentation of the sedan.
2018 Hyundai Elantra Sport Specs
| | |
| --- | --- |
| 2018 Hyundai Elantra Sport | Specifications |
| Engine | 1.6-liter Turbo Inline-4 Gas |
| Power | 201 hp @ 6000 rpm |
| Torque | 195 lb. ft @ 1500 rpm |
| Front Suspension | Strut |
| Rear Suspension | Multi-Link |
| Steering Type | Rack-Pinion |
| Drive Train | Front-Wheel Drive |
| Fuel Tank Capacity | 14 Gallons |
| Fuel Consumption City | 22 MPG |
| Fuel Consumption Highway | 30 MPG |
| Curb Weight | 3,042 lbs. |
| Front Wheel Size | 18" x 7.5" |
| Rear Wheel Size | 18" x 7.5" |
| Front Tire | P225/40/HR18 |
| Rear Tire | P225/40/HR18 |
| Spare Tire | Compact |
| Car Type | Sedan |
2018 Hyundai Elantra Sport – Driving Impressions
I drove one recently, and here is my assessment of the ride and a quick update on the looks of the 2018 Hyundai Elantra Sport.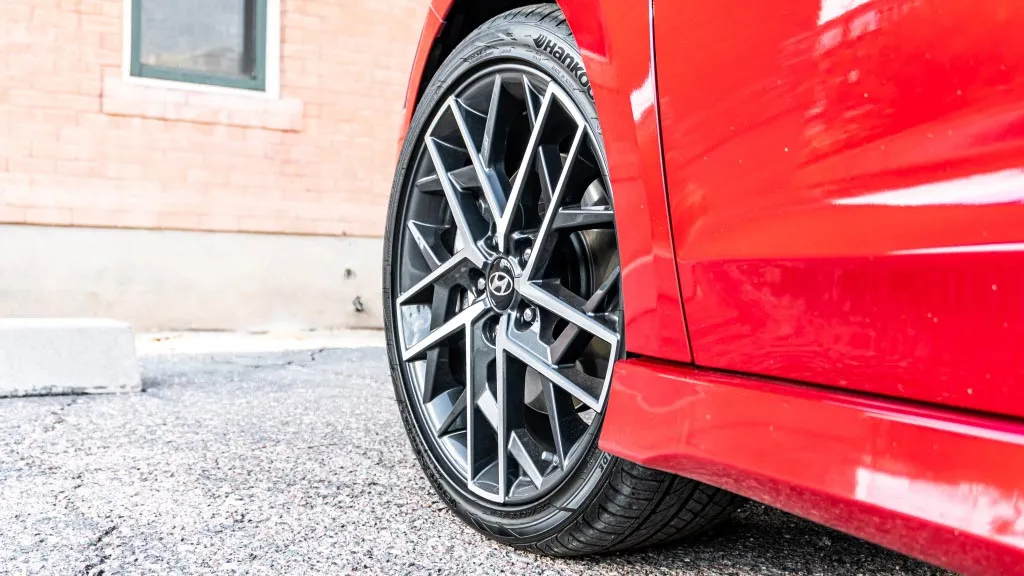 First off, the 2018 Elantra Sport is beautifully designed. The grill is significant, the bumper and xenon lights are not overly aggressive like some competitors. It's topped off with a "Turbo" badge, and I found the look to be classy with a splash of attitude. Tires all around are P225/40/HR 18's, 18″ alloy rims; they look nice and grippy.
Under the 2018 Hyundai Elantra Sport's hood, we found an exciting little turbocharged 1.6-liter, 4 cylinder engine that pumped out a respectable 201hp coupled with 195 lb-ft of torque. I'm excited to see how this dual-clutch seven-speed automatic performs on the road.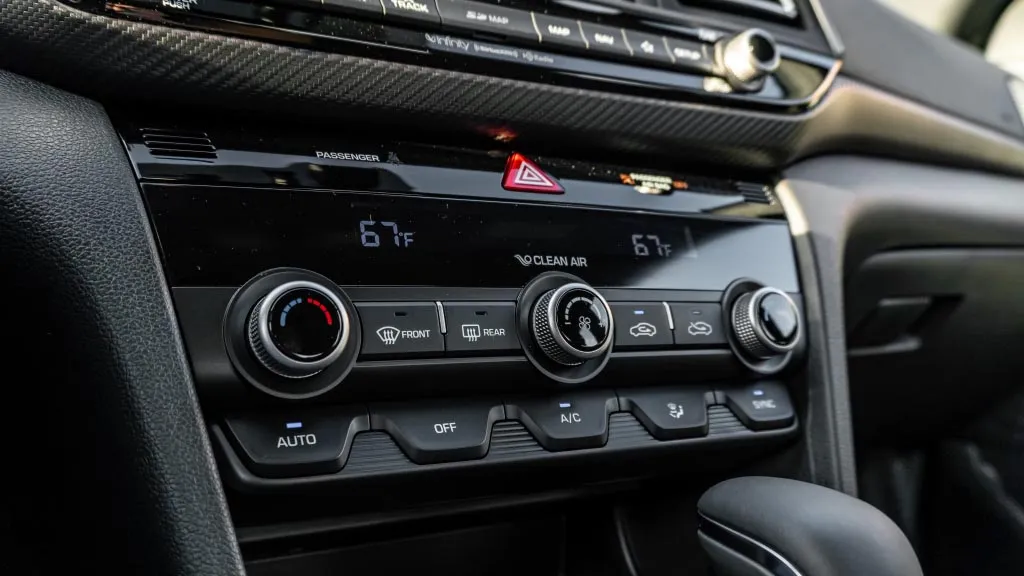 The outside rear design is done with taste, nothing extreme, just a well-put-together sedan with flattering lines that add edginess to it. A small rear diffuser and exhaust finisher ties the car nicely together. There is a compact spare tire in the trunk.
Climbing into the car, I am welcomed by red-stitched leather power seats that are slightly stiff but reasonably comfortable. The flat-bottomed steering wheel has an excellent 9 and 3 grip, with comfortable 10 and 2 notches.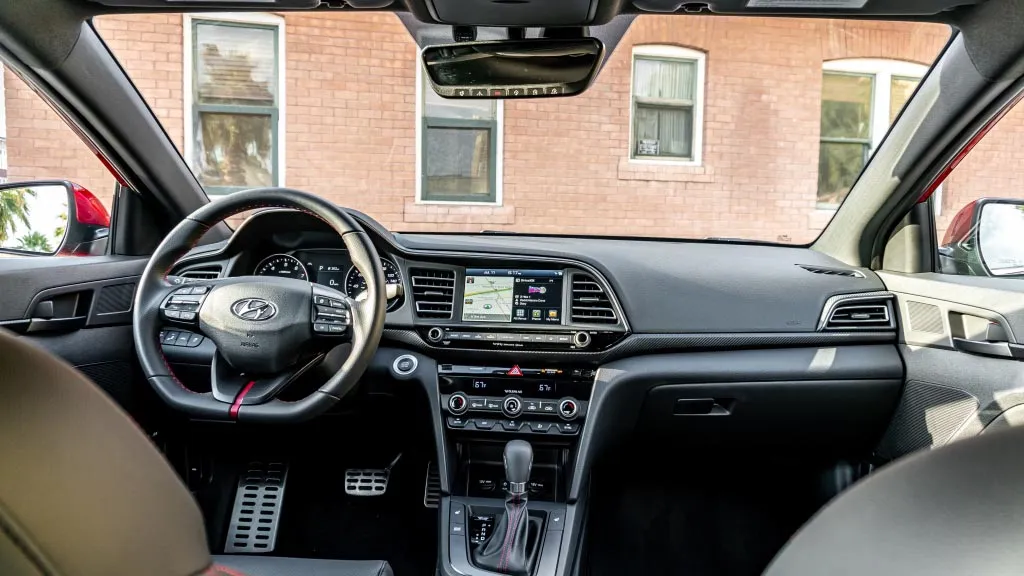 The cabin does not have all the bells and whistles of more expensive competitor models, but relative to what you are paying, it is well built with the usual suspects:
8" Touchscreen
Android Auto
8-Speaker Premium Sound System (Infinity)
Electronic Display Settings
Ample cup spaces, USB ports, and power outlets
Climate control settings
The rear interior is spacious enough to fit adults comfortably. The red stitching in the leather catches the eye again. The Elantra Sport weighs 3,034 lbs. which is pretty light; let's hope it sticks to the road!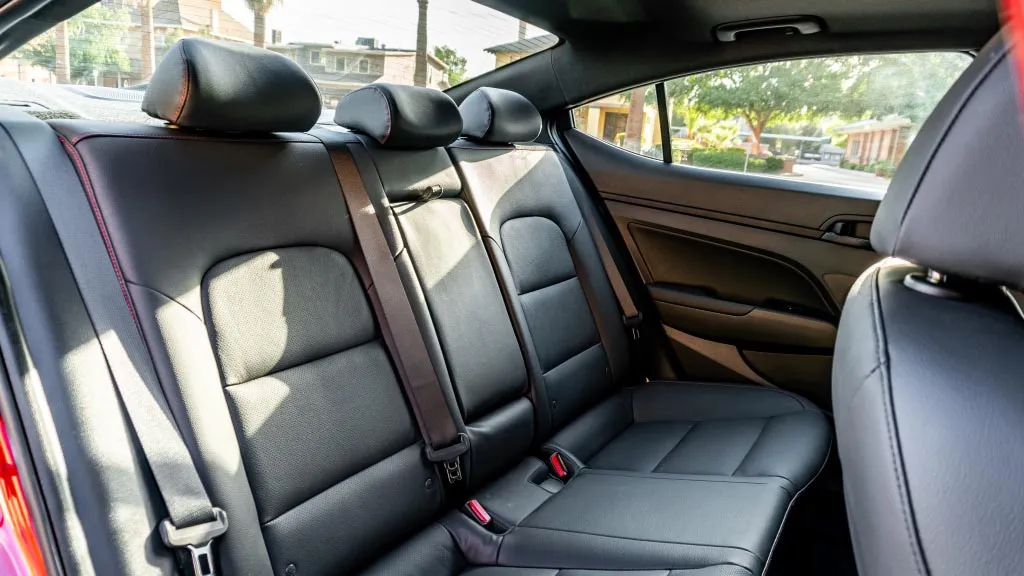 Starting the Hyundai is done with the key in my pocket by pressing a big button labeled start. The Hyundai Elantra Sport has a multi-link independent rear suspension with a strut front suspension.
A little bit of wheelspin as I head off, nothing too alarming, controlled power in my opinion. The engine purrs like a panther, and 0-60 mph feels like somewhere between 6 to 7 seconds. The turbo is punchier than previous Elantra models, and it also seems to have less lag.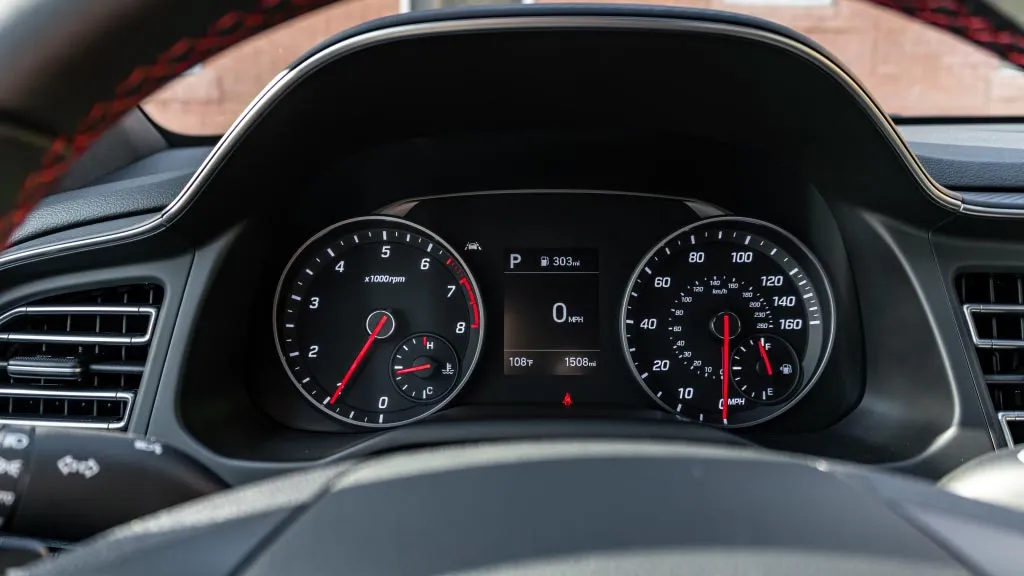 I took my first serious corner with speed, and the Sport stuck to the tarmac with considerable ease. The suspension feels nice and stiff and obviously plays a role in the sedan staying so flat. With my confidence a little higher, I stepped up my cornering speeds and the same results.
The brakes responded excellently, and feedback started at the top of the pedal, which I like. I know it's probably not a huge thing, but I felt that the exhaust sounded extremely quiet, apart from the occasional gurgle and minimal feedback. I wish that there was more response coming from the back to remind me of the car's sportiness.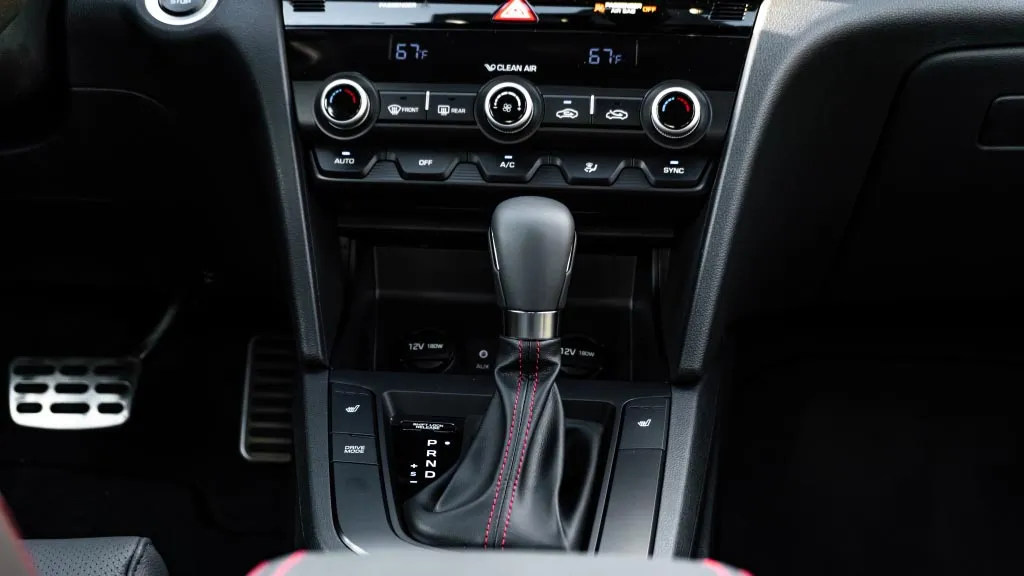 When I placed it in manual shift mode, I used the paddle shifters and was surprised to find the following. When shifting up, I experienced a few lags, when you usually would experience it shifting down. I experienced no lag when downshifting. Overall, shifting between gears was neat and quick.
I did note, compared to similarly priced sedans (the Honda Si comes to mind), the 2018 Hyundai Elantra Sport felt nimbler and more compact on the road. Hyundai offers just a little more in the way of extras (leather seats compared to cloth, flat-heeled steering wheel). It's like Hyundai strives to give you more for your money.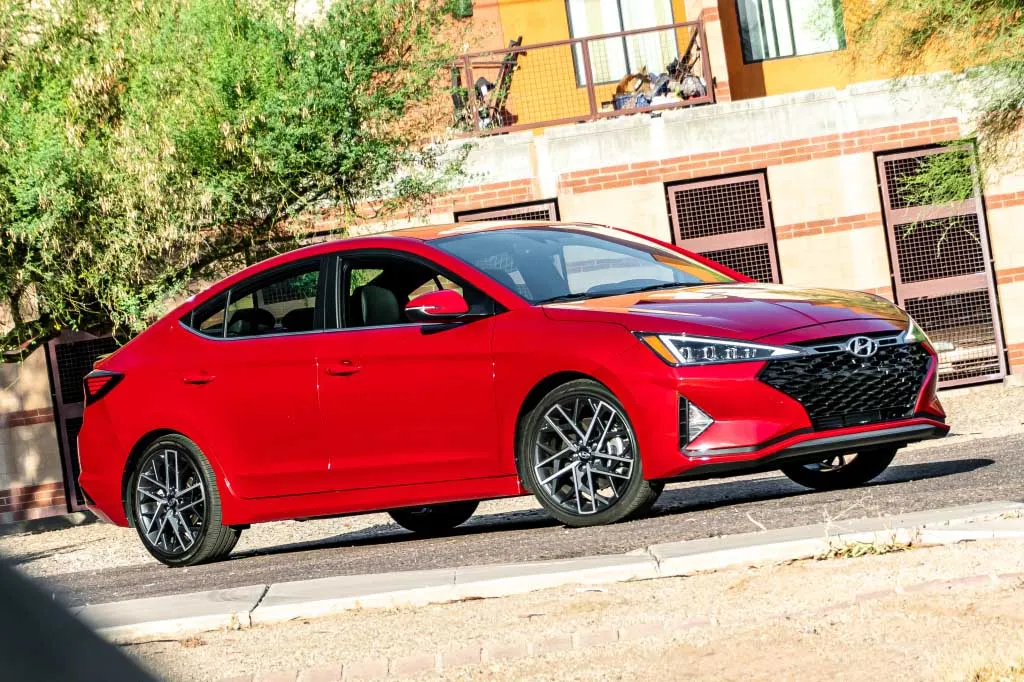 All-in-all, the driving experience was indeed a pleasure. The Elantra Sport is a confident little weapon on the road, without the exhaust grunt.
2018 Hyundai Elantra Sport Price
The original price (MSRP) for the 2018 Hyundai Elantra Sport is $22,685. Choosing the Sport Premium package will push this number up to the $24,000 and some change range. Depending on the package, it's way cheaper than a Volkswagen GTI and about $1,000 less than the Honda Si.
2018 Hyundai Elantra Sport Infotainment
The Elantra Sport comes standard with the following electronic equipment and software:
7" Touchscreen
Android Auto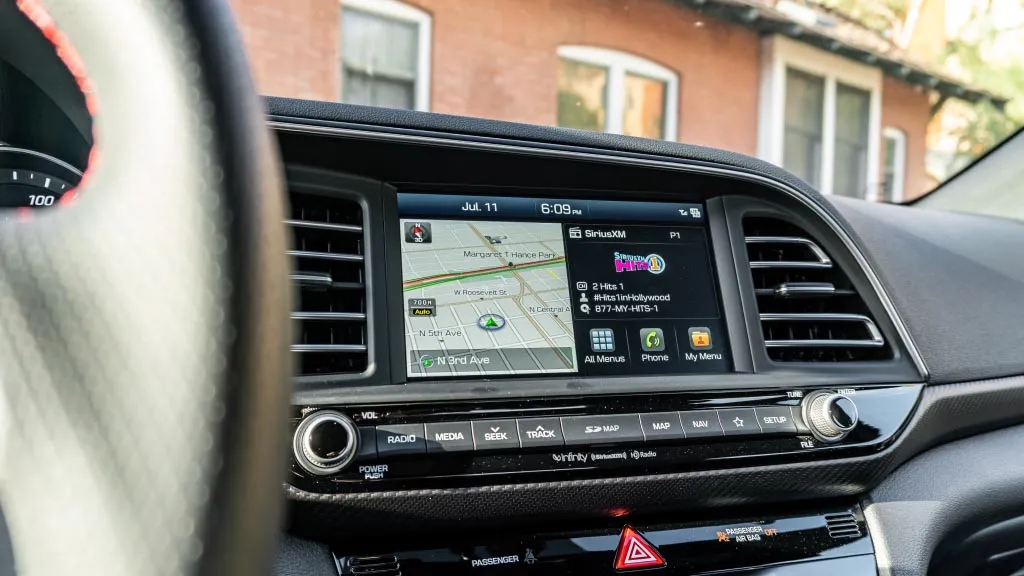 When going for the Premium Package, expect the following:
8" Touchscreen
Upgraded Audio System (8 speakers) – Infinity
Android Auto
As expected for cars falling in this segment, the infotainment system is a joy to operate; the only downside is that it lacks Wi-Fi hotspot accessibility.
2018 Hyundai Elantra Sport Problems
Some of the issues experienced with the 2018 Hyundai Elantra Sport is the following:
Stalling engine.
Loss of power (External lights.)
There is a higher than average probability of serious injury when involved in a side crash.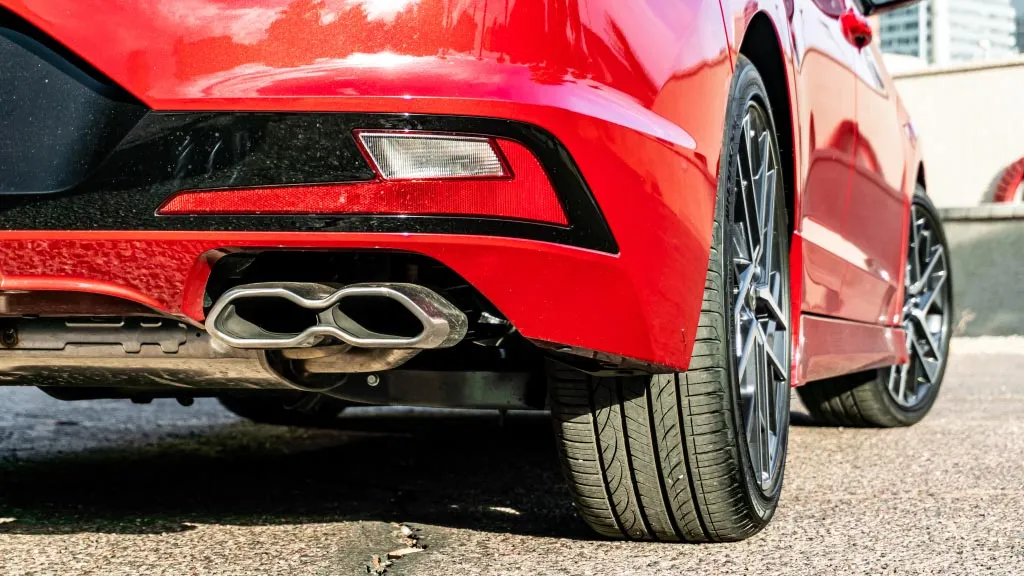 Having never been recalled, the 2018 Elantra Sport has less than 100 complaints with the NHTSA; 33 of the 86 complaints had to do with the engine (stalling.) Seven indicated powertrain problems, five were regarding speed control, and four showed propulsion problems.
2018 Hyundai Elantra Sport Reliability
The reliablity of the 2018 Hyundai Elantra sport is without question fairly decent, we score it a nice and even 8/10 on the reliability scale. And as we searched around the internet for reliability websites we were able to see that our score was fairly consistent.
2018 Hyundai Elantra Sport 0-60 mph
The 2018 Hyundai Elantra Sport does 0-60 mph in 6.6 seconds when driving the manual sedan. When using an automatic Elantra Sport sedan, this figure goes up to 7.1 seconds in 0-60 mph.
2018 Hyundai Elantra Sport Models
The 2018 Hyundai Electra offers six trim levels to choose from:
SE
ECO
SEL
Value
Limited
Sport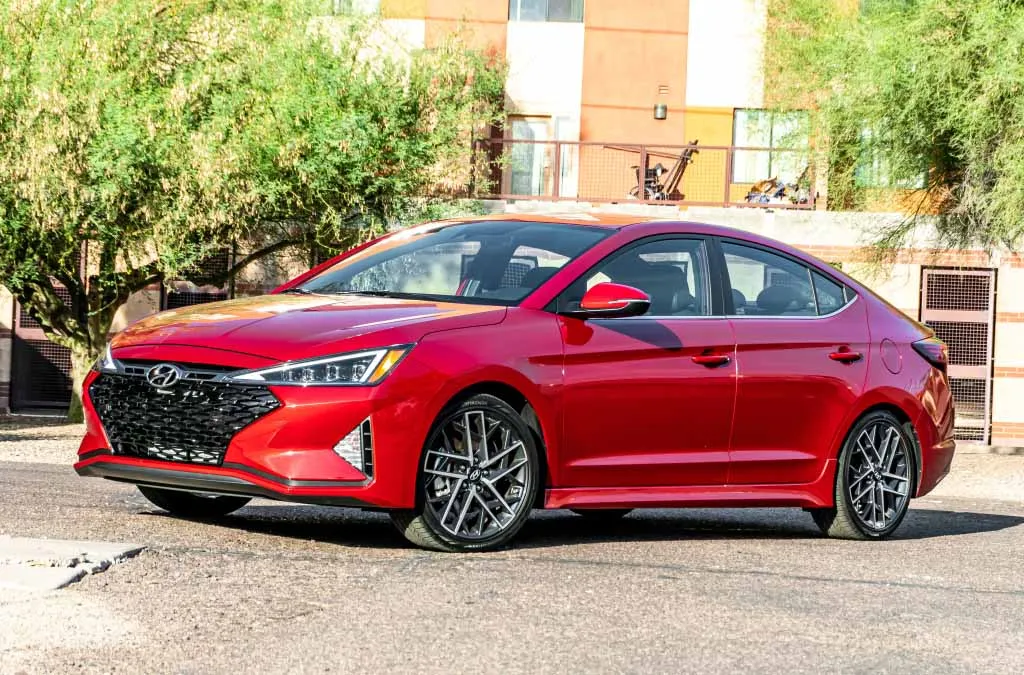 When you opt for the 2018 Hyundai Elantra Sport, you get to decide between a six-speed manual or a dual-clutch automatic seven-speed. The rear suspension is adjusted to be firmer and more advanced and is the only model fitted with a multi-link independent rear suspension. You get a sunroof but no dual-zone automatic climate control function.
The Elantra Sport features strong brakes, xenon headlights, and 18-inch alloy wheels. When you climb into the interior, expect the following:
Heated Leather Sport Seats – With Aesthetically Pleasing Red Stitches (Driver and Passenger)
Unique Gauge Display
Flat-Bottomed Steering Wheel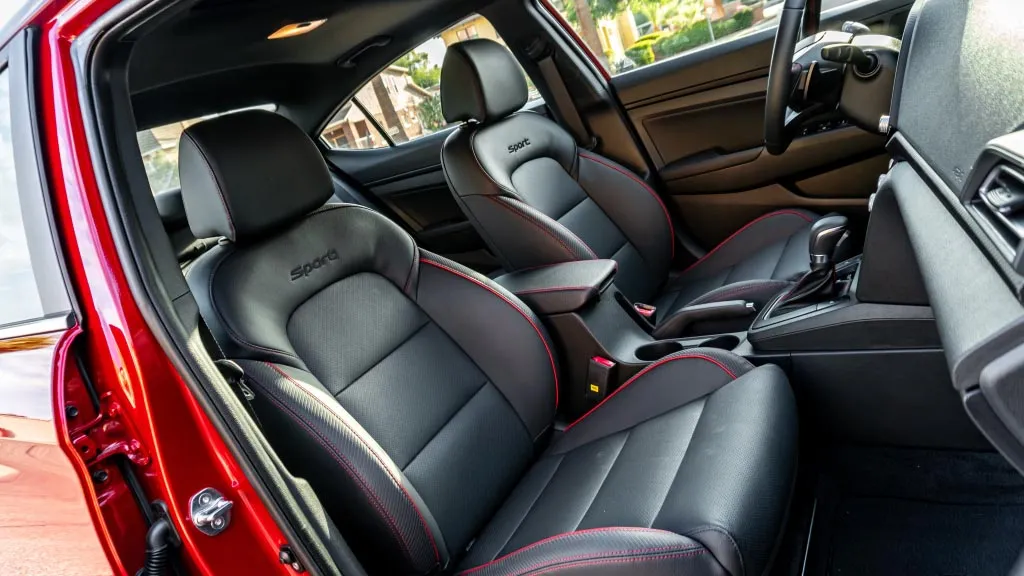 There is one package available for the Elantra Sport, called the Sport Premium option, which brings back the dual-zone climate control, and some of the following extras:
Auto-Dimming Rearview Mirror
8-Speaker Premium Sound System (Infinity)
8" Touchscreen (Navigation)
Keyless Entry
Keyless Ignition
Both options are fitted with machines that produce 201 hp/195lb. ft of torque through a turbocharged four-cylinder 1.6-liter engine.
Our Verdict on the 2018 Hyundai Elantra Sport
The 2018 Hyundai Elantra Sport was a pleasure to drive, with one or two minor complaints, but as I said, for the price and what you get, it's real value for money.