The Honda B series engine is one of Honda's greatest engineering achievements and has undoubtedly cemented itself in the history books. Despite this, many people are unfamiliar with the Honda B series engines, let alone the B18A1 engine.
This detailed guide to the B18A1 engine will answer any questions you might have about it as well as go into the history and origin of the engine. Stick with us while we uncover all the secrets and quirks that make this engine so universally coveted.
What Is The Honda B Series Engine
The Honda B Series engine has been around since 1986-1987 when it first entered the market in the form of the Honda Prelude. The Honda Vigor and Honda Accord quickly followed suit and very quickly the B series became the staple of the Honda manufacturing and design strategy. The B series originated with the B20A which was shortly followed by the B16, B17, and B18 families. The B18 quickly became the most popular and the most universally coveted of the engines. Though they all remained quite popular to this day.
The B series gained popularity and notoriety as a great engine due to two main factors. First, it was readily available. Honda is one of the largest manufacturers in the world and that meant that the market was now flooded with B series engines. So, they were reasonably easy to get your hands on. And secondly, they are so customizable and versatile that you can mold them into pretty much whatever you want. Their aftermarket options are so varied and interchangeable that not only was the B series a smart choice but it was a safe one too.
There was no risk of committing to an engine that was going to see a supply shock in the coming years where spare parts dry up. Which is common with limited series engines that are not commonly used. Given we are talking about Honda, you will obviously recognize that having an excellent engine that can be seamlessly transplanted into a reliable runner like a Honda Civic will contribute to its high demand. The B series was an immediate hit and its popularity and reliability have only grown over the next 30+ years.
What Is The Honda B18 Engine
The B18 family of the B series engines from Honda are without a doubt the most popular of the entire series. The B18 series comes in two different versions, the VTEC and the non-VTEC version depending on your personal preference. Or depending on which model of Honda you bought as stock. The B18 non-VTEC first came onto the market from 1986 through until 1989 with the much beloved Accord Aerodeck. The non-VTEC version of the B18 engine was more readily available domestically in Japan though they do tend to crop up quite frequently in North America and Australia.
What Is A Honda B18A1 Engine?
The Honda B18A1 Engine was the first member of the B18 family that was available domestically in the USA and unsurprisingly this made it one of the most popular. There are some slight differences between the B18A and the American B18A1, though they are slight. The B18A1 engine was a 1.8L non-VTEC motor that was capable of producing 130-135 brake horsepower. By the time 1993 rolled around B18A1 engine had been tweaked slightly and was now capable of squeezing out an extra 5-10 brake horsepower.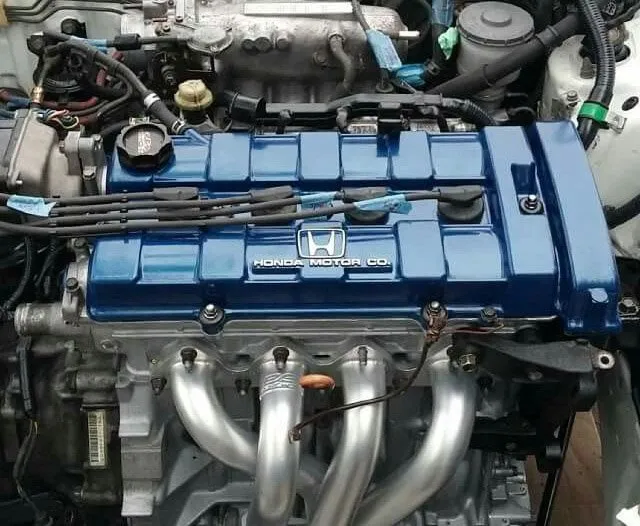 The B18A1 engine could produce about 121 lb-ft of torque which many felt was undesirable, however, given how easy this engine is to tune up slightly some extra torque and bhp is never very far away. One of the most compelling reasons for the B18A1 engine being so popular is that it ran at a very low compression level compared to some of its predecessors, and even the next few generations. While it may not have exactly been by design, the B18A1 is perfectly suited for turbocharging.
Many engines need to have their compression levels massively reduced from their intended levels. This reduces the engine's maximum performance, of course, you gain a ton of power and torque from turbocharging, but not as much as you should. With the B18A1 engine, the compression levels are already within a suitable range which means you can squeeze out every ounce of power and torque with little effect on the engine's optimal performance. The B18A1 engine sits at a compression level of around 9.2:1.
Is The B18A1 Engine A VTEC?
The B18 family of the B series engines has members that both do and do not come with VTEC capabilities. The B18A1 does not come with VTEC installed as default. However, it is possible to install one yourself. Or convince your local mechanic to do it for you. Many people find that they don't necessarily need it, however, the option is there. This is always a plus when it comes to hot-swapping the B18A1 into a vehicle that doesn't come with one as standard. Does a Honda Civic need a 1.8 B18A1 VTEC turbocharged motor? Probably not. But how ridiculously fun would that be?
How Much Does A B18A1 Engine Cost?
If you are looking to pick up a well-loved second-hand B18A1 engine then you may only need to spend about 700 bucks all in to get your hands on one, plus installation costs. A B18A1 in good condition with transmission included may cost about $1500 including installation (if you can get a good hourly rate from the mechanic. But most importantly, for most people anyway, is that you can buy a new or near-new B18A1 turbocharged engine and transmission for about $2250. It feels like the best option is the $2250 by far but to each their own.
Conclusion
The B18A1 engine is pretty darn impressive and despite its crazy high demand, you will find that they are very reasonably priced for what you are getting. While the B series as a whole is undoubtedly one of the most popular Honda has ever brought out, it likely wouldn't have been that way without the B18A1. It has done the heavy lifting for the whole B18 family for about 20 years and to be honest, it doesn't look like anything is likely to surpass it any time soon.