The 2021 Ford Explorer ST solves a lot of problems, Ford really went to town when figuring out what to do with their 2021 year model. They may have created the perfect vehicle that can handle your family's needs and take you on all of your outdoor adventures, but not something that's going to feel like a tank.
With gas prices on the rise, you're probably looking for a vehicle with good fuel economy. You might also need something that can tow your boat or camper and has enough space for all of your gear. It's hard to know what the right car for you is when there are so many options out there. Do you want an SUV, a sedan, a sports car? What about four-wheel drive? Regardless of what you pick is technology most important to you? All great questions to ask when in pursuit of your next car to ensure it will meet all of your needs.
The 2021 Ford Explorer ST is the perfect solution for anyone looking for a comfortable and practical car that doesn't sacrifice performance or style that comes with what you need when you're going on or off road.
The first time the phrase SUV (Sports Utility Vehicle) was used was in a brochure extolling the virtues of the 1974 Jeep Cherokee SJ. The term wouldn't come into regular usage until the late 1980s. During the 1990s, more and more manufacturers started developing and marketing vehicles categorized as SUVs.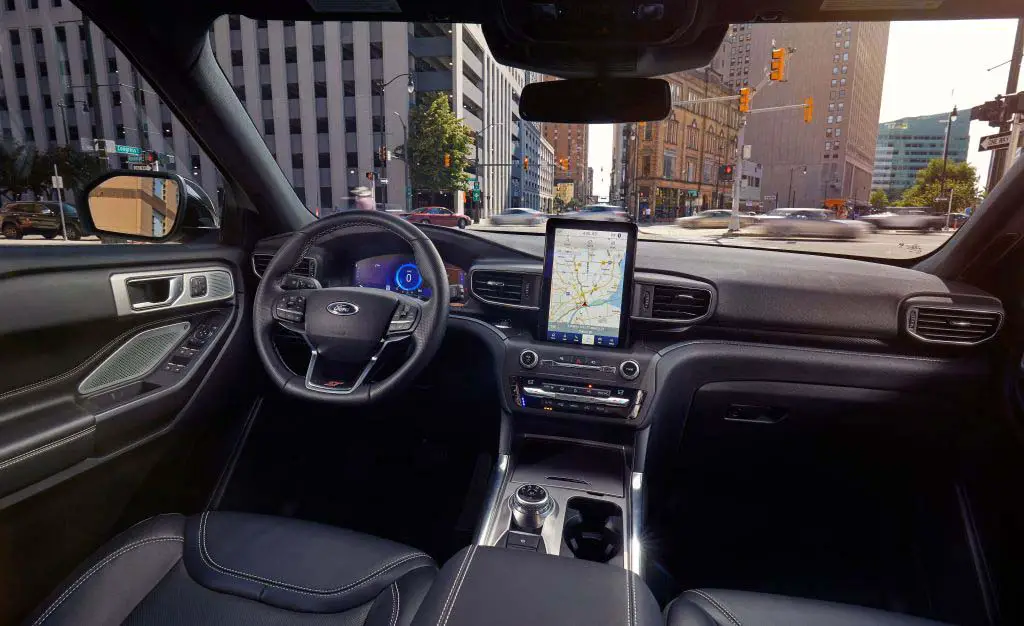 The 2021 Ford Explorer has come a long way from the ungainly boxy-shaped four-wheel-drive vehicle launched in 1991. It boasts an efficient and powerful 3.0l Eco Boost engine, multiple powertrain options, a comfortable interior, three rows of seats, and an industry-leading infotainment system.
Alongside the Jeep Grand Cherokee, the Ford Explorer is one of the vehicles which can lay claim to birthing the SUV craze, which now dominates the motor industry. The first Ford Explorers were boxy-shaped vehicles, more like a station wagon, but fitted with four-wheel drive and a rough terrain capability.
The History Of The Ford Explorer ST
Back in the time when Sport Ute's (as some called them) were first being marketed, car enthusiasts thumbed their nose at them in a similar way they did to minivans. 
A few manufacturers were offering station wagons with four-wheel drive and off-road capability back then. They were modeled similar to the iconic Land Rover and the Jeep Wrangler but offered a more capable pavement road capability.
Amongst the forerunners of this class were the Toyota RAV 4, the Jeep Grand Cherokee, the Land Rover Freelander, the Chevrolet Tahoe, and the Ford Explorer ST.
Since those early times, SUV sales have grown to represent 45% of all car sales worldwide. The Ford Explorer enjoys a 17.5% share of the SUV segment of this market.
What Is The 2021 Ford Explorer ST Like?
The 2021 Ford Explorer ST styling could not be more different than its first-generation ancestor. An aggressive, streamlined exterior profile has replaced the boxy and utility shape of the previous generations.
This squat, aggressive-looking vehicle has a strange appeal which you are drawn to when you first set sights on it.
Nothing visually identifies this as a descendant of the first Explorer. Gone are the vertical sides and upright windscreen. In its place are contoured body panels displaying a healthy dose of blacked-out features, including a black mesh grille insert, tailgate cosmetics, lower bodyside details, roof-rack side rails, and skid plate elements.
All this is framed by the massive machine-faced standard wheels available in black-gloss.
What was once a vehicle catering for the styling aimed at the off-road addict has evolved into a piece of art that you would happily display in your driveway.
Although the 2021 Ford Explorer ST is slightly wider than competitors, its dimensions fall in the middle range of the other vehicles in terms of height and length.
| | | | | |
| --- | --- | --- | --- | --- |
| Dimension | Ford Explorer | Honda Pilot | Chevrolet Traverse | VW Tiguan |
| Length | 198.8 Inches | 196.5 Inches | 205.9 Inches | 176.6 Inches |
| Width | 78.9 inches | 78.6 Inches | 78.6 Inches | 72.4 Inches |
| Height | 70.2 Inches | 70.6 Inches | 70.7 Inches | 65.2 Inches |
It doesn't hide that it is an SUV, but It is a well-dimensioned package that appeals in a chunky compact way.
What Powers The 2021 Ford Explorer ST?
The extra grunt comes from a standard twin-turbocharged 3.0-liter V-6 engine, producing 400hp. Horsepower is essential, but the torque produced by the motor gives the getup and go, head pushed back into the headrest feeling.
It's here where the 2021 Ford Explorer ST does not disappoint with the delivery of a class-leading 415 lb-ft of torque.
The engine connects to all four wheels via a ten-speed transmission, and this car never seems to lose the urge to go forward and is happy to traverse the steepest of gradients.
Hook an RV behind it, and you will have to remember it's there consciously.
The V-6 produces a throaty rumble at idle, which changes to a dignified roar when the "go fast" pedal is pressed hard.
The response to the accelerator is almost immediate, with no lags or hesitations.
The transmission is a pleasure to use. Depress the button on the center console and select "Sport," which increases the accelerator's sensitivity, provides a quicker, more aggressive feel when shifting gear, and allows the transmission to hold shifts.
The 10-speed automatic transmission delivers a smooth, almost uninterrupted power curve, and the downshifts during hard cornering come in at just the right time.  
The lack of body roll is exceptional given the ST's considerable size.
What Is The Interior Of The 2021 Ford Explorer ST Like?
No one would call the interior flashy or ostentatious, but it does provide a comfortable, harder-wearing place for you to travel.
The three-row seating (read 2 ½ rows) provides comfortable seating for four adults and two children. Unless the family is size disadvantaged, the six adults advertised by Ford is a squeeze!!
The front four seats are very comfortable individual chairs, while the third row is a bench installed so close to the floor it is only suitable for children (or your mother-in-law!)
Ford has improved access to the third row by installing a button that moves the second-row seats out of the way.
The interior includes heated and cooled front seats, parking assist, and a 360-degree camera view.
The most essential options are
A technology package with massaging seats, an upgraded audio system, a vertically oriented 10.1-inch touchscreen, a Rear View Camera, BLIS® (Blind Spot Information System), Lane-Keeping System Pre-Collision Assist with Automatic Emergency Braking and Auto High-Beam Headlamps.
A performance package with 21-inch wheels, upgraded brakes, and painted brake calipers.
A $1695 panoramic sunroof
The standard 8.0-inch touchscreen infotainment system includes Apple CarPlay, Android Auto capability, and a Wi-Fi hotspot. The technology package replaces the 10.1-inch screen with an 8.00-inch unit.
Our Verdict on the 2021 Ford Explorer ST
In a market segment flooded with variations on the same SUV theme, the 2021 Ford Explorer ST manages to distinguish itself. While providing all the expected features of an SUV, the 2021 Ford Explorer ST also offers blistering performance.
If you are looking for an SUV, it is recommended that you include the 2021 Ford Explorer ST as one of the vehicles to look at.