The allure of customizing cars has a long and varied history. At least as far back as the 1950's, the craze grew up with American hot rods and drag racers. Many iconic Hollywood movies, of that time, have an exciting drag race scene in it. This continued into the '60s and '70's as American muscle cars were given serious overhauls in their looks and performance.
By the time we get into the 1980's, fiberglass has become prevalent in its usage and this allowed for the emergence of body kits. On the streets it was common to see many kinds of road cars that had been given the makeover. These were developed by screwing sections of fiberglass to the front, rear and side of the car until it was almost unrecognizable to its original shape.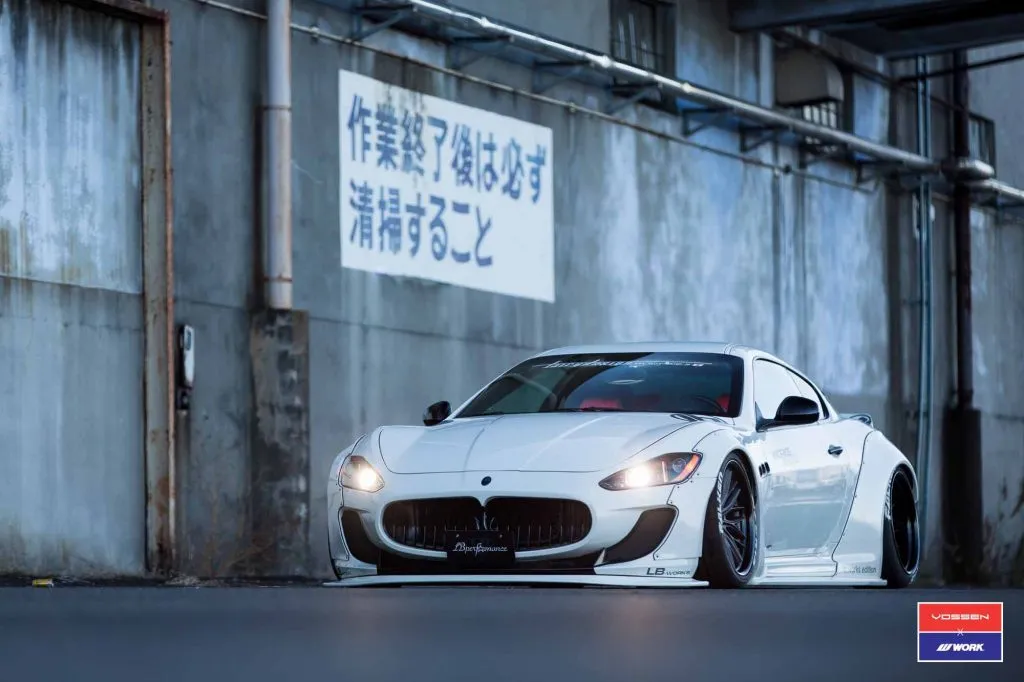 Fast forward to today and this craze has evolved into something more serious and quite expensive. Whereas, before, body kits were attached to aging or cheaper vehicles, now these kits are being placed on brand new, high-end sports cars and exotics.
Japan has been one of the frontrunners in this motoring fashion trend and Liberty Walk has been at the forefront of this. So, it would be inevitable that they would turn their attention to the Trident eventually.
Let's take a look at the background of how Liberty Walk began and what the Maserati Liberty Walk has to offer.
Tokyo Drift
Even as far east as Japan, the aggressive customization also caught on during the 1980's and 1990's. Known as the "Kaido Racers", these "petrolheads" would let their imaginations run riot as they would create manic works of art with their street metal.
These cars were known for extra wide body square fenders, transplanted headlights and the removal of the original fenders. It was meant to be big, brash and very colorful. Anything was possible and nothing was missed out.
This would be the inspiration for the Fast & Furious movie, Tokyo Drift, and many of the racing computer games (Midnight Club, Need For Speed, Burnout, etc).
From this, Wataru Kato would find the motivation to take this "old school" look and bring it into the 21st century.
Bosozoku Style
This was the name of this Japanese road art and it was from this that Kato had the idea to bring this forward. It started, in 2008, with his friend and his Lamborghini. He was going to buy a new Murcielago but wanted it to look more aggressive and powerful than the Lamborghini already looked. So, he asked Kato to do something with it and he surely did. This would be the first project for the newly founded LB Performance which would provide function and appearance upgrades.
The finished result would go on display at the 2009 Las Vegas SEMA show and create a major stir. The Lambo got so much exposure through social media and became a celebrity. But other eager customers would have to wait as this burgeoning company were still very new and not ready for the demand.
After three years, in 2012, more high-end models began to appear. In that year another Murcielago appeared and, in the following year, this was joined by a Ferrari 458 Italia and a Nissan GTR. By 2014, a Lamborghini Aventador and four other models were unveiled by LB Works.
Business has boomed in the intervening years as orders continue to come in. In Japan there are 200 automobiles driving around that have come from the LB Works factory. While, worldwide, there are 350 models in existence and they are spread throughout the globe – North & South America, Europe, Asia and the Middle East.
Key car makers from Italy, Germany, Japan and the USA have all undergone extreme makeovers – including Maserati.
Maserati Liberty Walk
The Japanese body kit designer have made two kits for Maserati and both are for the GranTurismo, although one kit is specific for the Maserati GranTurismo MC Stradale.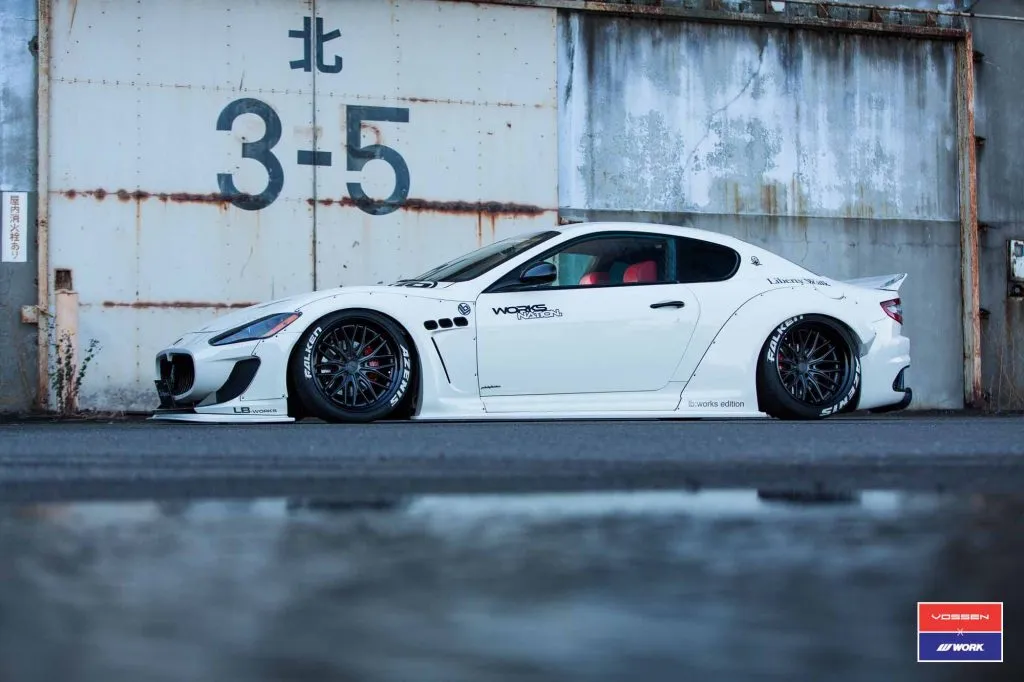 The Maserati GranTurismo Liberty Walk body kit consists of diffusers for front, side & rear, side skirts, rear wing and wide fenders (front & rear). This is the same package for both vehicles, though priced differently, and the material is available in carbon fiber or a reinforced plastic.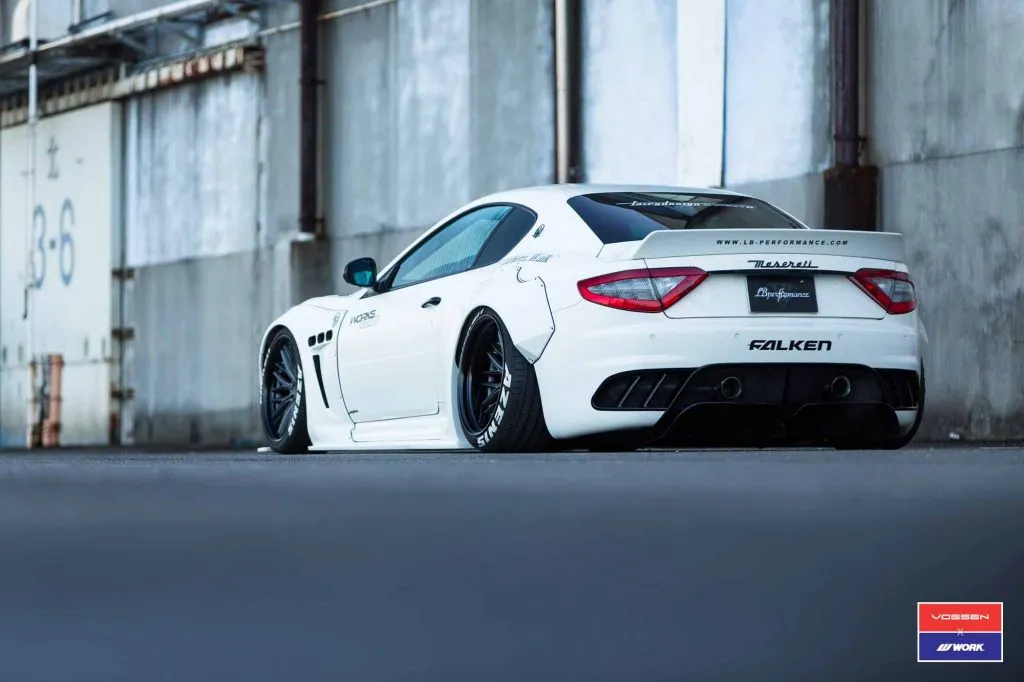 The Maserati Liberty Walk price ranges from US$13,300 – $15,900 for the MC Stradale and $15,800 – $18,400 for the GT. The extra cost for the low end GranTurismo is due to the fact that it needs its specs to be raised first to a MC Stradale level. This price only covers the body work but if the full overhaul is completed, with new active suspension and wheels, this will need a deeper budget.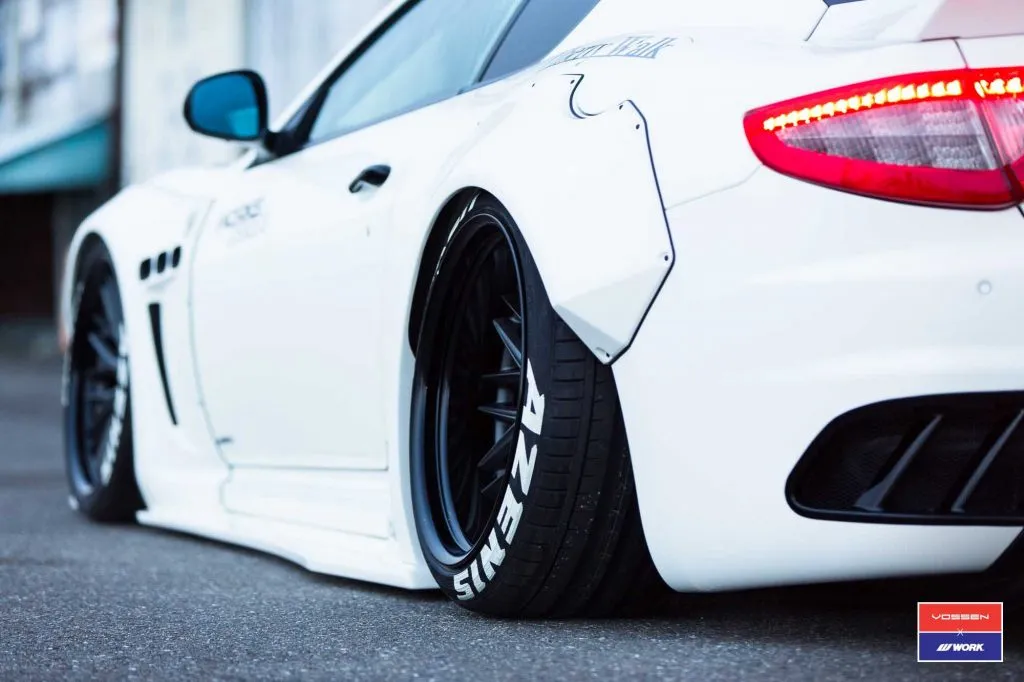 The suspension can be augmented by installing a digital air suspension system from AirRex. Once fitted, this lowers the driving profile to barely above the road surface itself. This would only work well on well-maintained roads (like Japan's, for instance) but the AirRex System can be adjusted instantaneously and continuously so it can adapt to road quality. The cost of the system varies between $5,800 – $13,700.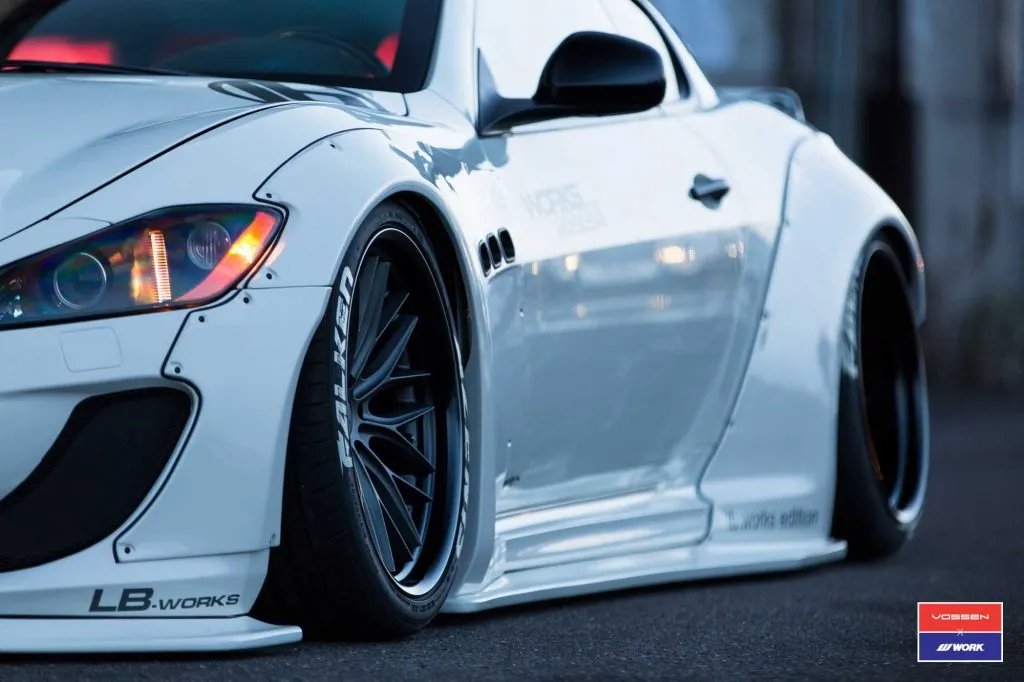 The full look is rounded off with fat and aggressive alloy rims by Forgiato from Los Angeles. These ultra exotic and bespoke rims are matched with high performance tires. These wheels are varied and unique.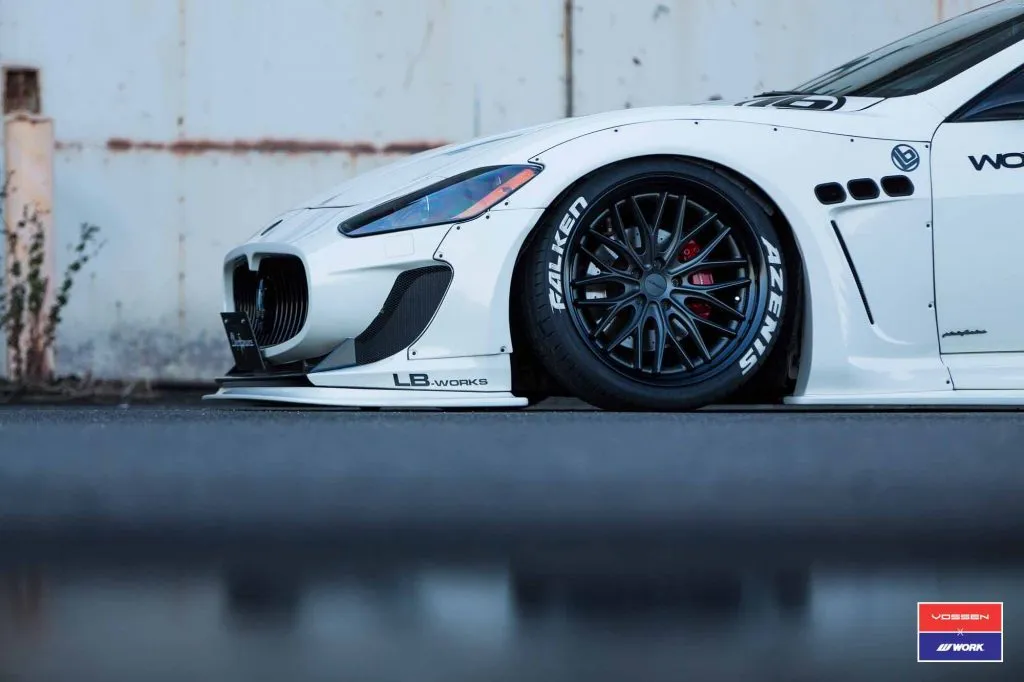 Something to Behold
Once fitted, the Maserati GranTurismo widebody kit is something to behold. The Maserati Liberty Walk has a complete change of character as its low slung, fat girth looks ready to explode down the road. Its personality is loud and aggressive as the body shape melds with the asphalt as the body work slides down on all sides to sit flush with the road. This is accentuated by the fat, aggressive bespoke alloy spoke wheels bursting out of each bloated wheel arch.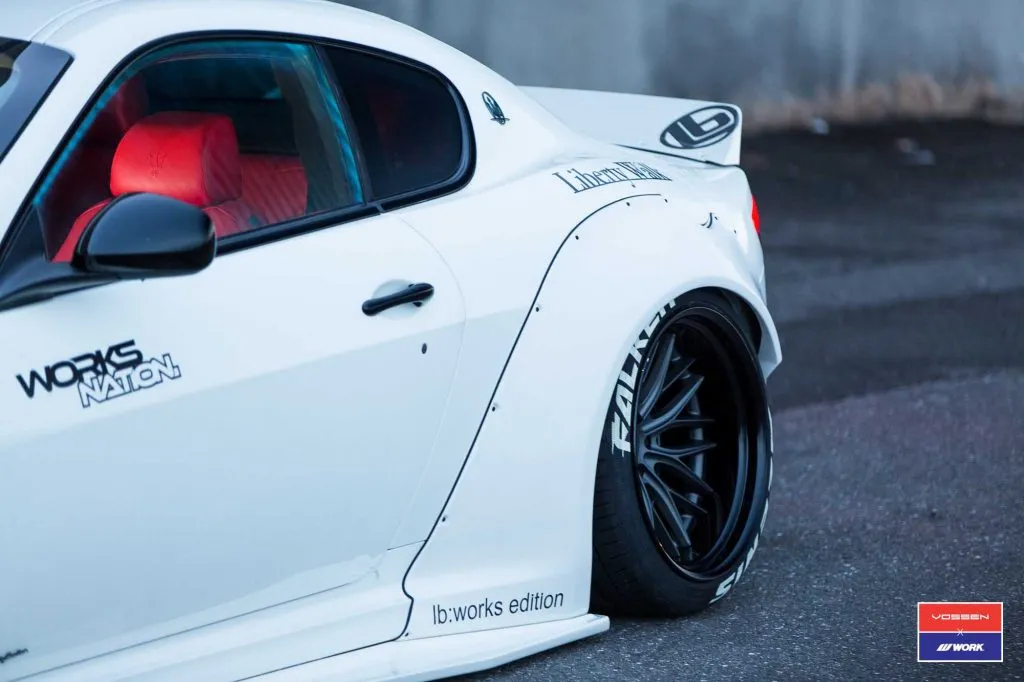 It takes a firm constitution to start this process. These hand built projects require the original body panels to be reshaped by cutting and grinding. Not an easy decision to make on a $100K+ automobile! But each vehicle is individually tailor made to each owner and is a true labor of love.
There is an old Japanese saying: "A nail that sticks out a little will be hammered back down." Liberty Walk and Kato prefer to say: "A nail that sticks out a lot can never be hammered back down." This is their mantra every time they take an exotic sports car and radically make it different – giving it liberty indeed.