2007 Buick Lucerne – A Luxury Sedan with a Timeless Design (Detailed Review)
When it comes to cars, there are a lot of opinions out there. Some people swear by American-made cars, while others think that anything but a European brand is the worst decision you could make. If you're looking for your next car or just curious about the 2007 Buick Lucerne, we've got you covered.
The 2007 Buick Lucerne is a comfortable and spacious large luxury sedan equipped with either a V6 or a V8, available in three trim grades. A quiet, pliant ride and elegant interior with comfortable seats mitigate the less-than-ideal handling on lower trims. Some rivals offer more features at this price point.
Going up against big sedans from big names, including Chrysler and Toyota, the 2007 Buick Lucerne needs to offer both comfort and luxury to stand out. Does the sizeable American sedan tick these boxes? And do the two engines and three trims offer enough power and conveniences to warrant an entry on your shortlist? Read on to find out.   
2007 Buick Lucerne Review – The Only Guide You Need
The 2007 Buick Lucerne carries over from its maiden year with only a few minor changes for the new model year, including some exterior color palette changes. It's still available in three trim levels and two power plants and is a compelling option in the large luxury sedan segment.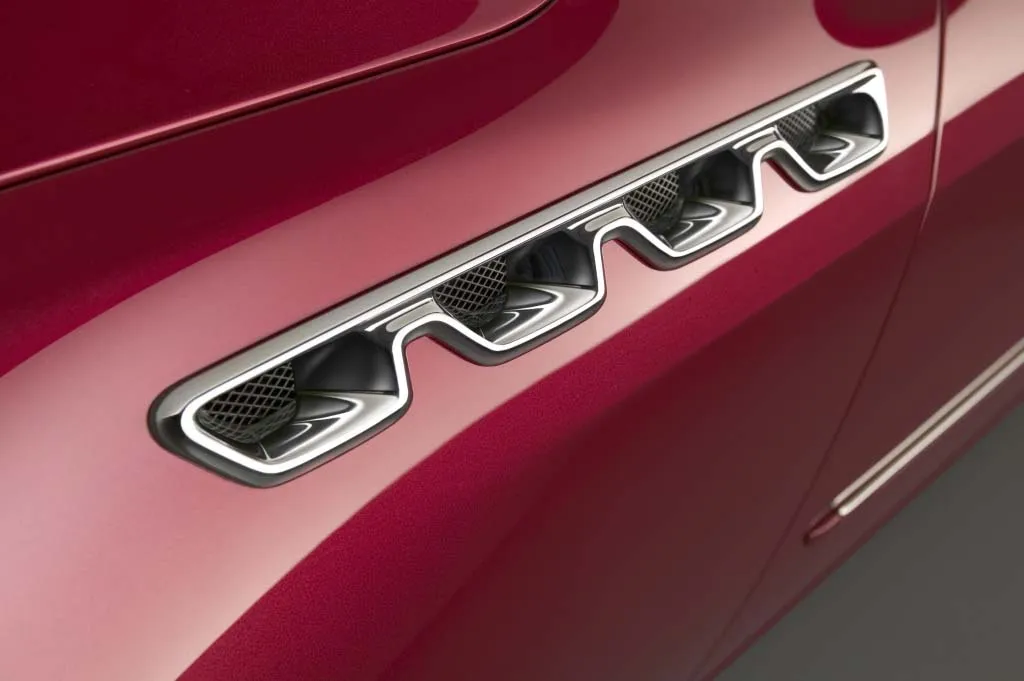 The Buick has a lot to live up to with rivals like the famed Chrysler 300 and Toyota's Avalon. And, with classic Buick looks and styling that have been carefully selected to emphasize the luxury sedan designation, there's a lot to unpack. Let's have a look at where the 2007 Buick Lucerne shines.   
Buick Lucerne Size And Cargo Space
Competing in the large sedan segment, the Lucerne needs to be a sizable machine to seat five passengers and carry their cargo comfortably. Stretched over a 115.6-inch wheelbase with a total length of 203.2 inches, there's more than enough room for adults up front or in the rear.
Cargo volume comes in at 17 cubic feet, which is substantial enough to cater for overnight bags for a mid-size family on a weekend away.  
Buick Lucerne Interior And Passenger Space
Buick does a few things well, and one of those things is creating an environment for passengers that is both spacious and comfortable. The 2007 Buick Lucerne is no different, and with loads of space for even taller occupants in the front and back, longer road trips won't feel like a chore. As is expected of cars in the segment, the middle rear seat may be less comfortable for full-size grown-ups.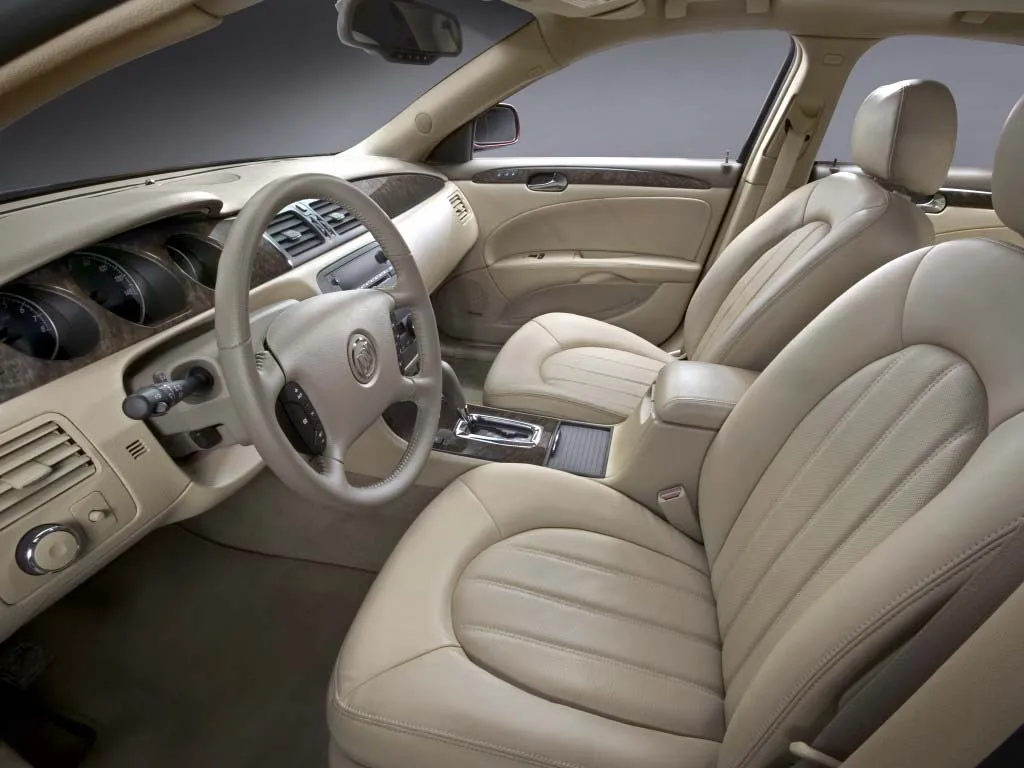 The legroom in the back is still over 41 inches, with the two seats up ahead spoiling occupants with 42.5 inches of room to stretch out. Headroom is around 39.5 inches and 37.6 inches, front, and rear. However, there is upwards of 57 inches of shoulder and hip room for all passengers, which is a testament to how spacious the cabin is.
Power adjustment of the driver and front passenger are standard from even the base model, which makes finding a driving position easy and convenient.
Buick Lucerne's Cabin Look And Feel
The 2007 Buick Lucerne range comprises three trim levels, with base models kitted out to be more budget-friendly. The CX base trim has cloth seats a bit more plastic around the cabin, while CXL models are one step up and use leather upholstery. The steering wheel is also leather-wrapped from the mid-range model upwards.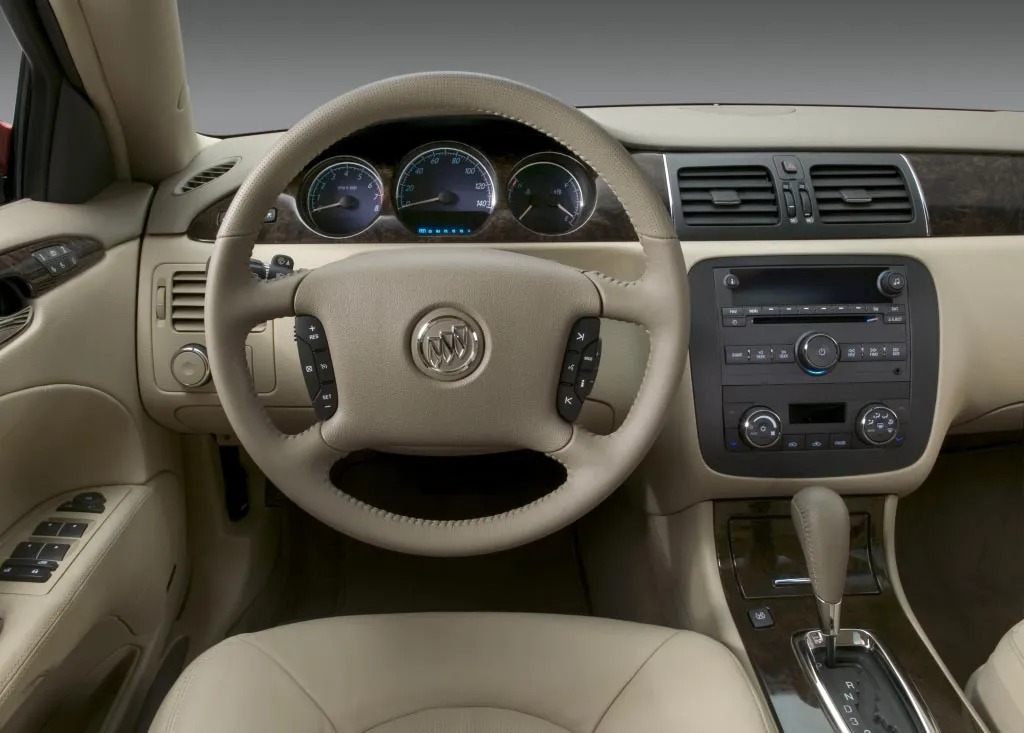 The top-end trim offers heated front seats with a sports leather steering wheel and shifter. In this CXS trim, the seats are custom perforated leather to enhance the luxury designation of the sedan. The overall feeling about the cabin is one of elegance and class, and it feels decidedly plush, as we've come to expect of Buick from this era.
Buick Lucerne Performance And Specs
Two engines are available to the 2007 Buick Lucerne. Both the base models are fitted with a 3.8-liter V6 gas engine, making 197 horsepower. An available NorthStar V8 engine can be equipped to the top-end CXS, imbuing the sedan with 275 horses for a lot more enthusiasm. While the 2007 Buick Lucerne specs are impressive, this hefty sedan still takes some urging to get going. Once it's up to speed, the Lucerne is a comfortable cruiser.
Lucerne's Driving Feel
The manufacturer set the bar high when designing the Lucerne, with the idea of creating an opulent sedan that feels both serene and comfortable when cruising. To this end, the Lucerne comes with magnetic ride control from GM on the top model, which adjusts the shocks to absorb bumps and abrasions with ease. The sportier settings will also help mitigate body roll through corners.
Because this isn't standard on the bottom two trims, these models tend to show much more wallowing through the bends. Still, all cars come with Buick's QuietTuning for a quiet cabin that excellently blocks road noise. So, despite the lower-spec models being less composed on the road, the 2007 Buick Lucerne is still a comforting haven to spend time in.
Gas Mileage Of The Buick Lucerne
The Buick Lucerne's gas mileage figures are either dismal or average for the segment, depending on the powertrain. Models equipped with the V6 engine have EPA estimates of 17/26/20 mpg on city/highway/combined cycles, while the 2007 Buick Lucerne V8 variants don't fare quite as well. The thirsty 4.7-liter V8 results in fuel economy figures of 15/23/18 mpg.
Both models have an 18-gallon fuel tank, so theoretically, you should be able to manage between 324 and 360 miles on a filled tank.
Features And Tech In The Buick Lucerne
While some feel that rivals offer a lot more technology and onboard features, the 2007 Buick Lucerne isn't sparsely equipped. There is cruise control, power door locks and windows, tire pressure monitoring remote keyless entry, and power adjustments for the driver's seat and front passenger from the bottom rung trim.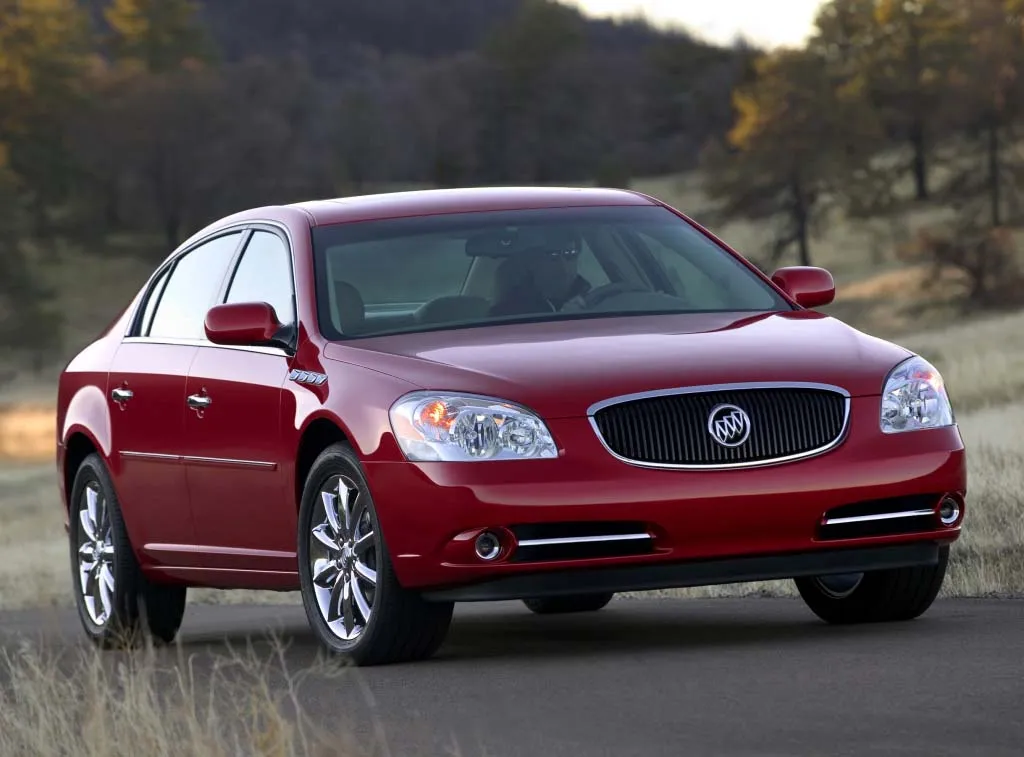 Higher up in the lineup, you get an auto-dimming rearview mirror, a heated steering wheel, heated front seats, and a universal home remote. Seat heating and ventilation are optional extras from the mid-spec CXL. The entry-spec trim features manual single-zone air conditioning, but the remaining two trims get automatic dual-zone climate control as standard.
Audio is a basic six-speaker sound system, and the CX has a single-CD player and AM/FM stereo with extra input via audio jack. One step up to the CXL gets you MP3 capability. At the top of the range, the CXS comes with a nine-speaker Harman Kardon unit and Satellite radio. This brilliant audio setup is also available to the mid-spec trim at an extra cost.
Buick Lucerne Safety Scores
The IIHS rates the large four-door sedan as only moderately safe. The NHTSA feels a little more optimistic about the 2007 Buick Lucerne, giving it full marks for the front crash and rollover tests, while side crash tests scored four out of five. All cars come with six airbags, including head-curtain side-impact airbags for the front and rear.
Back in 2007, driver assists were still being developed and not yet commonplace, so while you won't find the likes of lane-keeping or blind-spot monitoring in the 2007 Buick Lucerne, what you do have is appropriate for what the sedan was meant to be years ago. Cruise control, tire pressure monitoring, and remote keyless entry are standard.
Mechanical safety comes by way of stability control and traction control. Optional safety extras come courtesy of the driver confidence package, which equips rear parking assist, an upgraded theft deterrent system, and a remote vehicle starter system.
Buick Reliability And Problems
According to multiple sources, the 2007 Buick Lucerne was at the top of its class in terms of reliability. It was given a score of 89 out of 100 for quality and reliability and the Lucerne's four-year/50,000-mile new vehicle warranty supports the notion that this is a reliable car.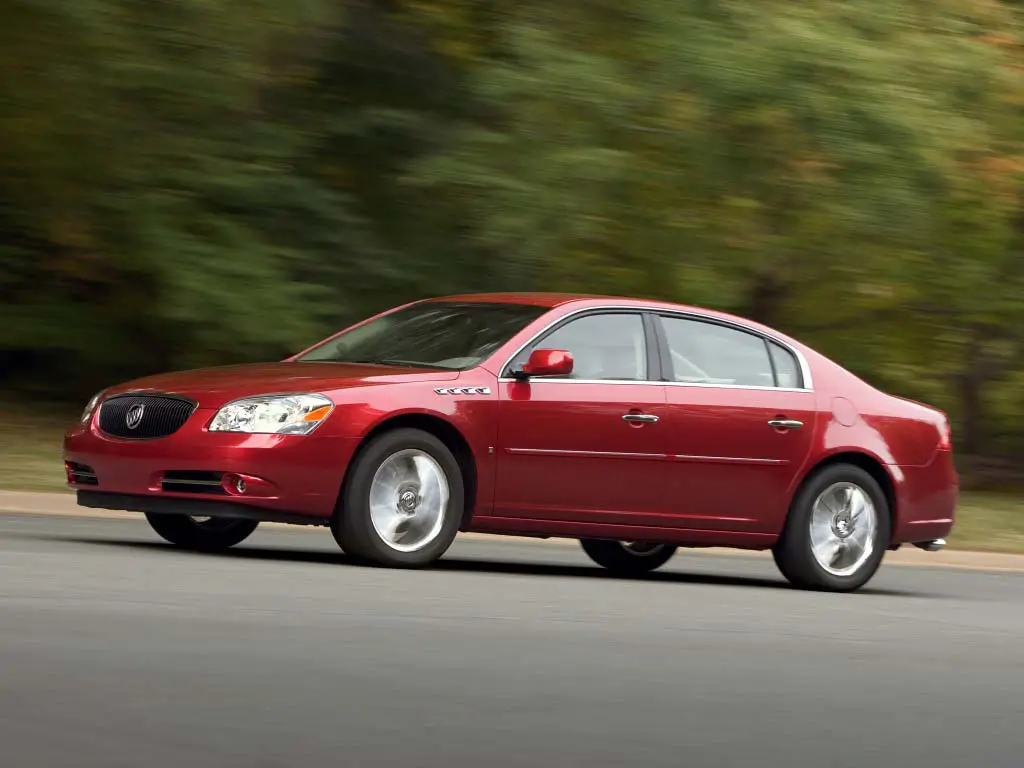 The NHTSA lists a few recalls, and 2007 Buick Lucerne problems include issues with the sunroof and wiper washer system. An additional recall was issued for a faulty ignition in this generation, too.
Buick Lucerne Price And Value
Original pricing ranged from around $25k to almost $35k back in 2007, similar to the likes of Chrysler's 300 in the first half of the range. While this is average for the segment, one of the negatives noted about the 2007 Buick Lucerne is that the automaker could've been more generous with standard features at this price point.     
If you're buying used, you can find a base model for as little as $4.5k, while a fully-loaded model from 2007 with all the options and well-maintained service history can cost up to $9k. It's a worthy investment if there's a clean one on your radar.
Our Verdict on the 2007 Buick Lucerne
The 2007 Buick Lucerne is an excellent contribution to the full-size luxury sedan segment. Although the lower-spec models weren't as generously equipped with technology and features, there are options to upgrade from the middle of the range. Finding a used version that has these options added shouldn't be too hard.
Of the two engine options available to the range, the V8 is naturally the better performer, although you pay the price for the 275 hp at the pumps, and fuel economy takes a substantial hit in this guise. Still, the sedan is worth taking for a test drive, especially if you find a clean 2007 Buick Lucerne CXS.