2021 promised to be an exciting year for Ford Transit fans with the release of the all-new Ford Transit-250 cargo van. Designed for entrepreneurs, small businesses and everything in between, the Ford Transit-250 Cargo is perfect for anyone who needs a reliable and versatile vehicle. So, at a glimpse, what can you expect from the new Transit-250?
The 2021 Ford Transit-250 Cargo range offers extensive drivetrain, body, electronics, and trim customization options, including:
Two 3.5L V6 engines (naturally aspirated or turbo)
Low, medium, or high-roof
RWD or AWD
SWB or LWB
Extra-long body
Crew seats
Extra windows
Touchscreen/Wi-Fi
Gone are the days when cargo vans were strictly the preserve of hard-working tradesmen and fleet-footed bank robbers. Today, many people use cargo vans for work, recreation, and mobile homes. Sporting premium-class quality and an impressive degree of configurability, the new-generation Ford Transit-250 Cargo range has captured the attention of buyers in these niche markets. Let's go full-circle on the 2021 Ford Transit-250 Cargo!
A Pallet For Payload – A Palette For Pleasure
Suppose you're an entrepreneur in need of a versatile workhorse or perhaps an outdoor adventurer seeking a slick customizable wagon – in either case, the Ford Transit-250 Cargo is an exceptional platform upon which to manifest your vision of no-nonsense mobility.
The 2021 Ford Transit-250 Cargo isn't one vehicle but, more accurately, a range of vans since it includes two wheelbases, three roof heights, and three van-body lengths.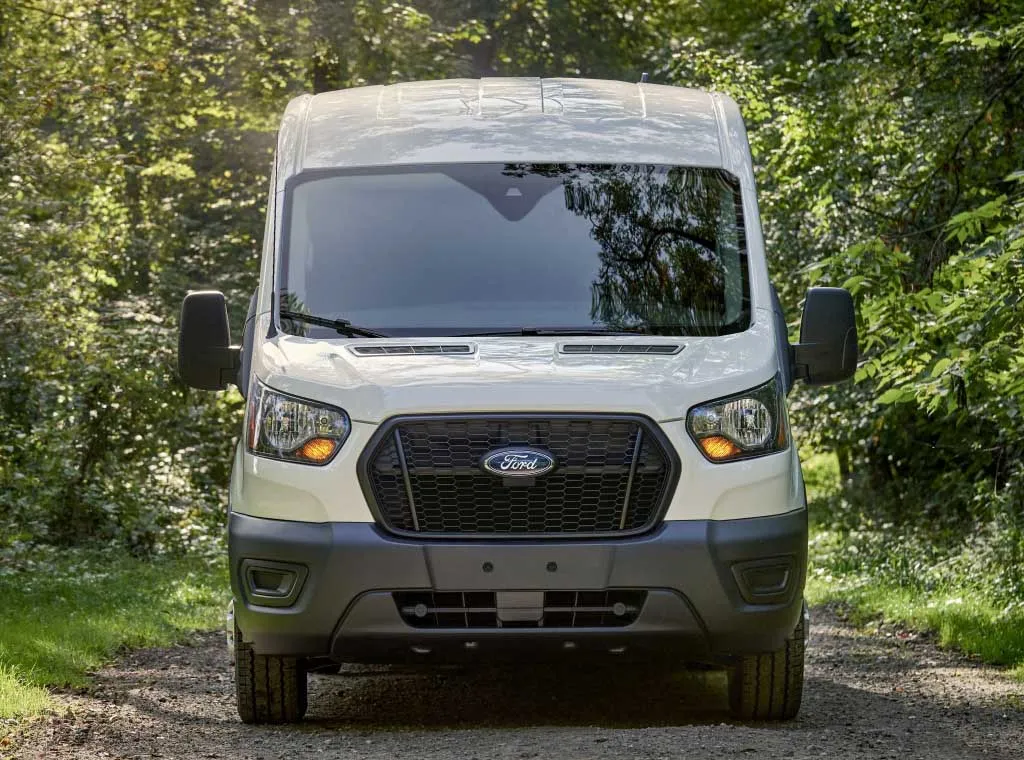 There's also the option of creating a Transit-250 Cargo Crew Van with a row of seats behind the cab, with rear and side windows!
Do the math on the permutations, and you're looking at over a dozen different vans all tagged with the same moniker!
Then there's the choice of engines. Ford has included the (F-150) proven 3.5L V6 direct-injection gas engine alongside the Ford EcoBoost 3.5L V6 twin-turbo gas engine as powerplant options for the 2021 Transit range.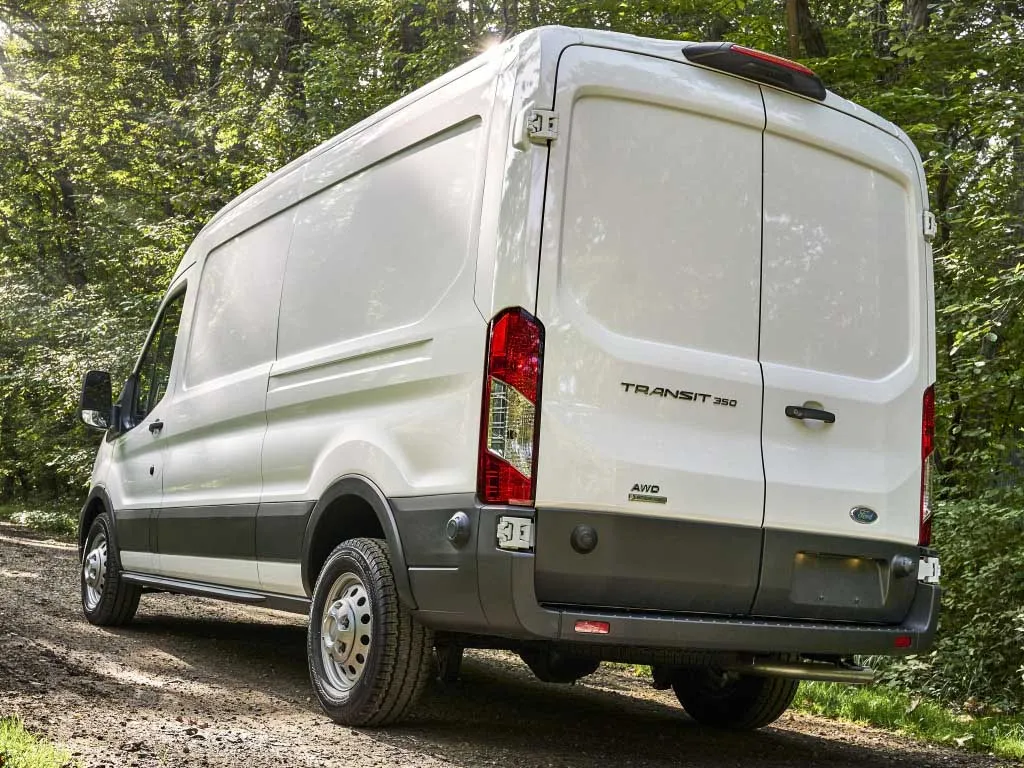 A ten-speed SelectShift automatic transmission offers multi-mode presets to handle different road conditions safely and efficiently. At the same time, rear-wheel drive (RWD) offers towing grunt, while a new all-wheel drive (AWD) axle option opens up new horizons for Transit lovers.
Vying for the lead spot in a market dominated by the Mercedes-Benz Sprinter, Ford has put its best foot forward with the 2021 Ford Transit-250 Cargo's driver-assist and infotainment technologies.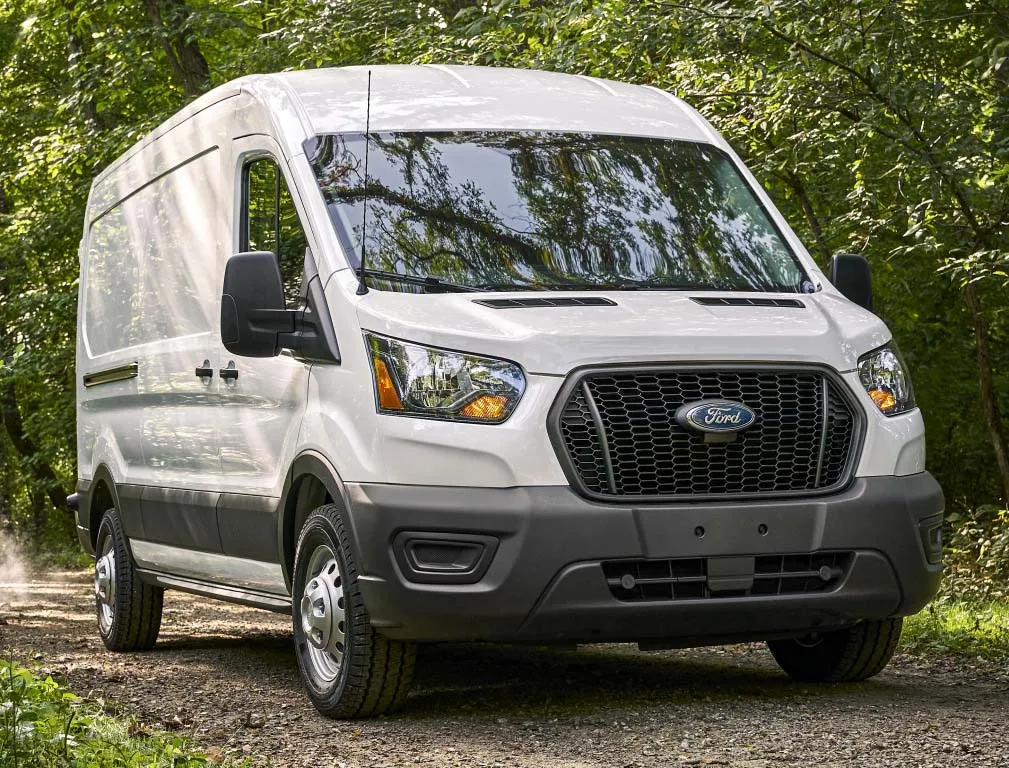 With standard safety features and hi-end communications tech right up there with what the Sprinter boasts, the 2021 Ford Transit-250 Cargo is a legitimate contender for North America's Best Van crown.
Topping off an already impressive array of configurations in its standard offering, the 2021 Ford Transit-250 Cargo has a broad menu of optional extras to satisfy commercial operators and lifestyle owners. It's a feast on wheels for van-lovers, no kidding!
2021 Ford Transit-250 Cargo Specs
Despite its stylish looks and plethora of customization options, the 2021 Ford Transit-250 Cargo is a commercial vehicle in the true sense of the term – designed to deliver a return on investment.
As any astute commercial vehicle operator will confirm, a cargo van needs to offer a solid combination of payload efficiency, ergonomics, safety, and low operating costs. In short, the best van for the job will be the one with the lowest total cost of ownership and occupants with the biggest smiles.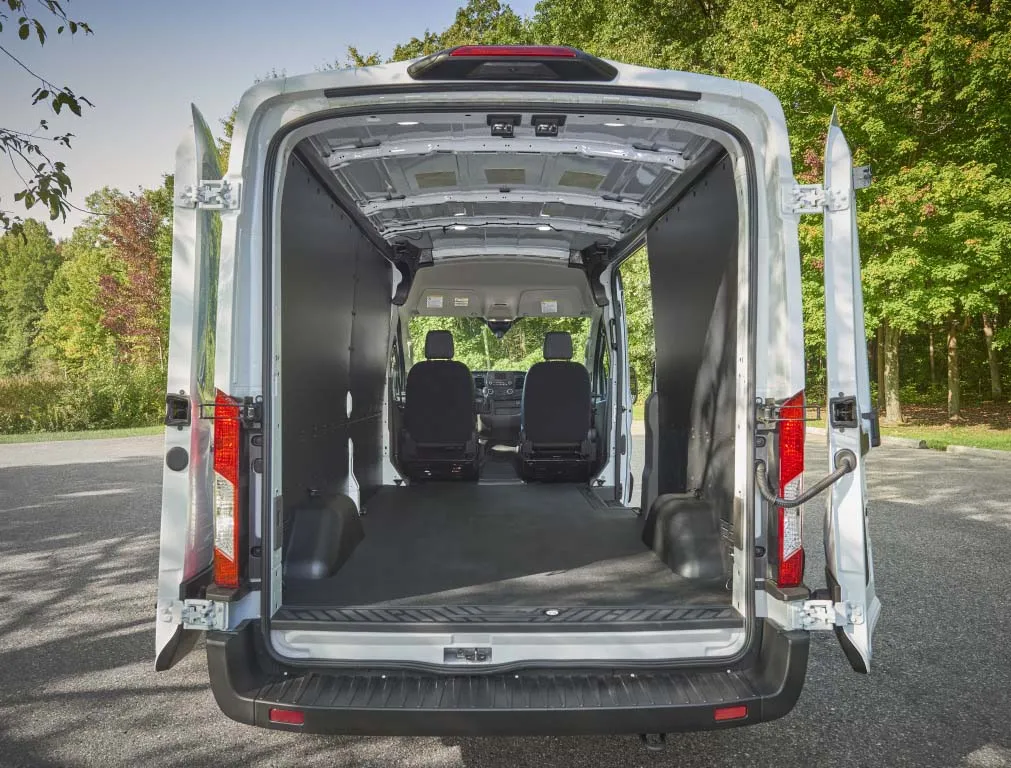 Take a bite of these Ford Transit-250 Cargo vital statistics:
Horsepower – 275hp@6,500rpm in the 3.5L PFDI V6, and 310hp@5,000rpm in the twin-turbo EcoBoost 3.5L V6 engine.
Torque – 262lb-ft@3,750rpm in the 3.5L PFDI V6 engine, and 400lb-ft@2,500rpm in the twin-turbo EcoBoost 3.5L V6.
Wheelbase – 129,9" on the short wheelbase derivative, and 147,6" on the long-wheelbase models.
Body length – 220" to 264".
Maximum cargo length – 124" (regular-length body), 141,7" (long-body), and 170,2" (extra-long body). 
Maximum cargo width – Approximately 80" in all body lengths.
Maximum cargo height – 56,9" (low roof), 72" (medium-roof), and 81,5" (high-roof).
Cargo volume – From 246 cubic feet (low-roof, regular-length Transit-250), to 487 cubic feet (high-roof, extra-long body).
Maximum GVWR – 9,070lbs.
Maximum payload – From 3,160lbs to 4,030lbs.
Towing capability – From 4,000lbs to 6,600lbs, depending on the wheelbase and engine type.
Acceleration/speed – Zero to 60mph in 6.8 seconds in the turbocharged low-roof, short wheelbase Transit-250 Cargo.
Fuel consumption – Combined urban/highway cycle average of 14.92mpg across all Transit-250 Cargo models.
Warranty – Three years/36,000miles bumper to bumper.
Price – $39,190 to $43,710 for the standard RWD, naturally aspirated V6 engine derivatives. A no-frills, extra-long body, high-roof, turbocharged AWD Transit-250 Cargo will cost $50,510.
These numbers define a class-leading workhorse but it's the Transit owner who takes full advantage of the basket of extra components, automation systems, gadgets, and trims available in the Transit's showroom who will take the van to the next level.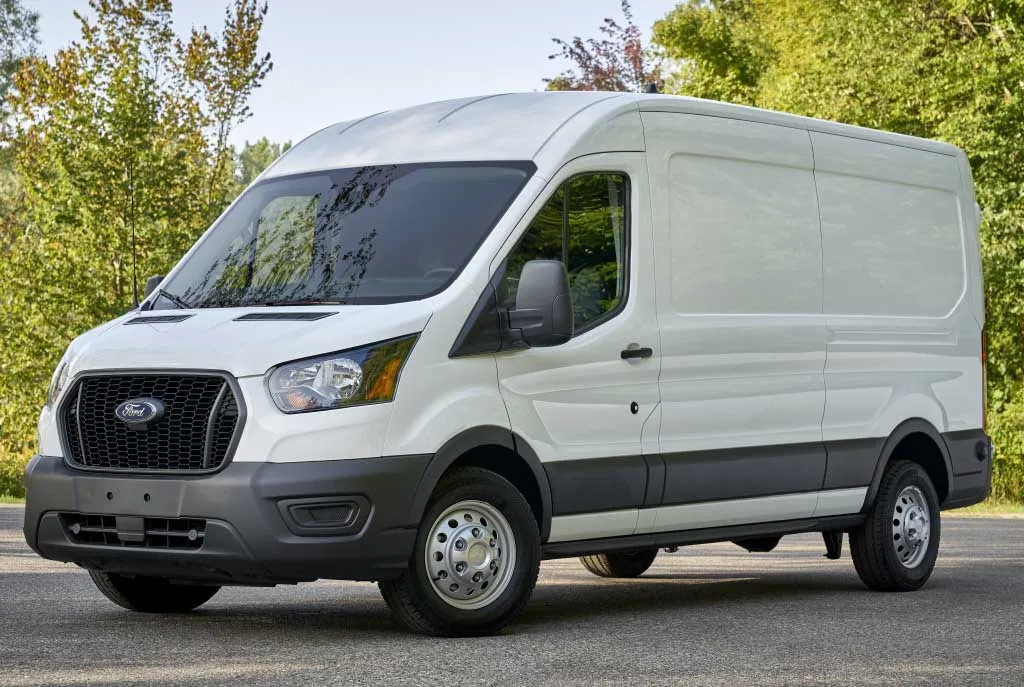 Ford has outflanked its rivals by offering tailor-made packages for specialized applications, including:
An RV Prep Package
An Ambulance Prep Package
An Interior Upgrade Package
A Heavy-Duty Trailer-Tow Package
A Parcel Delivery Package
An Adventure Prep Package
A Load Area Protection Package
If you want to configure your ideal Ford Transit-250 Cargo or Transit-250 Crew van, visit the Ford online shop and have fun with the Ford Transit-250 Builder.
Safety And Comfort – Quiet Sophistication
People who own and drive cargo vans spend much of their time inside the vehicle while it's moving and when it's parked. Safety features and at least a few creature comforts are essential to make the van a viable workplace or living space.
The Ford Transit-250 Cargo's standard active and passive safety features include:
ABS Disc Brakes all-round
Roll Stability Control (RSC)
Side Wind Stabilization System
Driver and Passenger Airbags
Tire Pressure Monitoring System
Lane-Keeping System
Forward Collision Warning
Pre-Collision Assist with Automatic Emergency Braking
SOS Post-Crash Alert System
Post Collision Braking
Auto High-Beam Headlamps
Rain-Activated Windscreen Wipers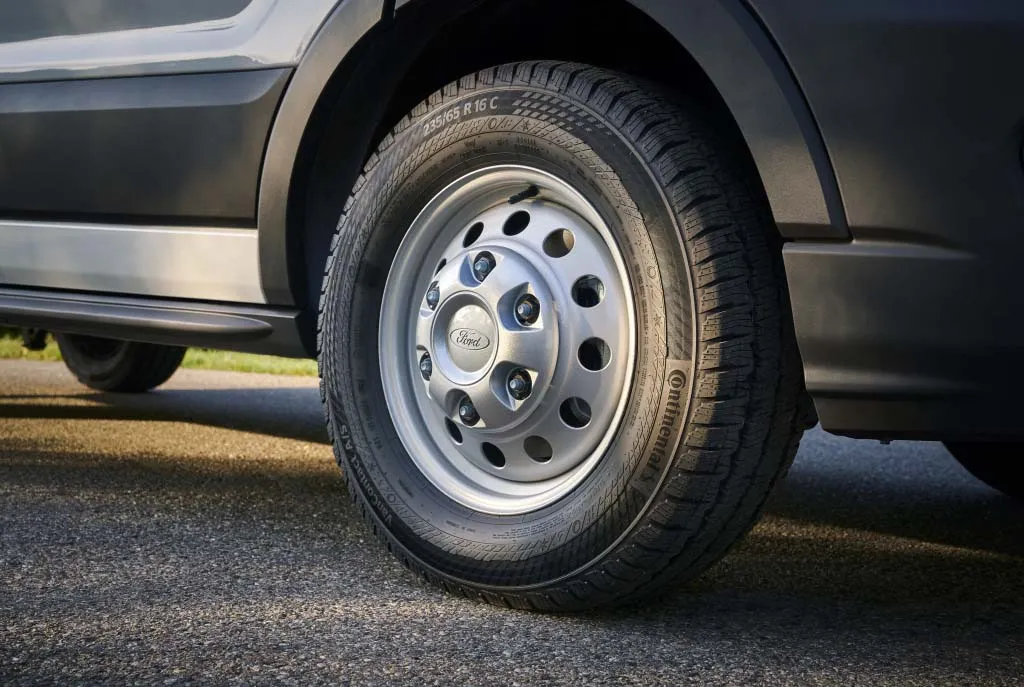 Available too for added safety are:
Adaptive Cruise Control
Active Park Assist (the van can park itself!)
Blind Spot Information System
Cross-traffic Alert
Split-View Front and Rear Cameras
The ten-speed SelectShift automatic transmission is another critical component of the Transit's safety architecture. The intelligent transmission system orchestrates a smooth and safe driving experience via five Drive Modes that manage variances in road conditions. These include:
Normal (the default mode)
Eco (for fuel economy)
Slippery (for rain, snow, ice, or oil on the road pavement)
Mud/Ruts (to handle off-road challenges)
Tow/Haul (for trailer hauling or towing another vehicle)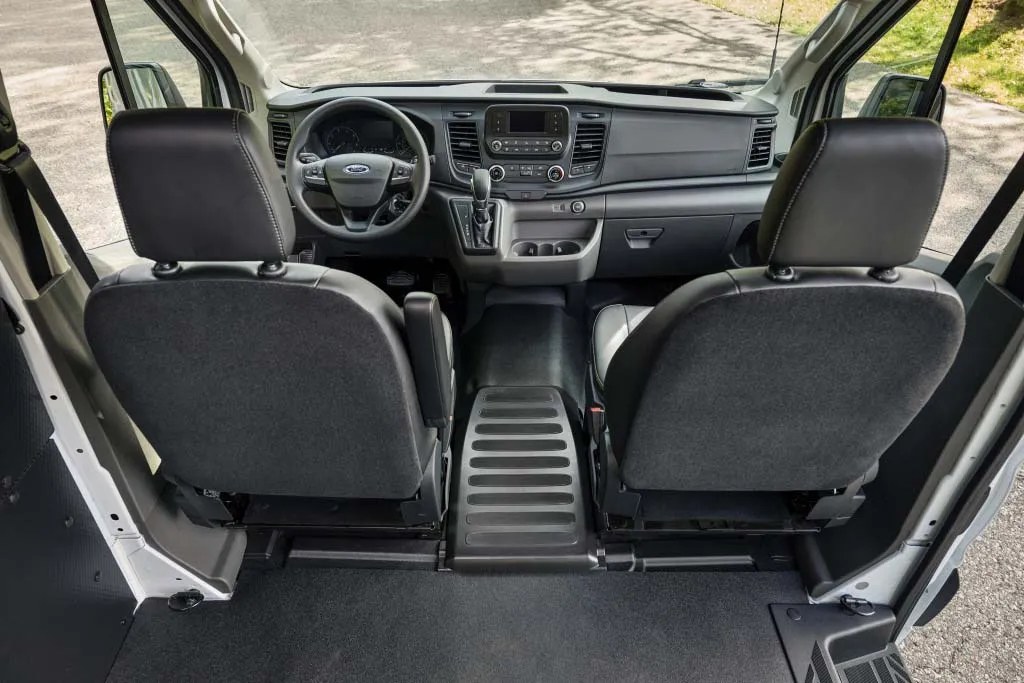 Comfort features include climate control, heated seats, an expansive windscreen, and large side windows for optimum visibility.
Cup holders galore, an electric cooler, and a full infotainment system bring a healthy dash of luxury to the Transit-250 Cargo.
USB, 12Volt, and 120Volt AC ports and a Wi-Fi hotspot offer excellent connectivity for electronic gadgets.
A powered sliding door, retractable running boards, and rear doors opening to 270 degrees bring valuable accessibility to the van interior.
And that's still not the whole gamut of extras!
There's the exterior of the 2021 Ford Transit-250 Cargo to make your canvas. Ten paint finishes to choose from, several wheel choices, window placement options, single-seat swivel, and crew bench fitment are extra touches to bring the Transit Cargo firmly into your wheelhouse.
Are There Any Weak Spots?
It's tough to find a dent in the Transit-250 Cargo's armor, but if we have to, two areas perhaps need attention from the Ford design crew.
The 2021 Ford Transit-250 Cargo's fuel economy is average. The Mercedes-Benz Sprinter averages around 18 mpg (and it occupies the same price bracket as the Transit range), well ahead of the 14.9 mpg of the Transit-250 Cargo.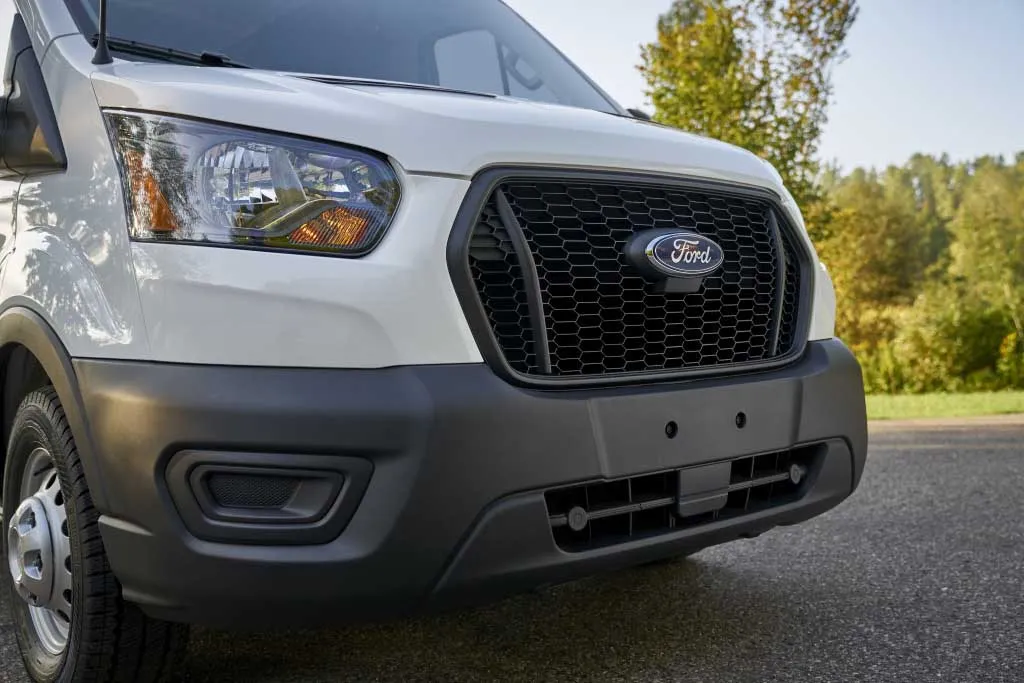 Low ground clearance is perhaps not a problem for urban commercial transporters. However, people buying the 2021 Ford Transit-250 Cargo for adventure purposes will need to fit a suspension lift kit to handle off-road duties safely.
The Verdict on the 2021 Ford Transit-250 Cargo
The 2021 Ford Transit-250 Cargo may have its work cut out as far as price competitiveness and fuel economy are concerned, but it wins hands down against its #1 rival as far as lifecycle costs are concerned.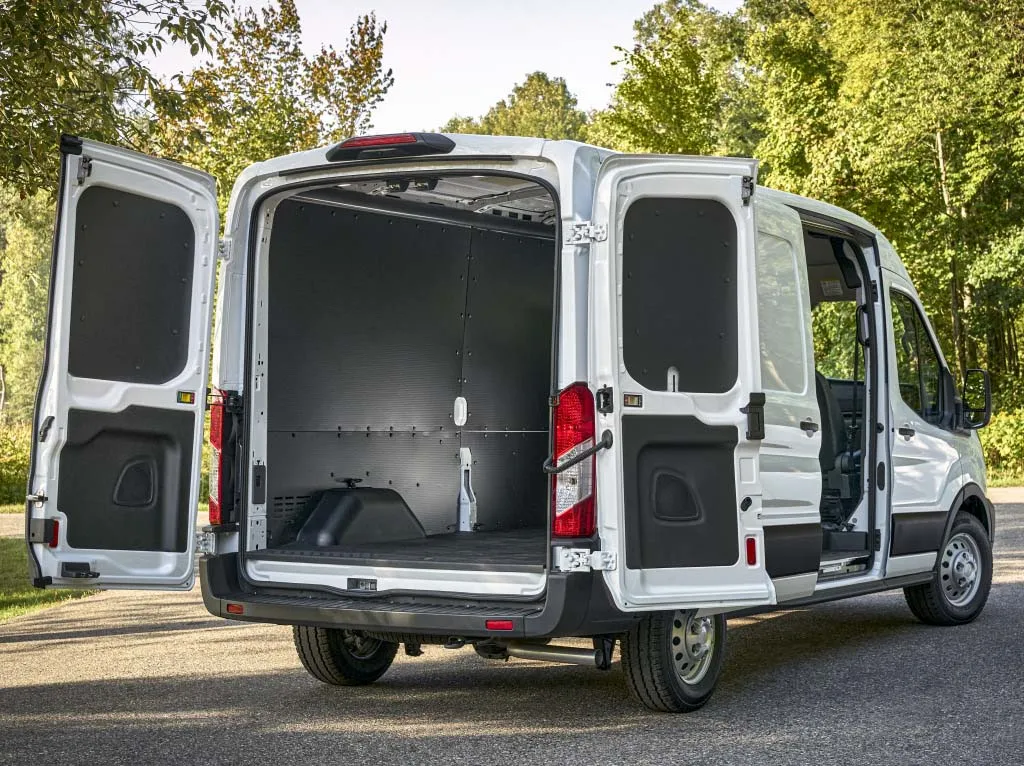 With parts and technicians for Ford vans readily available in every US city (not so the Sprinter), Ford Transit-250 Cargo buyers will pay less in time and money keeping their van running smoothly. So, whether you're in it for the business of making money or for the business of adventurous pleasure, the 2021 Ford Transit-250 Cargo is about as good as it gets!