2012 Audi S4 Review – Everything There Is To Know
The 2012 Audi S4 is a car that definitely delivers an experience every time the driver gets behind the wheel. I can't help but thinking what great value and amazing style that Audi was offering for such a reasonable price, especially as the years went on and the second-hand market values of these cars began to drop. I was just so impressed that such a cool, performance oriented version of the A4 was actually quite affordable.
For those of you looking at owning one of these exceptional performance sedans, we have compiled a comprehensive review of the 2012 Audi S4, giving you everything there is to know, including, Audi S4 vs. Audi A4, specifications and features, performance, reliability, current market value, model variants, running costs and owner ratings  
While some prestige sedans may provide more features, and others may be a little sportier, the Audi S4 offers an unrivaled balance of performance, quality, and comfort. It is this unique blend I would like to examine in detail, so that prospective buyers know exactly what makes it such an attractive alternative to other sports saloons on the market.
2012 Audi S4 vs. Audi A4 – The Visual Changes
Based on the B8 version of the executive compact Audi A4 first introduced in 2009, the 2012 S4 is available in two versions, Premium Plus and Prestige. While the basic body shape remains unaltered, there is no mistaking the S4 as the high-performance derivative of the more sedate A4.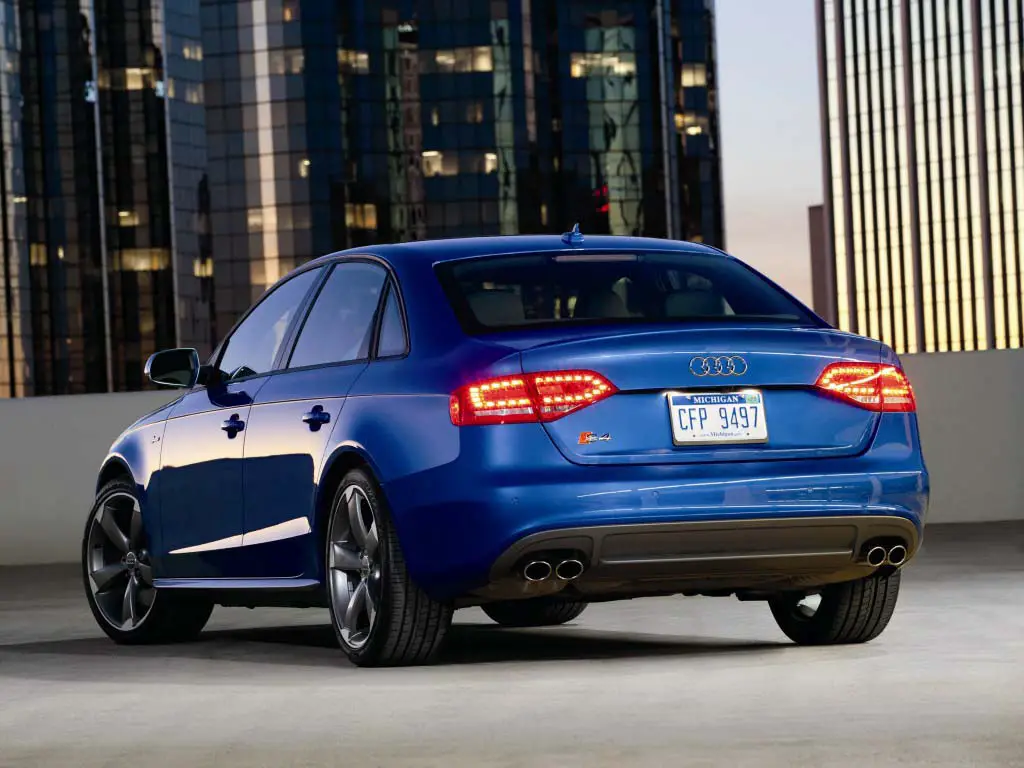 The 2012 Audi S4 differs visually in several ways:
A revised grille and air-dam giving a more aggressive appearance
Silver capping on exterior mirrors
18-inch alloy wheels are standard on the Premium Plus with 19-inch standard on the Prestige, optional on the Premium Plus
Quad exhaust outlets
LED taillights
Factory-fitted sunroof and black interior roof lining
3.0 T / S4 badging on door sills, steering wheel, and rear panel
Full leather sports seats
Xenon headlights with LED daytime running lights
Unfortunately, the Avant and cabriolet versions of the S4 were not made available to US buyers in 2012.
2012 Audi S4 Specifications
Introduced for the first time in 2009, as a replacement for the 4.2-liter V8 used in the B6 and B7 versions, the 2012 Audi S4's source of power is a superb 182.9 cubic inch (2995cc) supercharged V6, with that power delivered to all four wheels via a 6-speed manual or 7-speed automatic transmission.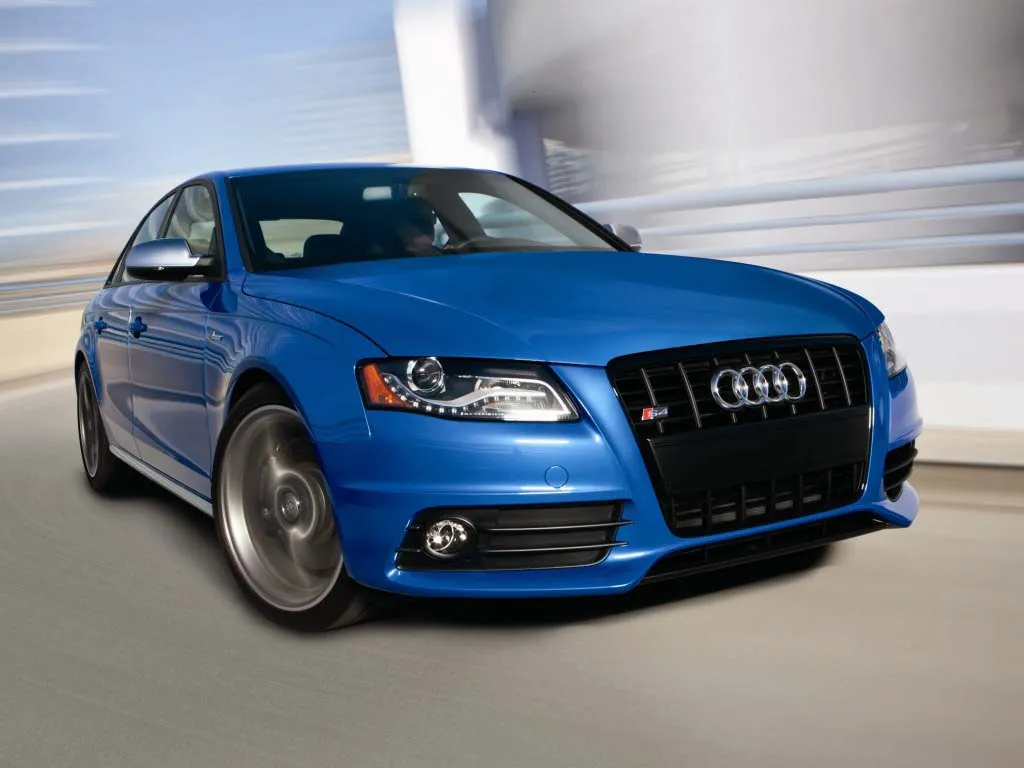 Audi S4 performance specifications include:
Maximum power output 333hp at 5500 rpm
Maximum torque 325 ft-lbs. at 2900-4500 rpm
Maximum speed 155mph
0-60 mph 4.9 seconds
Fuel consumption 22 -25 miles per gallon (combined urban and highway cycle)
Although these figures may not mean a great deal to the average buyer, they give an indication of what reviewers believe is an unbeatable balance between outstanding performance, high levels of comfort and all-important reliability.
Additional Features Of The 2012 Audi S4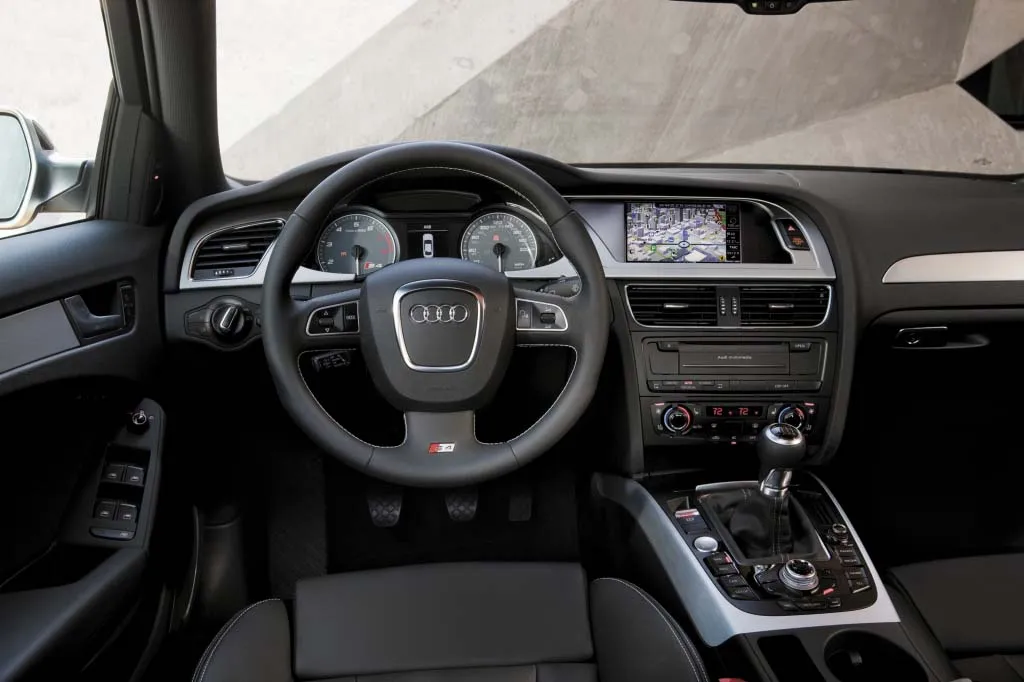 A feature of all Audis including the S4, is their interiors' build quality and understated elegance. The 2012 S4 offers:
Auto-dimming, heated side mirrors
Keyless entry and engine start
Bluetooth hands-free phone connectivity
Standard leather and Alcantara upholstery
Optional Silk Nappa leather upholstery
An optional Navigation system and backup camera
Optional Bang & Olufsen premium stereo
Safety Features Of The Audi S4
The Audi Quattro 4-wheel drive system provides superb road-holding and handling in all road conditions, and as a result, the S4 is a very safe car to drive. As expected in a luxury sports sedan, the 2012 Audi S4 incorporates stability control, traction control, ABS, front side airbags, side curtain airbags, and hill-hold on manual transmission models.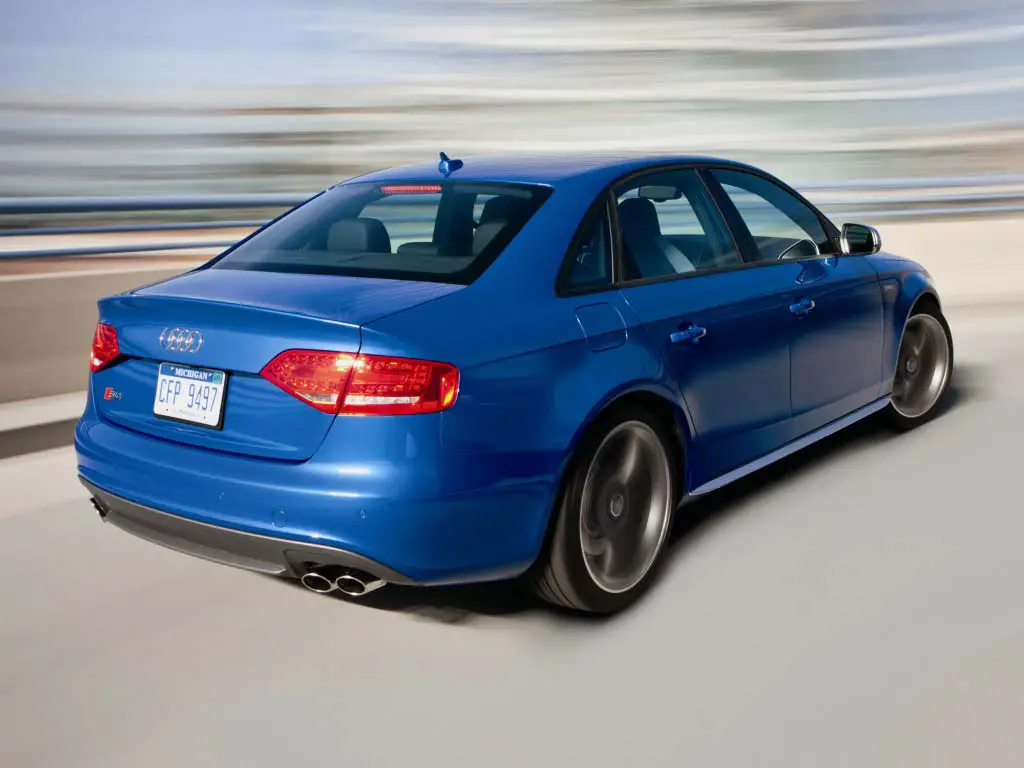 Competition To The 2012 Audi S4
 There are several American performance cars that you may wish to consider, but I have chosen to concentrate specifically on other German sports sedans, where competition to the Audi S4 comes from the BMW 335i and Mercedes Benz AMG C43.
Comparing S4 Performance Against Other Sports Saloons
While the Audi edges the BMW in terms of performance, it is slightly slower than the Mercedes. However, the Audi offers the best total package in terms of comfort, build quality, and overall driving experience, and that is what makes it such a great car to own and to drive.
How Reliable Is The 2012 Audi S4?
According to reports, the 2012 Audi S4 is the most dependable of all S4's and can be expected to provide relatively trouble-free service for up to 100,000 miles. Even after this mileage, the 2012 S4 tends to be more dependable than the S4's of other years, and while parts are more expensive than those of American cars, they tend to be slightly cheaper than those of BMW and Mercedes.
Common Problems With The 2012 Audi S4
Owning a performance vehicle comes at a price, and while regular maintenance will reduce the cost and frequency of repairs, the Audi S4 does have some commonly reported issues:
The DSG gearbox S-tronic is the most common problem, with 20% of owners reporting issues
Water pumps are known to give problems on Audis in general
Failure of the PCV valve which draws gases from the crankcase, resulting in poor performance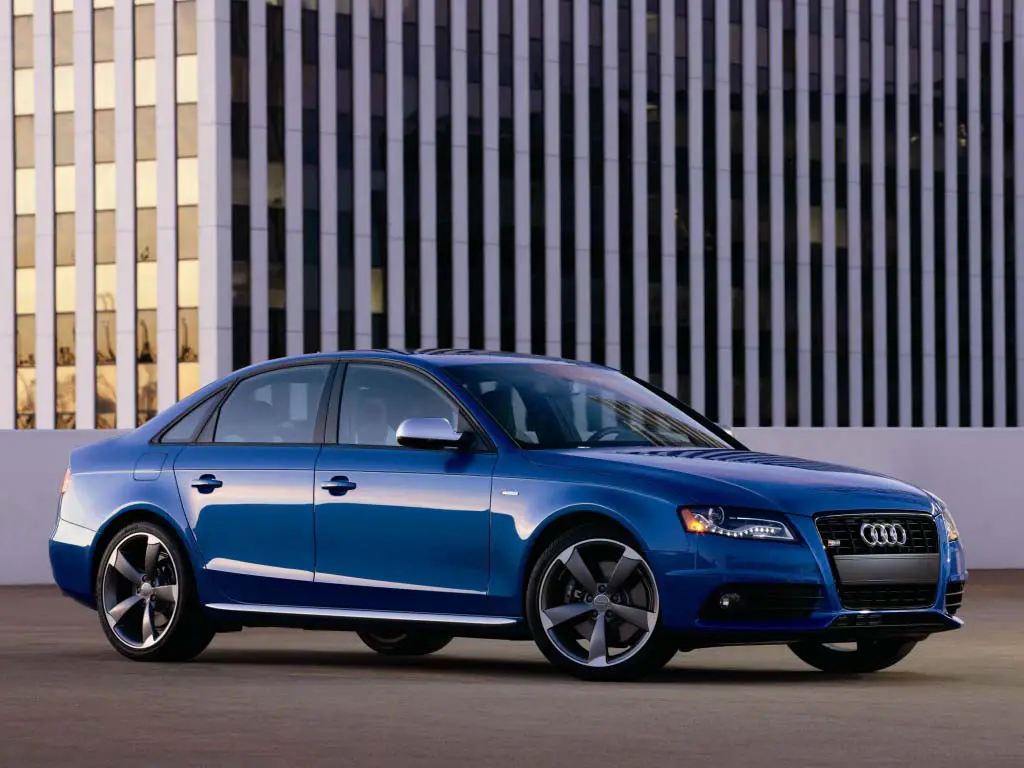 Maintenance costs for the 2012 Audi S4, including regular servicing and repairs, are considerably higher on average than for American cars, at $1061 per year and slightly higher than both BMW and Mercedes. This is particularly the case after 100,000 miles, but if the vehicle has been regularly serviced and well cared for in terms of preventive maintenance, the running costs can be kept in check.
Current Market Value Of A 2012 Audi S4
Audis are known for retaining their resale value in the luxury car market, and this is particularly true of the sportier models such as the S4 compared to the more sedate A4's, A6's, and A8's.  
The 2012 Audi S4 was initially priced at $47,300 for the Premium Plus and $54,000 for the Prestige version. In the current market, you can expect to pay an average of between $16,000 and $20,000, depending mainly on factors such as mileage covered, condition of the car, and service history.
| | | | | |
| --- | --- | --- | --- | --- |
| Make | Av Price | Last 30 Days | Last 90 Days | YoY |
| 2012 Audi S4 | $19,500 | +2% | +4.5% | +11.5% |
What Owners Say About Their 2012 Audi S4
I've provided you with everything there is to know about the 2012 Audi S4 but haven't gotten to the vitally important information regarding how owners feel about their car.
 I understand that this is not necessarily the most unbiased information on which to base your decision on whether to buy an S4, as it relies on subjective rather than objective opinion. However, owners' experiences and comments give a clear indication of their feelings about the vehicle and may well very influence your decision.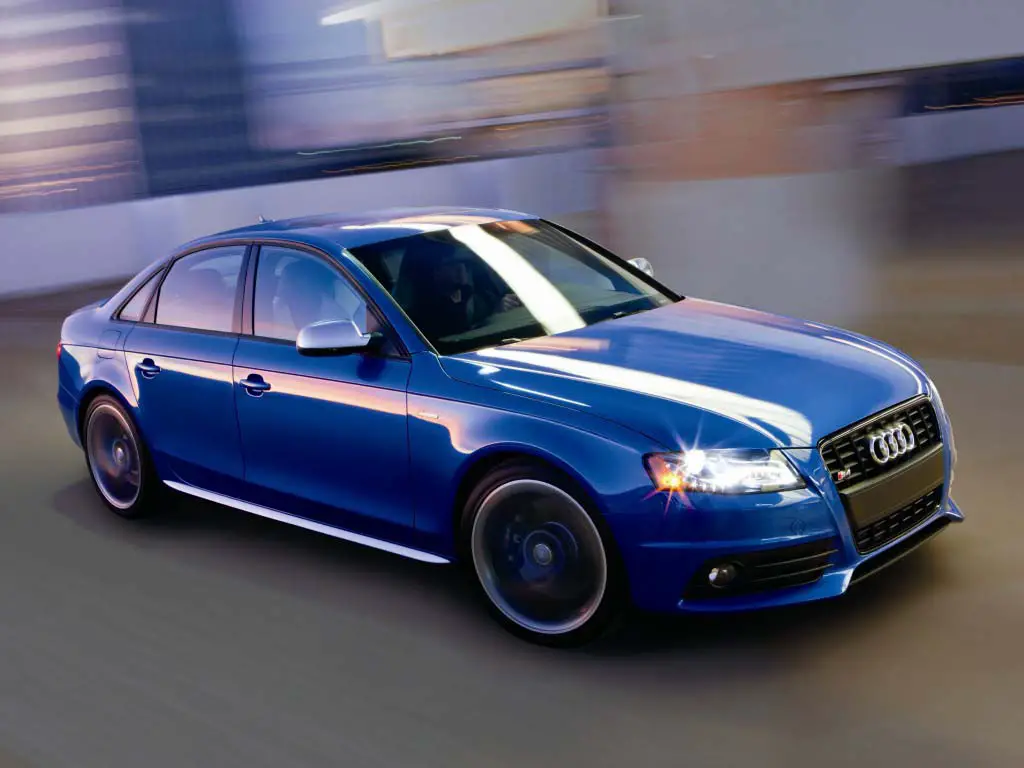 In summary, 90% of drivers recommend this car with the following detailed ratings:
Rating breakdown (out of 5):
Comfort 4.5
Interior design 4.6
Performance 4.9
Value for the money 4
Exterior styling 4.5
Reliability 4.5
Our Verdict on the 2012 Audi S4
Owning a prestige performance vehicle is never an inexpensive exercise, and the Audi S4 is no exception. Maintenance costs per year are almost 60% higher than for the equivalent American car, and this is due to the cost of replacement parts rather than inferior reliability. Buying a 10-year-old car is not without its risks, and one needs to be very careful before taking this step.
Having said that, the 2012 Audi S4, with its marvelous V6 engine, its beautiful interior and exterior design, its Quattro drivetrain, and exceptional handling, coupled with a high level of reliability and comfort, make it a highly desirable car and, in many opinions, unbeatable value in its price range. Now, with everything there is to know, you're well-prepared to make the right choice.