2021 Audi Q7 – Germanic Excellence on Wheels
It was 16 years ago when the German automaker, Audi, first dipped their toe into the ultra-competitive SUV market. Their first edition in this format was the midsize SUV, Q7. In that time, it has seen minimal upgrades and developments (which reflects more on how efficient Audi engineering is).
By 2020, they had only released their third rendition of this, much popular, three-row family SUV. The 2021 Audi Q7 would be unveiled with only minimal changes to the previous year's model. Driving reviews were unanimous in their recommendation for the 5,000 lb automobile and rated it above several notable SUVs including the BMW X5, Mercedes-Benz GLE and the Volvo XC90. The 2021 Audi Q7 would match the acceleration of the Porsche Cayenne though not its incredible sporty nature.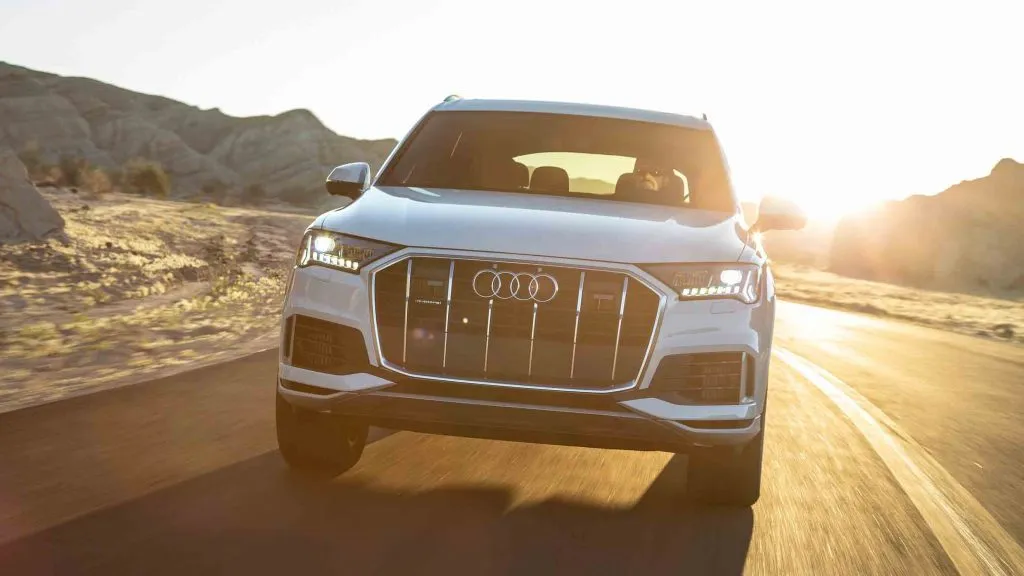 During the intervening years, since its first introduction, Audi have produced another five SUVs. Breaking into all niche SUV markets (sub-compact, compact & midsize) with the Q series ranging from Q2, Q3, Q4 (e-tron), Q5 & Q8. With the company's strong excellence in engineering and technology, the fleet of Germanic SUVs have become a yardstick as to how other luxury SUVs are compared.
In this 2021 Audi Q7 review we will take a closer look at what makes this one of the most highly rated SUVs in the motoring world and what that letter, Q, stands for.
The Audi Tagline – Vorsprung Durch Technik
Audi's tagline is translated to "Being ahead through technology". This is no idle statement as the German carmaker takes their automaking very seriously. Though under Volkswagen ownership for over 55 years, they stand apart in their drive for excellence and have made strong inroads into the high-end market since the 1990s.
The 2021 Audi Q7 offers two turbocharged engine options for its mass produced models. A four-cylinder 2.0 liter that provides 248 bhp or a 3.0 liter V6 that makes 335 bhp. Paired with an eight-speed ZF automatic transmission, the V6 turbo can take the 2021 Audi Q7 0-60 mph numbers down to just 5 seconds.
For 2020, Audi introduced an even more powerful version of the SUV with the SQ7. This was fitted with a 4.0 liter V8 twin-turbo engine that created 500 bhp and 568 lb-ft of torque. The family SUV could make the 0-60 mph dash in just 4.3 seconds which matches the acceleration of the Porsche Cayenne.
The Audi would not only be powerful under the hood but also be exemplary in its pulling power. The 2021 Audi Q7 towing capacity would be an impressive 7700 lbs. which is only topped by the Land Rover Discovery.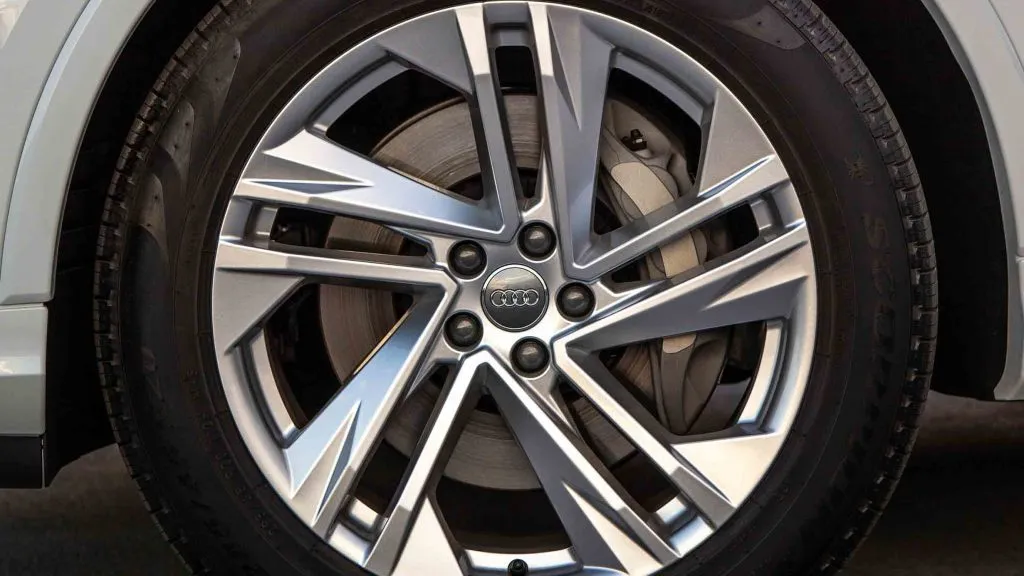 Fitted with 21-inch wheels, the heavy midsize SUV feels very alert and responsive on straightaways and twisting backroads. The driving experience is bolstered by the optional air suspension and the brand's ever-present all-wheel-drive system.
Fuel economy is different depending on which engine size is fitted. The thirstier V6 makes a combined 18 mpg (17 MPG City & 21 MPG highway) while the 2.0 liter achieves 20 mpg for combined driving and a higher 2 mpg over both segments.
Refined Luxury in the 2021 Audi Q7
Other improvements to the revised SUV, provided the 2021 Audi Q7 interior with some much needed updates. Utilizing the company's triple digital touchscreen setup, the dashboard is resplendent with high-tech luxury while maintaining a subdued air of elegance. The stylish flowing lines of the dash are complemented by the luxurious feel and support of the leather seats.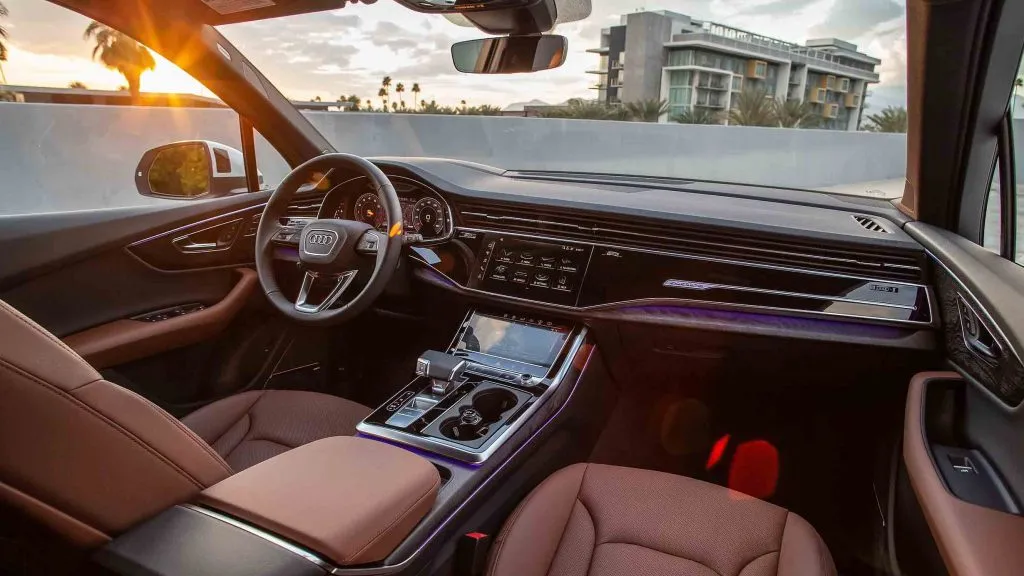 Behind the steering wheel is a 12.3 inch digital gauge cluster while two more touchscreens run down the central panel. At the top is a 10.1 inch infotainment system that controls the entertainment controls as well as many of the cars technical readouts. The third touchscreen measures 8.6 inches and is used for the climate controls and seat adjustments.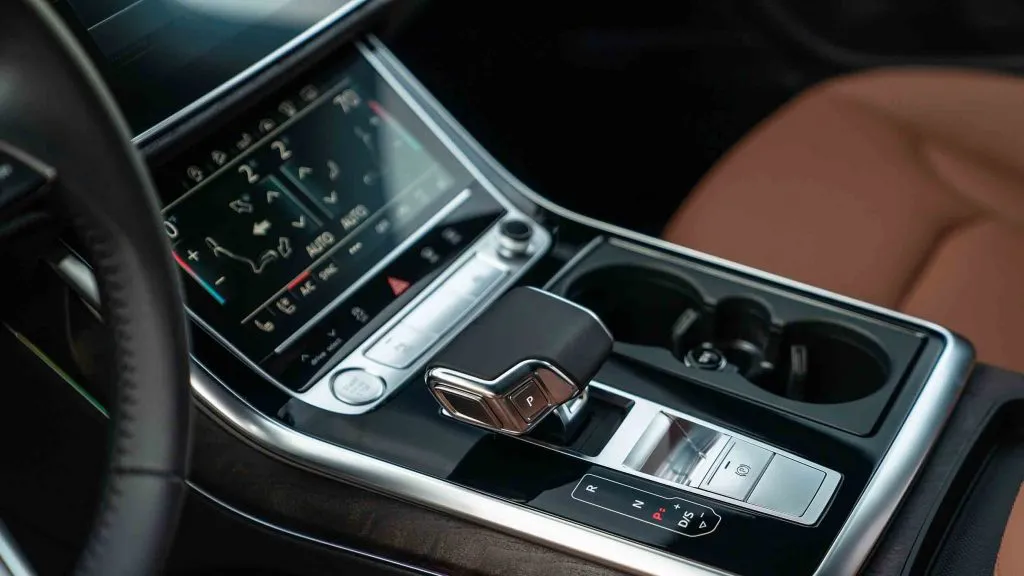 With both Apple CarPlay and Android Auto fully integrated there is also 4G LTE WiFi. The 2021 Audi Q7 has several audio options with the best of them being a 23 speaker, 1,920 watt audio system from Bang & Olufsen.
Cargo space is varied. With all three rows being used, the availability for luggage is limited to just 14 sq ft. With these "child only" seats stowed, the space increases to 35.7 sq ft and with all back seats flat this jumps up to 69.6 sq ft and can fit 25 suitcases inside.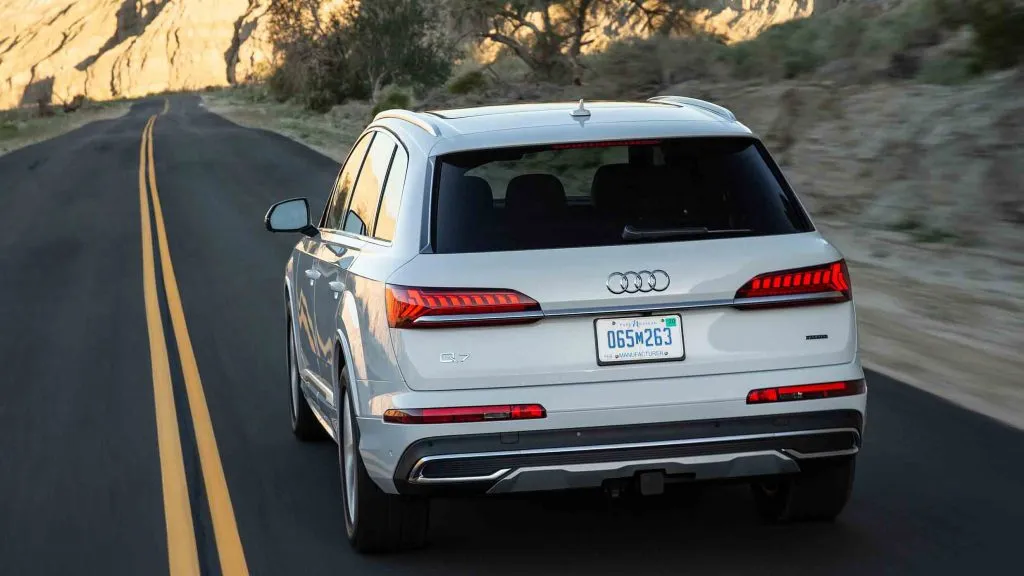 Exterior design has been given a minimal touch up. Slight changes to the front and rear which incorporated a redesigned grille, front and rear bumpers, new side sills, chrome trim for the tailgate and revised exhaust tips. Two-tone paintwork is standard and this helps to define the front splitter, side skirts, wheel arches and rear diffuser in an anthracite tone,
2020 Audi Q7 Vs 2021 Audi Q7
Since the major upgrade from the 2019 model, there is minimal change between the next two editions of the Audi SUV. Blind spot monitoring with rear cross traffic alert has now become a standard feature. While the Convenience Package on the premium models now includes a heated steering wheel as well as a 360 degree exterior camera.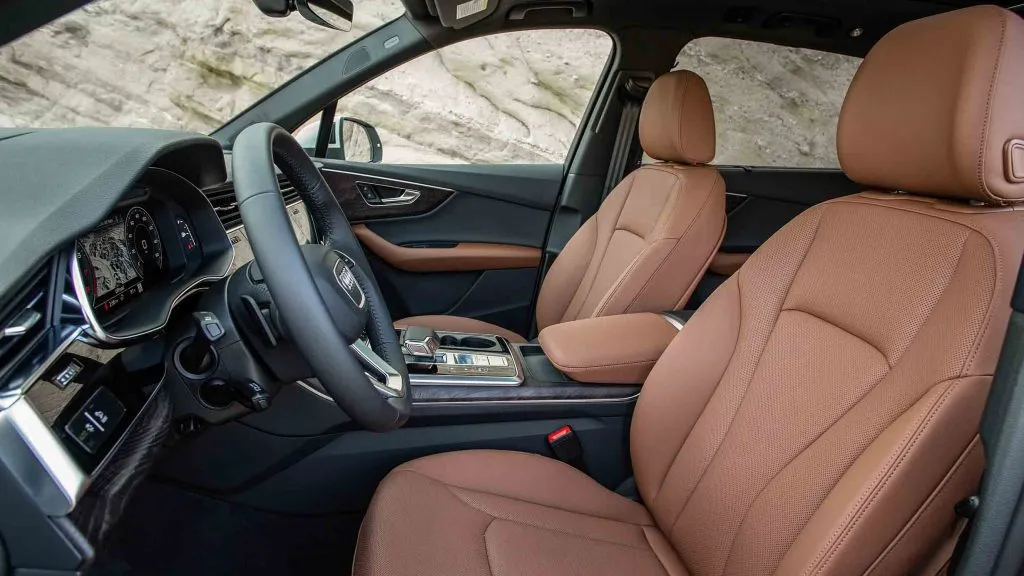 The Premium Plus model has incorporated all of the 2020 driving packages that included Warm Weather, Cold Weather and Driving Assistance Aids. The Prestige models get, as standard, leather wrapped central console and armrests and heated rear seats.
Other key driving aids include: automated emergency braking and forward-collision warning, lane-departure warning and lane-keeping assist, adaptive cruise control with semi-autonomous driving mode.
Q Is for Quattro, Quattro Is For Racing
While Audi use the letter designation of Q for their very popular line of SUVs, it might not be so readily apparent why this letter is used in the first place? To understand this letter and why it is so important to the lineage of Audi, we must go back over 40 years to see where the story began.
By the end of the 1970s, Audi were a relatively unobtrusive carmaker with a relatively small output of compact sedans. As far as German auto industry went, they were the poor cousin of their owners, Volkswagen and Opel, not to mention the more illustrious Teutonic car brands.
Audi (their name a Latin version of their Founder's name) decided to change things up. What they would achieve, in such a short space of time, would change the motoring world forever.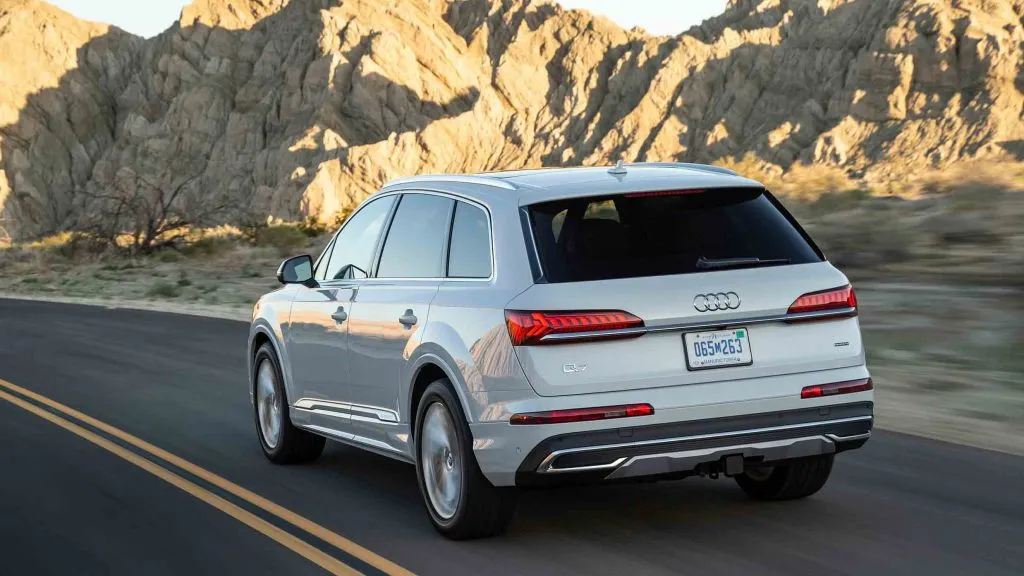 With an eye on technical innovation and the latest changes to the world of motorsports, they decided they would create a four wheel drive sedan that would be used on racetracks around the world.
Using the initial engineering knowhow from their all-wheel drive military vehicle production, they had their first model unveiled at the Geneva Motor Show in March 1980 – Audi Quattro. The word, quattro, would be used to illustrate the all-wheel drive nature of the vehicle.
The first automobile was a two door coupe that was powered by a 2.1 liter Inline-Five turbocharged engine that produced 197 bhp and 210 lb-ft of torque. With a five-speed manual transmission the rally car could accelerate to 0-60 mph in 7.1 seconds and reach a top speed of 137 mph. At 173 inches in length, it was quite long for a rally car, but its weight was well under 3,000 lbs. which kept it very competitive.
When the Audi Quattro finally made its debut in the World Rally Championships it dominated the motorsport completely. In the first few years it would win the title twice (1982 & 1984) while coming second twice (1983 & 1985).
With some of the world's best rally drivers behind the wheel, including Stig Blomqvist and Hannu Mikkola, the Audi Quattro took the racing world by storm. In five seasons the Audi coupe would win 23 individual races around the globe, including the British Lombard RAC rally three times.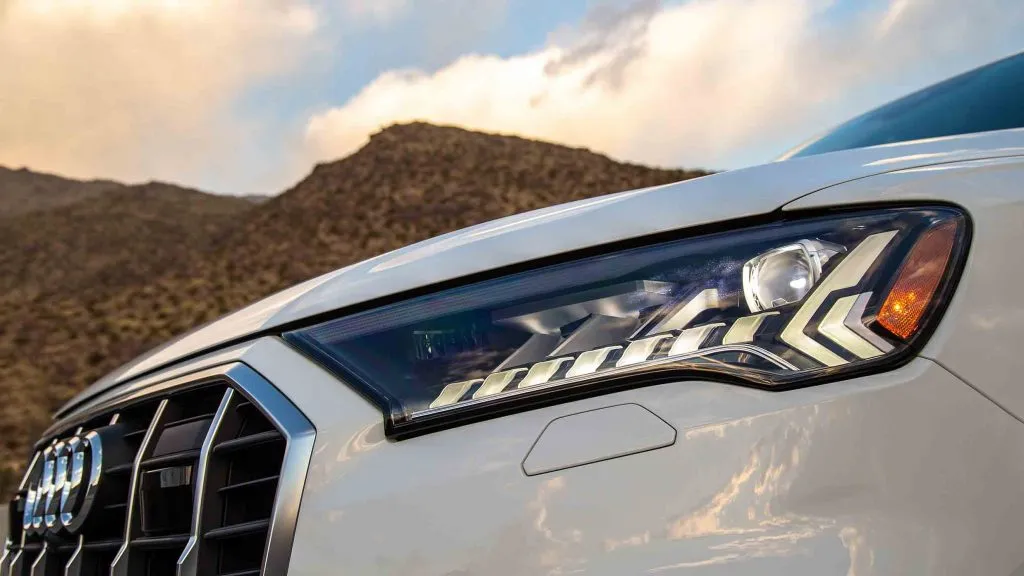 In late 1980, Audi would begin making road production versions of the Quattro and they had the same impact on the urban highways as they did on the dirt trails of race tracks.
Compared with their other cars, this new Audi coupe was something to behold. During a time when 80s European car design was quite dull and unexciting, the Audi Quattro elicited excitement every time you caught a glimpse of one on the roads. Its oversized shape and aggressive styling made it stand out from the rest of the boring rolling stock on the roads during that time. It still looked like a racing car ready to be unleashed.
Due to it being hand built on a dedicated production line, there would be less than 11,500 units during its 11 year lifespan. Overall, its styling never really changed from its original design. Later it would introduce an LCD gauge cluster, in 1983, as it tried to be cutting edge for the times. But, by 17 may 1991, the last model rolled off the production line and drive off into motoring history.
Move forward 30 years and we now have a long and prestigious line of Audi SUVs that proudly display their four wheel drive heritage to a racing car that defined an era.