Maserati would see big changes during the "Swinging Sixties". Maserati made some drastic decisions, towards the end of the previous decade, that would reshape the Maserati forever.  The Maserati 1960 models were limited to just three and two of them produced less than 60 vehicles.  However, the other model would create great success for Maserati to build on and, by the end of the 1960's, saw them produce a grand tourer that would become iconic in both style and performance.
Let's take a look back over what Maserati 1960's models were out there and how significant they became.
From Race Track to Road
For 31 years, since 1926, Maserati had been deeply involved in motor racing. Their racing cars were entered into all disciplines of the sport. Most famous of all, during this time, was their success in Formula One with the racing legend, Juan-Manuel Fangio.
Though they made a mere handful of road versions of these cars (which included the 1947 Maserati A6 1500, 1951 A6G 2000 and the 1954 A6G/54) their primary focus was always on the race track. Until Guidizzolo, in 1957.
That year, during the Mille Miglia, a Ferrari 335S blew a tire at 160 mph and careened into the crowd. The tragedy that ensued saw the lives of 12 people lost. The driver, co-driver and 10 spectators, including five children, were killed. Enzo Ferrari, himself, was charged with manslaughter though later acquitted. Maserati would retire from racing with immediate effect though they still built racers for other racing teams. So now they needed to focus their attention on making road cars that would sell and sell in bulk.
1960 Maserati 3500 GT
Maserati's chief engineer, Giulio Alfieri, started with their best engine they had, which was the 3.5 liter block from the 350S. Because it would have been too expensive to create other machine parts, Snr Alfieri toured around Europe to buy the best hardware on the market. So, along with the usual German gearbox, from ZF, the carburetors, ignition, brakes, rear axle and suspension all came from other parties.
Initially, the 12-valve straight-six engine, with the Weber carburetors, made 217 bhp but with the Lucas fuel injection (a rarity at this time) saw the power increased to 232 bhp which was installed for the Maserati GT 1960 model. The original four-speed manual transmission was upgraded to a five-speed later on.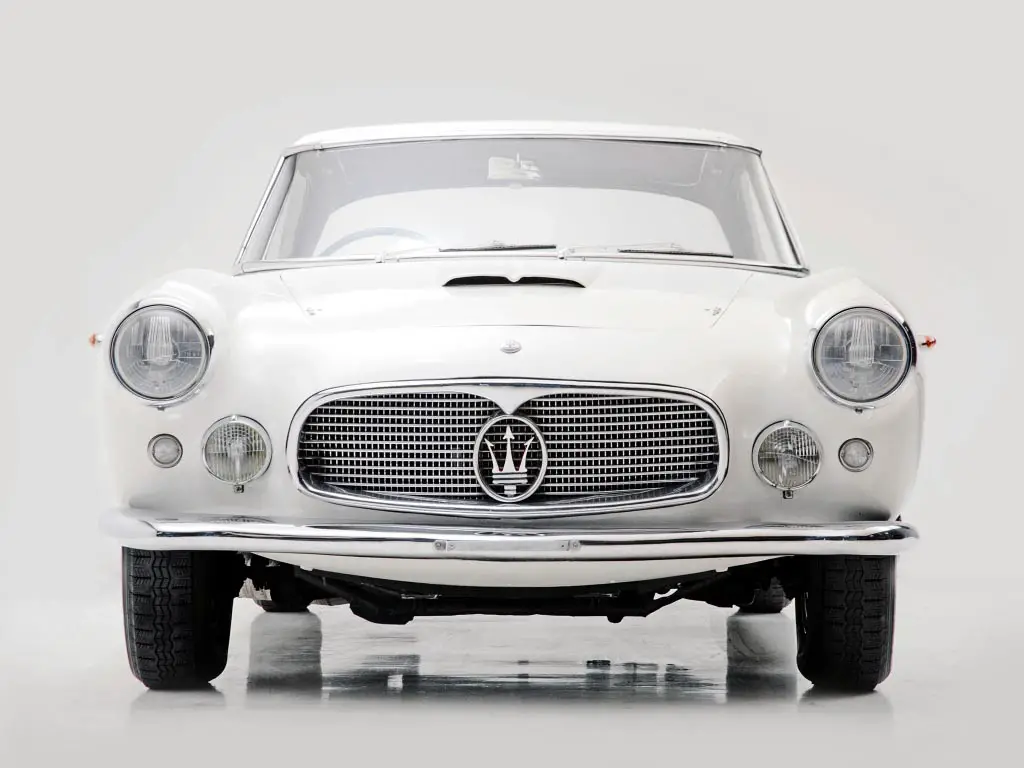 For the body shell design, Maserati turned to a well-established Italian coachbuilder since 1925, Carrozzeria Touring. They were renowned for their beautifully styled automobiles and what they created for the Maserati 3500GT certainly proved their expertise. This was for the prototype that was unveiled at the Geneva Motor Show, in 1957, but there were another seven Italian coachbuilders to be tasked with making this iconic GT.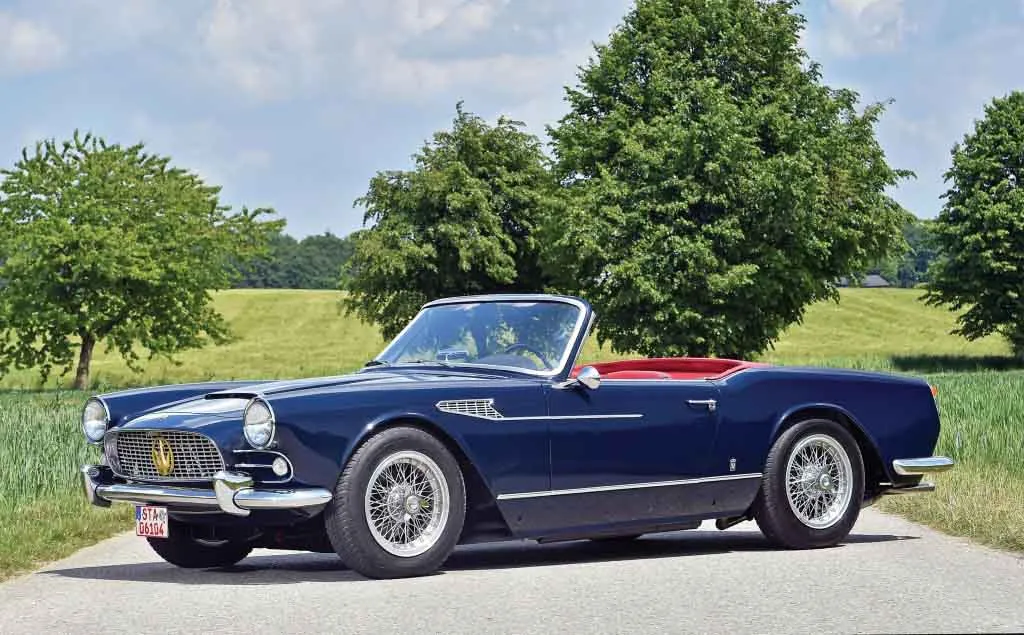 The following year, Maserati would produce convertibles for both engine types and they were branded as the 1960 Maserati 3500 GT Spyder and the GTi Spyder.
At the end of its seven year run, Maserati would make 2,226 models of the hardtop and soft top which was far more than Maserati had ever made or sold of one particular car.
Maserati 5000 GT
This car only came into existence due to the whim of Arabian royalty. The son of the family who owned Maserati, Adolf Orsi, had distributed sales brochures of the 3500GT to potential and influential buyers. One brochure landed in the hands of the Shah of Iran who liked it so much he flew to Modena to test drive the car. But he would ask Giulio Alfieri if he could combine the usability of the 3500GT but put in the larger engine from the Maserati 450S. He wasn't going to say no.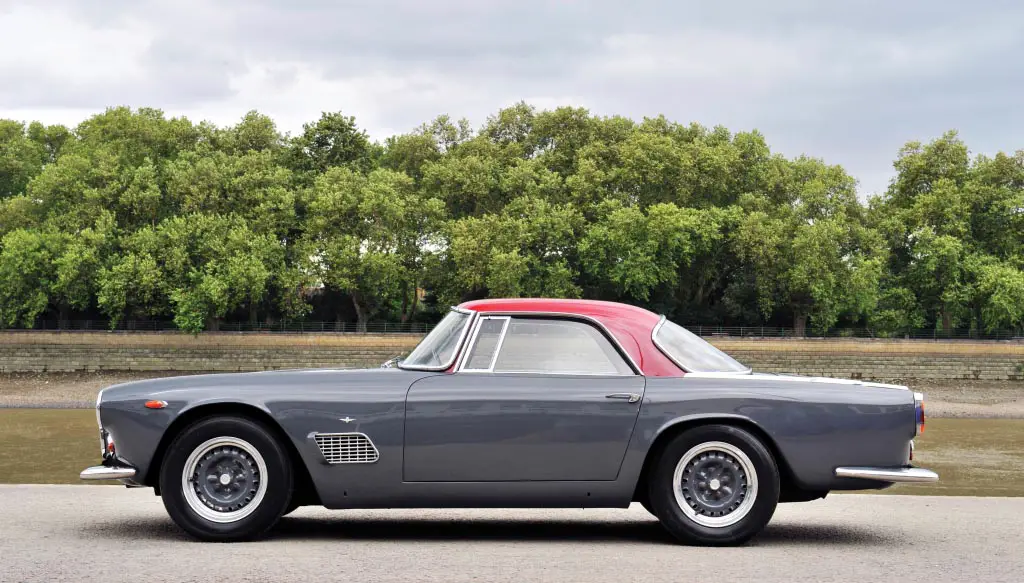 Alfieri would increase the displacement of the original V8 engine to make it 4.9 liters. He had to strengthen the 3500GT chassis to withstand the extra power but was able to use the original brakes and independent live axles. Carrozzeria Touring would be asked again to design this one off and their head designer took inspiration from Persian Baroque architecture to create the unique front grille and facia.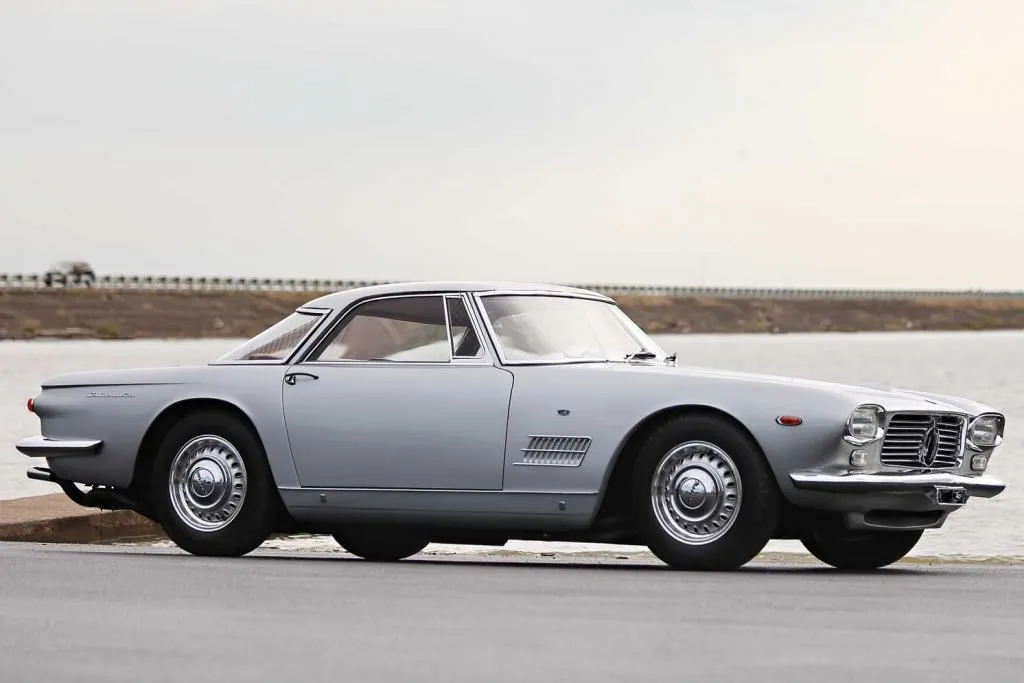 Once finished, it was quietly shipped to Iran without any public notification but another model was displayed at the Turin Motor Show, in 1959. This prototype was sold to a South African millionaire who owned the famous Kyalami race track.
With an increase in demand, the Maserati 1960 models would gain a slight increase in engine size, that produced 340 bhp, as well as gaining fuel injection, a five-speed manual transmission and ventilated disc brakes.
These were not cheap cars, the Maserati 1960 price was US$17,000 for the Maserati 5000 GT (twice the price of the 3500GT) and maybe it was no surprise that just 34 vehicles were made and sold (with eight different coachbuilders tasked to build them).
Maserati Quattroporte
The special project for the Shah of Iran would also be the inspiration for Maserati to build a four door sedan. Using the same chassis, Maserati installed a 4.1 liter V8 engine that produced 260 bhp at 5,000 rpm and teamed with a five-speed ZF manual transmission or a three-speed automatic gearbox from Borg Warner. This long (197 inches) Maserati Quattroporte 1960 sedan, first shown at the 1963 Turin Motor Show, could achieve a top speed of 143 mph.
Three years later, Maserati would upgrade the Quattroporte I with new leaf-sprung solid axle and full wooden dashboard. Under the hood they increased the engine to a 4.7 liter V8 that produced 286 bhp and a top speed of 158 mph. This made this four-door sedan as the fastest in the word at that time. Cementing Maserati's expertise of producing automobiles that are both stylish and high performing. A total of 776 models would be built and sold over the six years it was available.
Continuing Grand Tourers
The fascinating Maserati 1960's saw Maserati phase through three different GT's. The decade began with the iconic 3500 GT but that was replaced, in 1963, by the Mistral. This would be the last Maserati that was fitted with the classic racing engine from the 250F that powered Fangio to F1 Champion.
During its seven year run, the Mistral was fitted with a 3.5L, 3.7L and a 4.0 liter engine. The biggest powertrain made 265 bhp at 5,200 rpm and could go from 0-60 mph in under seven seconds and making a top speed of 145 mph. All models coming with a 5-speed manual gearbox.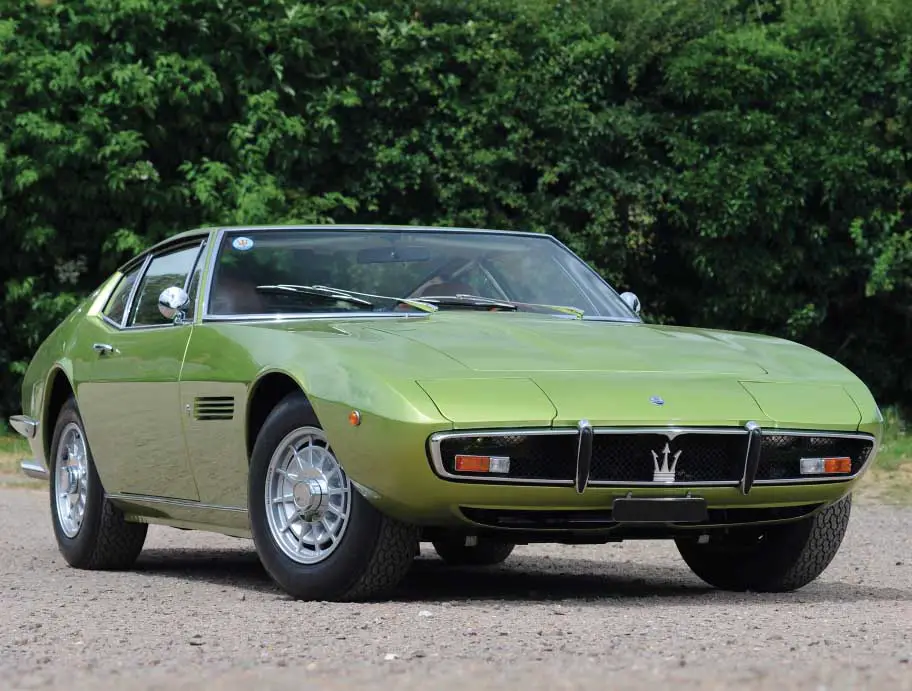 This Maserati coupe 1960's model was designed by Pietro Frua and had design aspects that were reminiscent of Ferrari and Lotus. 953 models would roll off the production line before it was surpassed by Maserati's iconic classic.
It would be three years before the Mistral was retired that Maserati unveiled their newest grand tourer – the Maserati Ghibli 1960. Maserati had taken their brand to a new level with this exceptional motor car. Unparalleled styling inside and out complemented by high-end performance and handling.
Compared with the Mistral, this was a big step up. A 4.7L and a 4.9L V8 engine that made between 306 and 330 bhp and top speeds of 155 mph and 174 mph. This made it the fastest road model Maserati had ever produced. Over its lifespan of six years, Maserati would make 1,295 units of this iconic GT.
Still Racing
For a couple of years either side of 1960 saw Maserati develop and build their Birdcage race cars. The name was derived from the unique space frame chassis that was comprised of over 200 steel tubes welded together in a triangular formation to create strength in the design.
Giulio Alfieri was given free rein to design a more competitive race car, even though Maserati were struggling with finances. he came up with the "birdcage" chassis and fitted the 2.0 liter engine from the 200S, producing 200 bhp, and also coming with a five-speed manual transmission. This was the 1960 Maserati Tipo 60.
The famous racing driver, Stirling Moss, would test drive the car and go on to drive it in its debut winning race. This brought the car to the attention of several American racing teams who wanted to expand the car's engine to a 3.0 liter.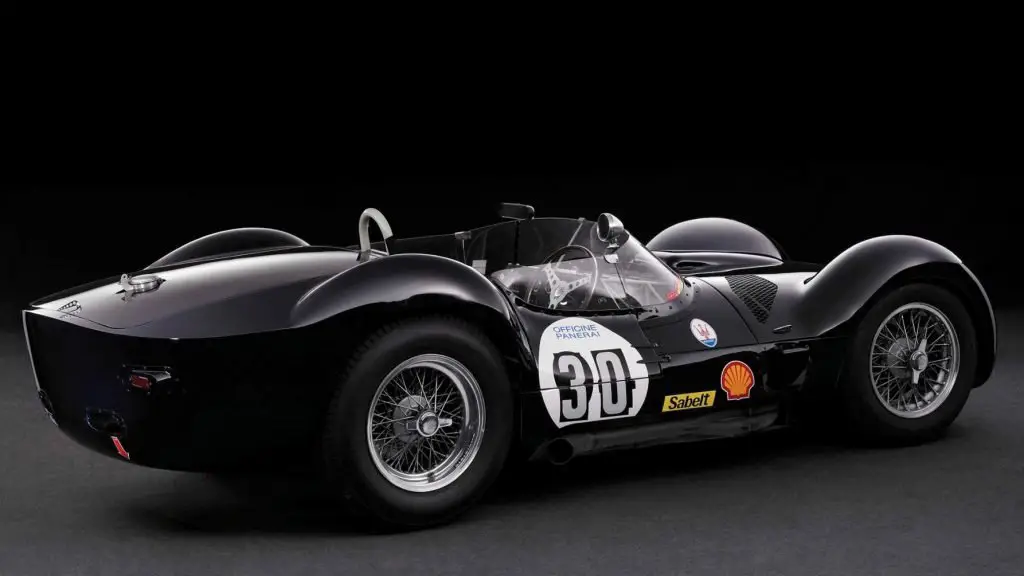 "Lucky" Casner would use three of these 3.0L, 1960 Maserati Tipo 61, racing cars and founded the Casner Motor Racing Division which included the famous racing driver Carroll Shelby.
Though a fast and responsive racer, reliability issues would curtail many promising races. During the 1960 Le Mans, all three 1960 Maserati Tipo 61 birdcage cars were leading the race, in front of the Ferraris, but engine issues would leave them last in the end. But Casner's team, also known as Camoradi, would win the 1000 km Nürburgring.
In recognition of these racing achievements, the road model of the Maserati MC12 would be produced with the racing colors of the Camoradi racing team.
The decade would end very differently to how the decade began. After a level of uncertainty and financial instability at the beginning of the 1960's, Maserati would end it on a high. Production and sales were up and the variety and quality of the cars was notable whilst garnering strong financial support from their new owner, Citroen, would see a rosy future (though clouds were looming). But for now, the Maserati 1960's models were a bold move forward.